On March 27, 2004, four flower sellers and a lathe operator decided to start a trust whose name signified their relationship — Thozhar (friendship).
Thozhar Trust wanted to popularise blood donation, create a network of donors, help accident victims reach hospital, and, finally, do something that was in contrast to the fragrant world of flowers three of them inhabited — bury or burn unclaimed bodies lying in the Coimbatore Medical College Hospital mortuary, after according a person the dignity so vital in death.
After some time, one of them left town but the four remaining group members are still committed to the cause.
In the 15 years since its inception, the Thozhar Trust has helped bury more than 2,980 bodies, invariably dipping into members' pockets to meet the expenditure.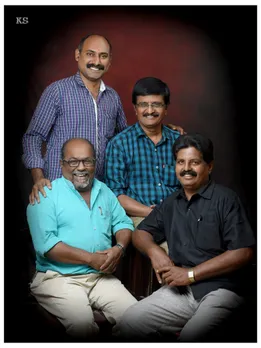 Every time an article or new snippet about Thozhar appears, some people contribute. The team converts all donations into a fixed deposit (it's over Rs 8 lakh now, including the Rs 5 lakh that came their way after an award in 2012) and uses the interest to aid their task.
The team including KR Jeevanantham, S Sampath Kumar and P Annadurai (lathe operator), also helps the underprivileged with cremations.
Since these are unclaimed bodies, the procedure is to usually bury the bodies, and not cremate them. An exception is made for those with HIV, says Shanthakumar.
"In case someone turns up claiming to be family, then the body might have to be re-dug. Hence, the burials," he says.
"Once, we buried the unclaimed body of a young person who perished in an accident, in a Hindu burial ground. Later, his family managed to get in touch. They were Muslim. They were grateful that we gave him a decent exit and recited their prayers there. Ultimately, this is all that matters; that we don't exit the world uncared for, and alone."
Shanthakumar, 54, has always maintained the need for people to carry an ID card. He says it is possible that an unclaimed body is someone who has a family and friends who are probably still searching for them.
"In case no one turns up to claim the body, Thozhar becomes their family, sending them off from this world with dignity, and ensuring they are not alone."
The friends did expect their latest passion project would have some effect on their business, considering they were in the field of flowers, and did wedding decorations.
"Ironically, after knowing we were helping bury unclaimed bodies, quite a few came forward to support us and our business. We do quite a few wedding contracts now," smiles Shanthakumar. A portion of the profits, as always, goes towards the Thozhar Trust.
Retired Resident Medical Officer of Coimbatore Medical College Hospital, A Soundaravel fondly remembers the work this group of friends did in the initial days.
"When they began, many did not even consider this as social work. They were dedicated in their work, and also trained others in the burial of unclaimed bodies. They got students, women (Jeevanantham's wife Indira and Shanthakumar's wife Latha were among the first to help) and transpeople involved. They innovated to keep costs low and ensure work never stopped. This might not be spoken about much but what they did and continue to do is a big help to society," he says.
The group continues to bat for blood donation (it has helped with more than 18,000 units so far), but has also added organ donation and cadaver donation to the list. They help families who wish to donate the bodies of the dead to hospitals, for teaching purposes.
Over the years, what has sustained this bunch of friends who still lead a simple life is the belief that their work matters.
"There's this deep satisfaction that regular folks like us can actually make a difference and help people­­­­­­­," says Jeevanantham, 51.
Annadurai, 57, concurs with him, adding, "Our work and what we have managed to achieve so far shows that if you have the intent and are honest, you will succeed."
Sampath, 41, says he hoped that they would come a day when unclaimed bodies cease to exist. "Sadly that does not seem possible. Which is why I am glad we began this initiative."
Having presided over the burial of those who committed suicide after consuming what is locally called 'saani' powder (cowdung powder), a chemical cocktail that costs just Rs 5 a packet and is enough to kill a grown person, the group did work on trying to call for a ban on the chemical.
"It did not get the necessary traction but it is vital to ban it. We hope to get working on this soon," says Shanthakumar.
There was a time when Thozhar was removing close to 300 bodies a year. That number has dramatically dropped, and the group does about 10 burials a month now.
Shanthakumar cannot be happier. "It means that the number of unclaimed bodies has come down. That means their families have identified them. We might take on the role of their family, but I'm happiest when their real families are around to see people off after they pass on."
(Subha J Rao is an independent journalist based out of Mangaluru. She contributes to a clutch of publications on cinema, sustainability and food.)
If you wish to volunteer/donate to Thozar, please contact: +91 7710089076