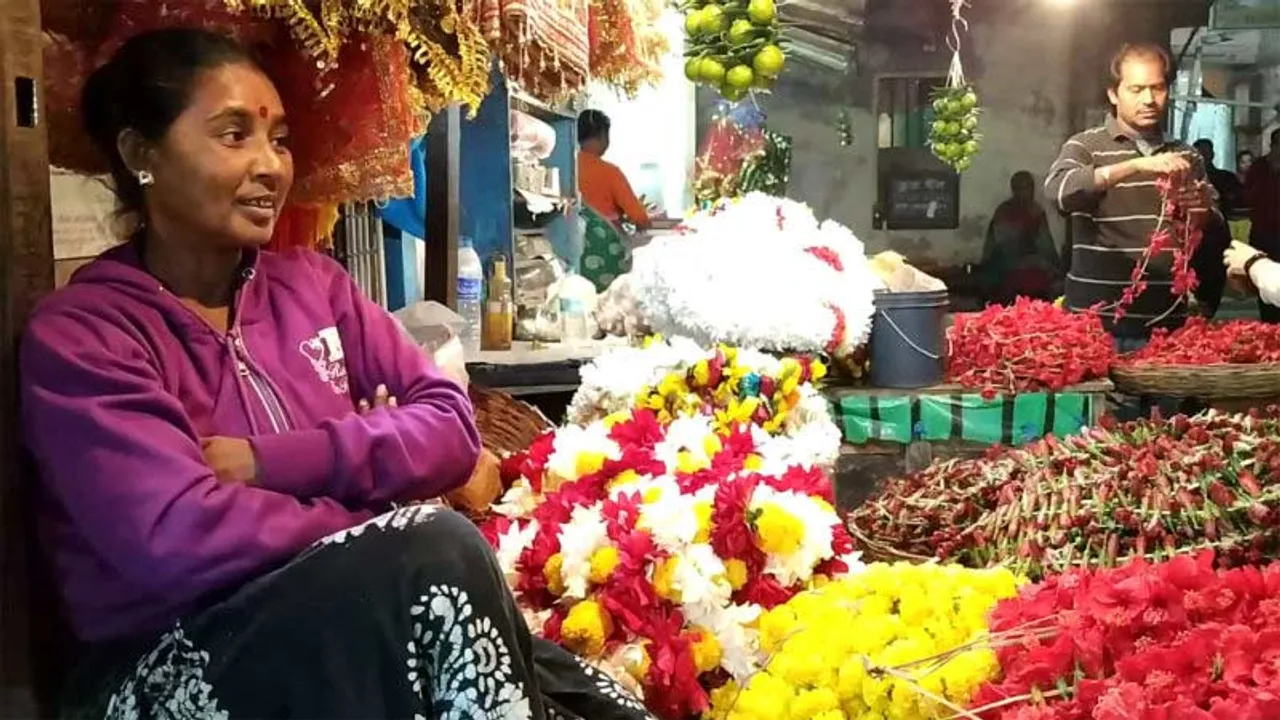 wp:paragraph
Around 3 pm, every afternoon, when the small town of Tarapith in West Bengal district is lulled into a quiet siesta after the fervid morning prayers, a couple of men pack discarded rakta java (hibiscus) used for the puja into gunny bags and carry it 10kms away to Mallarpur. Birbhum-based NGO Mallar Mallarpur Naisuva Trust gathers 300 kg of flowers from Tarapith every day, and processes it to make organic manure or vermicompost.
Miles away in Hyderabad, Maya Vivek and her friend Minal Dalmia have set up Holy Waste, which collects 200 kg flowers from temples every day to make organic soaps, which have found a ready market in the city of Nizams.
And in Delhi, Society for Child Development is making colours, incense sticks and seed bombs from nearly 6,000 kg of flowers it sources from 80 temples every day.
As India wakes up to the challenges of environmental pollution (most temple flowers end up clogging rivers), a clutch of enterprises are using discarded flowers to make a variety of products – ranging from cosmetics to compost and incense sticks to biodegradable leather.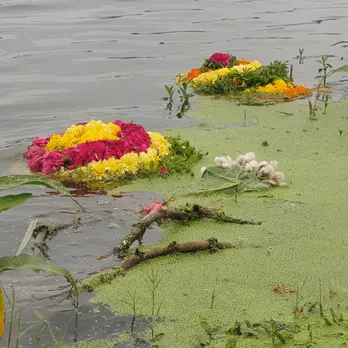 "Every 2-and-a-half months, we produce 700 to 800 kg of vermicompost using flowers sourced from Tarapith. It is sold at Rs 20 per kg," Utpal Ghosh, the CEO of Mallarpur Naisuva Trust, points out.
While hibiscus is known for its medicinal properties, many small scale industries use it to make hair packs, hair oil or vermilion with its powdered remains. The vermicompost on the other hand is created after an arduous 60-75 days of wait and toil.
The first stage is segregation from the rest of the temple offerings, such as alta (a red liquid women apply on feet), metal bangles, and sweets, before drying of the flowers. It is then mixed with cow dung and vegetable remains, and the mixture is left to decompose for at least 30 to 45 days. Following this, the compost is placed in another vat, where earthworms feed on it.  They help turn the mixture into compost. The earthworms are removed from the mixture before it is sold.
It has been three years since the initiative has taken shape, but very few people know about it, as the NGO is yet to enter the mainstream market in Kolkata. Their selling price is also low and does not lead to much profit. But there is hope. "The people who run nurseries, farmers and those growing plants in their own kitchen garden buy from our outlet in Goala (Rampurhat), as we haven't yet found a seller in Kolkata. But all our produce is sold within a few months. Between December and January alone, we sold two tonnes (2,000 kg)," says Ghosh.
Sadhan Sinha, the secretary of the organisation, points out that the main aim is to utilise the floral waste and keep the temple compound clean. "We are trying to get more and more farmers to use this manure, instead of chemical fertilisers, so that the risk of health hazards is considerably reduced," he adds.
Attempts and experiments have been carried out by various organisations to convert floral waste into an economically viable venture. Society for Child Development, a Delhi-based NGO, working with the physically and intellectually disabled, started creating colours from 200 to 300 kg of flower they collected from nearby temples in 2004. The idea was born out of their own personal research, which led them to formulate a zero-waste policy, and recycle everything they came across; such as handmade paper from the photos and images of the deities, dolls from the ropes in garlands etc.
The herbal colour, which comes for Rs 600 per kg, soon caught on with the public and by 2010, they started creating bulk orders for Walmart. Though they are self-starters, they get the colours tested in a lab to check the acceptable levels of metal component. They create 17,000-18,000 kg of herbal colour annually, and have outlets in Varanasi (started in 2013), Pune (started in 2017) and Noida, for making incense sticks.
Their most recent endeavour kick-started in May last year, in collaboration with GAIL, (Noida Authority), which aims to make incense sticks, organic colours and seed bombs, at a place which has access to 5,000-6,000 kg of flowers in a day, from 80 temples. All their products are marketed under the common name Avacayam or Trash to Cash, and amounts to Rs 1.5 crore annually.
The story of Ankit Agarwal and Karan Rastogi is somewhat similar, although their purpose was slightly different. They decided to recycle the discarded flowers from temples in Kanpur, to create incense sticks and incense cones, as well as vermicompost in 2015 with their start-up Help Us Green.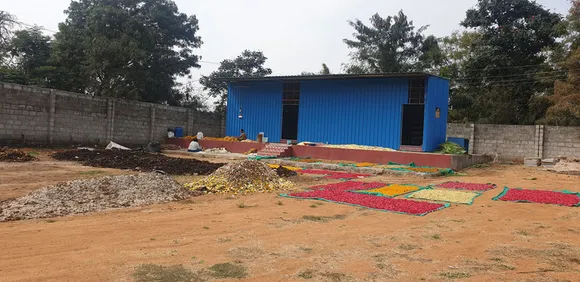 Today their idea has spurned another startup called Holy Waste, which has gone one step further by making soaps and air fresheners, besides incense sticks, from the floral waste in and around Telangana's Gundlapochampally.
The basic process of creating incense sticks remains the same for all three. The collected flower is separated from other temple offerings, put to dry, pulverised and mixed with their proprietary mixture and hand rolled to make incense sticks. The remaining green portions are left to decompose, and turned into vermicompost.
While Help Us Green, now solely headed by Rastogi, intends to make villagers self-sufficient and independent, its co-founder Agarwal has started Phool, that aims at combining technology and innovation. "Some people will see us as competitors, but I see it as an additional workforce, looking towards the same solution. Having two such organisations also means a cleaner city, with almost no floral waste. My vision is to employ more people and the task of making incense sticks requires more man power, than working on flora-foam or biodegradable leather, which requires technology," Rastogi tells us.
Holy Waste is one such entrepreneurial venture, where Maya Vivek and her friend Minal Dalmia, taking inspiration from the engineer duo in Kanpur, decided to embark on a similar journey. "It's around 2018 that we happened to watch a video and started reading up about the kind of things they have been doing. We came to know that they had begun in 2015 and yet they had not gone out of UP. The problem (of processing floral waste) itself was so huge that we will need to have local solutions. That's how we thought we could start this in Hyderabad. We live in a place which is close to the rural area, so we thought we would be able to employ women who don't get any other work," reveals Maya.
Holy Waste started selling its products since June last year and yet, is far from any imitation. The soaps are made from glycerin, kokum, Shea butter, pulverised flower petals and essential oils, and packaged in up-cycled sari pouches, made in environment friendly fabrics, such as cotton, jute, linen and silk. They are also creating gifting solutions for their clients if the soaps are being ordered for a special occasion like a birthday party, a baby shower or a wedding. "We initiated work in 2018 and got our company registered only last year in April. Although we are still very new, the sales look promising," says Maya, who quit her job in International sales after19 years to set up an enterprise that could make a social impact.
They create four varieties of soap - rose, tea tree, lavender and a floral bouquet, and four varieties of incense sticks - rose, jasmine, lavender and frangipani, from 200 kg of flower that is collected every day. At Rs 120, one 75 gram of soap by Holy Waste might seem a little too expensive, but the clients seem quite happy to part with their money, as the soap also makes for a good face wash. But the best is yet to come: a water soluble air freshener and eco-friendly room fresheners, which can be refilled or used to sprout plants.
"For future, the plans are a plenty but we do not have time to concentrate on so many. We are looking at paper, food waste, plastic but we do not know how soon we can start working with them," shares Maya.
But this is just the beginning, as more and more youngsters are waking up to environment-friendly entrepreneurial opportunities, which benefit instead of harming the natural surroundings.
Bengaluru girl and chemical engineer Parimala Shivaprasad, who is pursuing her research at the University of Bath, has come up with a unique idea to utilise discarded flowers. She intends to make natural and sustainable fragrances with the help of steam distillation, which extracts essential oils from flowers. Since an ounce of essential oil requires at least 114 kgs of flower petals, the raw material can be had for almost negligible cost. Parimala is the founder of Retra, a sustainable perfume range which is yet to be launched in the market, as the product is still in the development stage.
Whoever said that a thing of beauty is a joy forever was undoubtedly talking about flowers.
(Vinita Tiwari is a Kolkata-based writer, specialising in art, culture and human interest stories)