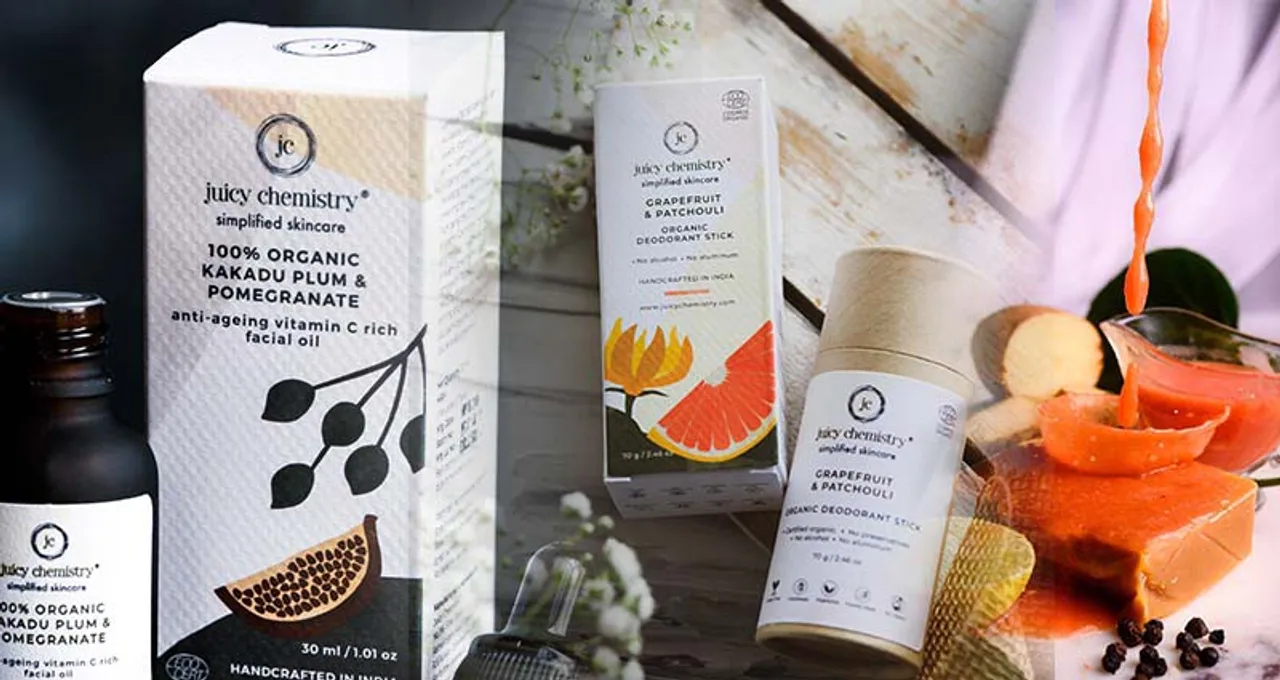 wp:paragraph
Can hours of laborious experimentation in the kitchen catapult you into an international cosmetics brand? Juicy Chemistry has done just that. The ethically run no-chemical, organic cosmetics company today sells everything from soaps and scrubs to dry shampoos and essential oils in 30 countries around the world.
Juicy Chemistry was set-up in Coimbatore in 2014 by Megha and Pritesh Asher, partners in life and at work. "We fuse science with traditional knowledge in a way that does not hurt our ethos," says Megha.
Pritesh, 37, who worked in the petrochemical industry and Megha, 36, who studied criminology, have proved that it is possible to work out of a Tier 2 city and still make a mark, especially in a segment as quality conscious as cosmetics.
Walk into their nearly 300 sq ft flagship store in RS Puram, Coimbatore, and olfactory nerves tingle; a bouquet of fragrances, mellow and calming, hits every visitor. However, in the initial days, when the duo was exploring possibilities, the kitchen doubled up as the lab.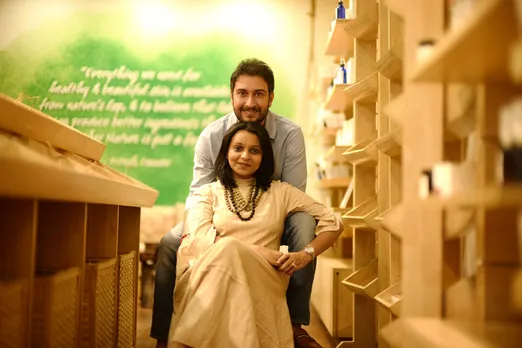 Pritesh, who was naturally drawn to formulations, offered to help out with the cosmetics, after Megha struggled with the consistency of some body butters.
Megha decided to be the people and product manager. Among the first products she created was a coffee scrub for a friend, as a wedding gift. Those days, she was co-writing the book 'Indian Prisons: Towards Reformation, Rehabilitation and Resocialization', running a design studio and trying to get Juicy Chemistry off the ground. Their home smelt like aromatherapy heaven, and she straddled her very disparate areas of interest.
Since their formal beginning in 2014, Megha and Pritesh have been on a learning curve, taking every effort to source authentic ingredients, and, occasionally, dropping a best seller because certain certified organic ingredients were not available.
"We were naïve and believed that organic meant organic. It took us time to understand that ingredients concocted in a lab can also be labeled thus. We faced a lot of criticism saying we were a DIY (do it yourself) brand, but we needed time to be able to explain our stand and tell people why we choose to make products the way we do," says Megha.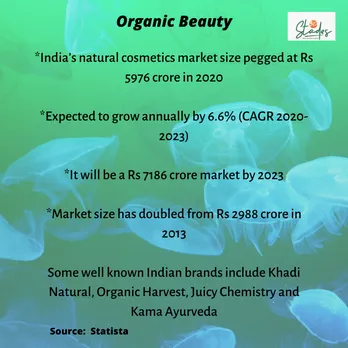 In the initial days, a peculiar problem the brand faced related to its short shelf life. The maximum is a year for soaps, and most others come with a six-month expiry date. After that, the efficacy reduces. "Now, we have managed to explain why our products are made this way. We also don't anymore get asked why our body butters melt in the summer," smiles Pritesh.
The brand claims to be the first in the country to have its complete product range (105 products) certified as organic by Ecocert (France) in accordance with the COSMOS V3 Standard.
When Megha and Pritesh take part in shows in the metros, people usually react with surprise that they are based out of Coimbatore. "But that's also been a huge advantage. Coimbatore has a certain reputation when it comes to doing business with a conscience and for its entrepreneurs. Now, our city is home to many start-ups that offer world-class new-age products, made with a heart," says Megha.
While the brand's being certified as organic by Ecocert worked wonders for its reputation, it also left it battling competitors who thought nothing before copying their entire composition and even packaging.
"We have to mention every little ingredient and its percentage in the product. Invariably, if you add them up, you'll get a 100 per cent! And so, we keep updating our range, we keep changing our packing, our look… we have accepted that this is part of the pitfalls of the market," says Megha.
Back at the store, Megha and Pritesh or one of their superbly-trained staff members helps customers choose something that would suit them.
"I wanted the store to be a place where people can walk in and experience something unique. Our customers are our brand ambassadors. It is they who let us know when a design is stolen, or when a lookalike product hits the market. That makes all the effort worthwhile, that our customers think this is their brand."
How does it feel when a couple works together, 24x7? "We won't have it another way," says Megha, who was Pritesh's classmate in a residential school in Coimbatore. "This is something we have created today. And while there is constant pressure to deliver, it's lovely that we have innovated and worked things out together," she adds.
While Pritesh loves the entire range, he's especially fond of the soaps, simply because of the work they put into it. "Our first few batches were miserable failures. The raw material was expensive, and we were not satisfied with the consistency. Our family and friends got to use a lot of the trial soaps," laughs Pritesh.
He believes the brand has done well also because it has never hesitated to course-correct. "We had a very popular moringa-based body butter. But, at one stage, we realised that the base oil was extremely strong-smelling and needed so much of other fragrant oils to mask it. We felt that tampered with the formulation and so stopped it. Similarly, our peach oil-based products did very well. We then had doubts about its organic nature; we stopped it."
That's also why Juicy Chemistry does not sell aloe vera gel, among the most popular products across brands. Aloe works wonders, but thanks to all the water, can't last without preservatives. "And so, we offer a freeze-dried version or a face-mist that uses steam distillation technology. The aloe grows wild near Coimbatore and we have people collecting it for us. Ultimately, every brand is built on trust, and we cannot afford to lose that."
Juicy Chemistry's founder recently divested 26 percent stake to some venture capital investors. The undisclosed amount will be used to further the brand. Juicy Chemistry directly sends products to 30 countries, and has dealers in France, Slovakia, Singapore, Dubai and Australia.
Simultaneously, Megha and Pritesh have been helping their staff and suppliers climb up the social ladder. "Our 30 employees, shortly to be increased to 50, are from underprivileged backgrounds and have been trained on the job. We help with their children's education," says Pritesh.
"We work with rural craftsmen for our neem combs, wooden spoons and gourd loofahs. In the road behind where we manufacture our range, there are families of artisans working with bamboo. We trained them to make classy gift baskets and we were delighted when they started making them for weddings and trade shows. The idea is to grow and to take others along," says Pritesh.
(Subha J Rao is an independent journalist based out of Mangaluru. She contributes to a clutch of publications on cinema, sustainability and food.)