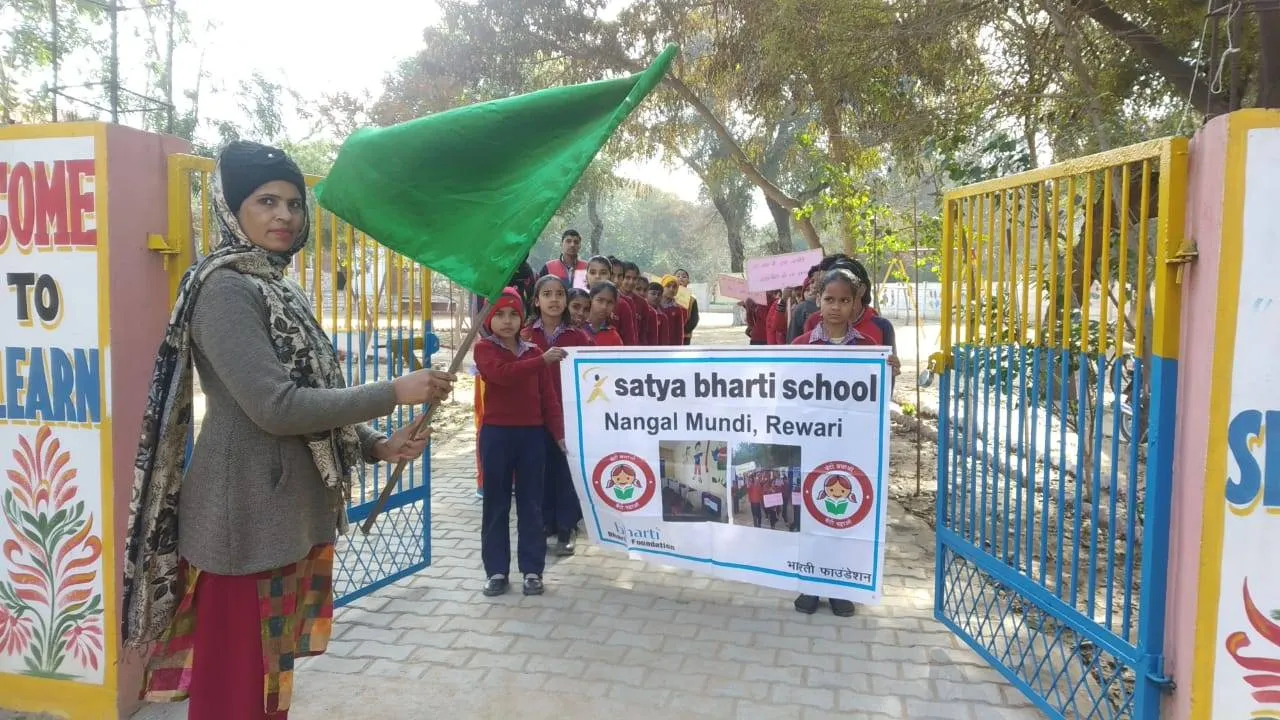 Once every three months, Meena, who teaches at a school in Nangal Mundi village of Haryana's Rewari district, organises a procession with her students. They go door-to-door in the village, which has about 400 families, urging the residents to send their girl children to the school. In a village where there has always been more emphasis on boys' education, a gradual change has taken place. Meena's efforts in the last few years have ensured that no girl of school-going age is out of the educational system in Nangal Mundi. She teaches at a Satya Bharti School, one of the 192 schools across six states, being run under Bharti Foundation's flagship rural education initiative.
In Bhojpur village, Shahjahanpur, Uttar Pradesh, Rehan Beg has designed an Abacus with plastic balls and wooden sticks to teach the concept of lakhs (100 thousand) and crores (10 million) to his students. A math instructor, Beg is also the head teacher of Satya Bharti School in the village and has been awarded for his experiential teaching initiatives. Bharti Foundation is the development arm of Bharti Enterprises, best known for its telecom brand Airtel.
In a country where education is yet to reach most villages, Bharti Foundation is helping over 40,000 underprivileged children access quality education without any cost by providing free uniforms, text books, note books, stationery and mid-day meals. And its army of 1,395 teachers is working alongside to bring as many children to school as possible in Punjab, Haryana, Rajasthan, Uttar Pradesh, Tamil Nadu and West Bengal.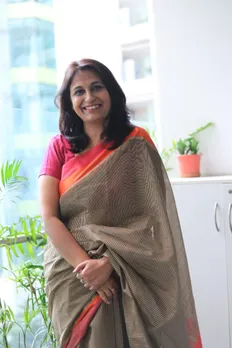 The schools were started in 2006 when members of the foundation went from village to village, asking panchayats and community leaders if they felt the need for a school focusing on quality of education and progressive learning.  "Some panchayats invited us and that's how we started," she recalls.
The focus of Satya Bharti schools is not just on examination scores. "We aim to transform students into confident, educated and responsible citizens. There is an emphasis on character building with a deep sense of commitment to society," she adds.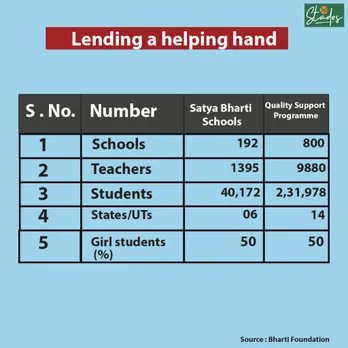 Though examination results are not the priority for Saikia and her team of teachers, efforts are having a positive impact on that front too. In the CBSE results for 2018-19 for class XII, the overall pass percentage for Satya Bharti Schools was 96.98 percent, higher than the CBSE national average of 83.4 percent and for class X, the overall pass percentage was 95.88 percent against 91.1 percent national average for CBSE.
Of the total students, 50 percent are girls as the foundation's focus has been on the education of girl children. "When parents come to us for withdrawing the name of their daughters from school, we counsel them, underlying the importance of education for all. Over time, they have understood this. They are now allowing girls to pursue higher schooling," says Meena.
The foundation had initially thought of setting up only primary schools (up to class V). "But the communities were so happy with the educational outcome that we received requests for converting them into elementary schools (up to class VIII). In the first phase, 30 schools were converted," says Saikia.
 In Punjab, the foundation started senior secondary schools in partnership with the state government. "After these schools were established, we realized that there was a lot of good work being done in government schools. We felt our portfolio of learning could be taken to them as well. So in 2013-14, we took our first step and began partnering with state government schools," she adds.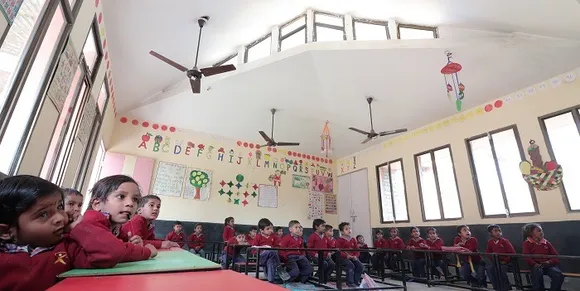 This initiative to improve the overall quality of government-run schools is called the Satya Bharti Quality Support Programme or QSP, which supports children, teachers, parents and administrators to transform schools into integrated institutions of learning. The foundation has so far partnered with 800 government schools in 14 states and union territories on the request of either the school principal or the block education officer.
Seema Shekhawat, Principal of the Government Senior Secondary School at Dhandhania Bhayla, Jodhpur, Rajasthan has seen the difference being brought about by QSP. The foundation helps government schools financially by providing well-researched study material, library books, furniture, sports equipment and assistance with educational trips.
"Equally importantly, they send trainers and resource people to prepare our students for Navodaya and Sainik school entrance tests, conduct workshops on communication skills and also help students participate in regional and national competitions," she says. Her students are now winning some national level school competitions.
.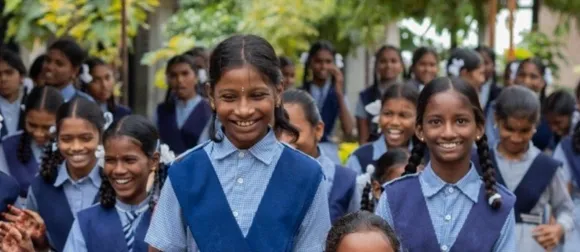 Saikia credits the foundation's robust teachers' training programme for the results so far. "Apart from child safety, we provide training around subject knowledge, mathematical concept teaching and creating low-cost education material. We also give awards for teacher innovation," she says.
In her words, the foundation "gives energy to schools. There are no out-of-school children in areas where our schools are present". And that is the biggest benchmark of success for the programme that has been running for the last 14 years, much before the government made it mandatory for companies to allocate funds for corporate social responsibility or CSR projects.
(Rashmi Pratap is a Mumbai-based journalist specialising in business, financial and socio-economic reporting)