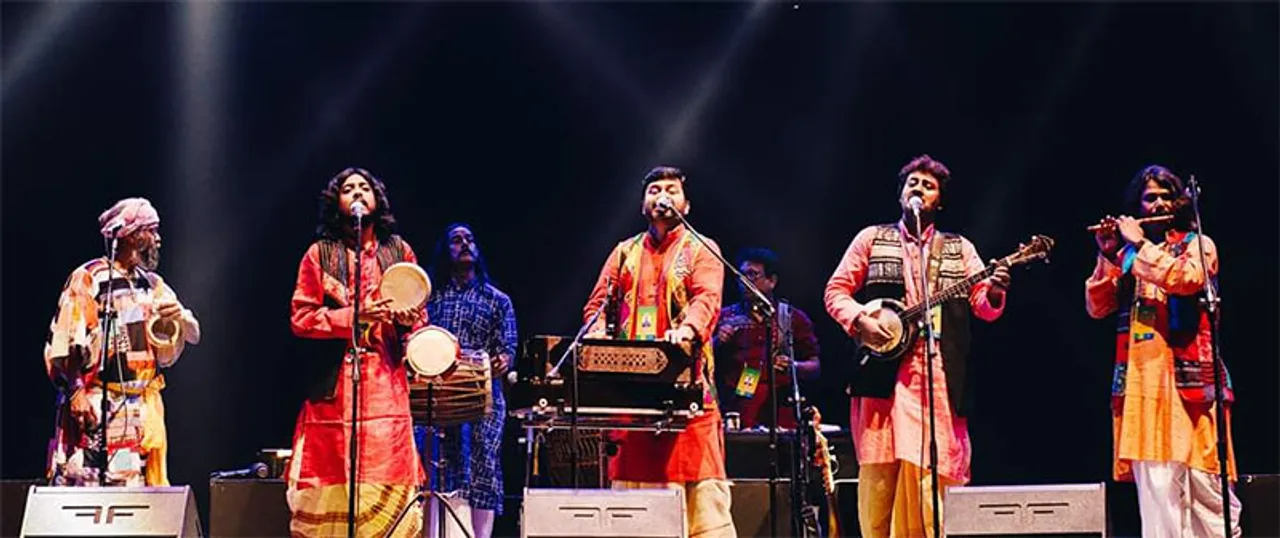 A music band from Kolkata which spans three generations of musicians is working with Bengali folk music genres and traditional instruments and even taking up residence with rural artistes in a bid to preserve the native tunes in their authentic form.
Formed in 1998, Dohar is among the early bands that began working with Bengali folk music.
Several bands use folk music as inspiration, and give it a modern twist to meet the demands of popular music. Dohar, on the other hand prefers to stick as much to the original form as possible.
Dohar, which means chorus, came about as a tribute to Dohar co-founder, late Kalikaprasad Bhattacharya's uncle. The band comprises Rajib Das, Amit Sur, Mriganabhi Chattopadhyay, Rittik Guchait, Satyajit Sarkar, Sudipto Chakraborty, Rahul Karmakar, and Niranjan Halder. Niranjan, 70, is the oldest while Rahul is youngest at 19 years.
"It was Ananta Bhattacharya's dream to showcase the folk songs, which he had collected over the years. Although the dream remained unfulfilled in his lifetime, his death in 1998 set things into motion as Kalika Prasad, as a tribute to his uncle, brought together a team of singers which became Dohar," says 45-year-old Rajib Das, the front man and lead singer of the band.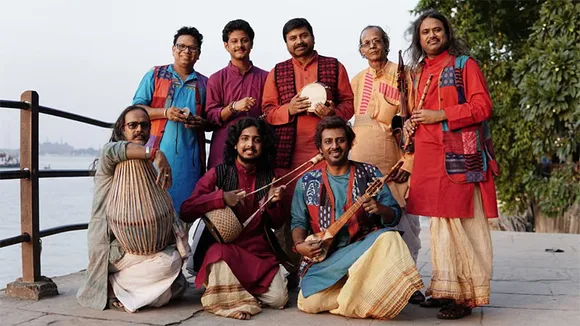 Most of Ananta Bhattacharya's songs are part of the albums of Dohar but many have still not been recorded. Dohar works on 30-35 folk forms from Bengal and north east as well as Bangladesh.
Songs for all
The genres of folk songs that Dohar performs includes Baul (spiritual songs of the Baul community of Bengal), Bhatiyali (songs of boatmen in eastern Bengal), bhawaiya (basic melodies of north Bengal), Chatka (a faster form of bhawaiya), Jhumur (basic melodies from south Bengal, sung by tea garden labourers of north Bengal),  saarigaan (songs of boat racing, harvesting), jaarigaan (songs in memory of karbala sung in month of Muharram), gaajan/charak (songs of a carnival of Shiva) dhamali geet (songs sung on different festivals) and Bihu-Kamrupi (songs of Assam).
Dohar also loves to experiment with the unique soundscape of indigenous instruments. Some of these instruments include, sarinda (a local version of a violin from north Bengal), shinga (buffalo's horn), dubki (drum made from leather stretched over a small round wooden frame), dhamsha (a huge drum played by tribals in Purulia), tenor banjo, and mandolin, the rain stick to create the sound of rain falling, besides an Australian musical instrument called Didgeridoo that imitates the sounds of a bee's buzzing.
Dohar also presents songs of Bengali polymath Rabindranath Tagore, accompanied with traditional folk instruments like Srikhol, kartal, tabla, harmonium, Ananda lahari (also used by bauls), ektara, dotara, gopi yantra, ganjira, mandira, pakhavaj, mridangam, dholok, ghunghroo, dhak, and shankha.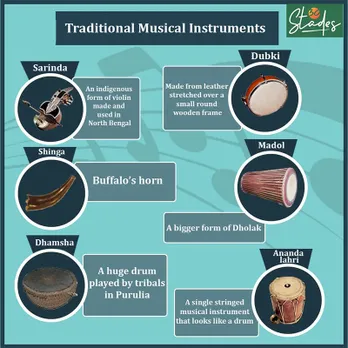 All the instruments are sourced locally in Kolkata, says band member Niranjan Halder, who makes the sarinda himself.  He says the dhamsh and madol is  sourced from Purulia, bangla dhol is sourced from Barasat, sreekhol from Nadia, Mayapur, Nabadweep and Lalbazar areas in Kolkata and Rabindra Sarani.
Dohar is clear that though they sing folk songs, they don't identify themselves as folk artistes. He maintains that one cannot sing folk songs sitting in an urban city like Kolkata, listening to it on You Tube and aping the dialect. "The act of performing a folk song requires much dedication and hard work," Rajib Das says.
 "We belong to a cosmopolitan folk culture. One that is born out of an urban experience where people from different cultures and communities meet and create a sound that is unique in itself; because it is an aggregate of all, yet not fusion," he says.
The band is very particular about authenticity and tries to perform the songs just as  it has been recorded from the original artiste. They never try to force an instrument or compose something of their own to fit an original song.
They also choose to use native instruments of each region and the sur structure or genre they correspond to. For example,the dhamsha is used in Purulia, bankura and birbhum for Jhumur dance, while Cooch Behar and Rangpur area including north Bengal uses sarinda, which conveys a sense of pathos characteristic of Bhawaiya.
"My team is always on the lookout for instruments, which adds to our sound, without ruining it. Whether it the use of a horn in a song called  Gari chole na, or dhaak and kashi in Gouri elo re to depict the spirit of Durga puja, or creating the sound of cuckoo birds with the help of flutes- my team members always have some innovative ideas up their sleeve," says Das.
Living at the Source
"To recreate a song as authentically as possible, one needs to imbibe certain elements of the culture from which a song originates, and that happens only if we inhabit the place. Folk songs are largely based on imagery," he says.
The band also covers songs from regional Bengali dialects. . "We don't attempt things, which is not our cup of tea, such as singing in Santhali language," says Das.
To get that authenticity in their music, Dohar has visited several rural artistes in the past, such as Mansur Fakir, (from Gourdanga, Nadia) and Salabat Mahato, (a Darbari Jhumur artiste from Purulia), who passed away recently, and lived with them for some time to learn their songs, as it was sung originally.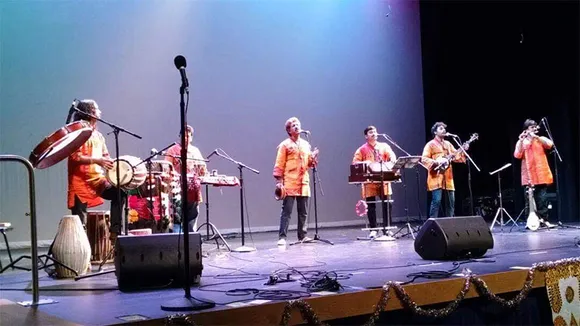 Most of the archival work includes recording their songs, and bringing them to the city, for workshops, where commoners can experience learning directly from the artiste.
"We never try to pass off any other artiste's original composition as our own. We give due credit to the collection and the artiste, from where we have sourced the song," says Das.
While the death of popular rural artistes poses a threat to an already diminishing genre of folk forms,  another potent problem lies with popularity of pop, rock, rap and other mainstream genres. But Das believes that commercialisation and social media has made the world more accessible.
"We were already doing something unique. It is now easier to showcase our efforts on a global platform. But the problem starts when people who do not know anything about proper folk music try to fuse or blend different genres, just to create something that will become popular. That is why, we feel, workshops are necessary to educate the younger generation, and also to popularise the authentic forms," he says.
The band continues to explore more folk genres. "We are trying to enter the mainstream market with more innovative presentation of folk forms. In the past, we have tried to arrive at a complementary compilation of songs between Rabindranath Tagore and Fakir Lalon, the Bengali author, Baul saint and social reformer. At times we have also experimented with the choice of instruments for a couple of Rabindra Sangeet songs. But we did it without changing the original notations and had experts to guide us. We are thinking of doing something similar," says Das who is trained in Rabindra Sangeet.
Dohar has released  nine albums so far and has performed both in  India and abroad including the US, Canada, UAE and Bangladesh. Locally, they have performed in Delhi, Gujarat, Assam, Rajasthan, Haryana, UP and Jammu & Kashmir. The team members have also composed original background score and songs for TV serials and movies in Bengal. And there's a lot more lined up for the future.
(Vinita Tiwari is a Kolkata-based writer, specialising in art, culture and human interest stories)
Also read: How a sociology professor is turning arid Rajasthan green