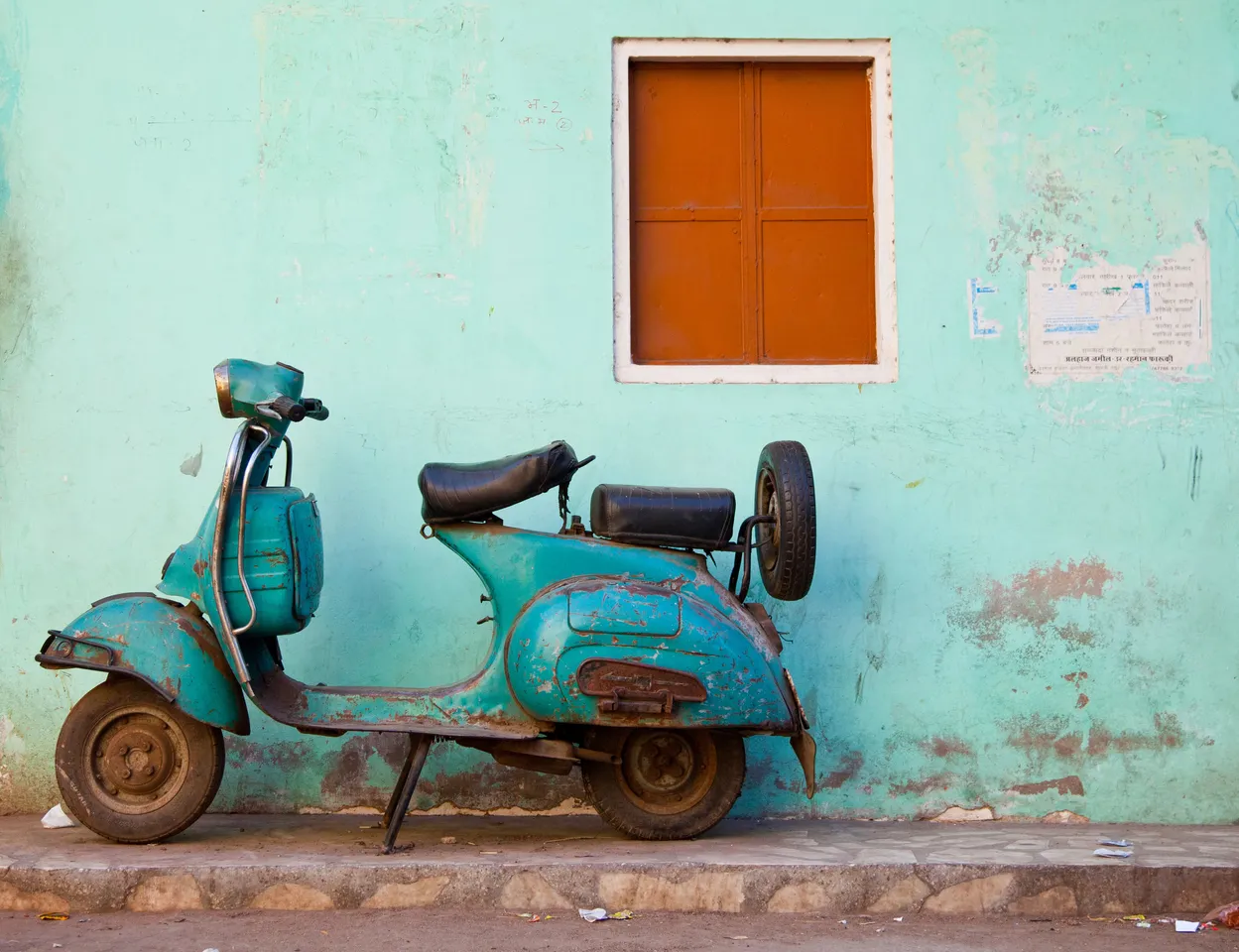 wp:paragraph
1.            The term 'aatmanirbhar', used by Prime Minister Narendra Modi in his May 12 address, is a throwback to the past. The word means self-reliant, which India was before 1991. A country, where every aspect of economic activity was regulated by the government through license and permit raj. It also decided the prices of many items like steel and cement besides production of goods and their export-import. So India was a sellers' market, where demand always outstripped supply. That was the time when there was a waiting queue of up to 10 years for India's then favourite scooter Bajaj Chetak and three years for Maruti 800. It was the era before liberalisation, which was kicked off on July 24, 1991.
2.            'Aatmanirbhar' also means not relying on anyone else for India's goods and services requirements. But that is impossible because no country can manufacture everything domestically. This is either because they don't have the raw materials or it is economically unviable. And if firms are forced to manufacture domestically, it will result in mushrooming of globally uncompetitive small players without economies of scale. This will push up product prices while lowering their quality.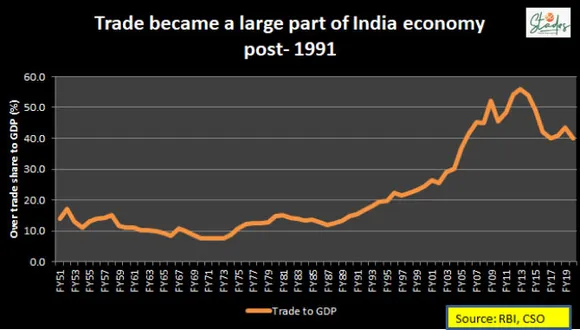 3.            The zeal for self-reliance may also undo most of India's economic achievements post-1991. India's export to GDP ratio was just 7 percent in 1991, which rose to 25% in FY14 and has declined to 18% of GDP in FY19. This boom in export after liberalisation created a host of industries, many of which are growth engines for the Indian economy including automobiles and auto components, IT and IT-enabled services (ITeS), pharmaceuticals, agrochemicals besides others. In the 1980s, tea was India's biggest export and now, it is IT and ITeS followed by auto and auto components.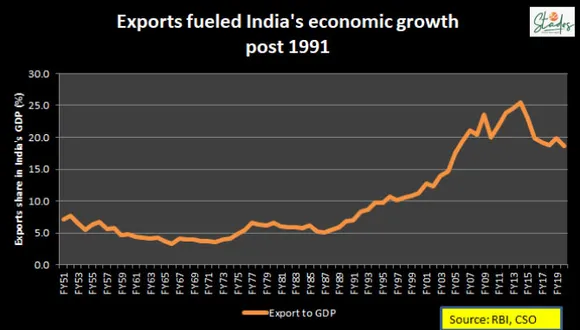 4.            This boom in exports brought in most of the economic gains post-1991.  It created jobs, opened new career opportunities, brought about a housing boom, and made world-class mobiles, cars and consumer goods easily available. The ongoing economic slowdown and contraction in jobs has been preceded by a sharp contraction in export to GDP and the overall trade to GDP, as seen in the charts.
Alongside, imports should not be considered a threat. They employ lakhs of people and are a big source of revenues for the government. Like mobile imports not only give employment to people, they have created the entire digital economy which is bigger than the value of mobile imports.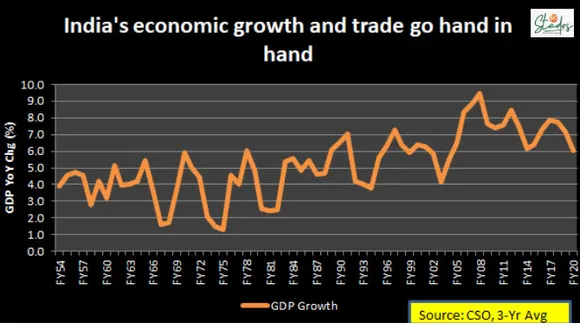 5.            So if the clock is turned back, the result will be a sluggish and uncompetitive industrial sector, fewer jobs and lack of good quality consumer goods, including mobiles. India has been a part of the global supply chain for the last nearly three decades. Withdrawing from this chain will undo all the gains made by India and Indians so far. Do we want that?
(Rashmi Pratap is a Mumbai-based journalist specialising in financial, business and socio-economic reporting)
Also Read: Market fall: It' not over yet