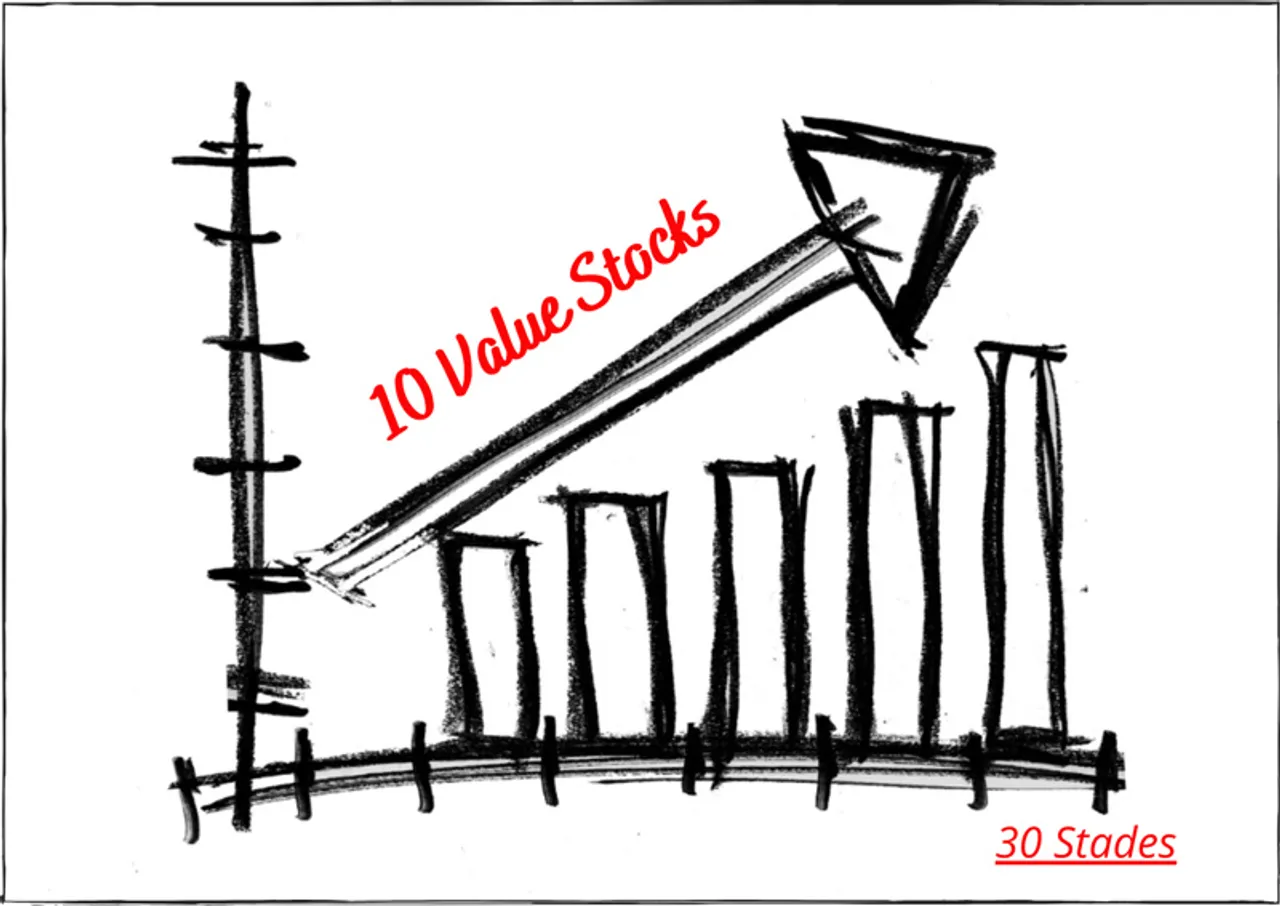 wp:paragraph
The post pandemic rally on the bourses has pushed stock valuations in India to record highs. According to stock exchange data, the benchmark Nifty 50 index closed Wednesday with a price-to-earnings (P/E) multiple of close to 40x, while its peer BSE Sensex ended the day with a P/E multiple of 35x.
The two indices are expensive on the price-to-book-value(P/B) basis as well. While Nifty is currently valued at 4.13x its underlying book value, BSE Sensex closed Wednesday with a P/B ratio of 3.4x. Nifty P/B is highest since August 2008 while it is the highest for Sensex since April 2012.
Historically there is a negative correlation between index valuation and return delivered by the index over the next five-years. See our story last week: Investing during market highs: does it work for long-term investors?
Not surprisingly, this is making many investors nervous about the current rally on the bourses. At the same time, investors are searching for pockets of value in the market.
Luckily for them, there are still many stocks that continue to trade at a discount to the valuation of the broader market. Here are ten stocks from the BSE 500 index that are available at a deep discount to the current valuation of both Nifty 50 index as well as BSE Sensex.
Also Read: 5 steps to rebalance your investment portfolio in 2021
While selecting these stocks, we have tried our best to avoid stocks that may be cheap but could turn out to be value traps for investors because of their inability to grow and scale-up their businesses. 
The latest data is for the financial year ending 2019-20.   
We also weeded out stocks with high indebtedness as indicated by their debt to equity ratio and return on equity during FY20. A company with high return on equity – say higher than 12 percent – and low indebtedness is generally defined as a quality stock. These stocks are also expected to provide good downside protection in case of a market correction.
Also Read: How to get the right mix of equity, gold and fixed income in your investment portfolio
In a nutshell, these 10 stocks offer a good combination of growth, value and quality. These stocks have been ranked according to their market capitalisation as on Tuesday (January 12).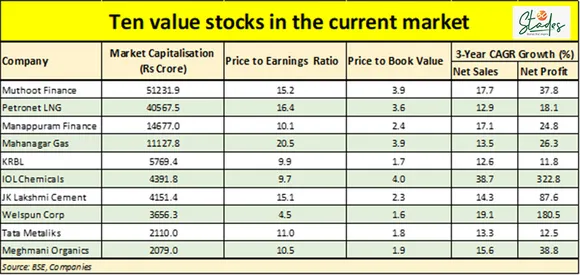 Some of these companies such as Muthoot Finance and Manappuram Finance had faced headwinds in their earnings growth due to rise in bad loans and high cost of borrowings in the NBFC space. However, things are improving now and analysts expect them to start growing once again.
Similarly, energy companies such as Petronet LNG and Mahanagar Gas reported a decline in revenues and profits during the first half of FY21, reflecting a decline in gas prices and the economic impact of COVID19 lockdown in India. However, energy prices are once again rising and so is the demand for natural gas.
Also Read: 5 options for mutual fund investors to maximise gains & minimise risks right now
In contrast, other companies in the list such as JK Lakshmi Cement, Welspun Corp, Meghmani Organics, Tata Metaliks, KRBL and IOL Chemicals have reported revenues and profits growth even during H1FY21.
Anyway the best time to invest in value stocks is when it's facing a financial headwind but the company has the financial muscle and balance sheet strength to grow once conditions become favourable.
Happy Investing.
(Advice: The article is for information purpose only and we advise you to consult a financial advisor before making any investment in equity markets.)
(Karan Deo Sharma is a Mumbai-based finance and equity markets specialist).
Also Read: 5 points to help you decide on investment in the stock market right now