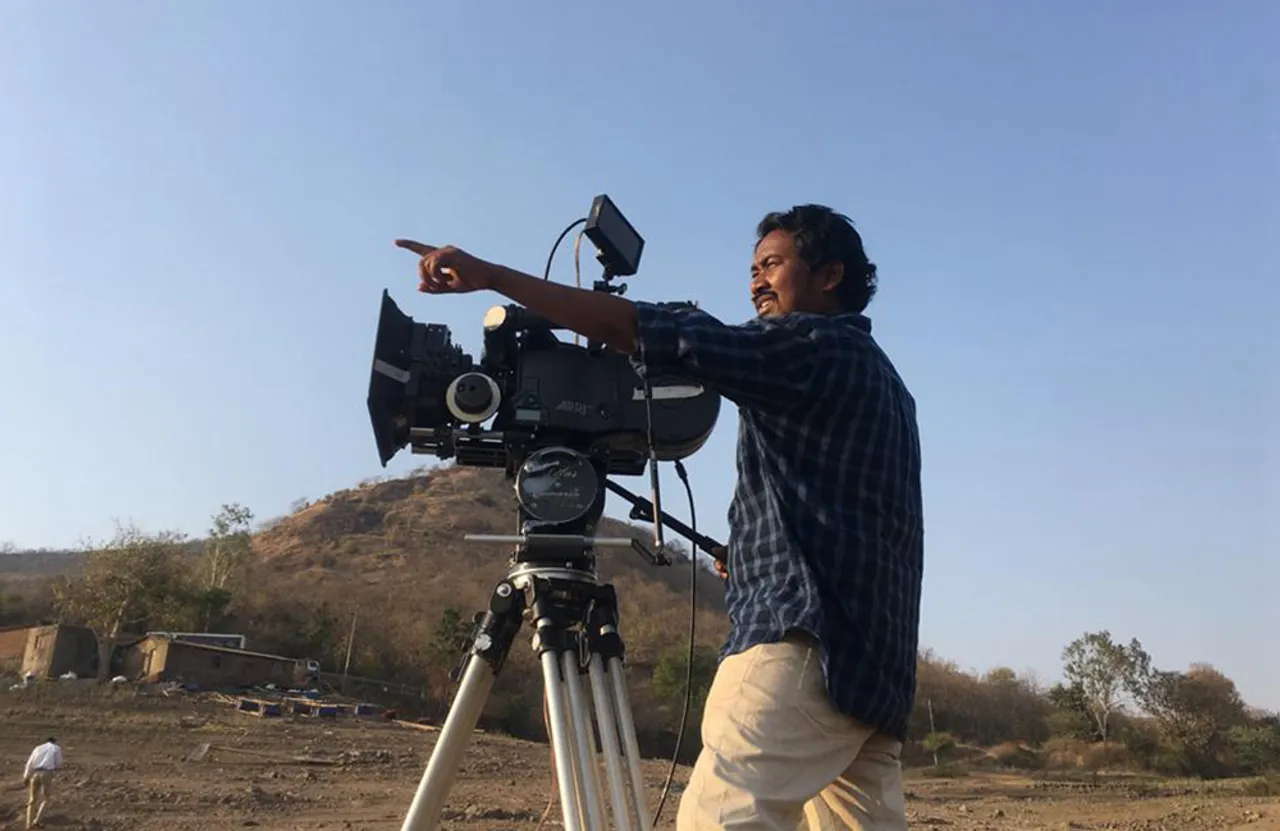 The first scene of 'Sondhayni'- a short-fictional film in Santhali language - opens with murals on mud walls in tribal land. The story depicts a mystical herb found in the nearby forested area. Stepping on the herb will lead one to lose the sense of direction in the forest. There is also a team of geologists who visit the area. And when a bird is killed by them, other birds get together to take revenge on the team. The movie ends with an old lady narrating the story to a person wearing fatigues.
While audiences are left to draw their own conclusion, the film's message is clear – if you mess with Mother Nature, you pay a price for it.
Also Read: Fagun: India's only Santhali newspaper giving a fresh lease of life to tribal language & culture
The 25-minute short film not only showcases Santhali (also Santali) mythology and beliefs, it is also an attempt to highlight the problems faced by tribal societies, says 35-year-old Seral, who is taking stories from the tribal hinterland to the world through his films.
Sondhayni was released in November 2019 and won the Best Screenplay Award at the Dhaka International Film Festival in 2020. It bagged the Third Best Film Award at Navrang Film Festival in Rabindranath Tagore University, Bhopal, and was adjudged the Best Short Film (Fiction) at DMCS National Short Film Festival in Pune.
Tribal stories through cinematographer's lens
Seral says he draws heavily from tribal culture and folklore, which he has grown up with, and attempts to highlight tribal issues in his films. "Storytelling is a part of human nature. I transformed the art of storytelling from oral to visual," he says. 
Also Read: How a Santhali folk singer & orphans turned barren land into forest at Bengal's Ajodhya Hills
Tribals constitute 8.6 percent of India's population, according to the 2011 Census. The Santhals or Santals are among the largest tribes in India. But as in most other industries, tribal communities remain highly underrepresented in Indian cinema as well.  
Mostly, tribals are shown as inhabitants of forests who understand only their native language and use leaves to cover themselves. This is far from the truth. 
Also Read: Village in Jharkhand's Maoist hub transforms into eco-tourism spot reviving lost arts
And Seral is trying to rectify this by bringing real tribal life before the world. "Audiences are happy that their stories are now being told. The feedback is good based on film festivals' response," he says.
Apart from Sondhayni, some of his other films are 'Yuhar', 'Sarech' and 'Rawaah', all made in Santhali. His movie 'Urus', however, was in Marathi.
Rawaah was released on October 20, 2018, at the Imaginative Indigenous Film Festival in Canada. The movie impressed the jury and it was selected for screening at the Winda Film Festival in Australia the same year. These cinemas were made in Santhali while Urus was made in Marathi and screened at the Intimate Lens Documentary Film Festival, Italy in September 2018.
Now, Seral's films are scheduled to be screened at the Imaginative Film Festival in Toronto, Canada and Jakarta, Indonesia.
Also Read: How Bihar's Lahanti Club is preserving Santhali culture
To produce a feature film in Santhali requires a big budget. "But I did all my films within a shoestring budget," says Seral, who produces films under his Dreamtime Films Production banner.
The making of the filmmaker
A pass out from the Film and Television Institute of India (FTII), Pune, Seral grew up in Ghatsila in East Singhbhum district of Jharkhand where his father, Mohun Chandra Murmu, was an employee of Hindustan Copper Limited. In 1975, he came to Mumbai for two years as part of a training programme and narrated stories to his three children about the city. Seral's interest in films and storytelling developed after hearing these stories.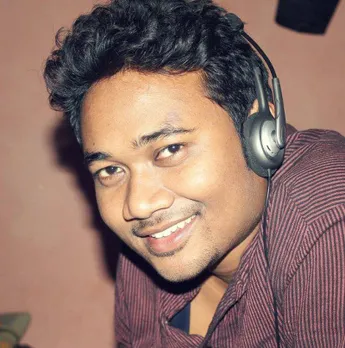 Seral's father was also fond of literature, writing poems and songs and some of his unpublished works were often the topic of discussion between father and son.
For his college education, Seral went to Ranchi where the ambience perfectly matched his interest. Sujata Theatre was next to his college and he bunked classes almost daily to watch movies.
His first exposure to Western films came with the European Film Festival in 2006 which was screened for the first time at Sujata Theatre. He did not know much about Western films till then and watched them for learning how cinema works.
Also Read: Adavi: organic coffee that brewed a new life for Karnataka's Soliga tribe
After school, Seral did a course on Film Studies at St. Xavier's College. Luckily, for him, the course had sessions on camera conducted by Biju Toppo and Meghnath Bhattacharya – the renowned documentary filmmakers from Jharkhand. They noticed Seral and asked him to join their studio – Akhra Communication. 
Seral visited the studio with a pre-conceived mindset that cinema means big screens, high-end cameras, reels, and so on. But he was surprised to see that the studio had a small computer, a PD-170 Sony camera and an editor and a director in deep discussion.
Akhra is a tribal word for 'community stage' in the village. Akhra Studio has loads of books, film magazines, DVDs and people from different walks of life and ideologies used to join together for debates. Seral also saw films by foreign directors and amid this invigorating environment, the idea of becoming a cinematographer took shape.
Know-hows at FTII
In 2011, Seral was selected for a one-year editing course at FTII, Pune. He commenced his shooting experiments with a small documentary film on Father Stephen Van Winckle, who was a documentary filmmaker and roamed across Jharkhand villages with a Super 8mm camera to take pictures.  
Also Read: Toda embroidery: Preserving tribal craft from the Nilgiris stitch by stitch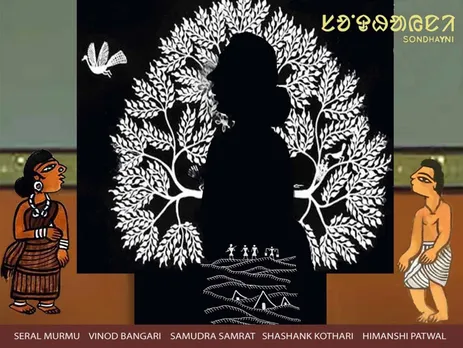 After finishing the course, Seral wanted to join the Film Direction course. However, his family was reluctant. "This was because some were sceptical about my career while the rest of the villagers were happy with my choice," recalls Seral smilingly. 
While he was in this catch-22 situation, Akhra Communication offered him a project on Santhali language documentary films for an NGO.
The killing led villagers to unbind themselves from this age-old system. The 30-minute documentary rewarded him handsomely and boosted his morale to re-apply for a Film Direction course at FTII in 2013.  
Also Read: Pithora art: How Jhabua's Bhuri Bai broke centuries-old taboos with a brush & colours
The three-year course took six years to complete because of a strike by the management. In 2019, Seral passed out of the institute with flying colours. Recalling his days at the campus, Seral says he enjoyed every moment of it.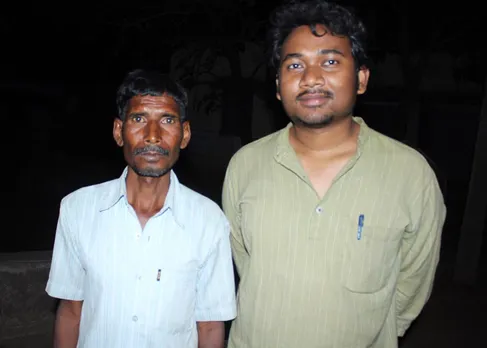 He narrates an incident when in 2015 his professor rejected a film idea by saying "there is nothing new in this film". Seral shot a 10-minute Santhali fiction film named 'There Is Nothing New In The Film'. It depicted fear but without showing any bloodshed, for which he got much appreciation from his professor.
In 2016, Seral made a documentary for the Films Division with a title – 'Jhumri Telaiya Se', based on a town in Koderma district of Jharkhand. People from the town would post letters requesting to play the film's songs on the popular radio programme - Aap-Ki-Farmaish, on All India Radio, he recollects.
Being a filmmaker
Seral says tribals are good storytellers.
He underlines the need for backing by the state government or corporates to ease things for filmmakers. He cites the example of Maharashtra which has reserved Matinee shows for regional language films which are tax-free. "This helps the distributor, producer and cinema-hall owners to share collection from movies because the state government doesn't levy tax and the profit percentage rises."  
Also Read: Snehakunja: Preserving biodiversity through empowerment of tribals in Western Ghats of Karnataka
For making a feature-length documentary film on the history of Santhali cinema, India Foundation for the Arts, Bengaluru, has granted him Rs 4 lakh for the year 2020-21. "This is a significant project. For the first time, we are supporting the Santhali language, so it's a very important grant for IFA," says Menaka Rodrigues, Head – Resource Mobilization and Outreach, India Foundation for the Arts.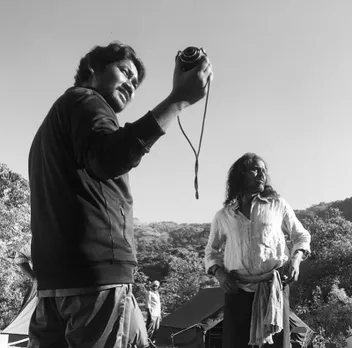 Seral doesn't want to be the sole Santhali cinematographer. He wants the film making community to grow and invites youngsters to share everything that he didn't have access to in the early days.
Also Read: Tribal women turn entrepreneurs with Tasar silk farming
However, it depends on the viewers who have their choices of star cast, star value, scripts, etc. Then again, some movie does well at the box office without a script but only due to the star," he says.
According to Seral, mythical stories or folktales are never boring. Noted filmmaker Ritwik Ghatak's meticulous depiction inspired him the most. He finds Ghatak's 'Subarnarekha' (1965) the best film. Oscar-award winner Satyajit Ray is also a favourite as is Iranian Filmmaker Majid Majidi who directed movies such as 'Colour of Paradise' and 'Children of Heaven'.
Some of his projects in the pipeline are to make a Santhali Film Documentary of the 20-year technology shift from celluloid to digital. It is funded by IFA. Three assignments on tribes by the Ramdayal Munda Tribal Research Institute, Ranchi and an extension piece on the documentary 'Jhumri Telaiya Se', backed by the Films Division are also in the pipeline.
(Partho Burman is a Kolkata-based award-winning journalist. He writes inspiring human interest and motivational stories.)
Also Read: Rescuing mortgaged kids, giving tribals a voice in decision-making, how Vaagdhara is bringing change from ground up