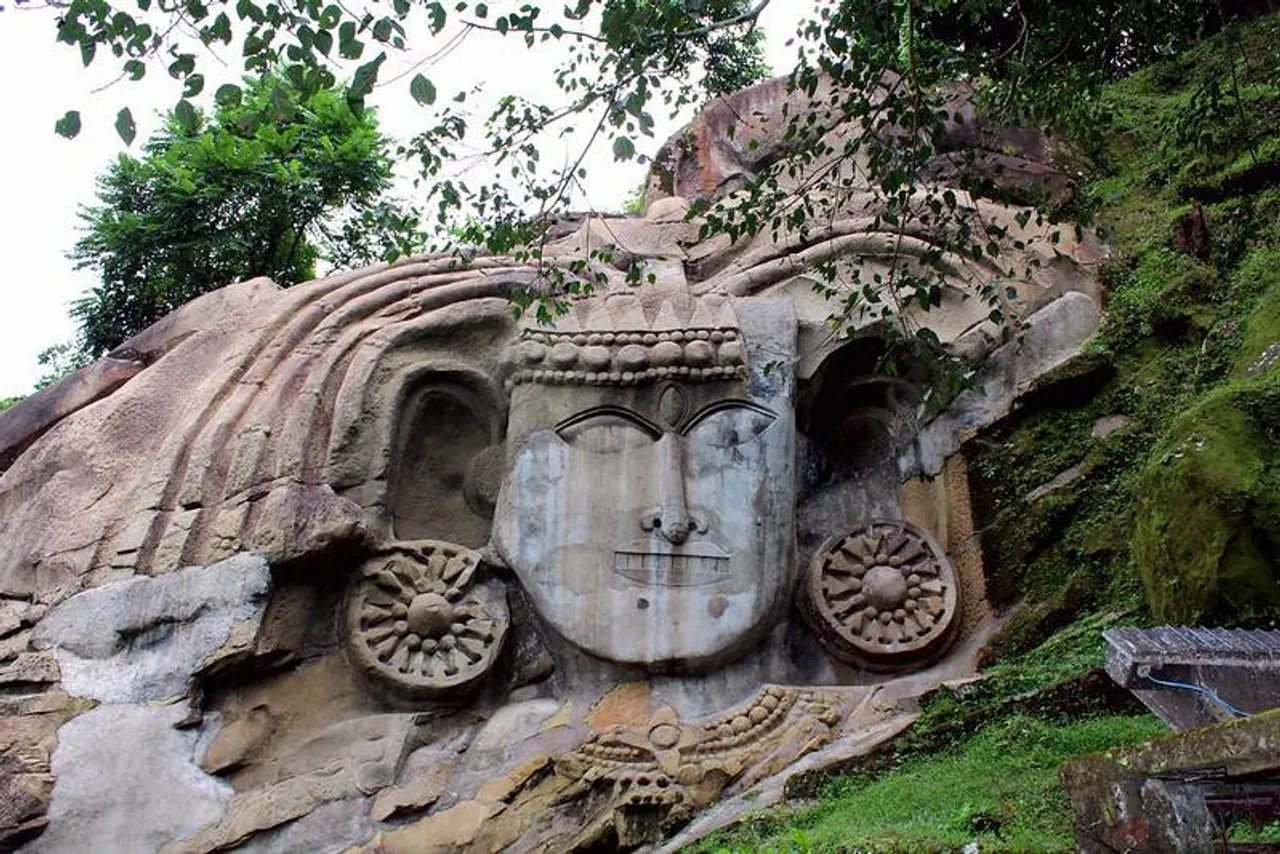 wp:html /
Unakoti, a 1000-year-old Shaivite pilgrimage site, is perhaps Tripura's best-kept secret. The giant bas-relief carvings of Hindu gods and goddesses cut into rock faces on the thickly forested Jampui hills are a chiselled wonder lost in time.
Bas-relief is a form of art in which shapes are cut from the surrounding stone which makes them stand out slightly against a flat surface. While it is not known who made the bas-relief sculptures or why they were made, archaeologists estimate that Unakoti dates between the 7th and 9th centuries. 
Also See: Maluti: Jharkhand's 17th-century terracotta temples built by royal women to outdo each other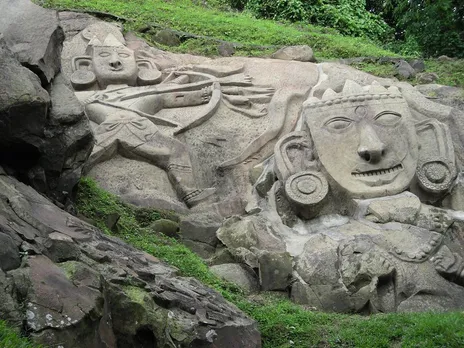 These carvings are located amid lush green vegetation that adds to their beauty. The hilly terrain is accessed by winding bridges and broken staircases. The marvellous rock carvings, murals with their pristine beauty and waterfalls are truly an unmissable experience.
There are two types of sculptures found at Unakoti - rock-carved figures and stone images.
The Shiva head is known as 'Unakotiswara Kal Bhairava'. The massive image is about 30 feet high and has an elaborately embroidered head-dress which ­ is 10 feet high. The ears protrude on the sides and there are large earrings in the earlobes.
The image of Shiva is flanked by two female figures – one is of goddess Durga standing on a lion and another is said to be of Ganga, the river goddess. Three giant images of Nandi, Shiva's vehicle, are found at the site.
Also Read: Udaigiri caves: A repository of ancient shrines and mythological tales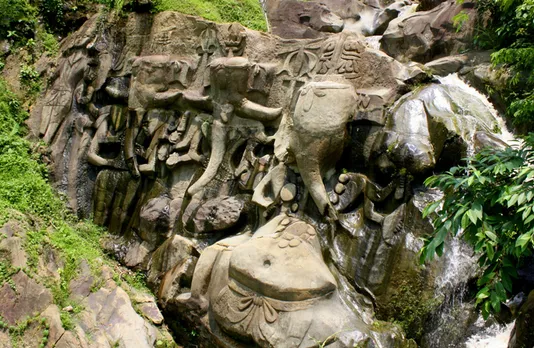 On another panel is the image of a warrior-like goddess, perhaps of Durga standing on a lion. Near this mage, there are images of two female figures in dancing poses carved into a boulder.
Images and figures of Hindu deities such as Vishnu, Hanumana, Ganesha and even Ravana are found carved into the hillside. Each year in the month of April, the 'Ashokastami Mela' or fair is held at Unakoti and is visited by thousands of pilgrims.
The Legends of Unakoti
There are no historical records about who created the marvellous rock carvings at Unakoti. But interesting legends, myths and stories abound to explain how the giant sculptures came to be.
Also Read: Kalaroos caves: Kashmir's Russia connection through tunnels
One of the legends says that once Shiva was travelling with an entourage of gods and goddesses to Mount Kailash, his abode. There were 99,99,999 gods and goddesses accompanying him. As night was approaching, Shiva decided to stop at the Raghunandan Hills. He asked the other deities to be ready before sunrise as they had a long distance to cover.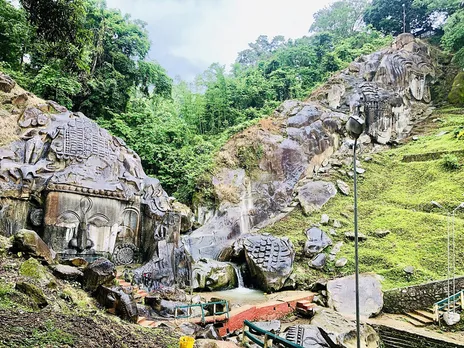 But the next morning, all the deities except Shiva were asleep. This made Shiva angry and he cursed all the gods and goddesses who turned into stone.
Another story goes like this. A local sculptor, Kalu Kumar, who was a devotee of Lord Shiva and his consort Parvati wanted to please the gods. So, he vowed to make 10 million images of Lord Shiva in one night. 
Another version of the story is that the sculptor Kalu Kumar was given the task of making one crore images of gods and goddesses. He completed the task and became so arrogant that he made the last image of himself.
The legend of the Subrai Khung
The Rajmala, the chronicles of Kings of Tripura, also narrates how Unakoti came to be established. This legend is popular among the locals. Unakoti is known as Subrai Khung in the Kokborok language.
The chronicles state that King Jujarpha or Hamtorpha ruled the kingdom of Tripura in 590 AD. He was a devotee of Lord Shiva.
Also Read: Bhatner Fort: India's oldest & strongest fort built 1800 years ago in Rajasthan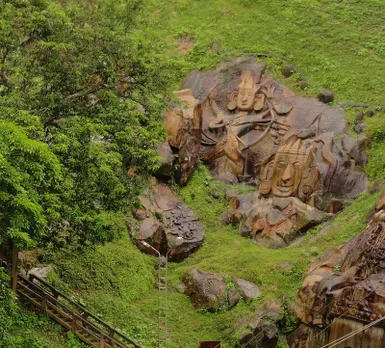 In Tripuri legend, Shiva is referred to as Subrai, the creator of the universe. King Hamtorfa wanted to bring Lord Shiva to his kingdom. He went to mount Kailash and prayed to Shiva. When the lord appeared, Hamtorpha requested Shiva and the one crore gods and goddesses to reside in his kingdom. Lord Shiva advised the king that all the deities he prayed to would come to his kingdom but he would have to make statues of all of them.
King Hamtorpha returned to his kingdom and prayed to all the deities. The deities started appearing. The king assigned the sculptors to make statues of all the gods.
However, when he prayed to Goddess Ganga, she declined, saying that if she came to Tripura, the other places in India would have no water. She sent river Gomti in place of her. Since the king did not construct the image of Ganga and it was left with one less than a crore statues, it acquired the name Unakoti.
Also Read: Masroor: Himachal's exquisite rock-cut temples known as the Himalayan pyramid