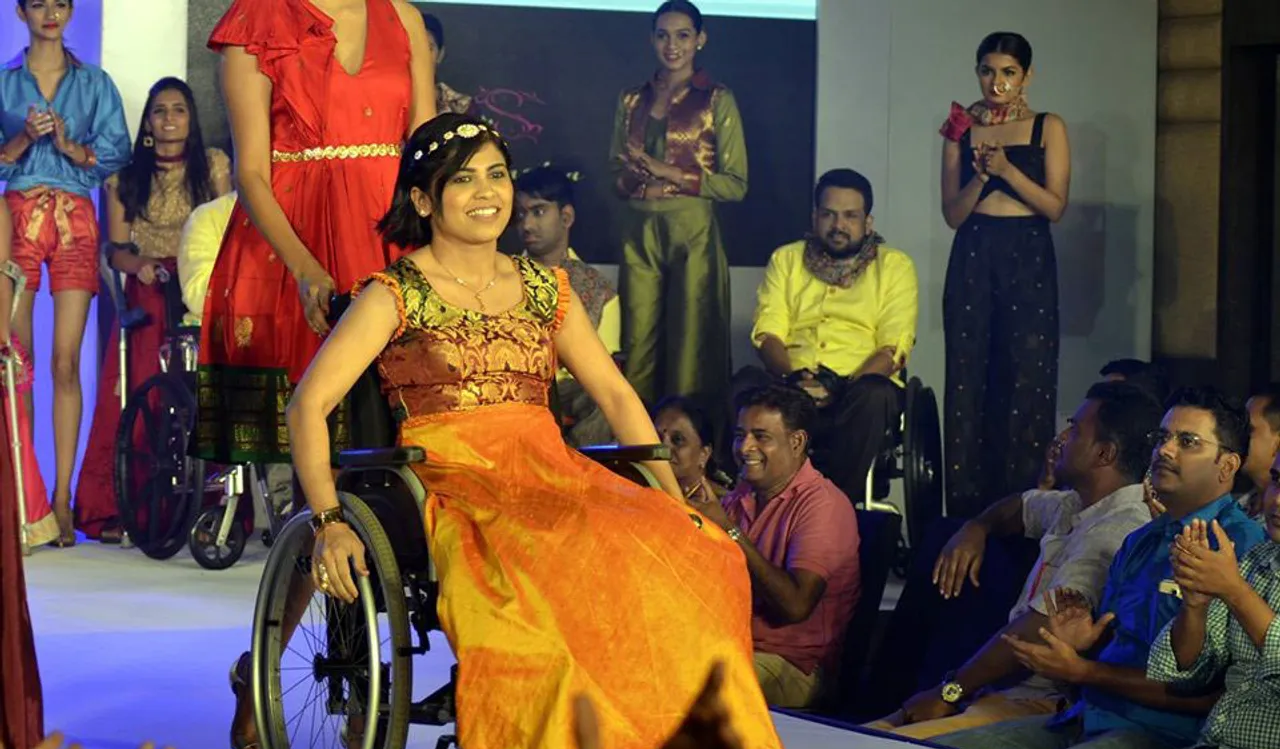 It's the beginning of a new week, and Swarnalatha J, 40 has already shed her quota of tears for the day, trying to handle the pain of physiotherapy. What keeps her going is the knowledge that there is work to be done, a family to be run, and innumerable others to inspire. Ten years ago, when I first met Swarnalatha in Coimbatore, she was using a walker.
At a time when people rarely spoke openly about their medical condition, here was someone who not only spoke about her having multiple sclerosis (MS), but also tried her best to generate awareness so that others like her could live, and not merely exist.
MS is an auto-immune condition that leaves a person completely disabled. It is a neurological disorder that causes problems with balance, muscle control, vision, speech and other basic functions. 
Counselling For Change
A decade later, Swarnlatha has moved to a wheelchair, but has in that long journey, touched innumerable lives - she's counselled more than 500 people face-to-face, and has reached lakhs more through her TEDx talks and motivational sessions. Through the Swarga Foundation (founded in October 2014), she also set up the Sowkhya Physiotherapy Centre in November 2018 (in association with the Coimbatore Corporation), a 2,000-sq ft space where doctors, physiotherapists and physicians offer free outpatient services to anyone with neurological and orthopaedic conditions. So far, about 3,500 people have benefited.
Besides this, her team has made the railway station and the Police Commissioner's Office in Coimbatore accessible to all, and also set up wheelchair-accessible toilets in 10 government schools.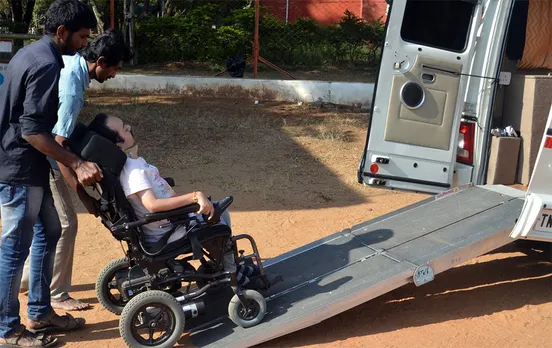 Swarga Foundation makes long-term plans. Before making school toilets accessible (this followed a conversation Swarna, as she is popularly known, had with school students with Duchenne muscular dystrophy, where they said they avoided school because they could not use the restroom), the team zeroed in on schools that were strategically located, and were centres for public examinations, so that it would benefit children and teachers. 
Swarna was one of the first in Coimbatore to speak about the need for accessible toilets, without mincing words. A byproduct of that was Sarathi, Tamil Nadu's first disabled-friendly mobility van that people can hire for short trips to the hospital, mall, cinema, a short drive out of the city. Recently, an NRI booked it for 25 days to travel with his wife, who has MS. The driver picked them up in Hyderabad, drove across Maharashtra, Karnataka and Kerala, before dropping them off in Chennai. "Three of us in the core group are wheelchair users; and each of us has different needs. I also considered what Jaggu (writer and social activist VG Jagadeesh who was quadriplegic and who passed away in 2019 aged 27) would find comfortable. We added a bed, and made the whole thing easy to maintain," says Swarna. A nominal charge is levied to have a full-time driver on the rolls. About 500 people regularly use the facility.
The MS diagnosis and its aftermath
All of Swarnalatha's present is rooted in her past. She was a product of patriarchy and faced sexual abuse as a teenager, before she broke free, married a man she fell in love with, and started life afresh. The MS diagnosis came in 2009, when her son was two. Daughter Gaana was born in 2011.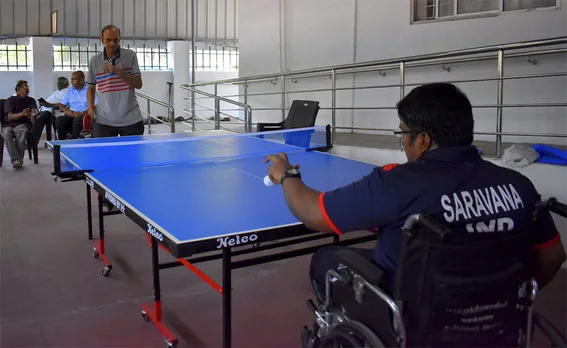 When I first went for 92 days, Gaana was 10 months old, Gagan was four. I was still feeding her and Guru (her husband Dr Guruprasad TS) was handling the children, home, his PhD, and working, because money was in short supply, and this is a condition that is expensive to treat. I saw children who had not even begun their lives with the same condition I had. I decided to not complain."
The idea for Swarga was born soon after, and began with counselling. "I could counsel patients, and Guru could teach their families how to cope. By then, my father-in-law had developed Parkinson's and Alzheimer's. So, Guru had the experience of dealing with health setbacks. Like-minded people came on board soon," she says.
Swarnalatha says her choices in life are simple: To get up or stay in bed. "I choose the former. And I motivate myself constantly so I can get out of bed the next morning. Eventually, what I dream of is a full-fledged rehabilitation centre for multiple sclerosis in India."
Prototype and progress
Swarga Foundation has worked on both the toilet and the mobility vehicle prototypes from scratch, trying to keep costs low while providing maximum benefit. One way it does so is by involving companies to take responsibility for the ramps, raw material and construction. "CSR for the disability sector is abysmally low. We manage thanks to the funds received from my lectures, proceeds from our "I'm Special" calendar sales, and friends and family who chip in. I'm the kind who won't ask Guru for money. Now, I have learnt to ask if it concerns others. That's a huge change," she laughs. 
Also, her children, now 12 and 8, have learnt to mother her. "Disability is something they live with, every single day, and they are very sensitive. That makes me happy despite the suffering."
(Subha J Rao is an independent journalist based out of Mangaluru. She contributes to a clutch of publications on cinema, sustainability and food.)
Click here to reach out to Swarga Foundation
Also Read: Indian women's workforce participation falls below Pak & Bangladesh as slowdown bites