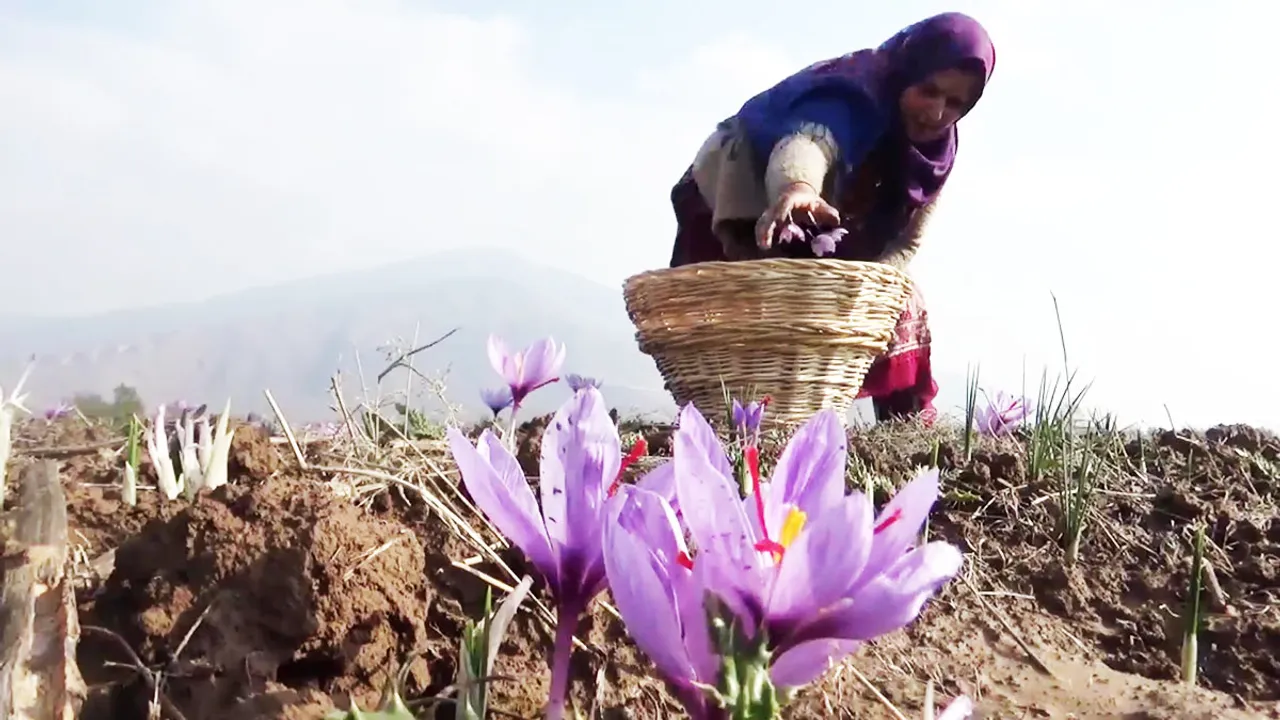 wp:paragraph
Last November, Ghulam Nabi along with other saffron growers in the Kashmir Valley, was eagerly awaiting a bumper crop after heavy rainfall drenched their fields in Pampore, also known as Kashmir's saffron town, nestled 14 kilometers south-east of Srinagar. 
But on November 7 last year, the heaviest snowfall in six decades, wreaked havoc for saffron, one of the world's costliest spices, which sells at upwards of Rs 200 per gram.
Saffron production was 16.45 tonnes in 2017 but went down to 5.2 tonnes in 2018 following a drought and inadequate irrigation facilities. "This year (2019), it is slightly better at about 5.9 tonnes. But it is nowhere close to the earlier figures. We don't have enough irrigation facilities. And the snowfall hurt the good crop we were expecting this year," says Wani.
Area under saffron cultivation in Kashmir has declined due to inadequate irrigation facilities and declining crop yield. From 5,707 hectares in 1996, saffron is now grown over 3,700 hectares where the major cultivation is done in Pulwama district (around 3200 hectares). It includes the Pampore town.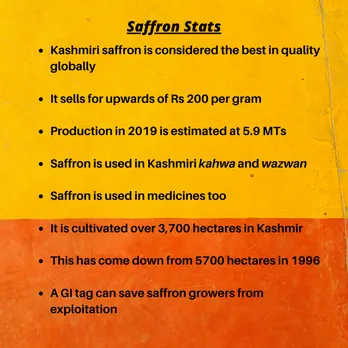 Kashmiri saffron is considered the best in quality globally due to the Valley's climate, which gives a high concentration of carotenoid pigments – crocin and crocetin – responsible for the deep maroon colour and aroma. The spice is mainly used in Kashmiri tea called 'Kahwa' and 'Wazwan'—the multi-course Kashmiri cuisine comprising nearly 30 dishes.
In Jammu and Kashmir, saffron is harvested annually in four to five phases beginning mid-October and lasting until mid-November. The untimely snowfall this year buried the crop, and it could not be harvested. Nearly 32,000 farmers registered to cultivate saffron in the Valley suffered losses.
"Due to drought for three years beginning 2015, the number of saffron seeds has also gone down, adversely impacting cultivation," Wani adds.
The losses due to snowfall and low rates were compounded by the clampdown in the valley," says Showkat Ahmad, a Srinagar-based saffron seller.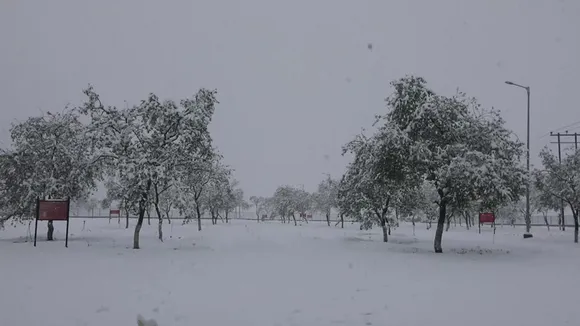 Politics adds to woes
On August 5 last year, the abrogation of Article 370, which gave special status to the erstwhile state of Jammu and Kashmir, plunged the politically-sensitive valley into a communication blockade. The internet gag following the official advisories asking tourists to leave the valley adversely impacted the saffron growers.
Nabi says the move (abrogation of Article 370) came at the peak tourist season in Kashmir. Saffron sales usually shoot up when tourists arrive but the scenario was completely different with tourism falling flat last summer.
In Lethpora, just a few kilometres from Pampore, about 200 shops sell saffron and dry fruits, catering largely to tourists. "On good days, each tourist would buy a minimum of 10 grams affron (costing upwards of Rs 2,000). But we didn't have tourists this year," Wanipoints out.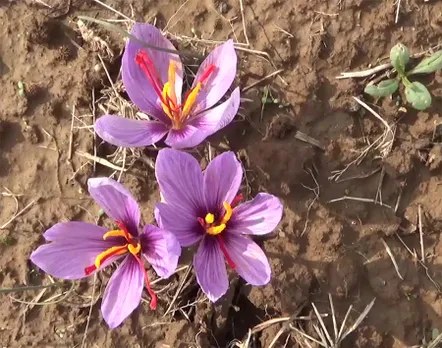 In 2018, Kashmir had received 316,434 tourists between August and December. This number declined by 86 percent to only 43,059 during the same period of 2019, according to data collated by journalism non-profit IndiaSpend.
Once saffron is harvested, it can be stored for up to one year. But the spice continues to lose colour as time progresses. "It will not fetch even half the rate next year. So we have to sell the produce at whatever rates we get or book losses," says Wani.
Nabi rues that the internet ban has affected a lot of growers who had started selling online in the last few years. "How can the government justify this blanket ban on the internet? We use the internet to improve our earning. Why should we always become collateral damage of this repeated security move in Kashmir? Why can't the government separate the chaff from the grain, and spare us?" he asks.
Middlemen rake in the moolah
"For the first two months we did nothing amid the continuous communication blockade. Many sellers, who are completely dependent on online sales, clocked zero sales," says Bashir Bhat, a Srinagar-based online saffron seller. With no business activity taking place post August 5, Bhat has shifted his office to New Delhi. "Our Srinagar office is still non-functional," he says.
Adding to the woes of saffron growers are middlemen, who are offering only Rs 120 per gram to sellers this year. This is because Indian traders are importing lower-quality saffron from Iran, available at just Rs 70 per gram, in the absence of any import restrictions.
"Cheaper Iranian saffron is mixed with Kashmiri produce (ratio of 50:4) and sold by dealers at high rates," says Wani. This, combined with the snowfall and decline in tourist numbers, will make the costs unrecoverable for saffron growers this year, he says.
Showkat Ahmad, a Srinagar-based saffron seller, has at least 3 kilograms of saffron still resting on his shop shelves. "The loss is huge," he says.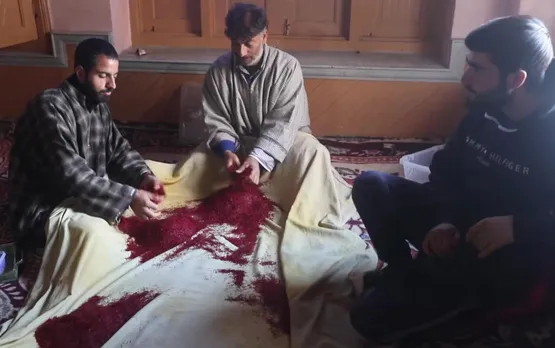 Growers have been demanding a Geographic Indication (GI) tag for Kashmiri saffron for the past several  years. Once implemented, the GI barcode will help the buyers trace the origin of the saffron and its grower. "So Kashmiri saffron will be easily distinguishable, and help growers avoid exploitation by middlemen and traders," says Wani.
Too little too late
The government had started the Rs 400-crore National Saffron Mission (NSM) in 2010 to rejuvenate saffron cultivation in Kashmir.
 "Till now, Rs 266.10 crore has been released to the government of J&K for the Saffron Mission since its launch," Minister of Agriculture and Farmer Welfare said in response to a Lok Sabha question on March 3, this year.
But growers say that the mission has not helped them. "Saffron cultivation requires timely irrigation but they (NSM officials) have failed in that," said Sadiq Ali, a young saffron grower in Pampore. He rues that, the wells dug under the same scheme are also lying dysfunctional. "This scheme only doomed our fields and crop, rather than helping in producing the much talked about high yield," he points out.
According to Kashmir's Agriculture Director Dr Altaf Aijaz Andrabi, the crop would have been "wonderful" but for the snowfall. "The biggest factor this year was the shutdown, which played a spoilsport," he maintains.
Suffering blows at the hands of the weather, trade dynamics and the political environment the fate of this precious spice hangs in limbo.
(Wasim Nabi is a Srinagar-based freelance multimedia journalist)
Also Read: Political uncertainty in Kashmir brings pashmina weavers' looms to a grinding halt