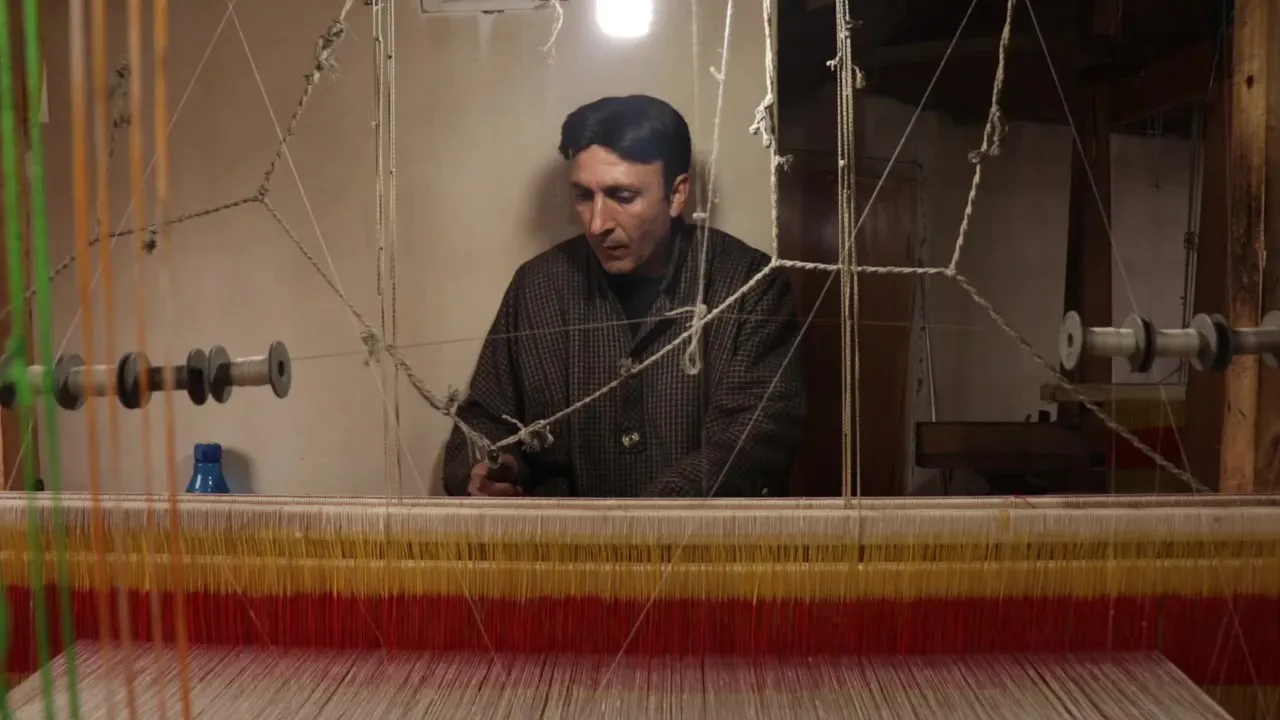 Sitting in her dark kitchen in Srinagar's Old City, called the 'cradle of artisans' in the Kashmir Valley, Shameema stares at the mud-wall with peeling green plaster. Only a year ago, the room would be filled with Kashmiri folk songs she sang while spinning the wheel – yander – to produce fine threads of pashmina. But now, only a disturbing silence reigns.
Shameema is among scores of Kashmiri women who have been losing the market to low-cost machine-made pashmina. And their woes have been compounded by the years of unrest in Jammu and Kashmir and exploitation by middlemen. The result is that the 600-year-old craft is on the verge of extinction.
To safeguard the interest of weavers, authorities had banned manufacturing of Pashmina products on power looms in Srinagar for one year beginning July 19, 2019. However, with the imposition of Article 370 on August 5, that ban was never fully implemented.
"The new dispensation is not aware of the ground realities here. Along with the non-implementation of the ban, we have been adversely affected by the inability to access the internet. Earlier, we were selling handmade pashmina products online through Facebook as well as through other marketplaces like KashmirBox. All that has come to an end now because of ban on internet services," says Imtiyaz Hussain Mir, a weaver and a member of GI Kashmir Pashmina, which is working to keep the craft alive. Though the ban has been partially lifted, internet services continue to be extremely slow and unreliable.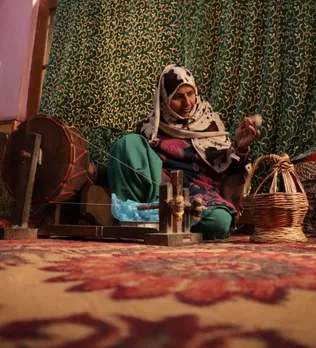 Hand-made pashmina stoles sell at upwards of Rs 10,000 and the price for a shawl can go up to a few lakhs of rupees depending on the embroidery, colour and the geography where it is being sold. Within Jammu and Kashmir (now a union territory), tourists were a major buyer segment for pashmina. "Tourism has almost ended here after Article 370. In the absence of buyers, we are finding it even more difficult to sustain weaving. The repeated curbs in local markets due to the political situation have disrupted the demand and supply chain," Mir adds.
The traditon of Pashmina weaving
Traditionally, it was women who would spin the raw Pashmina, mostly sourced from Ladakh, into a fine count wool yarn. Weaving on the loom was done by men, who turned the yarn into biscuit-coloured Pashmina shawls renowned for lightness and warmth.
It takes about 10 days to complete a plain pashmina shawl on the handloom, which would sell for Rs 10,000-12,000. In comparison, a power loom can make 10 shawls in one day and they sell for Rs 3,000-5,000 each. There are 36 power looms in Kashmir, mostly owned by influential traders with sizeable market control.
Also Read: Born 700 years back, how Gujarat's Tangaliya weaving turned trendy
Besides the increasing number of power looms, financial exploitation by middlemen and ill health following the back-breaking work on the wheel is forcing women spinners to take up alternative jobs in schools and offices. There was a time when every woman in Kashmir would support her family with her weaving wages.
"Pashmina-made goods are sold at high rates, but unfortunately its spinners and weavers are paid peanuts," rues Noora, 72-year-old weaver of Ali Kadal area of Old City.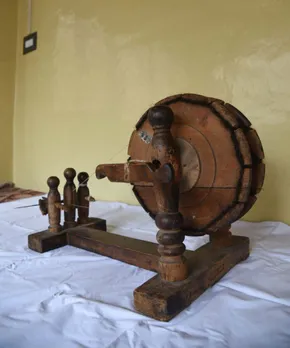 A weaver buys 10 grams of raw Pashmina wool for Rs 120 and turns it into a fine thread over the next three tiring days, only to earn Rs 100 off it, an average of Rs 33 per day. And this rate has remained unchanged for the last 20 years.
Almost every woman in her locality, says Shameema, has stopped weaving of late. After years of hard work, the women are losing their eyesight and developing bad knees and backs due to long hours at the wheel.
Also Read: Maharashtra's Paithani Sarees continue to weave magic after 2,000 years
Noora says the women are now either sitting idle or working as part-time peons and cleaners in different private offices or schools in the city." Even there, they earn only around Rs 5,000-6,000 a month, not enough to make ends meet.
But more than that, women rue the demise of a connection with their past. "I weaved Pashmina wool for 30 years with a religious devotion. It never paid me a fortune, but I always considered it as a part of my life," says Noora.
Middlemen are also seen as the major villains. They often exploit the weavers paying them low wages, and selling the thread at higher rates to the looms. "The middlemen would earn Rs 3,000 per kg, selling thread to the looms," Noora says.
The repeated calamities have also affected the demand and supply chain. Loans offered by the government at subsidised rates to artisans have not helped as floods in 2014, political turmoil in 2016 and the lockdown in 2019 have disrupted the market.
Also Read: Kashmir's Kani shawl weavers develop new products to keep alive the ancient craft
Shops selling the raw  pashmina wool are also facing the brunt. In the Khanyar alley of Srinagar, gaunt-faced Abdul Hameed mostly yawns and dozes off in his mud and brick shop these days. The 55-year-old shopkeeper has been selling pashmina wool to women weavers for over 25 years now.
Unlike earlier times when Kashmiri women would come in droves to buy from him, he now mainly caters to a handful of underprivileged women weavers. "When there's no promising new enterprise supporting this traditional craft, the weavers are being forced to sever ties with the ancestral line," Hameed says.
The pashmina wool comes from the rugged hilly terrains of Ladakh, where the local herdsmen and new-age entrepreneurs rear Pashmina goats for the valuable wool harvest. "It's such a shame that we Kashmiris have messed up with our inherited Pashmina legacy. Whatever the reasons, the fall of Pashmina is yet another big dent to our cultural identity," Hameed rues.
Gulzar Bhat, a Srinagar-based teacher who could receive a formal education with his mother's spinning wheel support, says her relationship with the yander ended after a pashmina seller, whom his mother sold wool to, complained that machine-made pashmina is better than handmade. "She stopped right there," he says, adding that he has kept her spinning wheel in a storeroom so that she does not lament seeing it in cobwebs.
Parvaiz Ahmad, who heads Kashmiri Artisan Rehabilitation Forum (KARF) says official apathy has been the biggest damaging factor for pashmina. "Pashmina weaving by Kashmiri women along with other handicrafts is on the verge of extinction today thanks to the official indifference. At this rate, pashmina may soon be a thing of the past," he says.
(Wasim Nabi is a Srinagar-based freelance multimedia journalist)
Also Read: How COVID-19 and India-China tensions have changed India's 900-year-old Patan Patola weaving