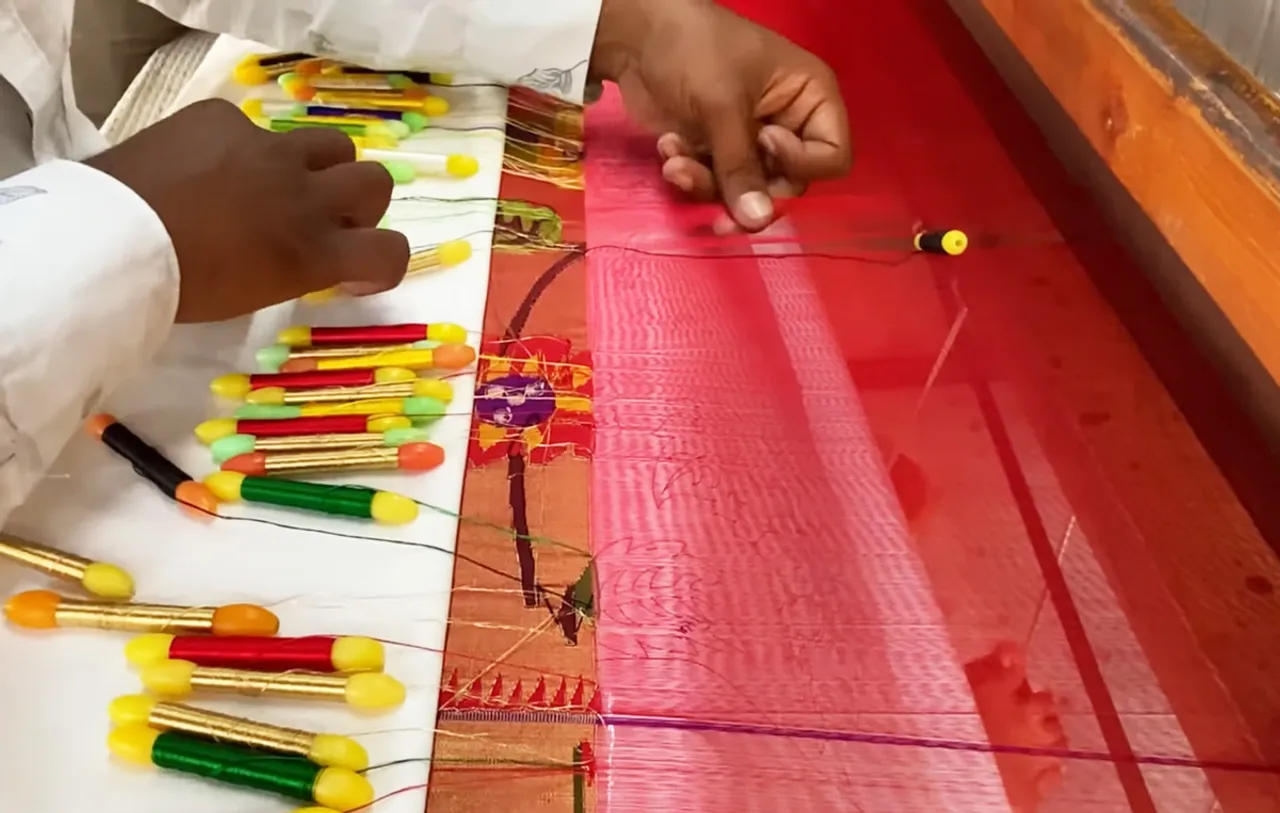 At 78 years of age, Shantilal V Bhandge continues to do what he learned as a 15-year-old boy: weave Paithani Sarees that are part of every Maharashtrian bride's wedding trousseau. Despite failing eyesight, Shantilal looks forward to sitting on his wooden pit loom every day and weaving colourful silk threads and zari into exquisite Paithanis, which have motifs of peacocks, parrots, flowers and vines on the pallu (loose end of a saree).
Master weaver Shantilal, who has received the National Award as well as the Sant Kabir Award, is the fifth generation in his family to keep alive the 2,000-year-old handloom heritage of Paithan and Yeola in Maharashtra.
"I learned weaving from my father, who learned it from my grandfather. Now my two sons – Rajesh and Mahesh – are carrying forward the family heritage of weaving," says Shantilal, who lives in Yeola. 
History of Paithani weaving
The name Paithani is derived from the town Paithan (in present day Aurangabad district), which was earlier called Pratishthana. It was the capital of the Satavahana dynasty (200 BC) and exported silks and cotton to the Roman Empire. The Satvahana rulers distributed cloth to Brahmins and Buddhist monks on auspicious occasions, strengthening the craft of hand weaving. 
Also Read: Biren Basak: The boy from East Pakistan who became India's handcrafted saree tycoon
Almost an encyclopedia of Paithani weaving, Shantilal worked for 25 years in Mumbai's Weavers Service Centre, which is the research and development centre for handloom weaving, and took Paithani designs to newer artisans. He has seen the craft evolve and grow over the last 63 years and if there's one thing he is sure about, it is the fact that Paithani sarees are evergreen and never go out of fashion.
"Today's customers want newer designs but alongside, the old traditional designs are always in demand. Even the younger generation wants at least one traditional Paithani design in their wardrobe," Shantilal says.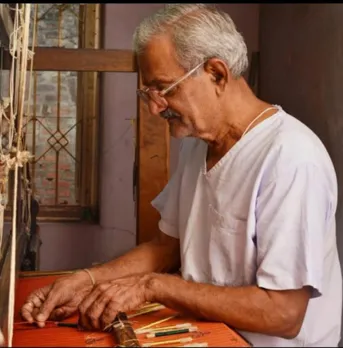 About 95 percent of Paithani sarees are woven with silk while the rest use mercerized cotton. 
"Today, we source mulberry silk from Bengaluru," says the septuagenarian.
Yeola in Nashik and Paithan in Aurangabad are the two hubs of Paithani weaving in Maharashtra and received the Geographical Indication or GI tag for the craft in 2010. While the craft originated in Paithan, Raghujibaba Patil, the founder of Yeola city, took some families of expert weavers in the late 17th century from Paithan to Yeola. He paid them well and provided them with all amenities for a comfortable living. Over the centuries, Yeola became an equally renowned name in Paithani weaving. 
Yeola now has around 3,000 looms which employ over 10,000 people involved in degumming, bleaching, dyeing and sorting of silks besides weaving.
Also Read: How COVID-19 and India-China tensions have changed India's 900-year-old Patan Patola weaving
Family tradition of weaving
Shrikant Bakale, another weaver in Yeola, is the sixth generation in his family to continue Paithani weaving. Their unit B R Bakale is named after his grandfather who was a renowned craftsman. "All the 28 members in our joint family, including my father, my sons, my brothers and their sons, my two uncles and their sons besides ladies of the house are involved in this craft," says Shrikant, whose family makes around 100 Paithani sarees annually.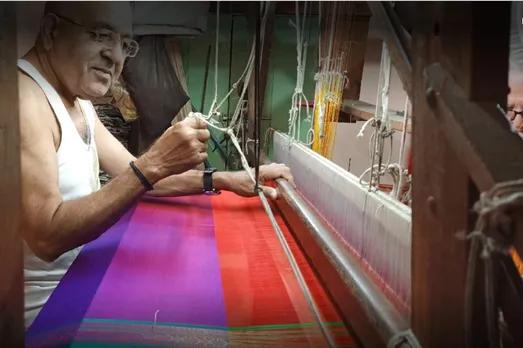 They don't hire others for weaving as all the family members are well versed in the craft, passed on from one generation to the next.
"The more complex the motifs and heavier the design, the higher the price," says Shrikant.
He says the zari is bought from Surat in Gujarat. "We use imitation zari now (metal coated with gold plating), which costs around Rs 4,000 per kg," he says.
However, during the Peshwa rule, the borders and the pallu of Paithanis were made of pure gold mixed with a hint of copper to give it strength. The two metals were spun into a fine wire (zari). 
Also Watch: Spinning, dyeing, weaving…the making of dhabla shawl in Gujarat's Bhujodi village
Today, about one kg of zari can be used to make four sarees with big pallus (40 inches). Each pure silk saree requires about one kg of silk thread, which is bought at Rs 6,000 per kg from Bengaluru. 
Sarees costing up to Rs 25,000, which use less heavy patterns and mostly traditional motifs, can be made in 15 to 30 days. They can be found ready in showrooms across Paithan and Yeola but more expensive ones are almost always made on order.
The process of weaving Paithani 
The process of weaving the Paithani saree can be segregated into four stages -- sorting of silk, followed by degumming, bleaching and dyeing the threads. The next step is winding of weft (horizontal threads) on cones and joining warp (threads that run vertically through the loom). Finally, weaving and designing are done.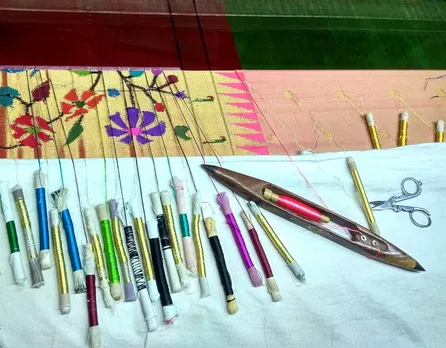 Degumming involves boiling silk to remove the silk gum. The process removes the natural shades of yellow and yellow-green from silk, resulting in dull white material. It is then bleached using hydrogen peroxide resulting in white colour which can well absorb other colours and enhances the stability of the fabric. 
Also Read: Rajasthan: Titanwala family struggles to keep alive Bagru's hand block printing
The silk is then dyed in various colours after which it is given a cold wash and allowed to dry. The bundles of threads are then sent to weavers. Traditionally, the weft threads were winded on cones, locally called 'asaari', using three wooden rods fixed in stones. Today, however, machines are used for this purpose. 
Traditionally, wooden pit looms were used for weaving but today, metallic frame looms are also in use in both Paithan and Yeola. Pit looms are permanently installed in a pit and offer a good foundation, making it comfortable for weavers. The weaver raises or lowers the threads of the warp using footboards or paddles.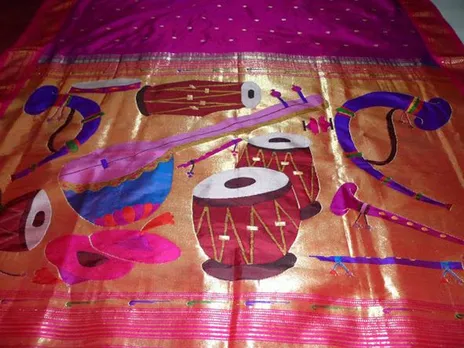 A drawing of the motif to be used is set as the base for weaving to ensure precision and exactness. "For older designs, we don't use a drawing as we are well versed with patterns. Otherwise, a drawing is used," says Shantilal. 
The weaving is done using interlocking where more than one base colour is used. A coloured thread is used length-wise and another colour is used width-wise while weaving to create a play of colours when light falls on the saree.
Also Read: How Exotic Echo is reviving Nagaland's centuries-old loin loom weaving
The weavers arrange 58 warp threads according to the motif and incorporate the design in the saree with the help of extra weft without the use of any technical assistance. 
The Paithani weaving also requires three additional sets of needles – one to control the warp threads, the second to control the zari or gold threads on the borders and the third for the zari threads which form the design in the saree's main body. This third set of needles adds beauty to the main fabric.
An important characteristic of a Paithani is that both sides of the saree look the same, making it easy to distinguish the originals from fakes.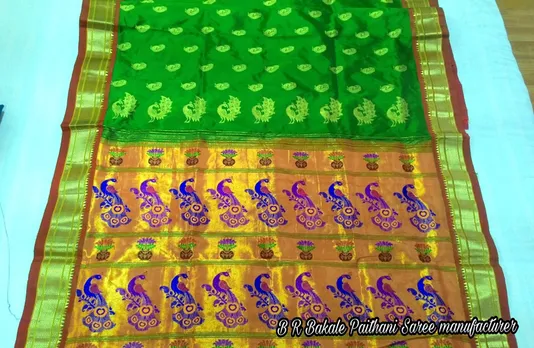 Shantilal says two artisans work jointly on intricate pallus while the rest of the saree can be made by just one weaver. "A master weaver is also needed for the intricate inlay paths of the border," he says.
Today, two types of Paithanis are made – traditional and brocade Paithanis. 
Also Read: Kashmir's Kani shawl weavers develop new products to keep alive the ancient craft
The motifs are inspired by nature and the Ajanta caves and the saree is given the name after the design on it. The most popular motifs include kamal (lotus), mor (peacock), Asawali (flowers and vines), parinda (bird) and tota-maina (pair of parrots), narali (coconut), hans (swan), asharfi (coin) and bangdi-mor (peacock with round design). 
Shantilal's sons sell the sarees through their showroom in Yeola and also execute orders online through their portal. "We have sold sarees to customers in the US, UK, Australia, Canada and other countries," says Rajesh, Shantilal's son.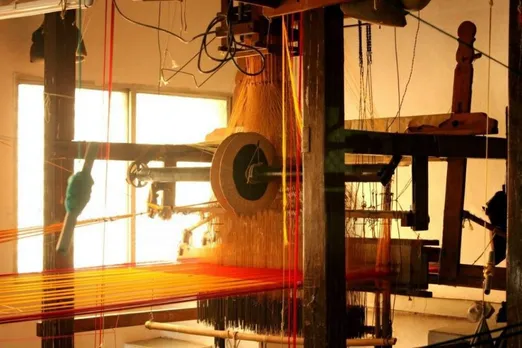 While people from across India are buying Paithani sarees now, the majority are still from Maharashtra where the saree has cultural and historical significance, says Shantilal. 
For Shrikant's family, WhatsApp is a big source of receiving orders where customers also share design preferences. "We execute orders as per specifications," he says, adding that most of the sarees sold are in the Rs20,000 to Rs25,000 range.
While COVID affected the weavers as sales nosedived, things are looking up again now. "Sales are inching back and I am sure things will improve going forward," says Shantilal, who has also trained many students and youngsters in the art of handloom weaving.
As things stand, Paithani weaving is among the crafts of India which are well preserved and documented. The younger generation is interested in learning the art and taking forward the legacy left behind by the Satavahanas and Peshwas.
(Rashmi Pratap is a Mumbai-based journalist specialising in business, financial and socio-economic reporting)
Also Read: Born 700 years back, how Gujarat's Tangaliya weaving turned trendy