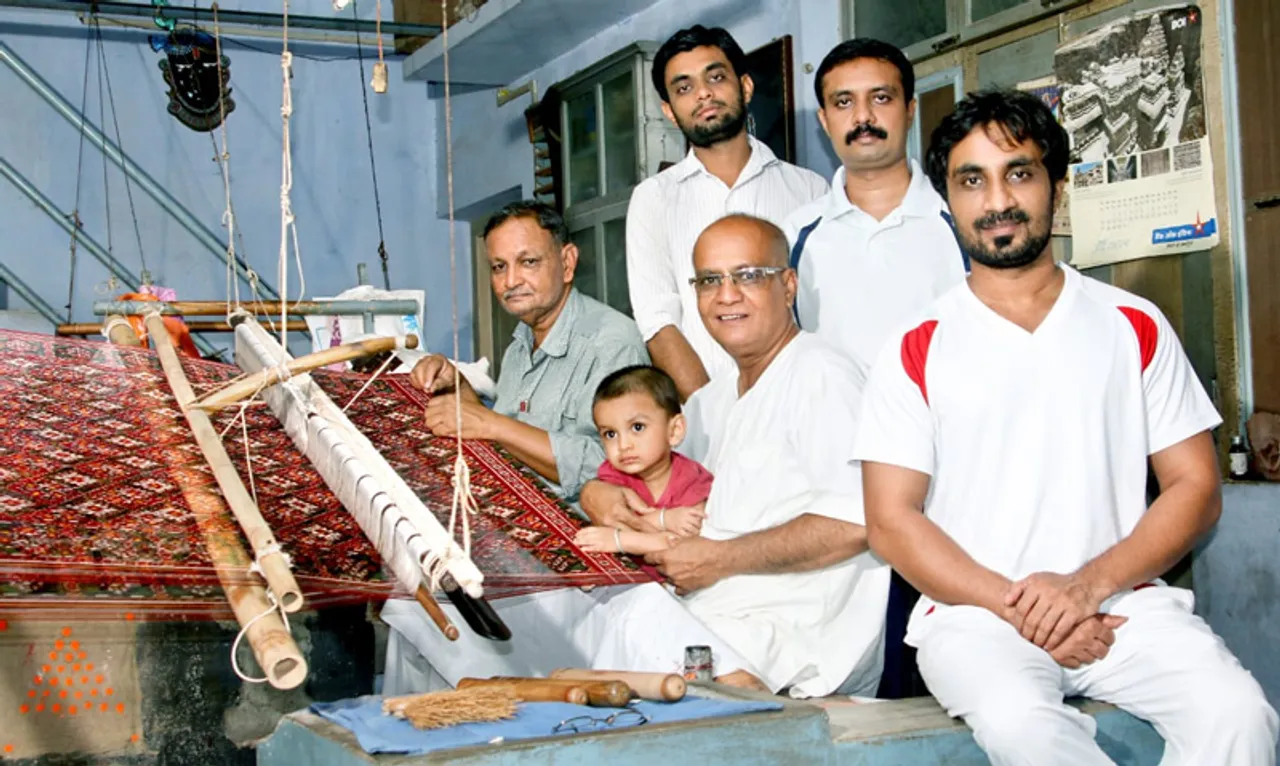 wp:paragraph
The ancient Silk Route, connecting China with the West, passed through India. And Indians bought Chinese silk - considered the best even today - from the traders passing through. However, the COVID-19 pandemic and the India-China standoff has halted trade, impacting many sectors including the centuries old Patola - the double Ikat weave with origins in north Gujarat's Patan region.

Patola weaving remains a closely-guarded secret, passed on from one generation to another. Rahul is the 30th generation of Patola weavers in his family.
However, they are now using Indian raw silk sourced from Mysore. "The standoff between India and China and the government call to ban Chinese items has raised hackles. If we tell people we are using Chinese silk, they hesitate to buy. So we went in for Indian raw silk," says Salvi.
Also Read: Soaking, boiling, dyeing, washing…the creation of Madhya Pradesh's Bagh print in pictures
Ancient custodians of Patola reject GI tag for authenticity 
The Salvi family of Patan, the custodian of Patola weaving for the last 900 years, has been importing silk from China for the esteemed weave patronised by connoisseurs of art. While Patola was granted the Geographical Indication (GI) tag in 2013, the Salvi family has not taken it.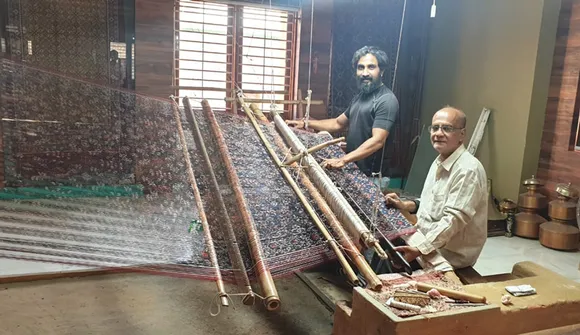 Salvi, 42, says his family had given suggestions for GI tag for authentic Patola at a meeting in IIM Ahmedabad in 2006.
"But these were not considered and the GI tag is available to all those who are using chemical dyes and weigh more. So we have kept away from the tag as we don't want our quality to be compared to fakes that are available in the market," he says.
Chinese silk is costlier than Indian silk.
The family buys silk in bulk for use over three-four years and is currently sourcing raw silk from Mysore. "We make 7-8 sarees in a year and about 500 gm silk is required for one saree. So 4-5 kg silk is adequate for us. We get 15 kg at a time and that lasts us three years," says Rahul. While the difference in the silk used is not apparent to buyers, weavers can make out the difference in the weaving and lustre, he adds.
Also Read: COVID-19: Padma Shri tie and dye craftsman for royals & Bollywood out of work after seven generations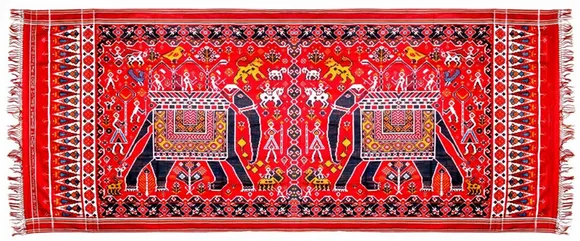 What makes Patola so exclusive
Patola primarily uses the Ikat technique - an intricate pattern of weaves forming geometric patterns wherein the threads are first coloured and then woven. It is of two types: single ikat and double ikat. Single ikat is where either the tano (warp or vertical thread) or vano (weft or horizontal thread) is coloured and the other undergoes a design. In double ikat, both the threads are designed and coloured, which makes the task all the more intricate and difficult.
Rahul says his family firm - Patan Patola Heritage - is the only one doing genuine Patola weaving with natural dyes. "A lot of people make Patola but they use chemical dyes and the quality suffers," he says.
The Salvis are also recognised by the UNESCO for natural dye use in their work and the family is the recipient of four national awards and two Shilp Guru awards.
Eminent personalities such as Congress leader Sonia Gandhi, the ladies of the Ambani family and actor Jaya Bachchan among others have worn double Ikat sarees created by the Salvi family.
He says they make sarees on demand and get orders from connoisseurs in Mumbai, Ahmedabad, the US and UK. The cost of a saree ranges from Rs1.5 to Rs 5 lakh and a saree takes 6-8 months to complete.
Also Read: Political uncertainty in Kashmir brings pashmina weavers' looms to a grinding halt
A tapestry of rich history, and continuing legacies
The Patolas were brought to Gujarat from Maharashtra by King Kumarpala of the Solanki dynasty around 800 years ago. He is said to have brought around 700 Patola craftsmen, including the Salvi family, from Jalna in present day Maharashtra.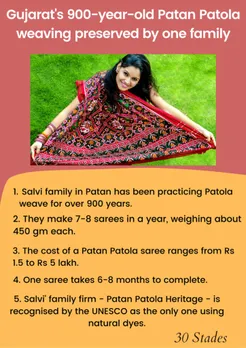 The designs have also remained unchanged for centuries. The most prominent one is Nari Kunjar, the elephant and gopinis. Other popular designs are floral, leaf motifs and animal motifs.
At their home in Patan, which also houses their workshop and a Patola museum, Rahul says his family members themselves sit on the looms and weave sarees. The family does not hire any worker from outside. Rahul left his high paying architect job in 2002 and decided to continue with his family heritage. He and his cousin are also helped by his paternal uncles (who are 65 plus) and their wives.
After the patronage of royal families ended, some 15-17 families who were authentic weavers left this profession but his family continued it.
In fact, some people, says Rahul, spread rumours that the Salvi family does not teach the art to the women of its family. "My mother, grandmother were fully involved in weaving. Today, my wife is a great helping hand. In fact, my great grandfather had made it a point to make the women of the family learn this art."
Also Read: How Nizamabad's 500-year-old black pottery is regaining lost glory
The family set up the Patola Heritage Museum on its own after the government did not help them with an interest free loan. The museum was important to give a message. "The idea of an artisan is that he is poor, lives in a ramshackle hut and wears torn clothes. We wanted to dispel this wrong impression among Indian and foreign visitors," he says. Another reason was to display our heritage to the world.

He says the museum is the only one in the world for Ikat works. "Ikat work is done in many countries but Patola is the mother of all."  

The museum has Ikat works from Odisha, Pochampally, Japan, Indonesia, Malaysia, Spain, Uzbekistan and Holland. "But in these countries they do single Ikat. Double Ikat is done only in Patan," he points out.
Given that their family is the only one practicing this complex weave, Salvi says it is a worry that the tradition, like many others, might die with them if the younger generation does not take it up.
His family does not want to pass on the weaving technique to anyone else because they are against commercialising it. "If you do this art form for money and go in for mass production then quality suffers. This is our tradition since the past 900 years, 30 generations have worked to keep alive this legacy. How can we commercialise and sell it out for money?" he asks.
"This art is also about the struggle of my ancestors who stood tall against all odds and decided to continue this tradition," he adds. 
He is trying to instill the love for this craft in his 9-year-old son.  He takes him to the museum every evening to make him aware of the rich legacy. "I tell him that he has to carry on the family tradition but if he decides to take up another profession we can't force him," he says.
"If my son decides not to continue the family profession, he will at least know what original Patolas are and he can display it to the world as well," he concludes.  
(Vedant Sharma is a Gujarat-based freelance writer; Urvashi Dev Rawal is a Jaipur-based journalist specialising in development, gender, and political reporting) )
Also Read:  Bagh Print: How Khatris are keeping the 500-year craft alive along with MP's tribals