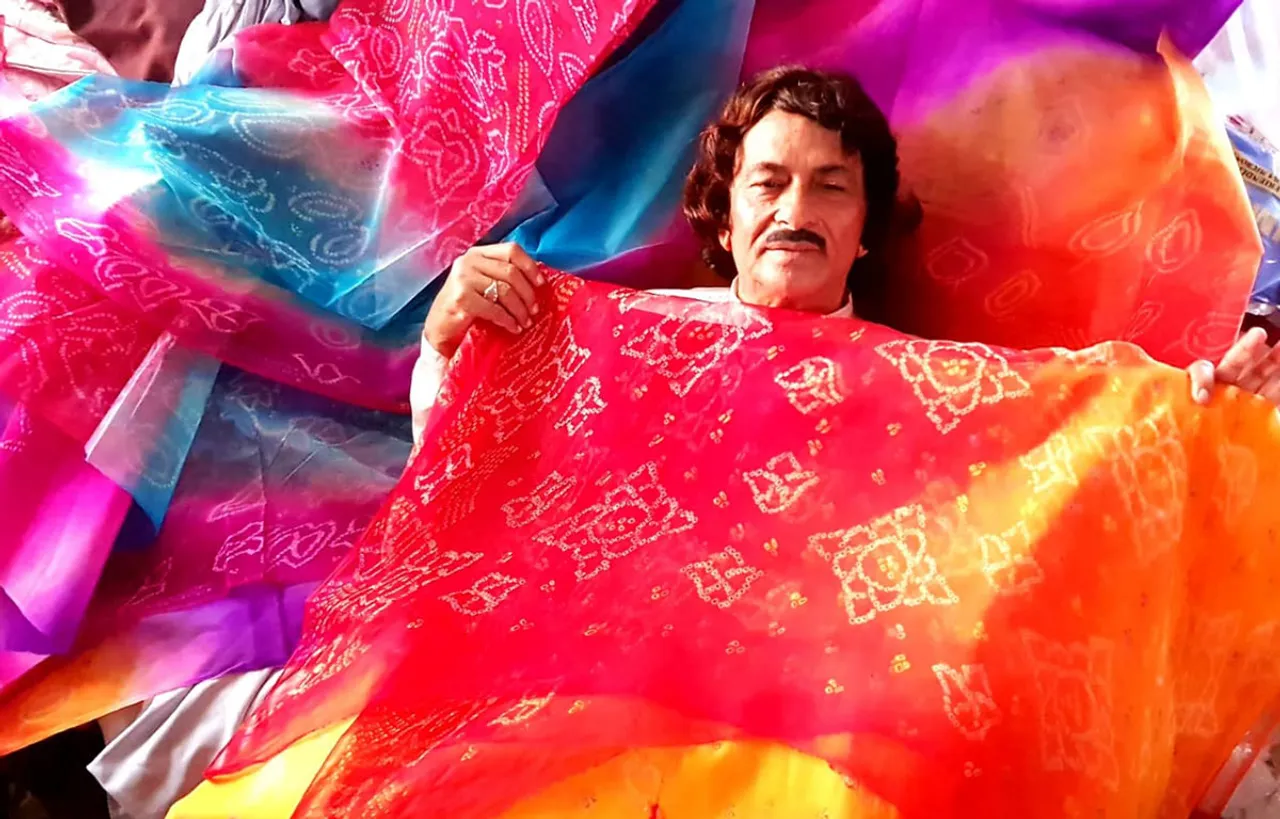 wp:paragraph
Sometime in the late 1990s, when the then external affairs minister Jaswant Singh met Pakistani Prime Minister Nawaz Sharif, Singh was wearing a multi-coloured safa (turban) called 'Gajshahi', named after the former maharaja of Jodhpur Gaj Singh II, who patronises it. Sharif took a liking for the five-coloured safa. Once back in India, Singh ordered eleven similar turbans and had them sent across the border to Sharif.
The safa was a creation of Mohammed Tayeb Khan, the tie and dye master craftsman from Jodhpur, who received the Padma Shri in 2001 for his technique of shaded leheriya or merging of dark and light colours without the use of machines.
Also Read: Political uncertainty in Kashmir brings pashmina weavers' looms to a grinding halt
He is the seventh generation rangrez to the royals of Rajasthan.
"We have also catered to the royals from Gujarat, Maharashtra, Madhya Pradesh, Uttar Pradesh, Jammu and Kashmir and other states," says the 64-year-old.
Khan's skill has been perfected over seven generations. "We were associated with the Mewar royal family. My ancestors were known as Raj Rangrez," says Khan who joined the family business when he was eight.
Rangrez to the Who's Who
Just like Pakistan's Sharif, former US President Bill Clinton and Britain's Prince Charles also have Khan's safas in their wardrobes.
Also Read: The Ethicus Story: How a Pollachi-based couple made sustainable farm-to-fashion viable
"And when former US president Bill Clinton visited Mumbai along with his daughter, the Taj Hotel placed orders for 100 safas. Our family worked from morning to night to complete the order in a day," he says.
Khan reels off a long line of celebrities such as Nargis, Meena Kumari, Saira Banu, Dilip Kumar, Sanjiv Kumar, Sharmila Tagore, Jaya Bachchan, Rekha, Dimple Kapadia, Zeenat Aman, Tabu, Sachin Tendulkar, Mukesh Ambani whom he has dressed. Designers such as Tarun Tahiliani, Ritu Kumar, Raghavendra Rathore, Abu Jani flock to him for his vivid traditional bandhani designs.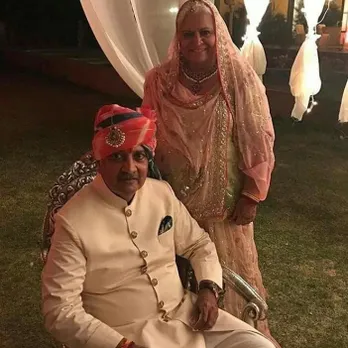 What draws them to Khan is his vivid use of contrasting colours, his striking leheriyas and fine bandhej with small danas, called raidana as against the large danas that dominate the market since it is less tedious and quicker to make.
Bandhani technique involves dyeing a fabric and tying it at several points in vivid colours which produce different patterns that are known as Bandhani, Leheriya, Mothda, Chundari, Dhanak, Pomcha, Panchrangi and Satrangi. Jodhpur and Jaipur are the main centres of Bandhani and it is a source of income for hundreds of artisans.
Khan's son Javed, 43, says that they don't maintain strict accounts of investment and profit but they source 1500- 2000 metres of cloth from mills in Gujarat, as per their requirement. They work with chiffon, crepe, georgette, satin and silk fabrics.
Also Read: Thousands of Rajasthan's rural women empowered through up-skilling in embroidery
"Our order depends on the savas (auspicious days) in a particular season and we source our fabrics accordingly," he says.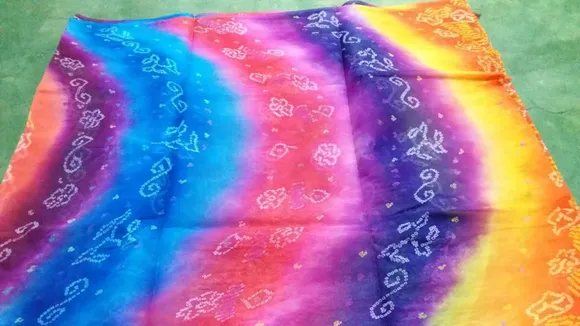 COVID-19 blow
But today, nearly two centuries after his family began this work, the royal rangrez, who has catered to film stars; heads of states and fashion designers is finding himself out of work. The COVID-19 pandemic has dealt a cruel blow.
Also Read: COVID-19 creating India's new urban poor: Magician, jeweller & teacher turn vegetable vendors
Khan says some 600 odd families from villages across Jodhpur district, who work with his family in the laborious tie and dye process, are now jobless. The workers earn Rs 800-1,000 for a dupatta and Rs 2,500-3,000 for a saree.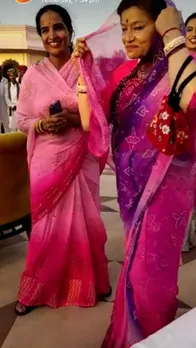 "The entire chain is broken. There is no supply of raw material and no demand since there are no tourists and weddings planned in late 2020. Most events are being put off till 2021 due to the atmosphere of uncertainty," he says. Coupled with the overall economic slowdown and shutting down of his sourcing hubs in Gujarat, there is no specific timeline for resumption of his work.
Despite continuous pressure to commercialise his art, Khan has stuck to the traditional techniques. "Tying the cloth is hard tedious work that takes a toll on the fingers and eyes. But we have a dedicated team of workers who have been associated with us for generations and they work only for us." All the pieces are custom-made, and they cannot mass produce.
Khan laments that the traditional bandhani is slowly fading. "Today the work is very 'chalu'. The artistic and traditional work that was done earlier is being replaced by easier designs for quick returns. But we are trying to preserve the traditional art form which dates back 5000 years," he says.
"I have created scores of new designs to give a contemporary touch to bandhani. But I have remained true to my art. I respect it. I don't want to commercialise it. By God's grace, I have earned the love and respect of people across the world and that is enough for me," he adds.
(Mona Singh is a Rajasthan-based writer and wanderer)
Also Read: COVID-19 gives new wings to kabootar bazi in Kashmir