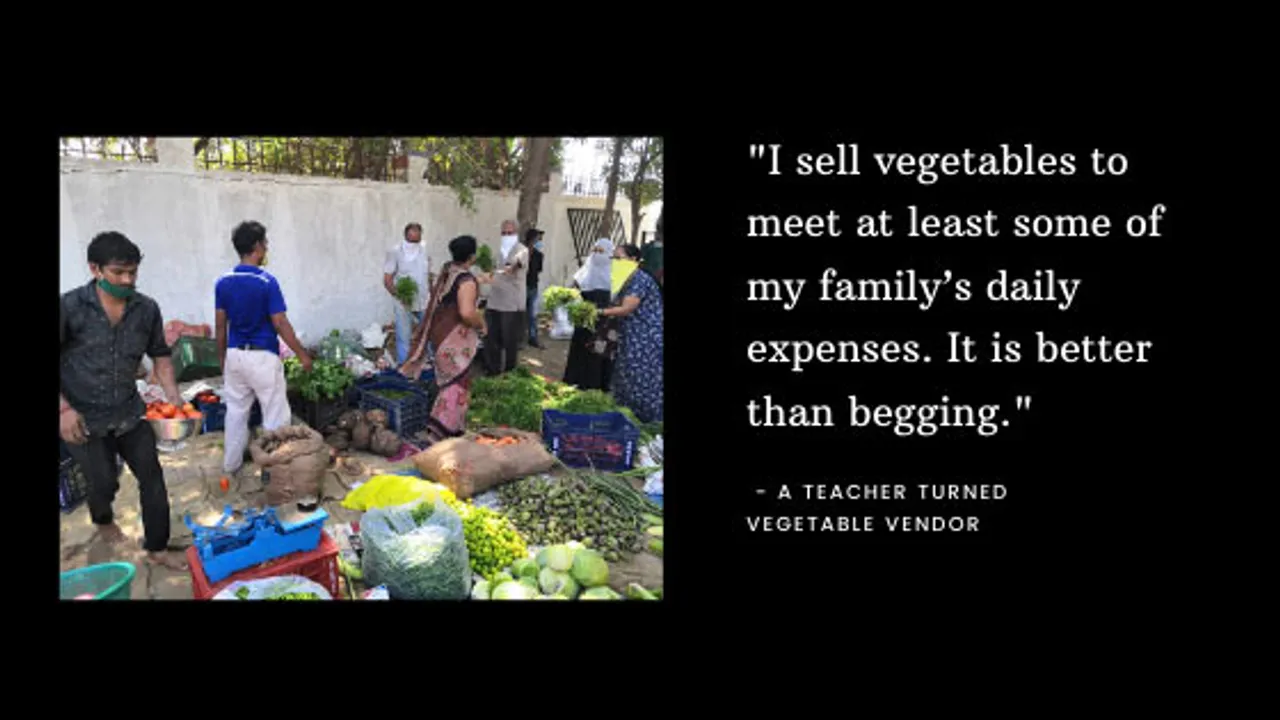 wp:paragraph
A dove suddenly flutters from a hat the moment it is removed by the wearer. A silky red handkerchief is put on an empty table only to reveal a pile of coins when lifted. And when an egg is broken on the head of a boy, one of the audiences, it turns into an omelette. These are some of the tricks that brought R J Mahor alias R J Samrat Jadugar both money and fame across north India. Today, he is selling vegetables in Dholpur, 270 km east of Jaipur, because there are no crowds to appreciate his sleight of hand amid the Coronavirus disease (COVID-19).
Teacher turns vegetable vendor
In India's financial capital Mumbai, 40-year-old Meera Shah (name changed) has been selling vegetables on a pushcart for over a month. She buys in bulk from a farmer, who brings his produce in a tempo from Nashik.
She also gives tuitions for all subjects. But her income has now dried up due to the lockdown, which was enforced on March 25.
Also Read: COVID-19 not only affects life, but also strangles the business of death
Shah now fears defaulting on the loan instalment for her house. India may win the medical battle against COVID-19 but winning the economic battle will not be easy.
"I have fixed EMIs to pay for my school premises besides my house. There is no way I can continue to make payments because my students' parents are not willing to pay school fees. They are struggling with their own finances," says Shah, a single mother to three daughters. 
Also Read: Inside Dharavi: Hunger, helplessness & administrative failure grip Asia's largest slum amid COVID-19 lockdown
She is also facing increasing competition from other vendors. "The only items people are buying are fruits, vegetables and groceries. Now farmers are forming groups and selling directly to consumers, making the business non-viable for me," says Shah in fluent English.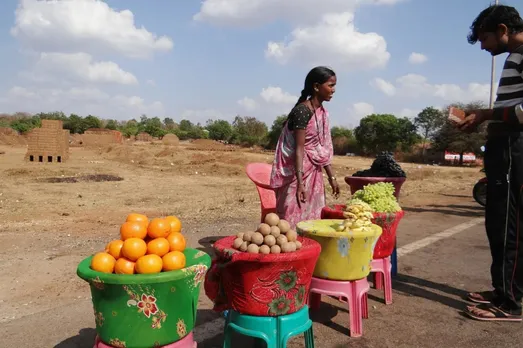 Migrant workers and salaried class are not the only ones reeling under the financial pressure of the pandemic. Owners of small businesses and the self-employed are equally affected in these testing times, being forced to dig into their life-long savings for survival.
From selling jewellery to vegetables
His shop in Sodala, once decked with shiny gold ornaments, is now stocked with seasonal vegetables. 
Also Read: A migrant worker's 1,200km journey on foot during the Coronavirus lockdown 
Soni, 45, says he was forced to sell vegetables as he had little savings to fall back on. "Only medicine shops, provision stores and vegetable vendors were allowed to operate. So I thought of doing this to earn money," he says.
When the lockdown began, he held out for some time. But with savings running out and a family to take care of, he had to do something. "Who would feed my family? I also have to pay rent for my shop. Besides my own savings, I took some loan from my brothers and began sourcing vegetables from the Muhana Mandi (near Jaipur)," says Soni, who lost his wife a few years back. He now lives with his mother and younger brother's family.
But the going is not easy.
Also Read: A sex worker in Kolkata's Sonagacchi shares her struggle as Coronavirus dries up earnings
From his jewellery shop, he would make around Rs 15,000 per month or about Rs 500 per day. "I am not sure when will people resume buying jewellery even after COVID-19 given that everybody's earnings have take a beating," Soni says.
Magician who sells vegetables
Magician Mahor was earning between Rs 30,000 and Rs 40,000 per month through magic shows in Rajasthan, Madhya Pradesh and Uttar Pradesh. He was also supporting his troupe of 10 people, all of whom are jobless right now. His last show before the lockdown was in Bhind and Morena in Madhya Pradesh and all his props are lying there with a group member.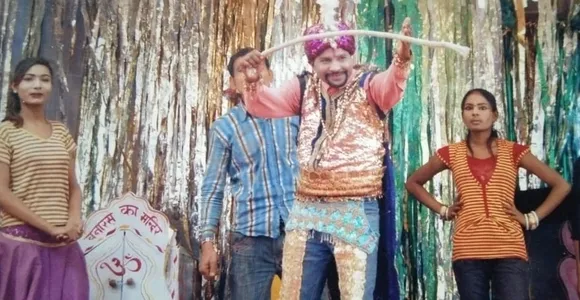 In the pre-COVID days, Mahor was happy with his earnings. "After my expenses of about Rs 15,000 a month, I had enough money left for my family. All that is, however, history. Now I have hired a handcart for Rs 40 per day and go around the city selling vegetables from 7 am to 11 am and then from 4 pm to 7 pm," he says.
Many others who owned roadside stalls have turned to selling vegetables and there is a lot of competition even for this little earning, he says. 
Indebted Indians
More importantly, Shah has loans to repay. "I can't default on EMIs. The government scheme to postpone EMI payment for three months will only result in a higher payment after the lockdown," she says
Also Read: India's tribal & ethnic groups dodge the Coronavirus minus sanitisers, science or support 
When Shah took loan for her pre-school, the bank official told her debt was the 'in' thing to build a good business and lifestyle. But COVID-19 has taught her that a future is always uncertain.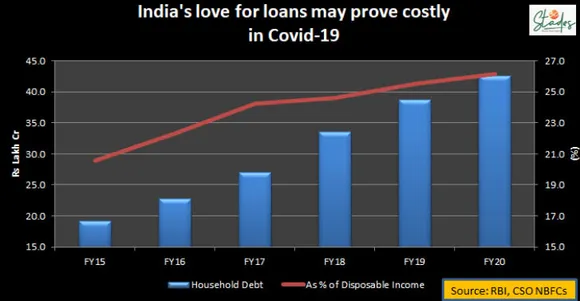 In the last five-years, household debt like home loans, auto loans, credit card debt and consumer loans in India have grown much faster than household disposable income. Household liabilities have grown at a CAGR of 17.2 percent from Rs 19.30 lakh crore at the end of March 2015 to Rs 42.7 lakh crore at the end of March 2020, as per data from CSO and Reserve Bank of India (RBI).
Also Read: Aatmanirbhar Bharat: Will it undo three decades of liberalisation?
In the same period, disposable income grew at annualised rate of 11.7 percent only from Rs 91 lakh crore in FY15 to Rs 163 lakh crore in FY20.
Shah, Soni and Mohar are unsure of their incomes returning anytime soon. "The situation is not good. I don't think there will be any activity for another three to four months. And even when it does, who will crowd around a magician? Everyone will maintain social distancing for a long time to come," he rues.
(Lead pic by Krishna Kant)
(Mona Singh is a Rajasthan-based writer and wanderer)
Also Read: How COVID-19 is changing contemporary art & expression