wp:paragraph
It's 6 pm and 15-year-old Rekha has already been standing in the food queue for nearly an hour in Dharavi, Asia's largest slum, and  currently one of India's biggest Coronavirus (COVID-19) hotspots. By 7 pm, she manages to reach the volunteer distributing khichdi being served on behalf of Brihanmumbai Municipal Corporation (BMC), India's richest civic body.
Jameema, a jobless embroidery worker and a mother of three, walks over 2 kilometres every few days to get ration from Dharavi Diary, an NGO working with youth and children in the slums of Mumbai. Founded by Nawneet Ranjan, the organisation has been raising funds from donors ever since the lockdown was announced on March 24. Since most people prefer ration to cooked meals, its volunteers distribute kits containing rice, atta, oil and other essential items on a regular basis.
Also Read: Why Mumbai needs its migrant workers to retain its mojo
But Ranjan is unsure how long his NGO will be able to continue distributing provisions. With the lockdown being extended till May 17 and no timeline about it being lifted, funding for food and provisions is drying up. And the residents of Dharavi, which otherwise is a billion-dollar, self-sustaining economy, are now staring at a future more bleak than anything they have ever known.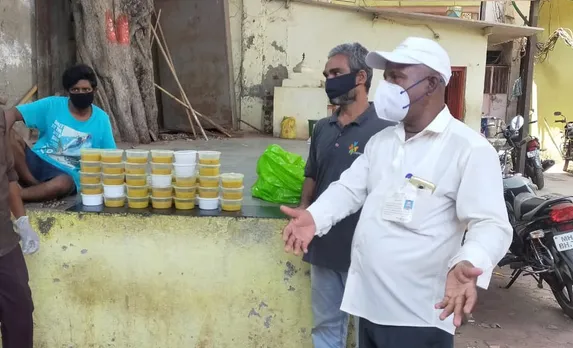 "Till now, we were getting two meals a day," says Balraj Krishna Damargidda, President of Andhra Karnataka Dalit Varga Sangha in Dharavi.
"The NGOs, which were sponsoring our food say they do not have the money now to give two meals as funding has dried up," he adds.
Also Read: Coronavirus Lockdown: Homelessness, loan defaults loom large as North East migrants face discrimination and job cuts
BMC supplies between 1,500 and 2,000 meals each twice a day in seven areas in Dharavi, where the population estimates range from 7 lakh to 10 lakh. With the ongoing Ramazan, it is also giving fruits for those observing the roza (fast from dawn to sunset) in the evening. "But BMC serves only either khichdi or pulav. It is becoming impossible to eat the same food every day. And the portion is so small that even two servings are inadequate for one person," says 21-year-old Sanjay Dhobe, who was working with a scrap dealer before the lockdown.
During the first lockdown, which ended on April 14, there wasn't desperation in people as they had some provisions of their own. "We were substantially funded for the first lockdown," says Saumil Bharani, a volunteer with Khaana Chahiye, a citizens' initiative to provide food for daily wage earners who have no income due to the economic shutdown.
"With the lockdown extension till May 3, the demand for food increased but with the funding, we could scale up slightly. Now, with the third lockdown, a lot of our sponsor routes have been closed. Corporate funding has fallen by more than 50 percent. We are cutting capacity everywhere," he adds.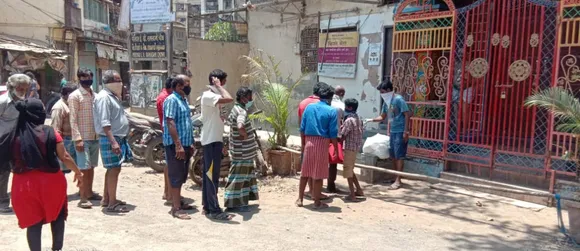 Most companies are now donating to the PM Cares Fund, where donations are tax exempt and fall under Corporate Social Responsibility (CSR), which is also a mandatory expenditure for companies. Their next funding destination is the respective state governments' relief funds followed by donations to local authorities. If anything remains at all, it goes to NGOs.
Also Read: Coronavirus Lockdown: Kitchen warriors work round-the-clock to feed millions of migrant labourers
At the peak of food supply around April-end, Khaana Chahiye was distributing 70,000 meal packets per day across the slums of Mumbai.
Vinod Shetty, director of ACORN Foundation of India and the Dharavi Project, says residents of Dharavi were employed and earning for themselves.
No containment in red zones
Apart from lack of food, another scourge of Dharavi is lack of social distancing and ineffective implementation of the containment zone policy.
"This is the biggest challenge in containment of Coronavirus," says Ranjan. 
The COVID positive tally in Dharavi was 859 as on May 10 with 29 deaths. BMC's new civic commissioner Iqbal Chahal, who took over after Praveen Pardeshi was transferred as additional chief secretary in the urban development last week, visited Dharavi last Saturday.
But more than visits, Dharavi requires institutional quarantine for those testing positive. The only quarantine facility at present is a sports complex in the vicinity, which does not have the capacity to house more than 1300 people. The rest are quarantined at their 10 ft x 10 ft homes, which they share with others.

Also Read: A sex worker in Kolkata's Sonagachhi shares her struggle as Coronavirus lockdown dries up earnings
"Lockdown was strictly followed in Dharavi in the first round. But after that, people have been moving around freely, especially for food. Even the containment zones, with sealed buildings and COVID-19 patients, are witnessing free movement of people," says Damargidda.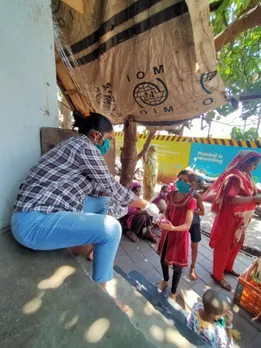 Vaibhav Apartment on the Dharavi Main Road, Janata Society, Diamond Building on the Jasmin Mill Road are among the places marked as containment zones in Dharavi, but there is no enforcement, he points out. 
Ranjan says the areas from where positive cases arisen, are not even considered for sanitisation and isolation unless the count goes beyond five or seven. "After that, some action is taken," he says.
BMC's helplines for Dharavi residents are ineffective too. "When we call up the helpline, they take down our name and number and tell us that someone will contact us. Nobody gets back," Dhobe points out.
Also Read: A migrant worker's 1,200km journey on foot during the Coronavirus lockdown 
Ranjan says the sense of empathy is missing at helpline numbers. "The answers are vague and there is never a solution. People here are feeling helpless. Each of my team members gets at least 150 to 200 SOS calls every day," he adds. 
Migrants move
Over 2 lakh migrants work or live in Dharavi, of which at least 50,000 have already left. Among the rest, there is desperation to reach home as there is no income and there isn't even money to pay for rent, points out Mobinuddin Shaikh, who runs a recycling factory in Dharavi.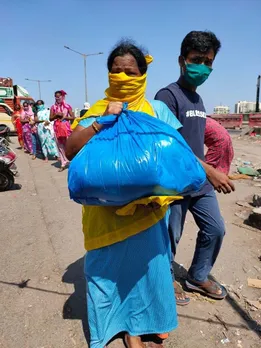 "Some authorities are suggesting they make groups of 25 and hire mini buses and leave. It baffles me. They are getting away with all this by blaming each other while poor people are running around to raise money for travel," Shetty says. 
"How much will you fleece the poor? This is totally being done in a diabolical way. Our administration is insensitive to this large scale exploitation of the poor," says Shetty, also a lawyer and human rights activist.
Shaikh has been seeing his friends and neighbours leave one by one. "Even those, who had never thought of leaving Mumbai because they were earning well, have left now. Migrants are hiding in goods trucks and leaving for their villages," he says.
"The 22-foot truck charges Rs 3,000 per person when packed with people. If not full, per head charges can go up to Rs 8,000 as trucks have to make payments at various checkpoints," Shaikh points out.
Dharavi may have become internationally infamous for being Asia's largest and most densely packed slum, after  the Oscar-winning movie Slumdog Millionaire, but at the end of the day its local problems remain  unsolved by the administration.
(Rashmi Pratap is a Mumbai-based journalist specialising in financial, business and socio-economic reporting)
Also Read: Dharavi: Coronavirus lockdown may change Asia's largest slum forever
Look up our YouTube Channel