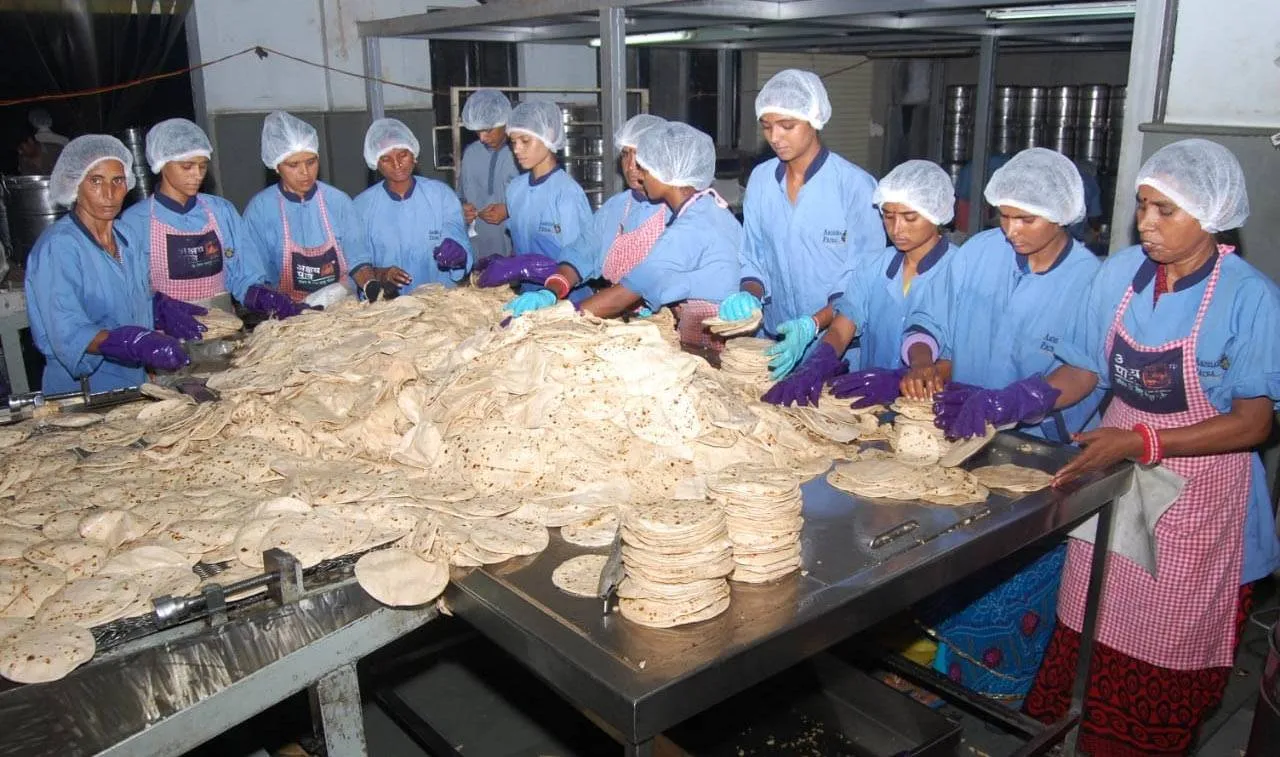 It is 2 am, and six men are busy chopping vegetables in the institutional kitchen of an otherwise deserted building in Bengaluru's Hebbal area. At 3:30 am, six chefs join them. The first batch of 4,000 food packets is ready by 6 am and a second batch at around 8.30 am. By 11 am, the food reaches nearly 8,000 migrant workers stuck in the city following the coronavirus lockdown since March 24. This kitchen is managed by HungerBox, which is using its currently empty facilities for the Feed my Bangalore initiative.
The story repeats itself across cities, where companies, NGOs and local authorities have joined hand to feed those who can neither earn nor return to their native places.
Also Read: A migrant worker's 1200 km journey on foot during the coronavirus lockdown
CRISIL has made arrangements for accommodation within the campus to ensure that the staff is doubly safe from the coronavirus disease (COVID-19) and the food remains hygienic.
Beyond the call of duty
In the battle against coronavirus, countless unsung heroes are sweating it out in kitchens across India, away from loved ones, to ensure that millions don't remain hungry. They are as much our corona warriors as doctors, nurses, paramedics, police personnel and journalists.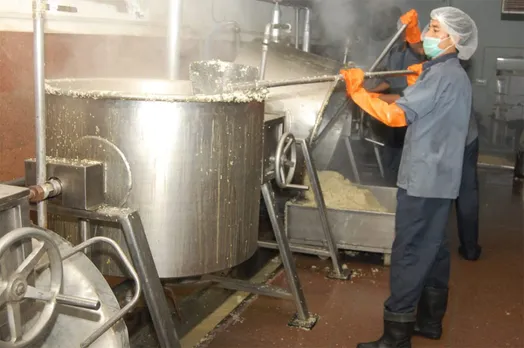 "We have our first meal of the day at 11:30 am after dispatching the 8,000 lunch packets and cleaning up the kitchen. By 12.30, we begin preparations for dinner," says Najam Abbas, who manages the HungerBox kitchen in Hebbal, Bengaluru.
The entire staff undergoes thermal screening daily before entering the kitchen. They are provided a pick-up and drop as public transport is not available currently.
Also Read: Dharavi: Coronavirus lockdown may change Asia's largest slum forever
Raghupati Dasa, Akshay Patra's programme coordinator for Rajasthan, says 110 people are involved in their cooking operations and the 20 cauldrons are placed at a distance of at least three feet from each other. "Our workers wear gloves and masks and we sanitise the kitchen daily."
Arya Samaj in Jaipur is also providing 25,000 meals daily and its president Ravi Nayyar says the temple kitchen is open till 6:30 in the evening. "We pay Rs 500 per day to our staff of 120 people involved in cooking. Their families remain worried about their well being."
While volunteers are available, the kitchen staff ends up doubling as food distributors to meet the rush and they often get pushed and mobbed.  "We have counseled them to remain patient. They wear gloves and use sanitisers all the time. We owe a big responsibility to all those who are coming out to work during the pandemic," Abbas says.
Catering to the taste buds in a pandemic
Despite working with limited resources, these volunteering chefs keep in mind the preferences of those who eat their meals. "Considering that most of our migrant workers are north Indians or from West Bengal, we don't serve them south Indian dishes like puliyogare (tamarind rice), which they may not like," Abbas says.
Also Read: Delhi nurse narrates his life experience as a COVID-19 warrior
"Yesterday, we made a request for masoor dal pulav. Today, we got it for lunch. But we know it is not always possible to adjust. We are grateful that we get food regularly," says Sumanto, a labourer from West Bengal.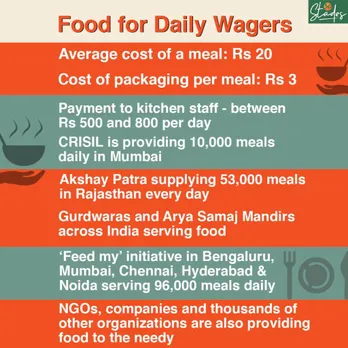 Tight grocery supply chains and insufficient availability of vegetables notwithstanding, these food volunteers are going out of the way to accommodate food requests. North Indian workers demand chapatis and even though it is not easy to pack them on such a large scale, the cooks are doing their best.
"Feed my Noida received a request from some labourers for chapatis for lunch. So out of the 11,000 meals for that slum the next day, we made 4,000 aloo sabzi and chapati packets. In Mumbai, vada pav is being offered on demand," points out JLL India Executive MD Juggy Marwaha.
Also Read: India's tribal and ethnic groups dodge the Coronavirus minus sanitisers, science or support
Along with Big Basket promoter K Ganesh and Venkat Narayana, CEO of real estate firm Prestige Group, Marwaha launched the Feed my Bangalore initiative with 500 meals on March 27 and it has now provided over 9 lakh meals in five cities since the lockdown.
Nayyar of Arya Samaj says every meal comprises 4 puris, 2 rotis and 1 missi roti (made using gram flour), a dal and achar, keeping in mind the local dietary preferences. Each meal costs around Rs 20.
Ensuring smooth flow
Marwahapoints out that the Feed my Bangalore initiative began with the identification of the last mile in terms of food requirements – slums where people needed food. HungerBox base kitchens were empty, which they offered along with logistics. "Thanks to Big Basket, our supply chain was sorted out. We received help from volunteers; set up a social media page and then a contribution page and scaled up the initiative to meet the demand in five cities," he says.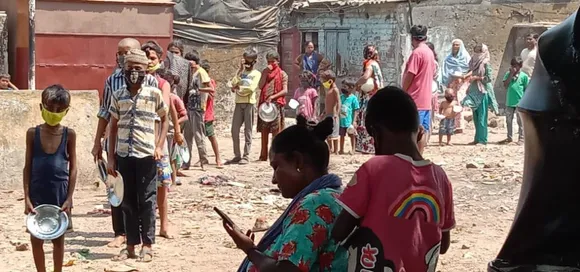 Local administration, police and other authorities in cities across India, are closely involved in food distribution.
While the kitchen staff works round the clock to feed others, Maya Vengurlekar, Chief Operating Officer at the CRISIL Foundation, says it is important to look after their well being and keep them motivated. "We have converted CRISIL training and re-creation rooms into accommodation for our kitchen staff, ensuring they have a good stay with enough social distancing," she adds.
Also Read: Valley of angst: Double-whammy of Coronavirus lockdown and internet shutdown leaves Kashmir in limbo
CRISIL had the option of donating the money to any relief fund, but thought it better to make a direct impact on ground. "If we are able to curtail migration by ensuring that migrant workers don't stay hungry, it can go a long way in containing the virus," she says.
For now, funds are pouring in. CRISIL Foundation as well as its employees are contributing for relief. Gurdwaras across India are cooking food for the needy and organisations like the Arya Samaj are receiving generous donations. But none of this would be possible without the countless kitchen warriors working relentlessly to feed the hungry millions. As former American president Jimmy Carter famously said, "We know that a peaceful world cannot long exist, one-third rich and two-thirds hungry."
(Rashmi Pratap is a Mumbai-based journalist specialising in financial, business and socio-economic reporting; Mona Singh is a Rajasthan-based freelance writer and wanderer)
Also Read: Why dream house may remain a dream for millions in the time of Corona