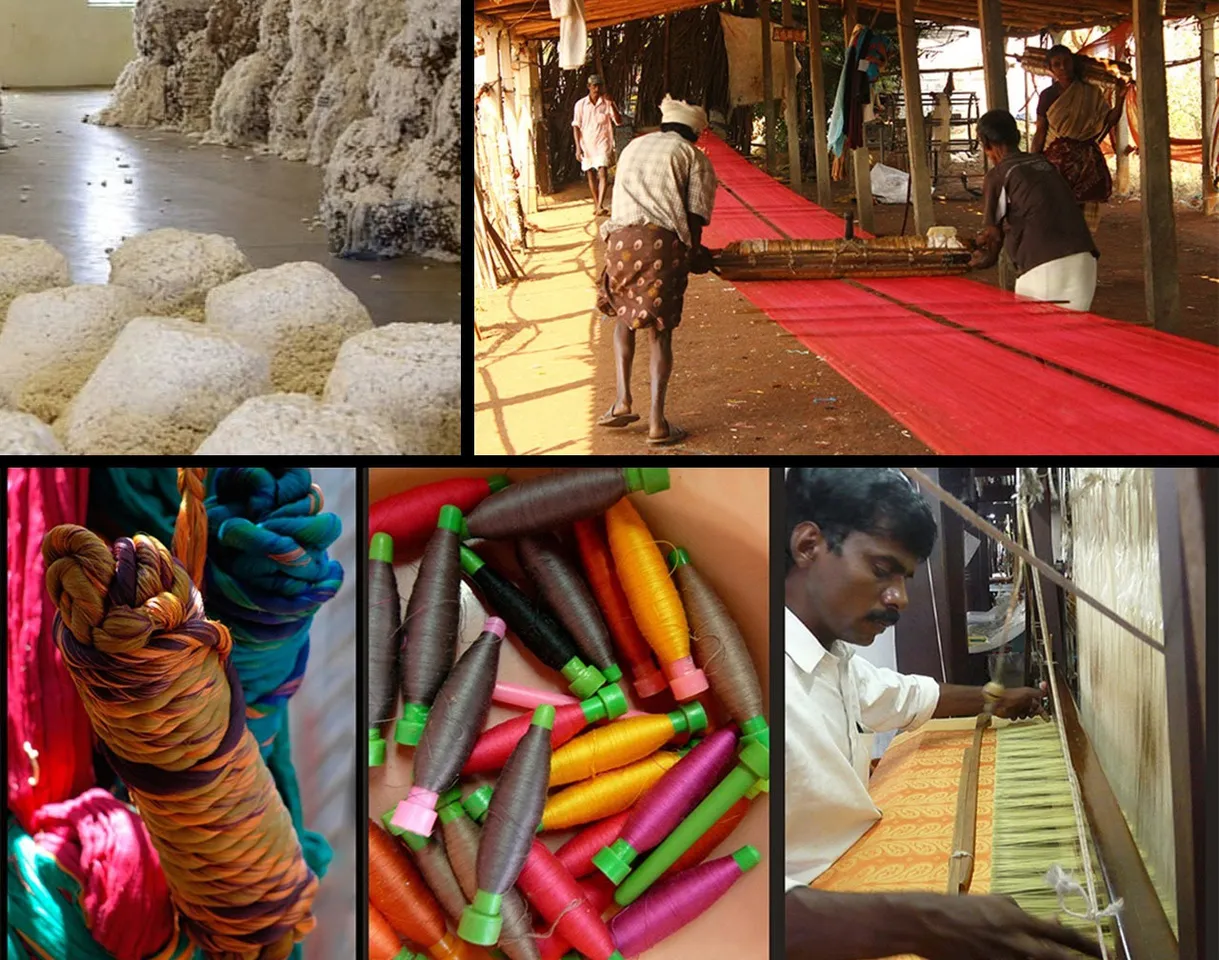 It was sometime in September 2009. Designer and textile enthusiast Vijayalakshmi Malani Nachiar (popularly called Viji) and cotton ginner Mani Chinnaswamy had been working for a little over a year on their Ethicus range of organic cotton saris, stoles and garments, and were all set to showcase the inaugural range in Mumbai at the Coomaraswamy Hall, CSMVS Museum. As they saw the bundles getting packed, the couple stepped back to the beginnings of the brand.
Ethicus was born from Mani's desire to make his business more sustainable and create an identity for himself in the cotton value chain. Mani ginned (removing seeds and debris from cotton) in Karnataka, Madhya Pradesh and Orissa, among other states, and at one stage realised that despite the hard work and staying away from home for months on end, it was a thankless job, with the end-user not knowing who was part of the product value chain.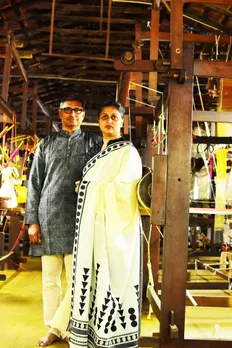 To let people know the story behind the label, Mani and Viji decided to take photographs of their weavers, and details of how long each product took to weave. Individual tags with the weaver's name, and time taken, were handed to the weavers to put onto their creations.
In fact, sari connoisseurs like Shanthi Nagothu went further; she recently visited Ethicus in her rainbow sari, to meet Ganesh, who wove it.
The growth story
Some of the weavers had tears in their eyes - they had never heard of or seen something like this in generations of weaving. Viji also encouraged customers to share pictures in their Ethicus saris to show the weavers. Customers now had a face to associate with the sari and the weavers saw how much customers enjoyed wearing what they wove.
Also Read: Political uncertainty in Kashmir brings Pashmina weavers' looms to a grinding halt
From 500-odd saris in 2009 to a current annual production of close to a few thousand saris, across lines and styles, Ethicus has come a long way. Aiding its growth has been its customer base, with everyone taking on the mantle of brand ambassador.
Early on, Ethicus knew it had to be financially viable. "We did not have any subsidies, grants or anyone funding us. We are a for-profit company, and we realised that it had to sustain on its own," says Viji. The brand's revenue in 2018-2019 was Rs. 5 crore, and the sari cost factors in the extra expenditure that goes into making an Ethicus sari special. Many repeat customers over the years show that this model has worked. That people are willing to pay for a quality product, made with a conscience.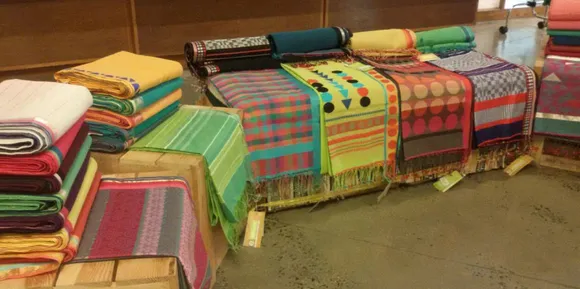 People save up for an Ethicus (its jacquard cotton saris typically cost between Rs. 6,000 and Rs. 30,000 a piece, with the special collection such as chikan going up to a lakh) and carefully store the weaver tags. I possess a handful too, featuring Mylswami, his wife Saraswathi, Mohan Raj, and ajrakh artisan Abdul Jabbar Khatri.
While a lot has been written about the 'farm-to-fashion' brand, with their company Appachi Eco-Logic Cotton growing and ginning the cotton, what is more interesting is how the brand is both sustainable and profitable, pays fair wages and keeps alive a dwindling craft, without making that the focus of its marketing.
People buy Ethicus saris because they're incredibly pretty, have tassels that can be standalone art and revolve around themes drawn from local culture but with a contemporary twist.
Through Ethicus we now have an identity, and we in our own way are trying to give an identity to everyone in our supply chain."
Keeping it real
One of the things most sacrosanct about the fashion industry is secrecy, especially when it comes to details of fabric sourcing, weaving and embellishment. "We put out everything, from where the cotton is grown to where it is woven, and who wove it, on our labels. Many have asked us if it's not a risk to reveal all sources, especially our weavers' names. We believe in promoting sustainable cotton, the craft and the artisan. There might be issues in being transparent, but the cause is greater than that."
Among the main issues Viji faces is plagiarism, be it with textures, patterns, colour schemes or even the unique tassels. This, when, each of the designs takes numerous hours to finalise. "I even ignore it when small-time sellers copy a design. But, it hurts when big designers/stores copy and deprive the original brand of sales," says Viji. 
Also Read: How Coimbatore's organic cosmetics start-up reached 30 countries
There are redeeming stories too. When Abdul Jabbar Khatri was approached by a brand that wanted Ethicus-style saris, he turned them down. Viji is in awe of his integrity. True, but he'd also seen the Ethicus team travel more than an hour from Bhuj to his workshop for 20 days in time for the first block printing of the day at 4 am and stay on till 7 pm, till they designed the Ajrakh collection. "I'd be happy if he gets more work, creating new designs. I've not yet reached that level where I can fully use the capacity he has in his workshop," says Viji, who is open with sharing resources.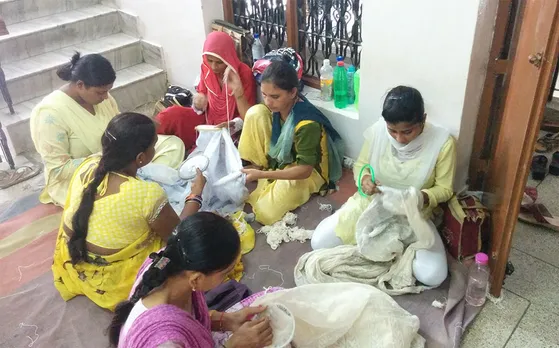 Ethicus works within the parameters of artisans' tradition. So, using existing ajrakh blocks, the Ethicus team created a range of 28 saris. "They don't like to make blocks featuring animals and birds, and we figured a way to make each sari different without affecting their sensibilities."
Among the 12 lines Ethicus has come up with so far, including Athangudi (rooted in the Chettinad heritage and its hand-made tiles, woodwork, kolams, cuisine and baskets), Ajrakh and Bandhni (made by Jabbar Khatri) from Kutch, Kalamkari from Srikalahasti and Lucknow Chikankari, some find their way into the Classics line, a repository of best-sellers and much-loved designs from over the years.
Each has a story behind it. The latest collection 'Crossroads' has its origins in an ornithology course the couple attended at the BNHS in 2017 after friends pushed them to do it. "I have always been interested in colour, and while doing this course, and later, while observing birds, I realised I drew inspiration from them. All of the colours in this line are derived from the local birds of the Anamalai Hills (near Pollachi)." The Chikankari line features whites and pastels with colourful embroidery and myriad stitches.
Future plans
Viji has plans to work with artisans across the country. "For instance, it does not make sense to weave ikat in our backyard of Pollachi; we have to work with artisans in Andhra Pradesh, Telangana and Odisha for that," she says.
Over the years, if one thing about Ethicus has not changed, it is its philosophy: all revolving around sustainability. But, one question usually gets asked. Why not natural colours too? "We considered the possibility right at the beginning. Initially, it was adding to the already-high cost of our products, and we did not have a local supply chain. What we did have was the best of eco-friendly dyeing as per the Global Organic Textile Standards, and that's what we used. Natural dyes and colours are used in our Ajrakh and Kalamkari lines," she says.
While they grow, Viji and Mani also want to take others along. So, visitors to the weaving unit can be part of workshops on organic agriculture and cotton value addition.
Chelna Desai was Ethicus' first designer, and Viji has since been the Creative Head. "We encourage young design students to intern at Ethicus. We want to pass on the message of sustainable fashion. I started learning all about weaving and sustainable fashion the hard way at 37. Young textile design students can learn from my experience, leap forward, and carry forward the message of sustainability," smiles Viji.
(Subha J Rao is an independent journalist based out of Mangaluru. She contributes to a clutch of publications on cinema, sustainability and food)
Also Read: How Pushparani Sarkar became a YouTube millionaire at 82!