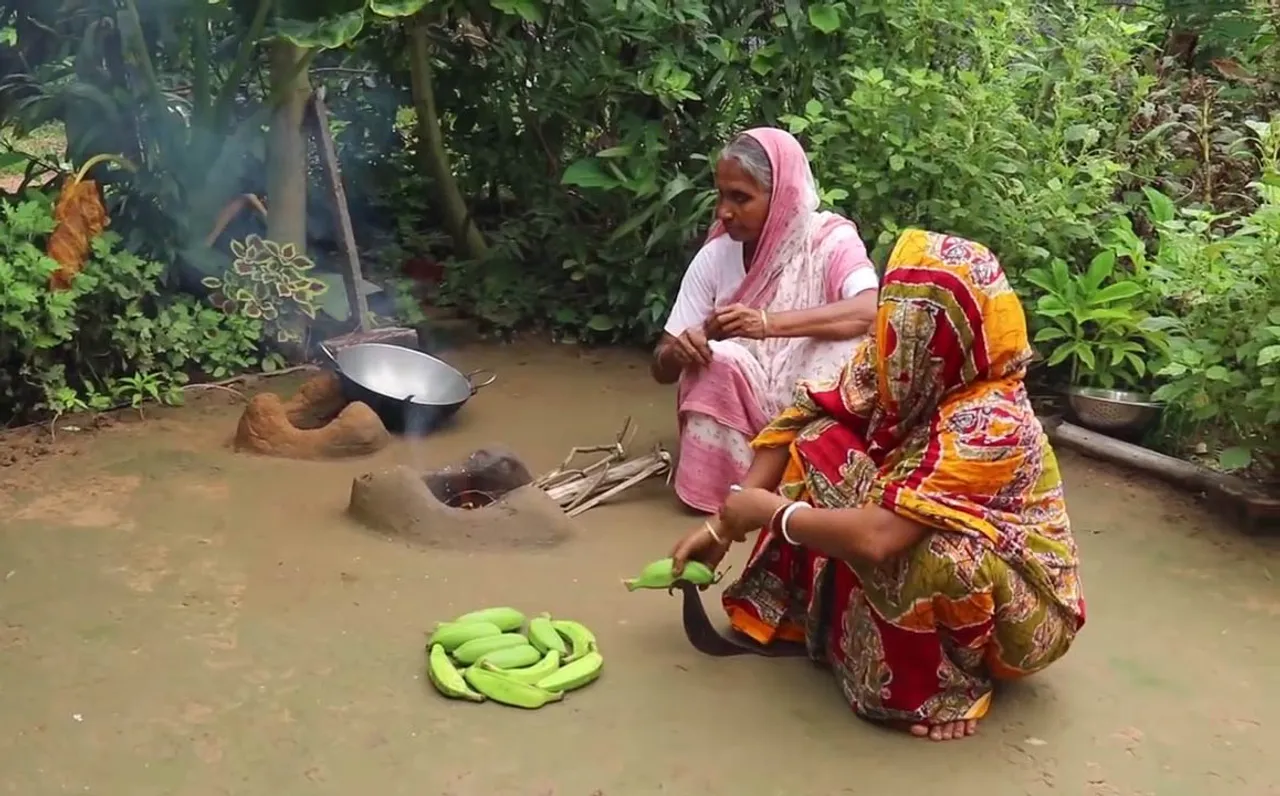 A frail, elderly lady sits in her mud-plastered courtyard putting a bundle of thread under her right big toe and holding one end of the thread in her left hand. One by one, 82-year-old Pushparani Sarkar glides hard boiled duck eggs on the thread, slicing them with precision to get perfect halves and then quarters.
Sitting next to her is Kabita, her daughter-in-law, using a sil-batta (grindstone) to make a paste of cumin seeds and fresh green chilies picked from the farm around the courtyard. She adds salt, turmeric and some mustard oil to the paste, which is handed over to the elderly woman, who dunks the egg quarters into the thick paste, and places them on layers of bottle gourd leaves.
Also Read: Triguni Eze Eats: How 79-year-old Radha Daga's ready-to-eat meals travelled the world with Indigo airline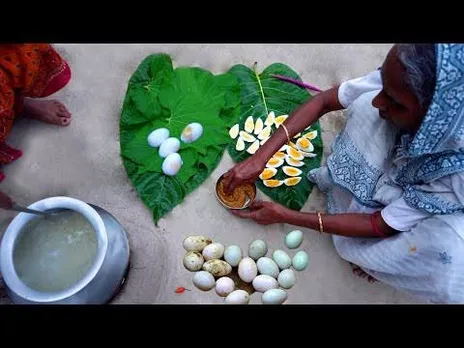 Pushparani Sarkar preparing duck eggs with rice. 
The leaves are folded into a parcel, tied with a thread and lowered into an aluminum handi (wide mouthed vessel) of boiling rice. The older woman moves some logs of wood to improve heat distribution in the earthen chulha (firewood stove), which continues to be popular in the traditional kitchen in rural India.
The flavour imparted by the burning wood adds a distinct taste to the food.
This is a scene from a YouTube video that has now been viewed over 1.9 million times across the globe in just three months. It's on the Villfood YouTube channel that features food preparation in village settings. 
In love with traditional village food
Most rural houses continue to have chulhas in their courtyards, both to maintain a connection with the past and add a smoky earthy flavour to food even as the government's Ujjwala Yojana has taken LPG connections to below poverty line families across India .
Also Read: From ragi momos to snails, how tribal food is becoming the ambassador for Jharkhand's indigenous culture
Soon, the big-mouthed handi is ready to be removed from the chulha. The parcel is opened on a thali (big plate).
The steaming eggs have soaked in the flavours of the masala and the pungency of mustard oil to become the perfect accompaniment to rice.
The gourd leaves in which they were wrapped are served too, adding a green touch to the protein-carbohydrate meal.
This humble video of preparing duck eggs in gourd leaves has not only made Pushparani a YouTube sensation in her 80s, but also a millionaire!
Her grandson Sudip Sarkar saw the opportunity in showcasing his grandma's recipes, some of which go back 100 years.
For four generations, Pushparani'sfamily has been in Banavilla, a quaint village near Shantiniketan, where Rabindranath Tagore nurtured an abode for learning beyond the confines of a classroom.
Also Read: Kashmir's local bread-baking thrives as kandurs serve up delectable breads
Sudip grew up relishing his grandma's food but realised that whatever she cooked was not available anywhere outside his village, including in restaurants at Kolkata. "I have been regularly watching YouTube for many years but could not find traditional recipes of West Bengal. So we felt there should be a channel on our recipes, which are healthy, use local produce and do not require expensive ingredients," says Sudip.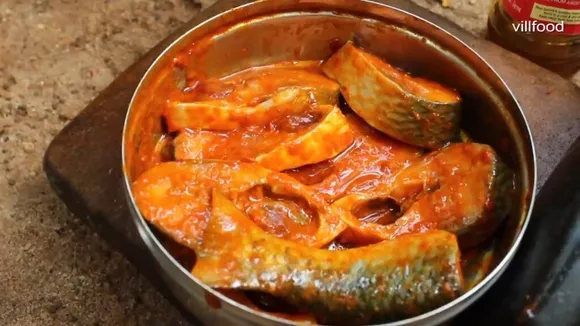 Pushparani Sarkar's Illisha Bhapa (steamed hilsa) preparation. 
Thus was born the Villfood YouTube channel. Today, over 10 lakh subscribers from 246 locations across the world, including from the US, Japan, Germany, Canada, Pakistan, Afghanistan and UK regularly view Pushparani's recipes.
In July 2017, Sudip shot the first video for Villfood of his grandma making Kumro Fuler Bora or pumpkin flower fritters using flowers from the farm adjacent to the courtyard. The flowers are crushed and onions, green chillies and salt are added to it to make a batter using gram flour. The fritters are fried in mustard oil.
Also Read: How home chef Sumitra Kalapatapu is popularising the little-known Andhra Brahmin cuisine
"We did not get any views for some days. Gradually, after about 25 videos were uploaded, we started getting nearly 100 views a day. We did not have funds for marketing. So we did not go for it and allowed the channel to take its own time in striking a cord with viewers," says Sudip.
YouTube's CPM (cost per mille or cost per 1,000) is reported at an average of $7.6 (Rs 542), which is the amount an advertiser pays to Google, YouTube's parent, when its ad is clicked on by a thousand viewers.
And although YouTube does not reveal the share of its advertising income, Influencer Marketing Hub says: "it is now common knowledge that Google keeps 45 percent of YouTube advertising revenue."
The content creator receives 55 percent of the money paid by advertisers, or about Rs 298 per 1,000 views of the ad on the channel.
That's precisely how chef Nisha Madhulika became a YouTube millionaire. If Pushparani, affectionately called grandma by all, is in her 80s, Nisha was 52 when she launched the eponymous YouTube channel in 2011. It is now India's top cookery YouTube channel with over 80 lakh subscribers and new ones being added every day.
Also Read: COVID-19 gives home chefs a leg up as restaurants remain shut
"YouTube wasn't such a big platform when I started. I was driven by the need to use my time gainfully as my kids had grown up. Today, I am happy that I have made a difference to the lives of so many people," she says.
Jayanth Kolla, founder and partner at tech-research firm Convergence Catalyst, says there emerge multiple monetisation models after a channel gets substantial followers.
"Ad revenue from YouTube is a direct monetisation model. Besides, all social media influencers get multiple gigs and become somewhat of celebrities (sic)," he says.
This opens up other avenues for them like becoming a consultant to companies in their field besides earning from product placements, addressing seminars or writing books. China has 22 million social media influencers, which is higher than the Indian IT services workforce.  "Social media influencers are a full-fledged industry in themselves as it is a full-time job to keep the channel growing," says Kolla .
Also Read: Farohar: How a mother-son duo is popularising Parsi cuisine through authentic recipes
That's how after over eight long years on YouTube, Nisha continues to post new videos regularly that are still gaining traction.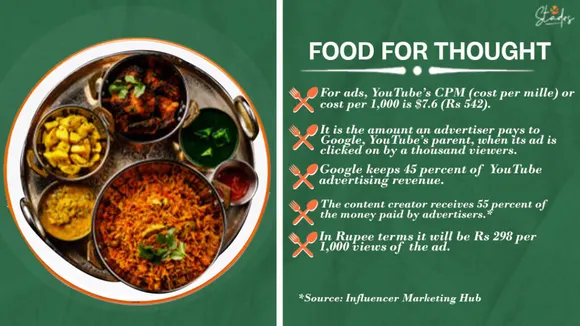 How YouTube revenue model works/30Stades 
Celebrity chef Sanjeev Kapoor, whose channel posts up to four videos a day, has a following of over 48 lakh subscribers. And that's the power of social media.
While Nisha's revenue from YouTube is in seven digits, it's not easy to reach that level of earning. "My first advice is to have patience. You cannot become a celebrity overnight. Second, give the best content to viewers. That is the most important. And third, be disciplined – upload fresh content regularly. There are no shortcuts here," she emphasizes.
She firmly trusts her path. "No matter how much you eat out, nothing beats the taste and freshness of home-cooked food. And the younger generation, which never cooked while staying with their parents, is now trying hand at cooking when studying or working away from home. They are the new users," she says.
Also See: In pictures: From Sindhi gheeyar to kanji vada & bhabhra, traditional Holi food as colourful as the festival
According to YouTube, in 2016, there was just one woman YouTube creator in India, with a subscriber base of over one million.
In 2019, there are 120 women YouTube creators with over a million followers. And Pushparani, now one of the special club, can't believe it herself!
"People from far off places as well as villages around Kolkata now come to meet me," the octogenarian proudly says. Some of her recipes like kancha kolar kofta (raw banana dumplings in gravy) have been viewed 41 million times while the number for ilish bhapa (steamed Hilsa) is 27 million.
Subir  is now pushing his boundaries to grow Villfood and is adding more recipes every day. Earlier, he posted one recipe a day. He is investing in a new set up which will have all the elements of a rural kitchen but will be bigger, and technologically more advanced. "We have now hired a team to shoot videos, photography, editing and other work," he says.
Also See: Christmas: 5 desi cakes made using petha, murabba, mawa & more
And even though grandma is now a celebrity, she remains unaffected by the newfound attention. Her routine is just as before. She continues to begin her day at 5 am with a visit to the cowshed adjacent to her home.
After tending to the cows, she goes across the courtyard to the chicken coop to feed her birds. She then heads to the farm around her house from where she picks up bottle gourds, cucumber, chilies, radish, carrots, cauliflower, onions and other greens. The day's produce decides what she will cook. And that will be the new video for her million-plus subscribers on Villfood.
(Rashmi Pratap is a Mumbai-based journalist, specializing in financial, business and socio-economic reporting)
Also Read: How a daily wage earner set up Rs 250-crore breakfast company ID Foods