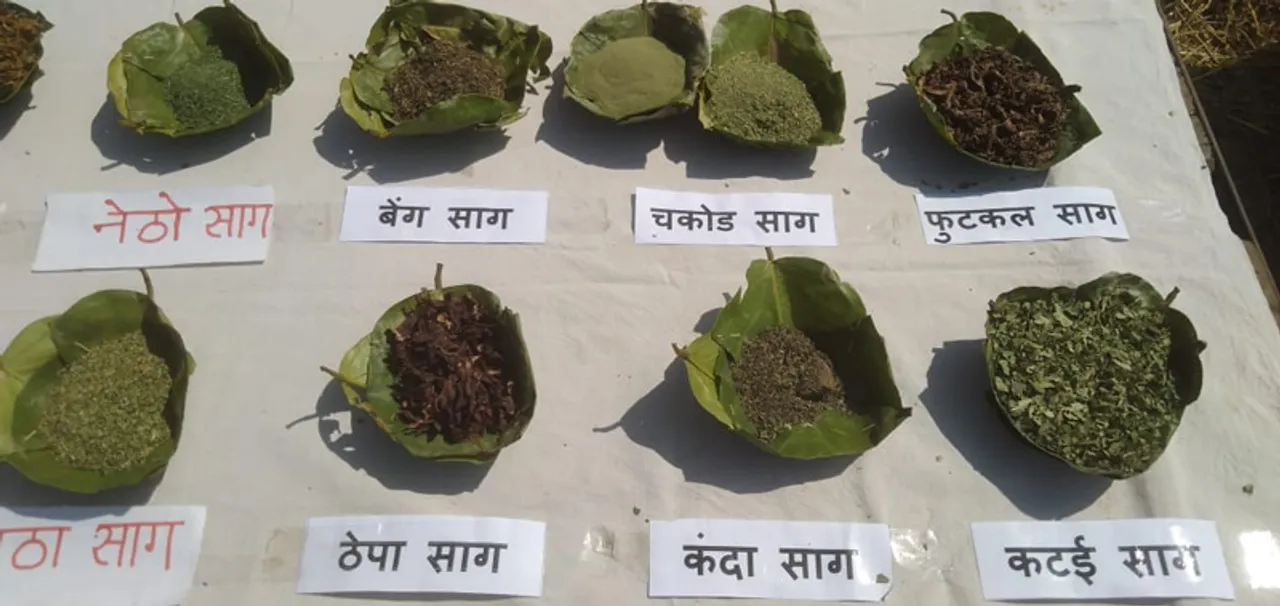 wp:paragraph
As you enter Ajam Emba on Kanke Road of Ranchi, Jharkhand, you are greeted by tribal art and artifacts -- fishing balls, bamboo baskets, inscriptions in tribal languages, umbrellas made with leaves of gungu (a local medicinal tree) and walls decorated with khovar (age-old tribal paintings).
They are a combination of elements from several tribal communities including Santhals, Oraan, Ho, and Munda. But Ajam Emba is not a tribal art museum. It is a four-year-old restaurant serving traditional tribal food, keeping alive one of the oldest human concepts - living in harmony with nature. 
Ajam Emba stands for tasty food in Kurukh, a Dravidian language spoken by nearly two million Oraon and Kisan tribal people, and the slow-food eatery completely lives up to its name, serving traditional tribal cuisine that is exotic for most city dwellers.
The idea of Ajam Emba was born when Aruna Tirkey, 47, a member of the Oraon community, won the first prize for tribal cuisine in a cooking competition organised to commemorate International Indigenous Day. This motivated her to revive tribal cuisine by popularising it through a restaurant. 
Also See: Maharashtrian food in pictures
The cultural experience at Ajam Emba
Whether it is storing or serving, cooking, or dining, everything about Ajam Emba holds special significance in relation to the tribal culture. Upon entry, the customers are made to wash their hands on a brass plate. 
People enjoy the ambiance while waiting for their food to arrive. "I believe that all those who come here should not only enjoy tribal food but also explore tribal culture. Hence, I intentionally allot seating on the ground. Among tribals, they use patias made of wild palm leaves as a spreading. I often receive calls to book the seating area on the ground! Sitting cross-legged on the ground helps you digest the food better," says Tirkey.
Food is served in earthenware and donas (leaf plates) made of Sal leaves. The Sal leaves, which hold spiritual importance, are also used for storing herbs and dried leaves. To date, Tirkey herself collects all the green leaves and also oversees the restaurant operations.
While reviving the culture, she's also providing new heights to women empowerment. 
Also Read: COVID-19 gives home chefs a leg up as restaurants remain shut
Local delicacies and a huge source of nutrition
Just like the art and artefacts on display at Ajam Emba, the food served here is unique.  The cuisine typically showcases local ingredients including leafy greens, and millets.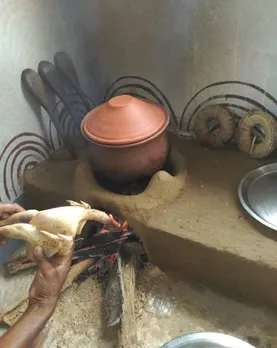 Some of the unusual local food items that find a place in the Ajam Emba menu are ghonghi (local snails), jirhul and kudrum (both wild  flowers), phutkal (a leafy green), mutton handi, and getu (a boneless freshwater fish). These foods also have high nutritive value.
Also Read: Kashmir's local bread-baking thrives as kandurs serve up delectable breads
Tirkey believes in sourcing directly from the farm and has identified local vendors for various ingredients. She recalls her initial days when she would stroll around the village haat (market), and local vegetable stalls to source the ingredients. 
Tirkey also experiments to give these traditional recipes a new twist.
Also Read: How a daily wage earner set up Rs 250-crore breakfast company ID Foods
Gondli halwa follows suit. Madwa momos in particular attract both kids and youngsters and keep them coming back for more.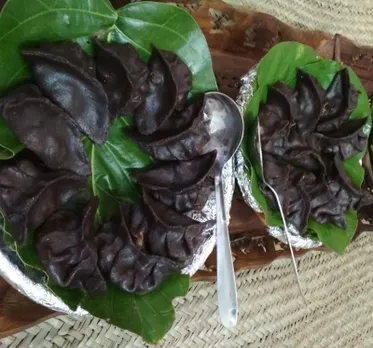 Impact of COVID-19 & Tirkey's ongoing work
Tirkey admits that the impact of COVID-19 on Ajam Emba has been severe. "My restaurant was at a break-even point and just then it was shut down for around four months. Even post lockdown there was a sharp decline in the order ratio when compared to the pre-COVID times. It's been difficult to keep up and we hardly benefit from all these schemes announced by the government," she says. 
"While COVID-19 has forced most of us to take a hard look at our lifestyle and turn back to the old ways of spending time with family, washing hands and feet on reaching home or eating nutritious food, these habits have always been a part of tribal culture," she says. 
Also Read: Drumsticks could help tackle the deep-rooted scourge of malnutrition

Tirkey is keeping the culture thriving at Ajam Emba as she celebrates different tribal festivals along with the staff members and customers. The restaurant also hosts foreign tourists, or birthday and anniversary parties. These happy customers are the ones carrying Ajam Emba's name around the world. Anyone visiting Ranchi now makes it a point to visit the restaurant as well.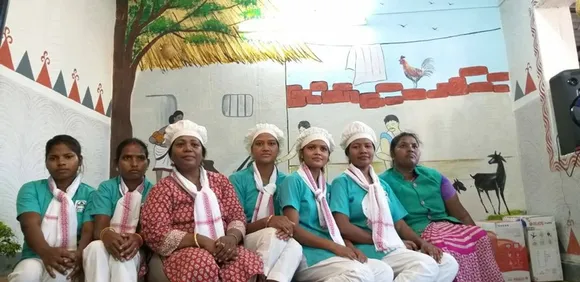 However, her influence doesn't stop with running Ajam Emba. She has been associated with various NGOs for over 15 years, working for tribal community empowerment.  She is very vocal about their causes. However, her immediate focus is to get the restaurant back on track, as it is one of the best ways to showcase the tribal cause, so close to her heart.  
(Rishika Agarwal is a Patna-based writer specialising in art, culture and human interest stories)
Also Read: How Pushparani Sarkar became YouTube millionaire at 82!