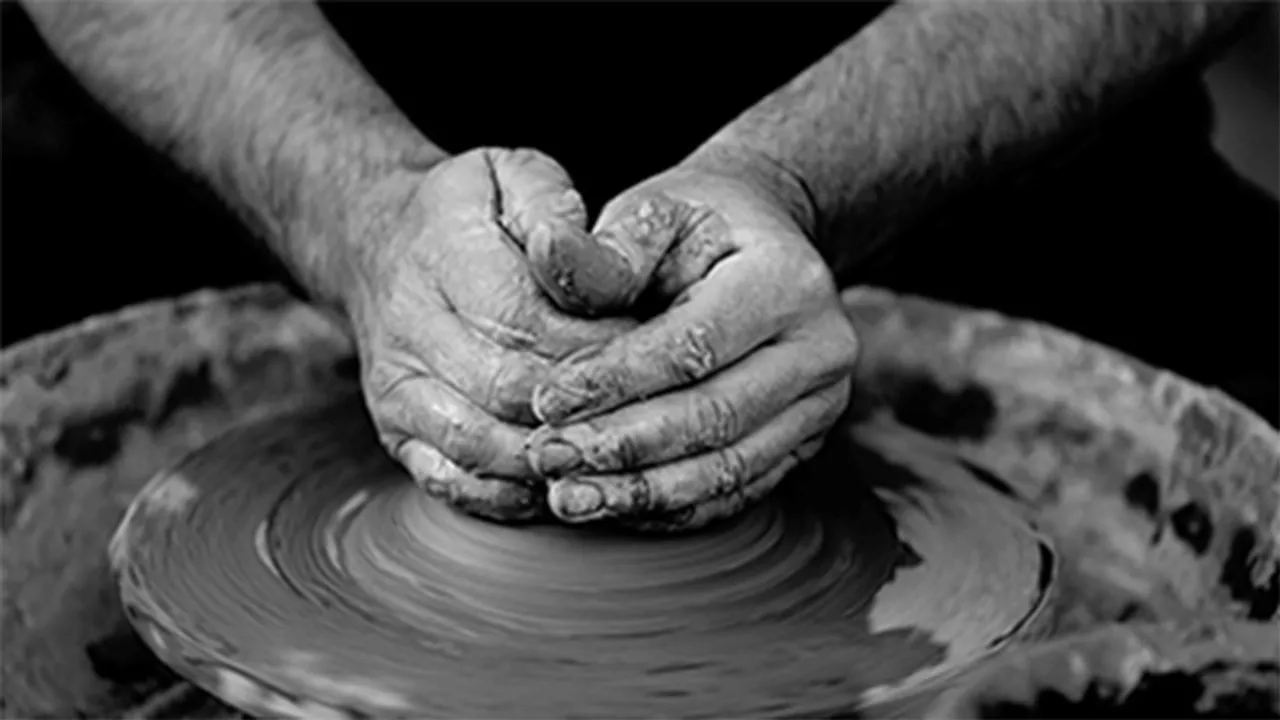 wp:paragraph
Surendra Kumar Prajapati stands in a 1.5-foot deep pit filled with clay from a nearby pond in Nizamabad, a village in Uttar Pradesh's Azamgarh, about 80 km from Varanasi. The clay has been soaking in water in the pit for some days and is now thick enough to be kneaded using feet, something akin to crushing grapes for making wine. This helps make the clay smooth and lump-free. After about 15 minutes of kneading, a portion of the clay is lifted to a plain surface and further kneaded with hands to improve elasticity. It is now ready to go on to Surendra's pottery wheel where his deft hands give it the shape he desires.
Multiple processes follow before he readies a batch of the world famous shiny Azamgarh black pottery engraved with silver floral and geometrical patterns. Surendra's ancestors came from Gujarat, he says, about 500 years back and settled in what is now Uttar Pradesh. 
A craft, a history
"We have been hearing from our elders that once a kaji sahib (judge) in the Mughal administration saw black pottery by the Prajapati community in Gujarat. He was so impressed by the work that he brought some artisans to Uttar Pradesh, gave them land for housing and agriculture and asked them to continue the craft," he recollects. 
Centuries later, the descendants of those craftspeople, about 250 families, continue to make black pottery vases, tea pots, jars, utensils and decorative items for the domestic as well as overseas markets.
And it's clear why. The process is tedious and time-consuming, but more importantly, it is the clay of Nizamabad that makes it perfect for black pottery. "This area's clay has high mica content and has a very fine texture, giving a good finish to the products," says Surendra.
Classic feature writing essentials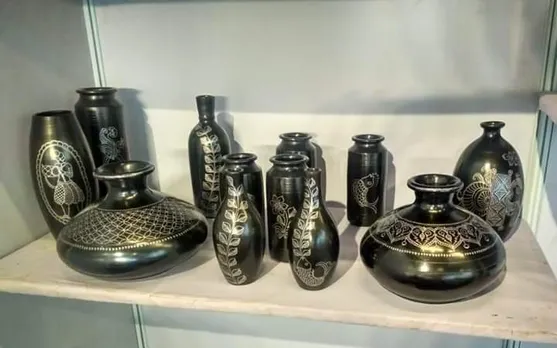 While black pottery is also practiced in some other places, he points out why Nizamabad is different. Manipur's black pottery is without the silver patterns while Khurja pottery is glazed. Alwar in Rajasthan is well known for its sheer body pottery (kagzi) but the sandy soil is not suitable for Nizamabad-like black pottery.
Also Read: Meet India's ancient board game hunters
How is black pottery made?
In Nizamabad, potters dig out clay from ponds during the dry months of April and May and store it inside their houses for use throughout the year. Their units have small pits into which the clay is filtered, mixed with water and left for some days. When it thickens, the clay is kneaded by feet or using machines to make it lump-free. It is then put on a potter's wheel and shaped into utensils.
Prajapati points out that the pottery is partially dried in the sun to retain some moisture. It goes back on the wheel for 'kharat' or peeling off uneven surfaces. This also adds glaze. Kavis, a colour made using clay and water, is applied and the pottery is then left to dry. Mustard oil is then rubbed on it to make it shinier.
A fine iron needle is then used to draw intricate geometrical and floral patterns on the pottery. Women usually do this fine work though men also are experts in the art. The pottery then goes inside the bhatti (oven), which is then fully covered with cow dung cakes. "When the pottery is inside the oven, it is important to ensure that there is no scope for oxygen to enter and the heat level remains high. The presence of oxygen can turn the pottery red and it won't get the black colour, which is the hallmark of Azamgarh," Surendra explains.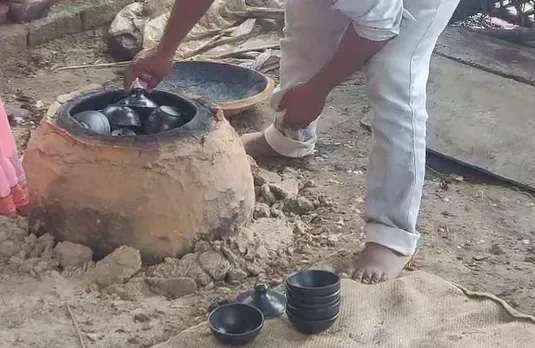 The oven cools down after 10 to 12 hours and then pottery is removed. A powdered mix of lead, mercury and zinc in equal proportion is now filled into the carved design, giving it a silver finish. "Water is then applied, rubbed and applied again to ensure that the silvery powder sticks permanently on the carved design," he adds. 
Also Read: Chettinad's masons slowly revive centuries-old lime-egg wall plaster technique
Promoting the craft & raising incomes
"I left my village due to lack of employment opportunities here. There was no market for black pottery and while there were over 200 families once practicing the craft here, all the youngsters left for bigger cities since no one was buying our products. Only two families continued to practice the craft. But things are changing now," he says. 
This change has been brought about by the Uttar Pradesh government's One District One Product (ODOP) initiative, rolled out in 2018, to revive the state's craft clusters and improve livelihood opportunities along with heritage conservation. "We believe any industry should be developed in a cluster as it brings a lot of economic advantages. There is abundant availability of skill as well as raw materials and the government can help with finance and marketing. This gives a boost to traditional crafts and also improves the incomes of craftspeople," says Navneet Sehgal, Additional Chief Secretary (ACS), MSME and Export Promotion, Uttar Pradesh.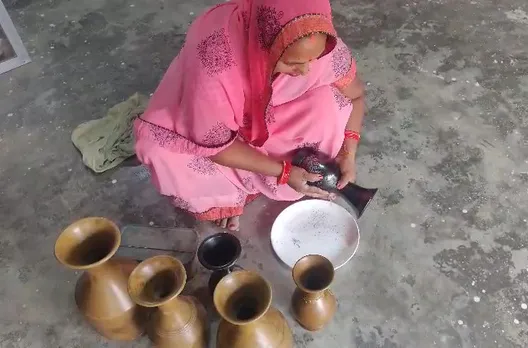 "The ODOP includes skill upgradation and training for craftspeople, free toolkit, bank loans at subsidised rates for self-employment and assistance in product marketing. The government also reimburses all costs incurred by craftsmen for travelling to international exhibitions," he adds. The state government is targeting to train 20,000 people across craft clusters this year. 
Also Read: Bagh Print: How Khatris are keeping the 500-year craft alive along with MP's tribals
The government has tied-up with Quality Council of India for improvement in product quality besides online retailers Amazon and Flipkart to sell products of craftsmen from various clusters. "We have helped onboard 10,000 people and now global tie-ups are underway," he points out.
Prajapati says the results of the government's efforts are clearly visible. "Now youngsters are returning to the village as they know there is a market for our products," says Sohit Prajapati, another potter.
Traditionally, only Prajapatis were potters and the skill was passed on from one generation to another. But now, with support from the state government, people from other castes are also learning and making black pottery. "Gaur, Kahar (traditionally palanquin bearers), Musahar (marginalised landless labourers), Yadavs and others are also making black pottery now," he adds.
Most importantly, middlemen have been eliminated as craftsmen are directly able to connect with customers now. "Wholesalers directly approach us for bulk orders for exports as well as the domestic market. Earlier, we were nameless artisans exploited by middlemen," says Sohit, who received a big order from China for black pottery tea lights and aroma lamps just before the Coronavirus lockdown.
Sehgal says the revival of the craft is having a cascading effect. Each person who learns it and starts a workshop is able to employ three or four more people, creating livelihood opportunities. With reverse migration of labour post COVID-19, programmes like ODOP will gain more relevance. And above all, they will help keep alive legacies of the past.
(Rashmi Pratap is a Mumbai-based journalist specialising in financial, business and socio-economic reporting)
Also Read: How Ustad Moinuddin Khan is keeping the rich legacy of sarangi alive