Sometime in 1986, showman of Bollywood Raj Kapoor arranged a party in Jaipur to celebrate the silver jubilee of his film Ram Teri Ganga Maili. Music director Ravindra Jain too had accompanied Kapoor. Sarangi maestro Ustad Moinuddin Khan was invited along with some other artistes to perform at the event. So impressed was Kapoor with the maestro's performance that he got in touch with Khan after the party.
Eventually though, things didn't work out as Khan was busy with performances and couldn't meet Kapoor and Jain in Mumbai. He does not have any regrets though. "God did not will it."
Today, Khan's sons Momin and Mohsin are keeping alive the family legacy of sarangi through live riyaz (practice) sessions on social media, on-stage performances, music videos and through their work in Bollywood. Momin, 21, not only plays the sarangi but is a singer too. He has moved to Mumbai where he gets more opportunities to perform in classical music festivals. He also performed in the Darbar music festival in UK last year and has built his own performance repertoire.
Also Read: A quaint village in Hooghly becomes manufacturing hub for string instruments
Sweet notes and strict riyaz
Following the age-old guru shishya paramapara, where the student sits before the guru and learns (to keep the tradition alive for generations), Khan has trained not only his sons but also his nephew Sabir.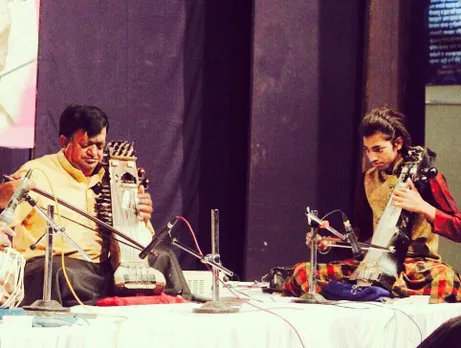 Sarangi is carved out of a single block of cedar wood. Its box-like structure has three hollow chambers named after body parts -- pet (stomach), chhaati (chest) and magaj (brain).
It is said that sarangi was a folk music instrument adapted to classical music sometime in the 17th century. It was used as an accompaniment by classical vocalists during performances.
With a rich, sonorous tone, it is a versatile instrument and can produce gamak (ornamentation) and meend (slides) normally only possible with human vocal chords. Thus it is well suited for all styles of vocal music such as dhrupad, khayal, thumri, bhajan and ghazal.
Sarangi requires a daily riyaz of 6-8 hours over many years for sarangiyas (sarangi players) to hone their skills. "Learning the sarangi requires dedication and minimum seven to eight years of strict riyaz," says Khan, the eighth generation musician who is keeping alive the tradition. And he continues to provide guidance to his students.
Also Read: How 'Dohar' is trying to preserve folk music of Bengal & Assam since two decades
This is followed by a visit to Jaipur's Kathak Kendra where he works with artistes. "Since there are no programmes in the lockdown, I do 90 minutes of riyaz in the evening too," he says.
The lockdown has disrupted his teaching as well. Khan would take classes three times a week earlier. "My students would spend about 90 minutes with me and then do their own riyaz to perfect whatever I taught them," he points out.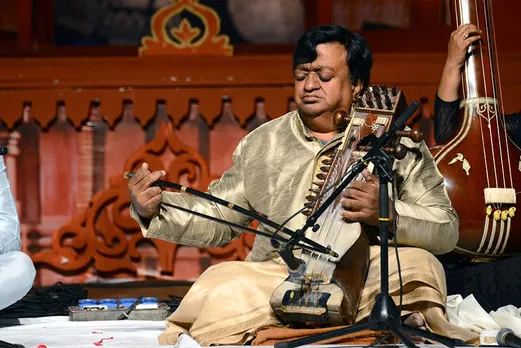 Importance of the guru shishya tradition
Unlike many others, he has not opted for online teaching during the lockdown. "There is no alternative to the guru shishya parampara. I don't think online classes or programmes are a viable option," he says.
Khan knows the importance well, having started his own training at a tender age.
As a five year old, Khan would insist on learning the sarangi while his father, well known sarangi player Ustad Mehboob Khan, discouraged him as it could hurt his fingers. "I asked my father several times to teach me but he refused. He felt I was too young and not serious. One day I told him if he did not teach me, I would stop eating. It was then that he finally gave in and began teaching me," says Khan, who had formal schooling till class 10.
Also Read: COVID-19: Padma Shri tie and dye craftsman for royals & Bollywood out of work after seven generations
Youngest of five brothers, he grew up listening to the sounds of sarangi at their home and he was keen to learn the instrument. He does not recollect having any passion other than playing sarangi even in his childhood. "In school, I wasn't interested in the lessons. My mind was more focused on practicing ragas and creating taan patterns."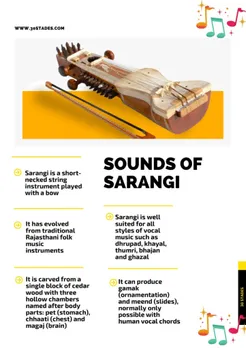 Khan gave his first stage performance when he was 10 and received plaudits from the leading musicians of the time. He has performed in India and abroad, in solo concerts and accompanying other artists such as Girija Devi, Bhimsen Joshi, Ustad Zakir Hussain, Shubha Mudgal, Shobha Gurtu, Nirmala Devi, Pandit Jagdish Prasad and Pakistani artist Ghulam Ali. He gave a sarangi rendition in the Kate Winslet starrer 'Holy Smoke', which was shot in Pushkar, Rajasthan
Tracing the roots
Khan's ancestors hailed from Sikar district of Rajasthan but the family is now settled in Jaipur and. hence, belongs to the Jaipur gharana or style of music. His grandfather, Ustad Khwaja Baksh Khan, was a court musician of the king of Narsingarh, now in Chhattisgarh. His father Ustad Mehboob Khan lived in Kolkata and Udaipur before finally settling in Jaipur.
Among those who have learnt from the family are Padma Vibhushan Pandit Ram Narayan, Ustad Munir Khan, Ustad Rajab Ali Khan, Ustad Liyaqat Ali Khan, Ustad Sultan Khan, Ustad Karim Khan. During partition of India and Pakistan in 1947, a part of the family moved to Pakistan and kept alive the tradition of sarangi there. Eminent vocal musicians such as Bade Ghulam Ali Khan and Amir Khan were originally sarangi players and later became vocalists.
Also Read: Bagh Print: How Khatris are keeping the 500-year craft alive along with MP's tribals
The sarangi is now rarely seen or heard in classical music performances and classical music festivals.
However, Khan is optimistic that sarangi will never die out. For it to gain more popularity, he advocates that the government must pitch in. "We musicians are doing our bit in keeping the tradition alive but to scale up, we need support from the government. If Sarangi is taught in music departments in colleges and universities and music institutions, then it will gain popularity," he says.
The maestro has been conferred several awards including the Surmani, Rajasthan Sangeet Natak Akademi award, Dagar Gharanaaward and an award by the government of Egypt besides others.
Despite a long list of awards, Khan says his learning continues. "Some younger artistes want instant fame and riches without putting in the years of hard work. As for me, I can say I am learning even today. There is no end to this learning," he says.
(Mona Singh is a Rajasthan-based writer and wanderer)
Also Read: How Gwalior's iTokri became international e-tailer of handcrafted fabrics & artworks