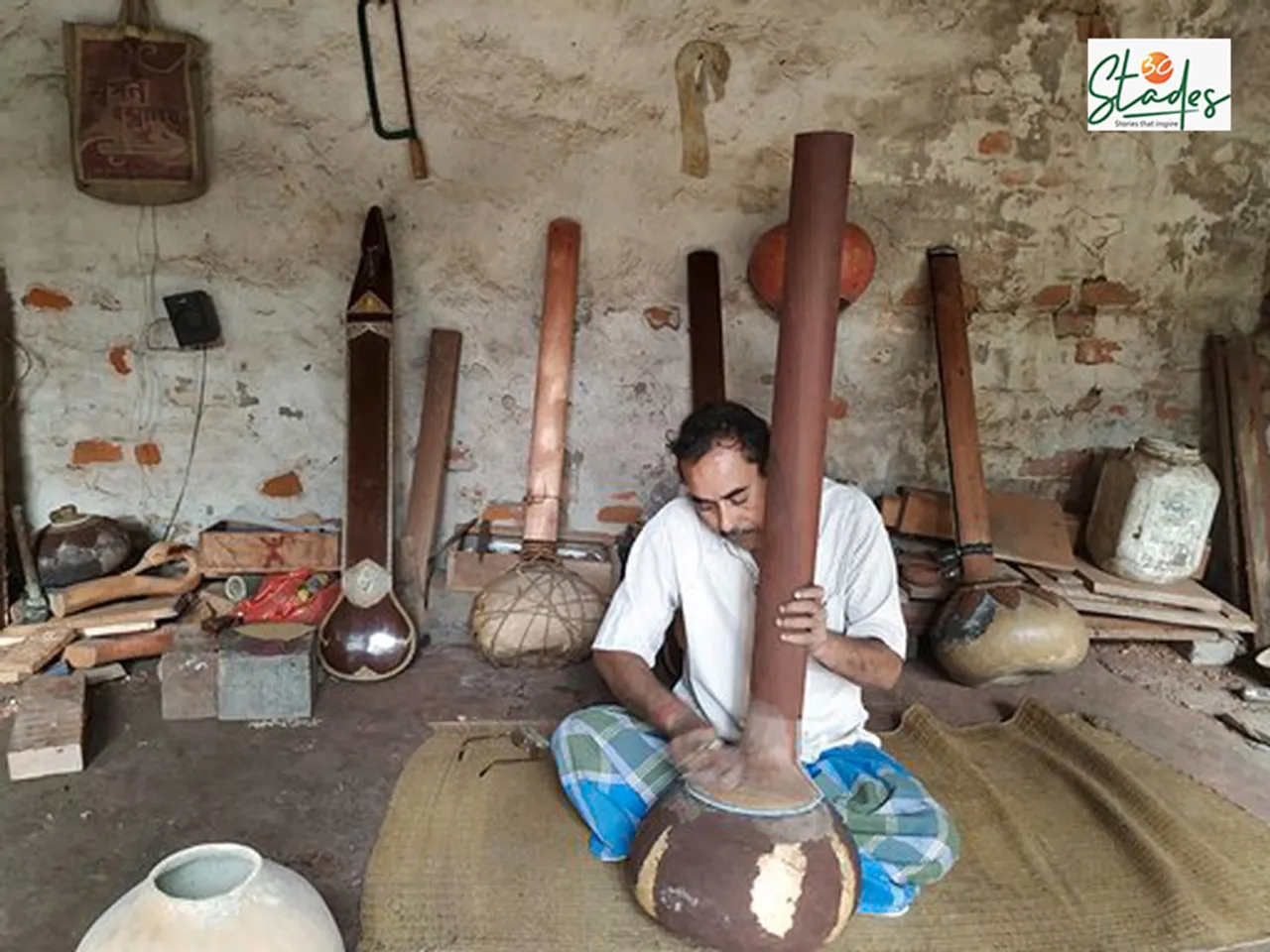 Thatched and tiled roofs, narrow serpentine pathways and vast stretches of fallow or irrigated land are a common sight in rural West Bengal. But what distinguishes Dadpur from other villages is Tarapada Halder, a name now synonymous with the sitar. It has been nearly five decades since Tarapada first introduced the art of creating this stringed instrument to the neighbourhood youth, giving them a life beyond making tiles for Rs 2 per day.
What began in the late 1960s as a one-man enterprise for making sitars is now a full-fledged industry.
Retailers, wholesalers as well as artistes source their instruments from Dadpur, where three generations of Tarapada's family as well as others spend days and nights creating stringed masterpieces.
Also Read: Jaipur's Bhatt family struggles to keep alive the Tamasha tradition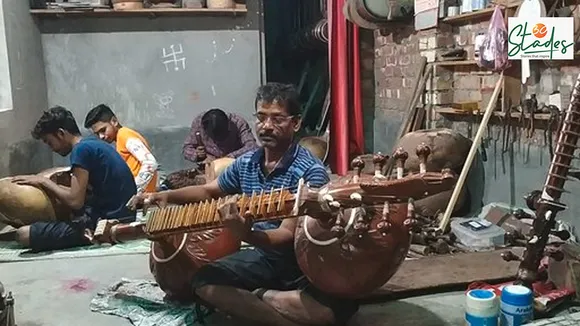 Tarapada worked at a tea stall in Kolkata's Girish Park when a chance meeting with the owner of Radha Krishna Sharma & Co landed him a job as a daily wages labourer at the sitar shop. There, he picked up some basic skills of sitar making. Soon, the work fell short of Tarapada's dexterity and he was sent to Lucknow. It was in the city of Nawabs that he mastered his craft over the next nine years.
Also Read: How Ustad Moinuddin Khan is keeping the rich legacy of sarangi alive
Once back in Dadpur, he trained others to make string instruments. "Back then, we did not polish the instruments or attach strings. It is only now that fully finished sitars have become available for purchase," says Shyamal Halder, Tarapada's older son.
Making of musical instruments
Shyamal, along with six workers, makes up to 30 instruments including sitars, tanpuras, and travel sitars (which have a flat sound box or toomba, making it easier to carry) every month. Most of these instruments are sold to retail outlets in Varanasi, Mumbai, and Kolkata, at Rs 9,000-Rs 9,500 (for sitar), Rs 6,000 (for tanpura), and Rs 7000-8000for a travelling sitar.
Also Read: Yakshagana: Karnataka's ancient theatrical dance art adapts to reach global audience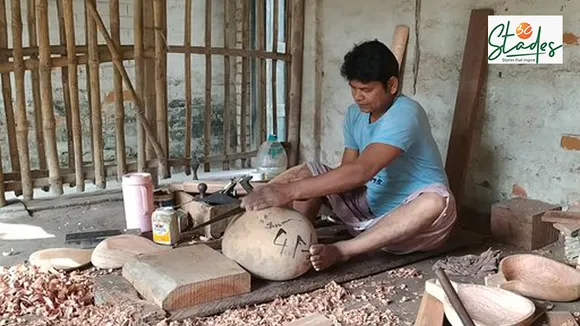 But the output fluctuates depending on the availability of skilled labour. "During my father's time, there used to be 20-25 workers who made as many as 45 instruments in a month. But many skilled workers have now started working independently, and our team has shrunk," Shyamal adds.
It's been 17 years since Tarapada passed away, and Dadpur now has about 15 families besides independent instrument makers who earn their living through making string instruments. This is in sharp contrast to the Dadpur of the 1950s and 60s, when daily wagers worked under extremely high temperatures, humidity, fumes and dust to manufacture Mangalorean tiles for a paltry sum of Rs 2 per day.
Also Read: Buried at birth, how Gulabo Sapera survived to become the global ambassador of Rajasthan's Kalbelia folk dance
Besides Tarapada, what has worked in Dadpur's favour is the availability of calabash or hard-shell gourd and the toon (toona)  wood. "Autumn is the best time to plant the saplings of calabash. The seed needs to be germinated before they can be planted and require water every 15 days. The gourds are ready for harvest by May," says farmer Shyamsundar Barui. His father began cultivating gourds 75 years back for selling them to instrument makers in Lucknow, Delhi and Varanasi.
Also Read: 'We need a paying audience to make performing arts self-sustaining': Odissi dancer Prachi Hota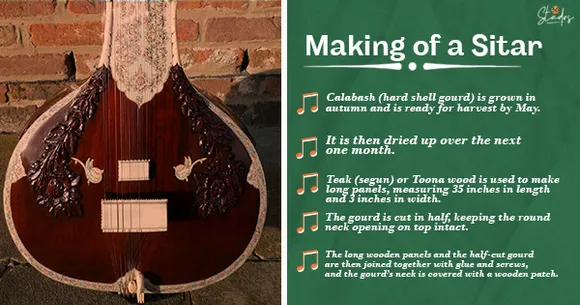 Each gourd weighs between 20 and 30 kg. The processing of gourd, from cutting it open, soaking  it in water for the skin to solidify, and then drying it up, takes nearly a month. "So we can cultivate it only once a year. Each piece costs around Rs 250-300 and people usually buy it in bulk -- 50 to 100 at a time," Shyamsundar adds.
The toon wood, also used to make furniture and ships, is sourced from Tinsukia, Assam. The wood determines the cost of the instrument.
Also Read: How a Santhali folk singer & orphans turned barren land into forest at Bengal's Ajodhya Hills
"One cubic feet of segun costs us Rs 6,000, as opposed to Rs 1,800 for toon wood. Likewise, a sarod which costs around Rs 10,000 to Rs 12,000 would have a tag of Rs 50,000, if made with segun," points out Tarapada's nephew Sanat Halder, best known for making veenas, which he sells for Rs 60,000 each.
The actual process of putting together a sitar is complex. The wood is cut to make long panels, measuring 35 inches in length, and a width of 3 inches. The gourd is cut in half, keeping the round neck opening on top intact.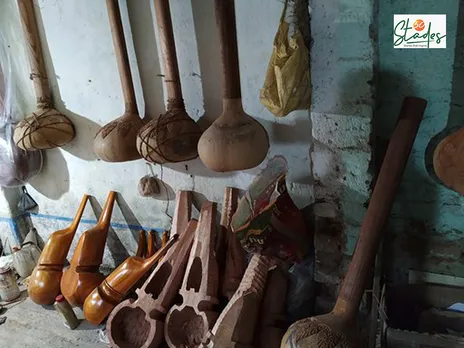 The long wooden panels and the half-cut gourd are then joined together with glue and screws, and the gourd's neck, (the spot where the wooden panel meets the round opening), is covered with a wooden patch. The entire hollow structure is held together with the help of thin bamboo splinters placed crossways inside the inner layer of the gourd. The sitar then looks like a wooden case, where two longish panels close in against each other, while a flattened wooden encasing covers the hollow gourd.
Also Read: Left on their own, performing artists bear the brunt of Covid19
 Intricate wooden engravings, like the golap pata (leaves of rose plant) or the angur pata (leaves of grape) are then made by the kaarigar on the covering of the gourd, as well as on its round surface. The body of the sitar is then scrubbed, polished and painted. Once the varnish dries up, it is sent to the retailer / wholesaler, where the strings are attached and fine tuned by an expert. Most artistes prefer imported strings, as they use the instrument regularly; the lesser used instruments have strings made of locally-sourced steel, which doesn't rust easily but snaps quite often.
"We split the work among ourselves and do it in stages - somebody is in charge of cutting and joining the entire structure, others polish it and so on," says Shyamal.
Artistes from across India travel all the way to Dadpur to get a specially ordered instrument made.  Many experienced instrument makers like Sanat and Samaresh have now stopped supplying to wholesalers and retailers, primarily because of payment delays. Instead, they make instruments only on an order basis, from artistes and music schools and colleges.
Also Read: Ramakrishna Dhar: Artiste who once romanced theatre on European stage now lives in poverty as blacksmith
Gorakhpur University and Banaras Hindu University also use his instruments. "With the West almost obsessed with Indian culture, our instruments are bought in large numbers by foreigners, who start pouring in Benares (Varanasi) and adjacent areas beginning December," says Samaresh.
Sanat'a patrons include artistes Asit Kumar Banerjee, Jayanta Das and Kaushik Banerjee. Their disciples also buy veena, sarod, surbahar and sursingar from him. He is now training his son and a few other workers in the trade.
Also Read: How Culture Therapy is transforming lives of inmates in West Bengal's prisons
 "Making the veena is almost like a sadhana, as we create goddess Saraswati's instrument. So we choose only those who can devote the time and hard work this profession requires," Sanat says.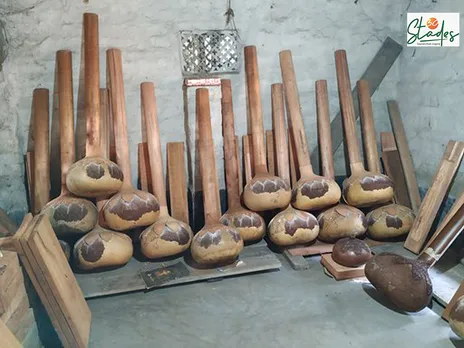 In fact, it was just last year that 65-year-old Biswanath Kayal learnt the art of making dotara (a plucked stringed instrument) after communal tension in Lucknow forced him to come back to his village. He bought a dotara for Rs 1,800 from Lalbazar in Kolkata and started his hands-on workshop. Within a couple of weeks, he made an exact replica. In the last one year, he has sold 100 pieces for Rs 2,000 each to shops in Kolkata.
It is this hard work and yearning to learn that has made Dadpur a destination of choice for patrons of string instruments globally. Without any government support, this little musical village today boasts of a thriving industry that did not exist until some decades ago. These instrument makers will always remain an integral, and equal half of a song because after all isn't an artisan also an artiste?    
(Vinita Tiwari is a Kolkata-based writer, specialising in art, culture and human interest stories)
Also Read: How 'Dohar' is trying to preserve folk music of Bengal & Assam since two decades