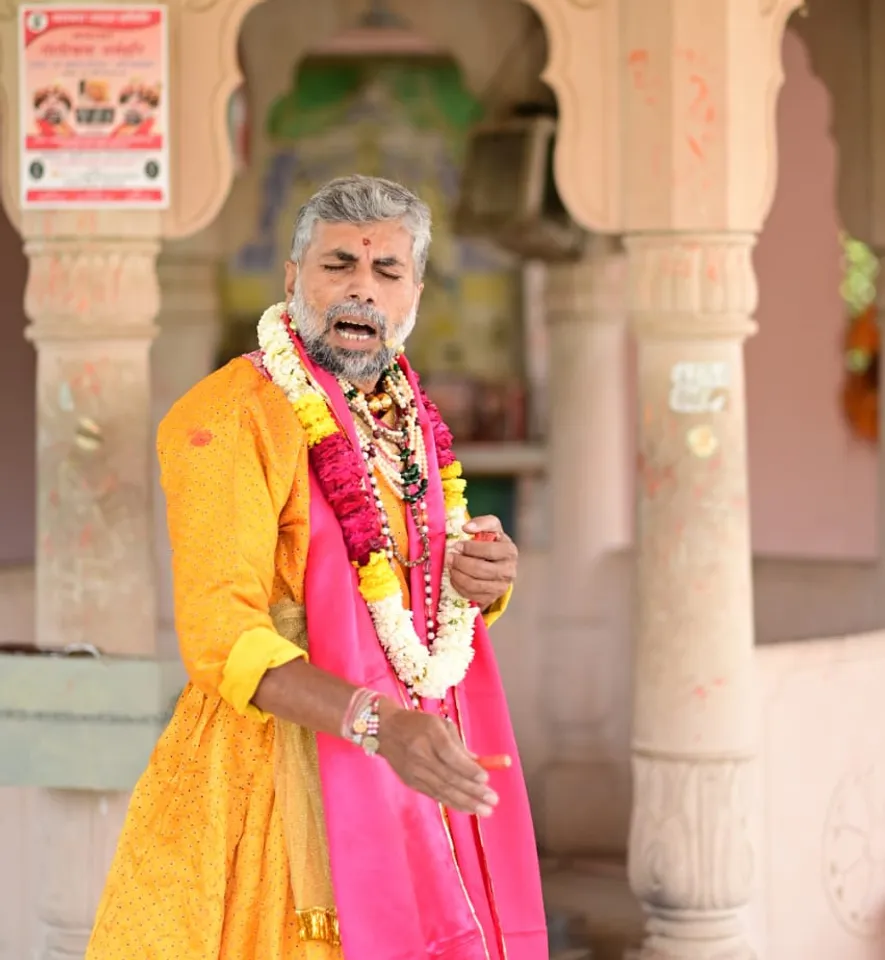 wp:html /
Covid-19 has affected almost everyone adversely. For the artist community, which is dependent on shows for livelihood, the impact has been devastating as there have been no performances in the last 18 months and no substantial help has come in from any quarter. Many artists have now resorted to doing odd jobs to make ends meet.
30 Stades in association with Jaipur Virasat Foundation hosted a webinar on 'How Covid19 Changed India's Performing Folk Arts' to understand the situation of these artists, how they are faring through the pandemic and what's in store for them in the coming years. The webinar was moderated by 30 Stades Co-founder Urvashi Dev Rawal.
Also Read: Buried at birth, how Gulabo Sapera survived to become the global ambassador of Rajasthan's Kalbelia folk dance
The panel comprised folk singer Sumitra Kamad, Dilip Bhatt, Tamasha artist, and Manganiar musician Delawar Khan. The artists from Rajasthan shared the history and glimpses of their art. 
On the struggle with the Covid-19 pandemic, Dilip Bhatt said, "The performances have come to a halt. Performances keep us alive. In this situation, what should we do? We are proud artists and we will never seek favours or alms. But the situation of artists is worse than that of daily wage labourer these days."
He said the state government had planned to offer Rs5,000 each to all the artists during the pandemic. 
Bhatt's family has been keeping the 250-year-old art of Tamasha alive. Tamasha is a unique musical folk play developed in Jaipur. It is a folk drama art form involving music, acting and dance. The performances are held in the open air especially at festivals. The main instruments used are Harmonium, Tabla, Sarangi and Ghungroo.
Also Read: How Ustad Moinuddin Khan is keeping the rich legacy of sarangi alive
At that time, Jaipur ruler Maharaja Sawai Jaisingh brought a few artists from Telangana to Jaipur and settled them in Brahmpuri. The foremost among them was the Bhatt Family of Jaipur and the Tamasha style developed under Banshidhar Bhatt.
The Tamasha costume consists of a pagdi or safa (headgear) with a kalgi (plume). The garments are saffron or yellow in colour. A singi (neck ornament) is used to give beats with the music
Also Read: How 'Dohar' is trying to preserve folk music of Bengal & Assam since two decades
Sumitra Kamad, 33, a folk singer from Pali district, has been singing since the age of 5 when she also learnt to play the harmonium from her father. She narrated the harrowing experience she had during the pandemic. 
After the tragedy, she began to question the purpose of her profession that couldn't even rescue her from a dreadful situation. "What are the benefits of having all these contacts and practising the art when no one stepped forward to help?" she rued.
Delawar Khan, 33, is a Manganiyar musician from Taloka village of Barmer district. He started learning music from his maternal uncle when he was eight years.
Also Read: 'We need a paying audience to make performing arts self-sustaining': Odissi dancer Prachi Hota
The Manganiyars are folk musicians belonging mainly to Jaisalmer and Barmer districts and also to parts of Jodhpur, Bikaner and Jalore districts of western Rajasthan. The Manganiyar musicians were patronized by the erstwhile Rajput rulers and aristocrats of Rajasthan. The Manganiyars would sing songs for their patrons at marriages, births, festivals and festivities. They would also compose songs in praise of their patrons.
The songs by the Manganiyars record histories of the families of their patrons as well as the oral history of the desert that is passed on from generation to generation. The instruments used by Manganiyars include Kamiacha, Bhapang, Sarangi, Harmonium, Kartal, Dholak and Morchang.
In general, the situation remains pitiful for these artists with them struggling to get ration or other welfare measures offered by the government.
Also Read: Dogri songs by Jammu siblings win hearts across the world
The artists also put up small performances during the webinar, much to the delight of the audience. Bhatt sang semi-classical songs that are sung during a Tamasha performance. Kamad sang a traditional folk song, the first one she had learnt from her father as a young girl. Khan played Kartaal and sang a Manganiyar song sung during the monsoon. 
Also Read: Nirvana through dance: Uma Dogra's journey through Kathak
His nine-year-old son Moti Khan too sang 'No Mask, No Entry' to raise awareness about Covid19 and pandemic-appropriate behaviour. The song was composed by Delawar Khan.
While discussing the future of the industry, artists said it will take a couple of years for the business to revive. Bhatt said many artists have migrated to their villages due to lack of work and health concerns.  "Bringing back the team together, finding new artists, training them and restarting all over again will be a tough task," said Bhatt.
(Rishika Agarwal is a Patna-based writer specialising in art, culture and human interest stories)
Also See: Yakshagana: Karnataka's ancient theatrical dance art adapts to reach global audience