wp:paragraph
Since 2011, a brother-sister duo in Jammu has been singing songs in their mother tongue, Dogri. But with a non-existent music industry in Jammu & Kashmir, their old mash-ups went unnoticed until Coronavirus (COVID-19) struck. During the global lockdown, people, especially those away from their homes, are reconnecting with their roots through music and other online platforms.
And in these times, Roohi and Juhi Singh have become household names with their fusion Dogri folk songs becoming immensely popular on social media.
Connecting through music in Covid-19
"We just wanted to connect with people who are far from their land and miss their culture. We started with doing old mash-ups in Dogri but this lockdown has turned out to be a blessing in disguise for both of us. I think we have been able to connect with younger audiences who have enjoyed our fusion folk style," says 27-year-old Roohi.
"It wasn't a conscious decision we took to promote Dogri. We had nothing to do and so we thought let's sing some traditional songs to entertain people during the lockdown," says Roohi, who is also a radio jockey at a private FM channel.
Also Read: How Ustad Moinuddin Khan is keeping the rich legacy of sarangi alive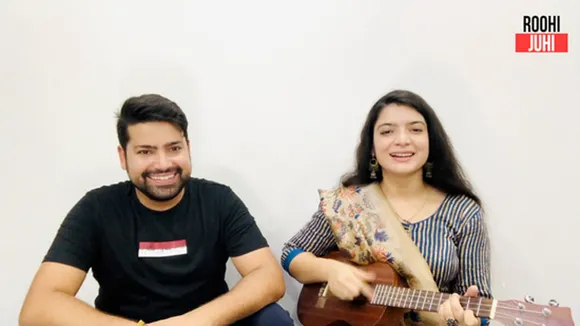 Their trademark smiles and Juhi's Ukulele (a small guitar-like instrument) which she plays while singing have gone down well with audiences. Their songs on YouTube – The Roohi Juhi channel – and their Facebook page have garnered a huge fan following in a short span. Their Dogri song 'Dogri da Maan Rakheyo' (keep the honour of Dogri) has got 78,000 views while a humorous song they created on coronavirus, 'Kadon jaana tu Coroneya' (when will you leave, Corona), has garnered around 53,000 views.
Renewed interest in the native tongue
Dogri is one of the 22 official languages of India. It is an Indo-Aryan language spoken mainly in the Jammu region and in the adjoining parts of Himachal, Punjab and also Pakistan. An estimated 3-5 million people speak the language.
Also Read: How 'Dohar' is trying to preserve folk music of Bengal & Assam since two decades
However, Roohi and Juhi have sparked not only an interest in the native language but also a debate among the Dogri speaking community. It may just be a passing fad but for the moment, the siblings are trending on Twitter chats, Facebook and Instagram posts as people laud their efforts and also discuss the plight of the language.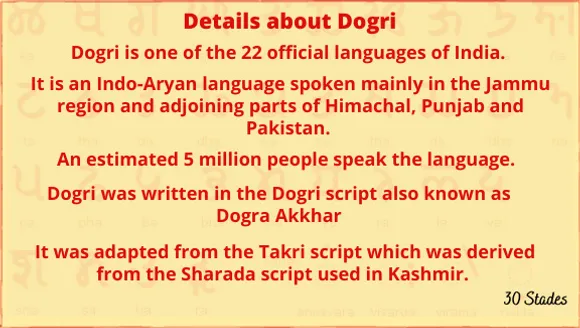 "We get calls from people from Jammu settled outside India. They appreciate our work and tell us that their kids too are connecting with Dogri by singing our songs," says Roohi.
"Someone posted a comment that our efforts would be remembered forever among all the attempts made through history to revive the Dogri language. That was huge," says Juhi.
A journey back to roots
The siblings were initiated into music by their father, Dr Suraj Singh, an eminent artiste and ghazal singer from Jammu and head of the department at the Institute of Music and Fine Arts, affiliated to the Jammu University.
"Our father made us listen to all kinds of music. We heard western classical, jazz, pop, rock and Indian music. So we had a good grounding," Juhi says. Their father composes the songs that the duo sings and their uncle, Sanjay Vidrohi, writes the lyrics. "The traditional songs too we have sourced from our father who is a veritable library on Dogri culture," says Roohi.
However, they are open to working with other writers and composers. "Many people send us Dogri folk song lyrics, some are very good. There is a lot of talent but there is no outlet here. Maybe we can provide a platform to them," says Juhi.
Also Read: How 'Dohar' is trying to preserve folk music of Bengal & Assam since two decades
The duo is working on their next track titled 'Badli', a soft, slow number. The lyrics are by Kusum Sharma 'Antra', an Udhampur-based poet. The song is narrated through an animation character, created by Sharma's daughter, Medhavi.
Juhi says she was more inclined towards theatre than singing and moved to Mumbai to pursue her masters in theatre. She acted as a child artiste in the film 'Yahaan' directed by Shoojit Sircar and later in regional films and dreams of making it big in Bollywood.
But the lockdown brought her back home and the rest, as they say, is history.
Roohi was more interested in the technical aspects of music than singing. "We were making songs since 2011 but there is no music industry in Jammu and we did not get much response," he says. He then went to Pune and studied films and video and worked in Mumbai for some time. Three years ago he received an offer from Big FM to be their RJ and returned home.
While not consciously beginning with the intention of reviving Dogri, the duo now feel a sense of responsibility towards their audience. "We want to make good music and meaningful songs. Through our music we are also documenting traditional folk songs that are fast disappearing," says Roohi.
"We have made a mark and won appreciation due to our language. So we are working on several new songs and podcasts to promote Dogri," he says.
Apart from Dogri, they have sung in Himachali and Punjabi too. Juhi, in fact, has sung songs in Tamil, Bengali and other languages as well. They feel that as singers language should not be a barrier. "But, of course, Dogri will be our first love."
(Urvashi Dev Rawal is a Jaipur-based journalist specialising in development, gender, and political reporting)
Also Read: Meet India's ancient board game hunters