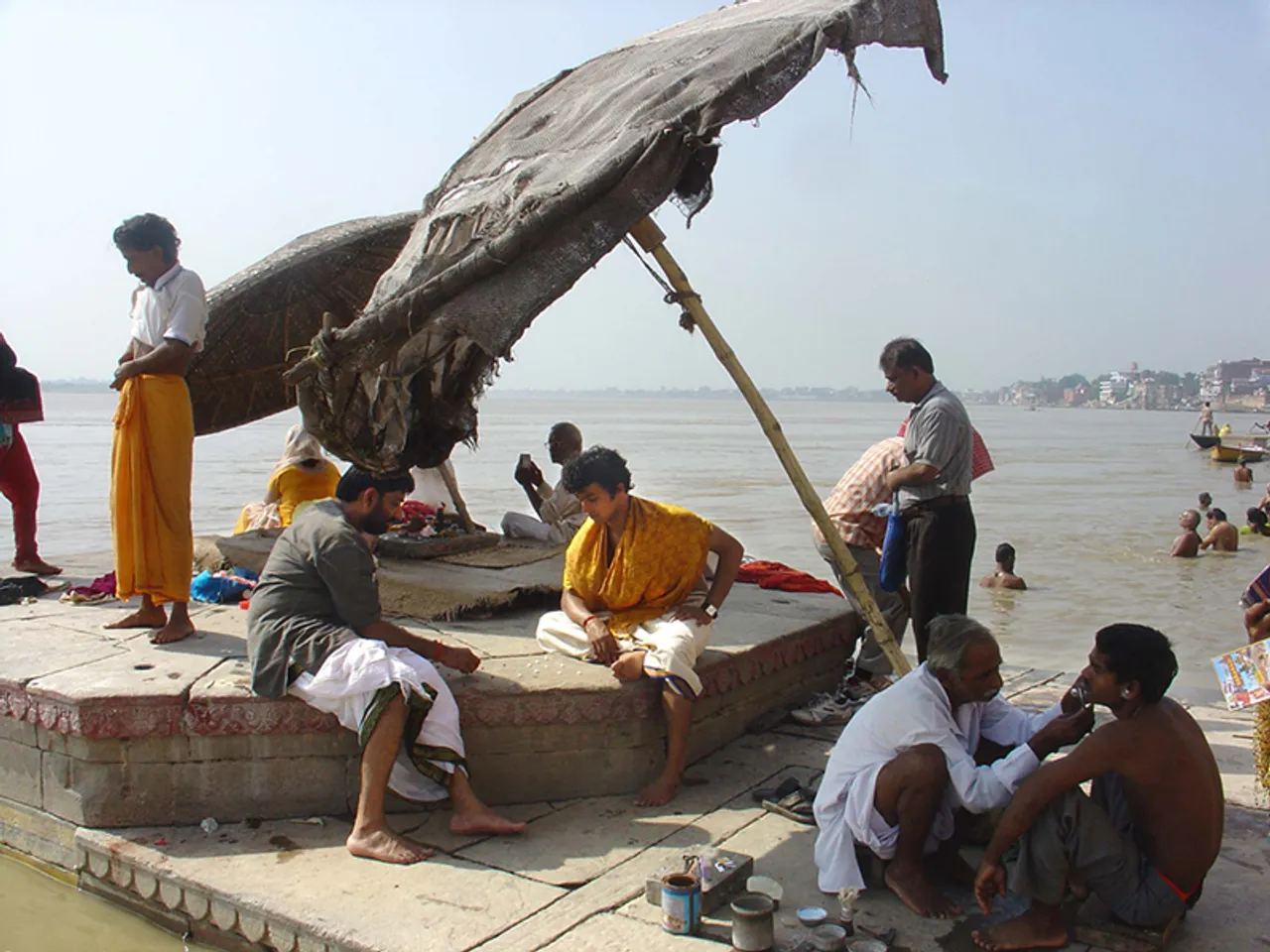 It was July 6, 2004. Three friends were at the Yoga Narasimha temple on a hillock in Melkote, Karnataka. One of them, H S Dharmendra, saw an ornately etched pattern of Adu Huli (Goats and Tigers) -- a strategy board game inspired by hunting practices -- on a flagstone within the temple corridor. Moving around the temple, they also saw a pattern of Navakankari (Nine Men's Morris) and another game, about which they did not know at that time but later learned was Pancha Keliya.
Dharmendra, a historian and art curator, photographed the accidental discoveries.  This was the beginning of the trio's love for traditional Indian board games, which were once played by priests, kings and commoners alike.
"After that whenever we visited any temple, we consciously hunted for game patterns etched on the flagstones. We found game patterns on old roadside travellers' resting mantapas (halls), riverside ghats, old mansions, dharmashalas (rest houses), etc," says R G Singh, Secretary of Ramsons Kala Pratishtana (RKP), a Mysuru-based not-for-profit art foundation working towards research, training, development and preservation of art and craft forms.
Also Read: Chettinad's masons slowly revive centuries-old lime-egg wall plaster technique
"Documenting game patterns in temples was not our initial objective. But over time it organically became a documentation," says Gowda, doctor and also co-Researcher at RKP.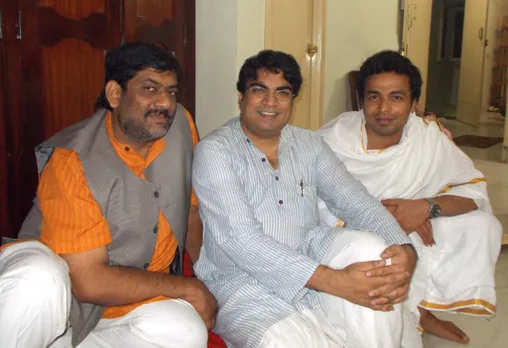 The Modus Operandi
"Our business commitments take us to various states," says Singh.
They have found game patterns in temples of Belur, Halebidu, Shravanabelagola, Chamundi Hill, Hampi, Somanathapura, all Hoysala temples and Arkeshwara temple besides Badami caves, Banavasi, Pattadakal. They have also documented games in Tamil Nadu's Chidambaram, Srirangam temples; Kolhapur's Mahalakshmi temple (Mahrashtra) and on the Sheetala ghat across the Ganga in Varanasi (Uttar Pradesh) besides others.
Also Read: Discarded temple flowers bloom into cosmetics, colours & compost
Dr Gowda points out that Adu Huli, Navakanakari and Sixteen Sepoys (a war game) are highly common across India, while Pagaday (Pachisi), Chaukabara (five house race game) and Aligulimane (Mancala) are relatively less common. "Some ancient games of India are unique to regions like Dash Guti was found only at Varanasi and Pancha Keliya (single track game) is common across south India," he adds.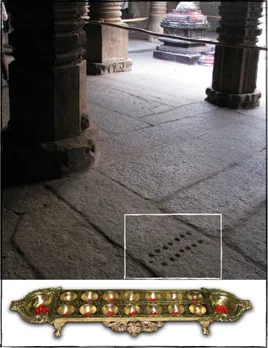 While most of the games are etched on temple floors or walls, Singh says Gowda "has a keen eye to spot game patterns in the unlikeliest of places". He discovered a form of the Goats and Tigers game pattern in the stone paving the wall inside a well within the premises of the 12th century Belur temple.
"These are game patterns in strange places," Singh says.
What possibly makes temples a place to depict traditional board games is the status associated with them. A temple usually stood in the centre of a village or a town. "In addition to daily worship, the temple acted as a centre for music and dance class, school venue, a meeting venue and also a seat of justice. Travelers stayed overnight and fairs and festivals hosted huge crowds at temples. People played games during their free time between rituals," explains Dharmendra.
But while everyone played, there was a strict separation between men and women gamers, he adds.
Also Read: Bagh Print: How Khatris are keeping the 500-year craft alive along with MP's tribals
"If the game pattern is found within the temple, as in Belur and other Hoysala temples, it is usually the temple priests who played them. But if it is outside the temple building but within the premises like near the temple well, or on the platform in the Rajagopura, we can assume that the guards or sentries indulged in playing," Singh says.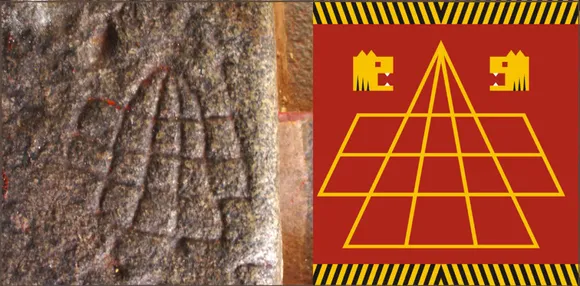 "If the games are near smaller shrines with mantapas, then we can safely vouch that the visiting devotees (commoners) played these games while waiting during rituals," he adds.
Games royals played
 It was not just the commoners and priests who indulged in games as pastimes. Royals and courtiers too played them though they refrained from playing at public places. "They (royals) preferred playing on beautifully handcrafted rich game boards within their personal chambers", says Dr Gowda.
During the course of their research, the trio found out that the 22nd Maharaja of Mysuru, Krishnaraja Wadiyar III (Mummadi) had done extensive work in board games and also written about them in the last chapter Kautuka Nidhi in his encyclopedic tome 'Sri Tattva Nidhi'. "We got an illustration-free copy of this chapter from the Oriental Research Institute. We approached various scholars to decipher it for us, but none were helpful," Gowda says.
Just when they thought they had had hit a roadblock, an idea struck. "We were aware that these games are still played in rural interiors. So we traveled to towns and villages during weekends and started our exploration," he adds.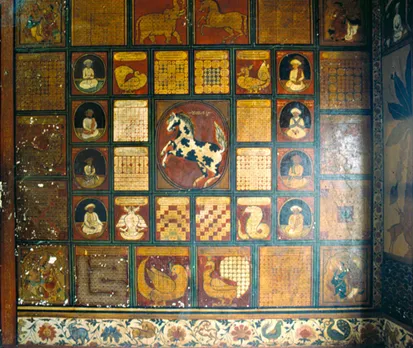 During one such trip they stumbled on the game patterns at Melkote. While we were photographing similar game patterns at Hemmaragala (Najangud Taluk in Mysuru), the locals saw them.
Also Read: A quaint village in Hooghly becomes manufacturing hub for string instruments
When they expressed  their interest in board games, one of the locals asked, "Why are you interested in the game of Huli-Kattu". Singh got speaking with them feigning ignorance and learned its local name and how to play it. "This has been our ritual. I scout the game patterns, Dharmendra photographs them while RG (Singh) engages with the locals," Dr Gowda says.
Also Read: COVID-19: Padma Shri tie and dye craftsman for royals & Bollywood out of work after seven generations
Preserving history & craft
Gowda, Singh and Dharmendra have, however, not restricted themselves to just documenting these games. The main objective of their art foundation RKP is to support the development of craft forms.
These board game manufacturers include the inlay craftsmen of Mysore, Kalamkari artists and wooden toy (Etikoppaka) makers in Andhra Pradesh, Batik artists in West Bengal, hand-weavers of Solapur in Maharashtra and Pipli appliqué artists in Orissa. "We visit these places, understand the manufacturing process, and design the product based on the motifs and other inputs provided by artisans," says Singh.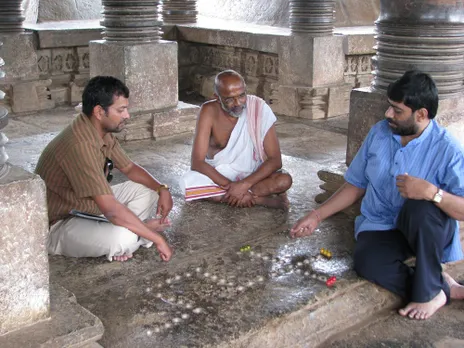 Based on their inputs, Dharmendra creates a design which is easily understandable to the artist of that craft form. "Instructions in simple English are printed as leaflets. We package the final product with pawns, casting pieces and the leaflet," Singh adds.
With rising awareness, more people are now interested in traditional games. "These games are highly nostalgic," he says, recollecting instances where
elderly visitors at their exhibitions have become emotional on seeing them. A handful of specialised stores are now marketing traditional games. Ramsons Arts & Crafts Store has been selling them through email and other social media platforms as well.  "We are also working on an online portal for selling our products," Gowda says, adding that there is an international market for them.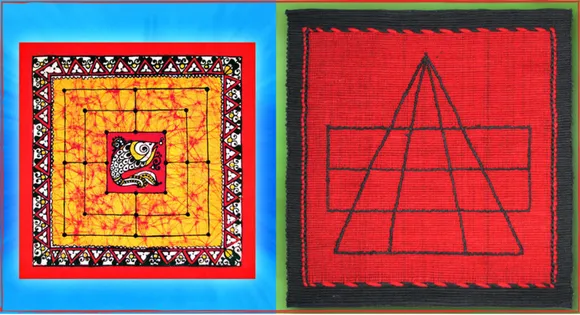 Since the products are handmade, their pricing ranges from moderate to premium.
"So we have produced a book which has details of the game patterns along with the rules of how to play. Anybody can buy this book, create their own game boards and play on them," he adds.
The information is also available on their blog - kreedaakaushalya.blogspot.com – from where players can learn how to play. "These are our efforts, within our own limited means, to preserve the play-tradition and take games to the common man. This is not exhaustive, we know. But we are learning," Singh says.
(Lead Pic:. RG Singh and Dr Dileep KCR Gowda playing on the inscribed pattern of Dash Guti at the Sheetala Ghat on the banks of river Ganga, Varanasi; Pic by Ramsons Kala Pratishtan).
(Rashmi Pratap is a Mumbai-based journalist specialising in financial, business and socio-economic reporting)
Also Read: How Ustad Moinuddin Khan is keeping the rich legacy of sarangi alive