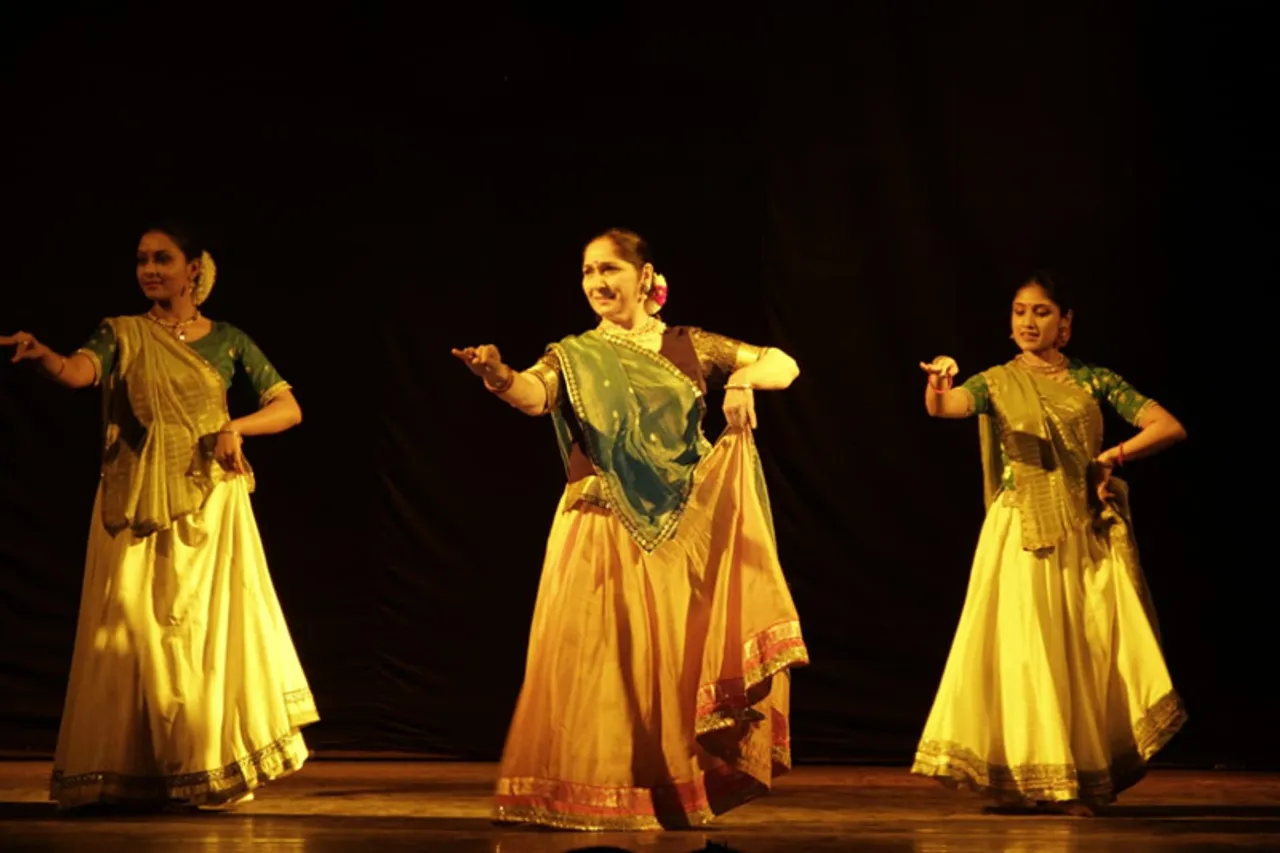 In summer of 1977, Uma Dogra, who had returned from a Kathak performance at the prestigious Bolshoi Theatre in Russia, was not allowed to sit for her final year examination at Delhi University's Lady Shri Ram College.
"I had gone with an ICCR delegation to Russia and performed at the Bolshoi Theatre with my guru, Pt Durga Lal, and Pt Ravi Shankar. When I returned, my principal refused to let me appear for the final exams as I was short of attendance. I begged her but she did not relent," recalls Uma.
Almost four decades later, when she received an Honorary Doctorate of Arts from ITM University, Raipur in 2016, Uma had tears in her eyes. 
Also Read: How Ustad Moinuddin Khan is keeping the rich legacy of sarangi alive
Dogra, 63, is among the leading exponents of Kathak in the country and has received several honours including the Maharashtra Sanskritik Rajkiya Puruskar in 2009, the Maharashtra Gaurav award in 2015 and the Sangeet Natak Akademi Award in 2014 for her contribution to Kathak.
Guru-shishya parampara
Uma attributes her success to her guru, the Kathak maestro of the Jaipur gharana, Pt Durga Lal.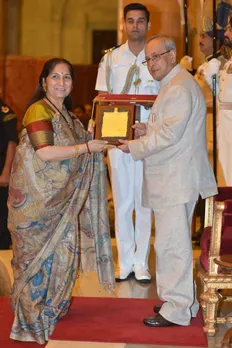 Uma was introduced to Kathak at the age of six and initially learnt under Pt Bansi Lal. She then learnt for two years from Reba Vidyarthi at the Kathak Kendra in Delhi.
But it was under Pt Durga Lal that she evolved as a dancer. "For a brief period of 15-20 days when I had left Pt Birju Maharaj's class at the Kathak Kendra and before I joined Pt Durga Lal, I was without dance. That time was an eye-opener for me. I realised I cannot live without dance and dance is the only mission in my life," says Uma, who gave her first stage performance at the age of 15.
She also learnt Hindustani music from her father, musician Motiram Sharma, who had learnt sitar from Pt Ravi Shankar and tabla from Uma Dutt Sharma (Pt Shiv Kumar Sharma's father).
Also Read: Dogri songs by Jammu siblings win hearts across the world
Uma began learning Kathak from her guru Pt Durga Lal at the age of 13 and for the next 17 years, she not only imbibed his teachings as a student but also performed with him on stage in India and abroad. "He was a brilliant dancer and a compassionate teacher, sharing all his expertise with us," she says.
He was accomplished not only in dance but also vocal music and the Pakhawaj (a two-headed, barrel-shaped drum), which he played at many concerts in India and abroad, says Uma, a ganda bandh disciple of Pt Durga Lal. Ganda bandh is an important ritual in the guru-shishya parampara where the teacher ties a sacred thread to the disciple's wrist, signifying a bond of devotion and dedication to each other and to the art.
Also Read: How 'Dohar' is trying to preserve folk music of Bengal & Assam since two decades
"Even on stage, he would be teaching us. In the midst of a performance, he would suddenly throw some unrehearsed piece at you and tell you to complete it. But he was always there to cover for you if you went wrong without the audience even realising it," she adds.
Given this guru-shishya camaraderie, Pt Durga Lal's demise in 1990 at the age of 42, while performing at the UP Sangeet Natak Akademi marathon Kathak Mahotsav, came as a huge shock to Uma.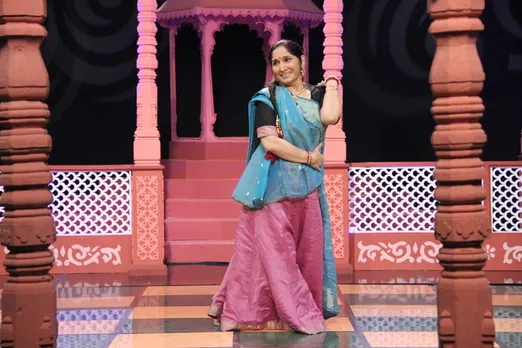 "My world crumbled. He was like a father figure; he took me along for performances. Suddenly I was alone," she says. 
Also Read: Buried at birth, how Gulabo Sapera survived to become the global ambassador of Rajasthan's Kalbelia folk dance
Uma had moved to Mumbai after her marriage in 1984 to film-maker Chitrartha Singh. But she continued to travel regularly to Delhi every two months to train under Guruji even after the birth of her daughter Suhani. The couple also has a son. 
Pt Durga Lal's legacy
After her guru's passing in 1990, Uma set-up the Sam Ved Society for Performing Arts in 1990 and organised the first Pt Durga Lal Festival of Indian Classical Dance and Music in 1991. The festival features artists from the classical arena and includes all art forms.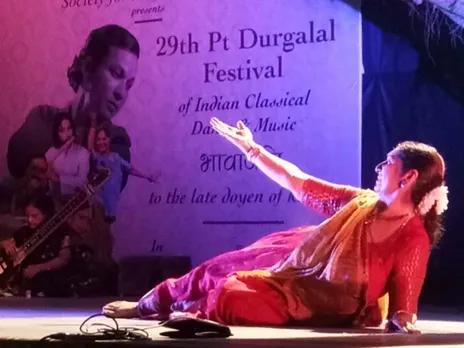 "People say I have kept his name alive. But that is not true. He is too big a personality and I am privileged and blessed that I got a chance to do something after his passing," she says.
Also Read: Gujarat: no Garba, no Dandiya and scaled-down atonement for curse this Navratri
"In the 1960s, Kathak was looked down upon. It was not considered classical and people said it was the dance of the kothas. They believed it did not have the rigour of theory and was not based on the ancient texts. But Pt Durga Lal revived Kathak and brought it on the map of classical dance in India."
Kathak is one of the eight major classical dance forms of India and has its roots in Natya Shastra. 
The graceful dance form is known for its deft footwork, extensive body and hand movements and facial expressions. Kathak has three gharanas or styles – Jaipur, Lucknow and Banaras. The Jaipur gharana is known for its footwork while the Lucknow and Banaras gharana focus more on hand movements and facial expressions.
A Kathak performance entails three elements of nritta (pure dance) nritya (expressive body movements and face gestures) and natya (drama).
Uma feels while gharanas are important, a strict division between them is unnecessary. "Gharanas are essential because they reflect the style, the flavour of that tradition and the teachings of gurus. There are bandishes (fixed composition in instrumental or Hindustani vocal music) and movements that are distinctive to a gharana and an artist should not dilute these," she says.
Also Read: A quaint village in Hooghly becomes manufacturing hub for string instruments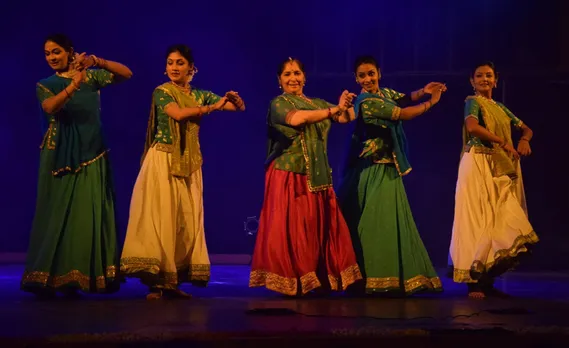 "But beyond this, all gharanas should have the three aspects of dance – nritta, nritya and natya. As an artist you are complete when you can understand and perform all the three aspects," she says.
Genext dancers with education edge
Uma is enthused by the current dance scene and feels that classical dance has a bright future. "The growth in the field of dance in the last 20 years has been phenomenal and that has been because educated artists have embraced the dance form," she says.
"The young dancers are brilliant. They are so aware and educated," she says.
The depth of their thinking and the vastness of their canvas can be seen in the innovative subjects they choose, she says.
To encourage young artists, Uma also organises the annual Raindrop Festival in July for upcoming artists who often struggle to find a stage. 
Also Read: How Culture Therapy is transforming lives of inmates in West Bengal's prisons
Apart from performing, Uma has taught many leading dancers as well as film stars at the Uma Dogra school of Kathak in Mumbai. She has conducted workshops at institutions and universities in India and abroad.
She has authored a book 'In Praise of Kathak' and has made a film on her guru Pt Durga Lal titled 'Nirvana Through Dance'.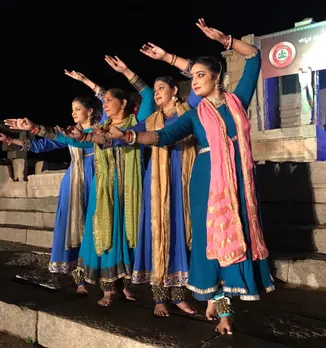 Today at the pinnacle of success, Uma looks back at life with a sense of gratitude and says that being a good human being is most important. "Life has been very kind to me. God has given me so much. I came from a humble, middle-class family. I never thought I would achieve so much. But as a practising Buddhist, I believe that if you do good deeds and good karma and help others then your problems get resolved automatically."
(Urvashi Dev Rawal is a Jaipur-based journalist specialising in development, gender, and political reporting)
Also Read: 'We need a paying audience to make performing arts self-sustaining': Odissi dancer Prachi Hota