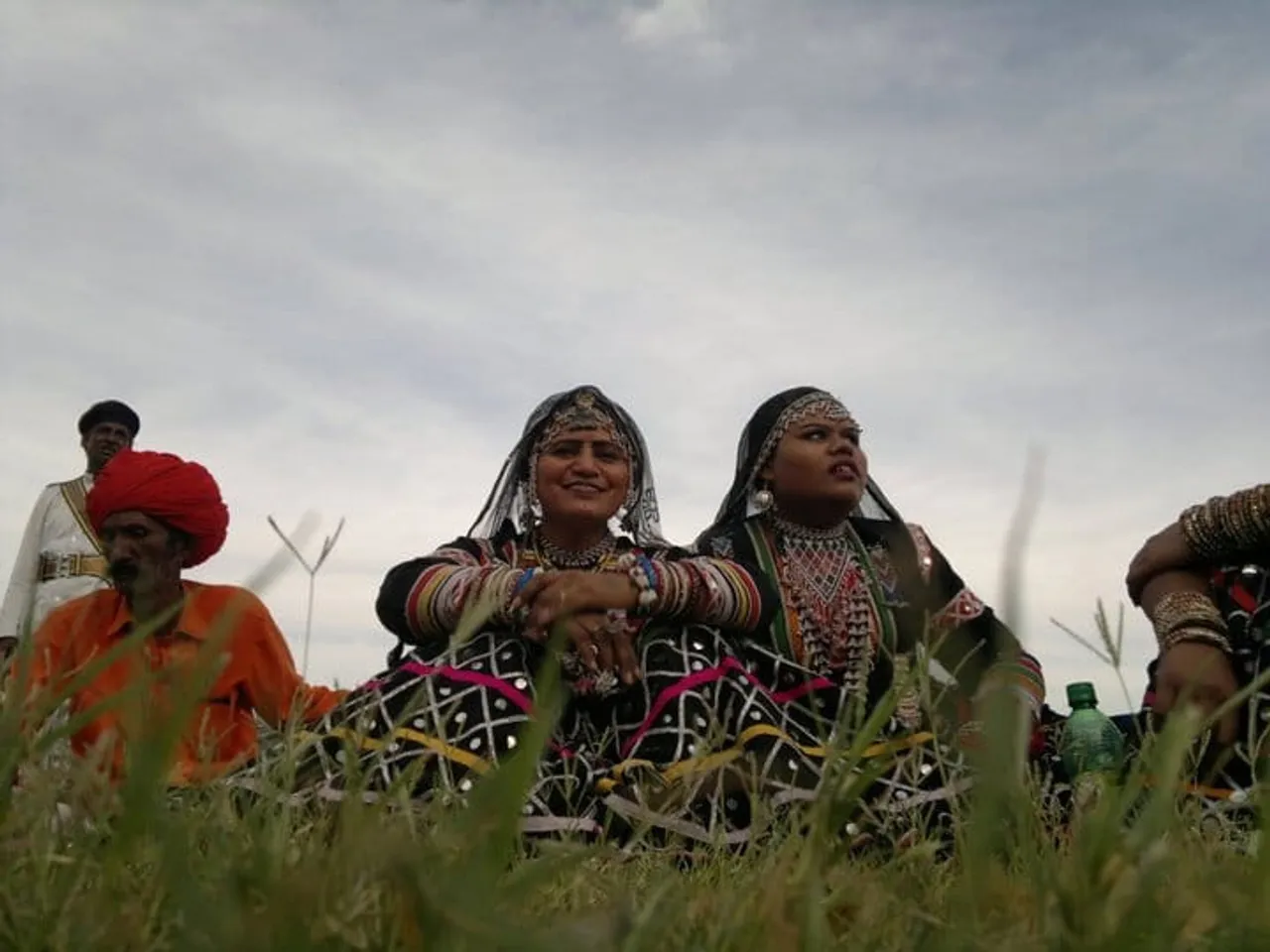 wp:paragraph
Kalbelia dancer Gulabo Sapera's story is a prime example of the stigma associated with being born a girl in India. Today, a global ambassador for the folk dance of Rajasthan and having toured 165 countries, Gulabo was buried alive minutes after her birth. Being the fourth daughter of the family, the women of the Kalbelia community who helped in her birthing, decided she need not live.
Gulabo's father earned his livelihood through routine snake charmer shows.  He was on one of his rounds when his daughter was born. When he learnt of what had transpired, he stood up against the community. "There was a panchayat and my parents were ostracised for not killing me as per the custom of our community. They did not allow too many girls and I already had three sisters, so I was not welcome. But my father would have none of that," says Gulabo, who has seven siblings.
The Kalbelia community, to which Gulabo belongs, have long been abjectly poor, and socially excluded. The name Kalbelia is derived from their association with snakes - a symbol of 'kaal' or death.
Also Read: Dogri songs by Jammu siblings win hearts across the world
How Gulabo rose to fame as a Kalbelia dancer
When she was just six-month-old, her father began taking her with him for his shows. Her family lived in Kotda village near Ajmer but her father travelled to Ajmer, Jaipur and other cities to perform.
"They (snakes) were like my brothers and sisters," she says with a gentle laugh. "I used to play with them, dance with them, and drink milk with them. I wasn't afraid of them."
Gulabo says as a 9-10 year old, Tripti Pandey and Himmat Singh, who worked with the Rajasthan Tourism Department, spotted her dancing in the sand dunes in Pushkar.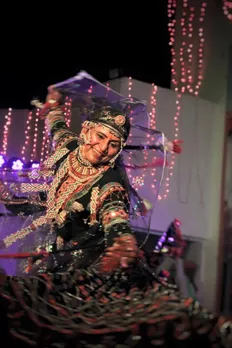 "They called me to Jaipur and introduced me to people and helped me get programmes. I met several artists and officials and soon began performing on TV, in shows in India and abroad and even in Bollywood," she says.
"Maharani Gayatri Devi saw one of my shows and was immensely pleased. She had adopted me as a daughter and helped me in my career," she adds.
"In Jaipur, I lived on the roadside in tents as I could not afford to stay in hotels. I was able to buy a house in Jaipur in 1991," says Gulabo, who has three daughters and two sons.
At the time, the government used to pay Rs50 per programme. On foreign trips, artists got US$20 per day allowance.
Gulabo is credited with creating many of the energetic and graceful Kalbelia dance moves replicating the movements of a serpent acrobatically. She also designed the flowing black ghagra-choli and dupatta, with multi-coloured piping worn while performing the dance, which has become a hallmark of Kalbelia.
Also Read: How 'Dohar' is trying to preserve folk music of Bengal & Assam since two decades
"I still went for the show because I wanted to fulfil my father's dream. He had defied the community for me, struggled for my success. This was my tribute to him," she says.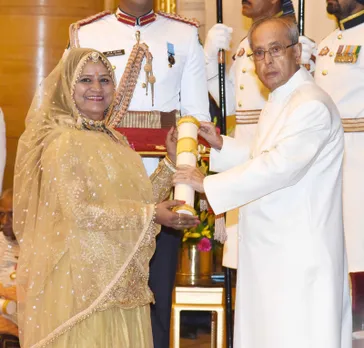 Gulabo's performances in the US won her much praise and she was somewhat of a celebrity when she returned to Rajasthan. "When I returned to the village, community members welcomed me and showered praise on me. It was these same people who had ostracised my family and criticised my father for breaking tradition and letting his daughter dance in public," she recalls.
"Now they wanted a Gulabo in each house."
She subsequently performed at several shows, winning laurels for her graceful dance and rustic folk songs. She also collaborated with French artists and has several music CDs in French. "Besides French songs, a book has been written on me and a documentary has also been made. There is a street in France named after me," she says.
Gulabo has a large fan following among students from the US, UK, Canada, Japan, Chile, and France who want to learn Kalbelia dance from her.
Also Read: A quaint village in Hooghly becomes manufacturing hub for string instruments
Building dreams, and carrying forward a legacy
After returning from the US, she began to perform regularly in India and abroad. In 2016, she was awarded the Padma Shri for her efforts in drawing global recognition to the Kalbelia folk dance.
Her efforts and international performances not only made the serpent dance popular globally, UNESCO also enlisted Kalbelia folk songs and dances on its representative list of Intangible Cultural Heritage of Humanity in 2010.
Gulabo has also appeared in several Bollywood and Rajasthani films and also appeared in one season of the reality show, Big Boss.
Despite the success, Gulabo voices her annoyance with the government's apathy towards artistes. "The government treats us like garbage. We don't count for them. We don't have influence. When they need us, they call us but after that they just dump us," she says.
She says during the lockdown too, the government did not help artists, many of whom are in dire straits.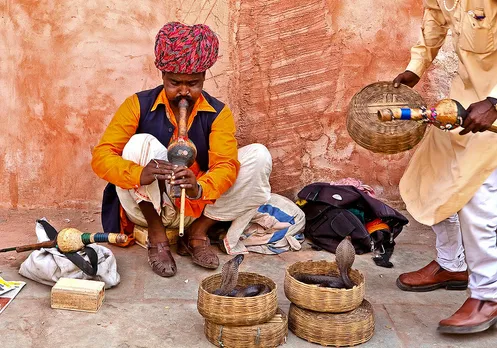 "I along with other artists met officials and asked them to provide some financial help or organise online programmes for us. But the artists received only Rs1100 and some wheat flour twice during the lockdown."
Gulabo is taking online classes and buys dry ration with the money besides helping other artistes who have fallen on bad times.
Kalbelias, also known as Jogi, Nath or Sapera, were traditionally nomads, and snake charmers, performing shows where children would also showcase acrobatics. During the British rule, the Kalbelias along with several other communities were designated a criminal tribe under the Criminal Tribes Act of 1871. The act was de-notified in 1949 by the Indian government.
Also Read: Bagh Print: How Khatris are keeping the 500-year craft alive along with MP's tribals
Narayan says after the Wildlife Protection Act, 1972 was enforced, the Kalbelias moved away from their traditional livelihood as nomadic snake-charmers and have turned to unpaid work and begging while a large number of women are forced to become rag-pickers.
"Our community is still very backward. After my success, at least they have started valuing girl children. I keep urging community members to educate their children, start living in towns, build houses so that they could have a settled life instead of being nomads," she says.
Gulabo says she now wants to pass on her legacy to students who will continue the tradition of Kalbelia dance. She runs a school in Denmark and one is under construction in Pushkar, near Ajmer.
"They have introduced new movements and now perform with all musical instruments whereas Kalbelia is performed with the been, dafli and daph," Gulabo adds.
Another dream she harbours is to undertake a world tour with her students. "We will move like nomads or gypsies from city to city, giving performances along the way."
She has tasted success, roamed the world and interacted with celebrities in India and abroad but for Gulabo, Rajasthan and Ajmer is where her heart belongs.
(Urvashi Dev Rawal is a Jaipur-based journalist specialising in development, gender, and political reporting)
Also Read: How Ustad Moinuddin Khan is keeping the rich legacy of sarangi alive