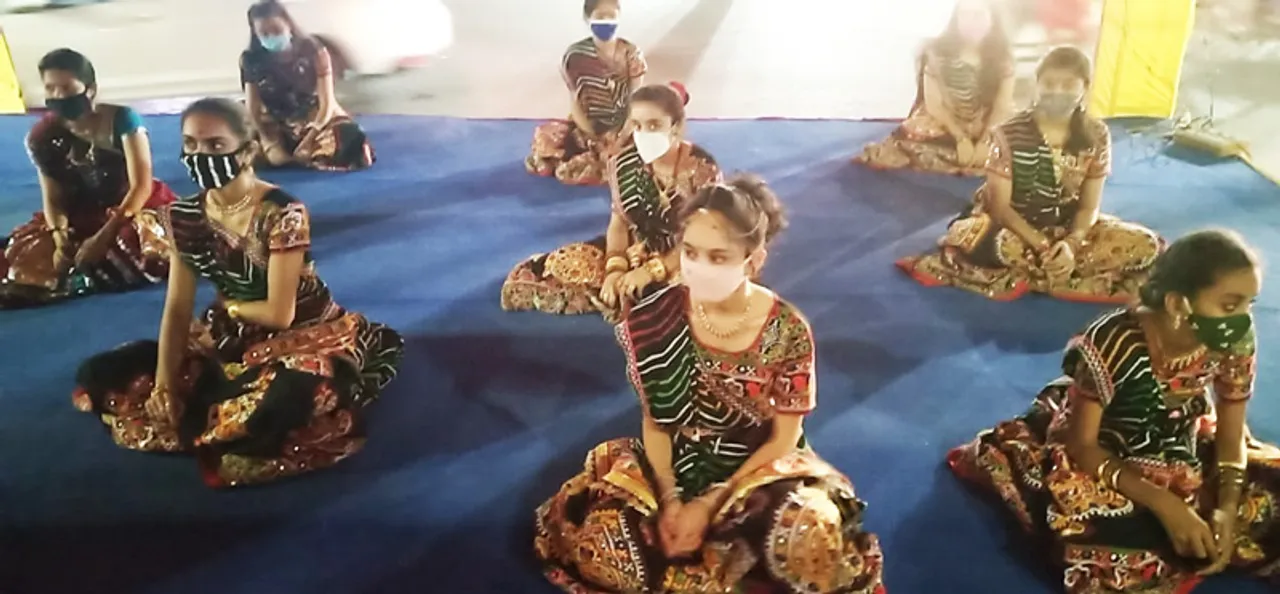 For the last 200 years, men living in Sadu Mata Ni Pol, a housing colony in old Ahmedabad's Shahpur area, dress up as women on Ashtami, the eighth day of the nine-day Navratri festival. They perform Gujarati folk dance Garba to atone for a curse by Sadu, a Barot community woman who is now worshipped as Goddess Sadumata.
Garba honors and celebrates the feminine form of divinity and thousands of people from far off places come to see Barot men dancing as women every year during Navratri.
Just 150 km away in Godhra, over 200 units making Dandiya sticks, used in the folk dance by the same name, are struggling for survival. Abdul Razak Mohammad Aziya has nearly 50,000 Dandiya sticks lying unsold in his house. With the Gujarat government banning Garba this year, he stands no chance of making money. To make ends meet, he has shifted to production of rolling pins (belan) while other units are now making wooden cradles, beds etc.
Also Read: How Kutch's Abdul Gafur Khatri is keeping alive 300-year-old Rogan art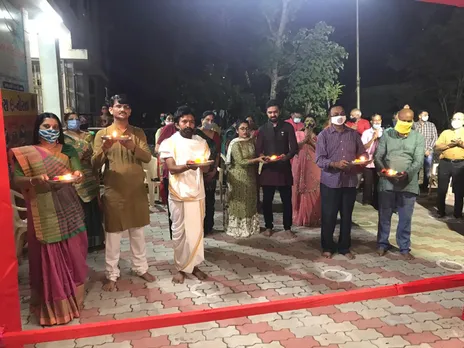 The Coronavirus pandemic has not only throttled Gujarat's vibrant Navratri festival dedicated to Goddess Amba or Shakti, but it has also taken the sheen of many associated businesses and customs, which go back hundreds of years.
Cutting down festivities
The Gujarat government has announced guidelines for Navratri festivities this year.
The organisers will have to make arrangements for thermal scanners, sanitisers and follow other pandemic-related protocols. Keeping the guidelines in mind, Rajkot's Rajubhai Sarvaiya, 48, has cut down Garbi festivities this year. Garbi, an offshoot of Garba performed by young girls, will see only 20 of them dancing to devotional folk songs wearing masks this year.
"Due to COVID-19, we have reduced the group size from 65 to 20 and girls aged 13-15 will perform this year against our tradition of having 9 to 13-year old dance. We will follow the necessary guidelines," says Sarvaiya, a farmer, who has been organizing the Garbi for the last 25 years.
Also Read: COVID-19 robs Surat's diamond industry of trained hands
Ditto is the case with 60-year-old Suresh Barot, who lives in Sadu Mata Ni Pol (pol means old housing colonies). "I began to appease the Goddess with Garba in a saree when I was 7. Our community has continued this tradition for 200 years in the worst of situations. This is the first time it will be different," he says.
Sadumata and men dressed as women
Barots, the residents of this pol, were bards about two centuries ago, going to every house where a son was born, to maintain the genealogy. Legend has it that Sadu, who was an extremely beautiful woman, lived in Kalana village of Sidhpur in the present day Patan district. She was married to Harisingh Barot who lived in Ahmedabad. A spy, named Ottam, told the then ruler, a Gaekwad king, about her beauty. The king sent a marriage proposal to Sadu, who told his messengers to return once her husband was back.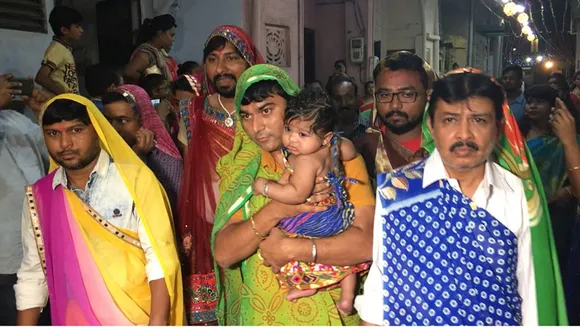 The word spread and by evening, Harisingh's house was thronged by members of his community. What followed was a fierce battle between the Barots and Gaekwads to protect Sadu. It caused a lot of bloodshed. Eventually, Sadu asked her husband to cut off her head to end the bloodshed. Legend has it that when the soldiers tried to kill her daughter Ajiba by throwing her on the ground, she turned into flower petals.
Also Read: COVID-19 not only affects life, but also strangles the business of death
Most Barot families in the area adopt boys even today to continue their lineage. Performing Garba in a saree is their way to appease Sadu, now Sadumata Goddess, to atone for the curse. Today, a large number of men outside the Barot community also visit the temple and wear a saree to thank the Goddess after their wishes are fulfilled.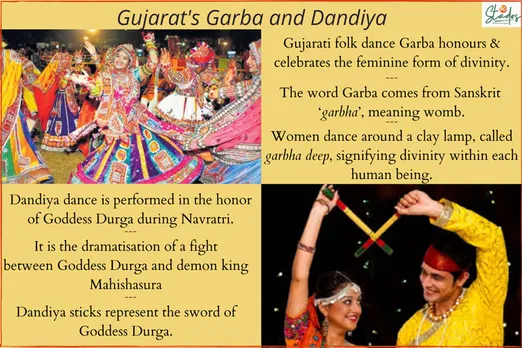 Dandiya and unfulfilled wishes
But Godhra's Aziya has a wish that may not be fulfilled this year following the ban on celebrations. 
On an average, each unit makes 50,000 dandiyas for the festival with a pair priced between ₹ 13 and ₹ 25. The profit of around ₹ 2.5 lakh they make during Navratri keeps them going through the year.
Also Read: How 'Dohar' is trying to preserve folk music of Bengal & Assam since two decades
"We start production in December every year and were making dandiyas till the day before the lockdown was imposed on March 25. We received food grains from the government but earnings stopped and I could not pay my workers. They have shifted to other jobs and I have only 2 people working with me now," he says.
In Rajkot, Haresh Solanki's group, too, has decided not to organize festivities this year due to the pandemic. "There is a widespread fear of COVID-19 here," he says.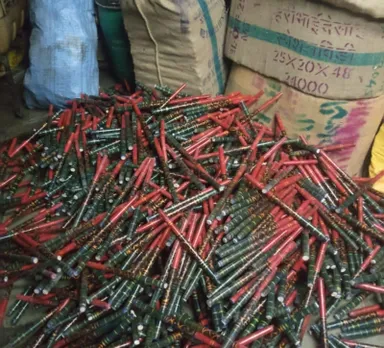 Sarvaiya, also a member of the Samarpan Yuva Charitable Trust, points out that the voluntary donations for his event have halved due to the crisis. "We would spend ₹ 17 to ₹ 20 lakh every year on the event, funding a large part of it ourselves. However, this year, the event will cost only ₹ 5 to ₹ 6 lakh."
The people of Gujarat are not able to celebrate the festival with the fervor they are used to, but they are trying their best to keep up the traditions in their own little ways. After all, it's only once a year that they get to appease the Goddess and thank her for the blessings.
(Vedant Sharma is a Gujarat-based freelance writer)
Also Read: How COVID-19 and India-China tensions have changed India's 900-year-old Patan Patola weaving