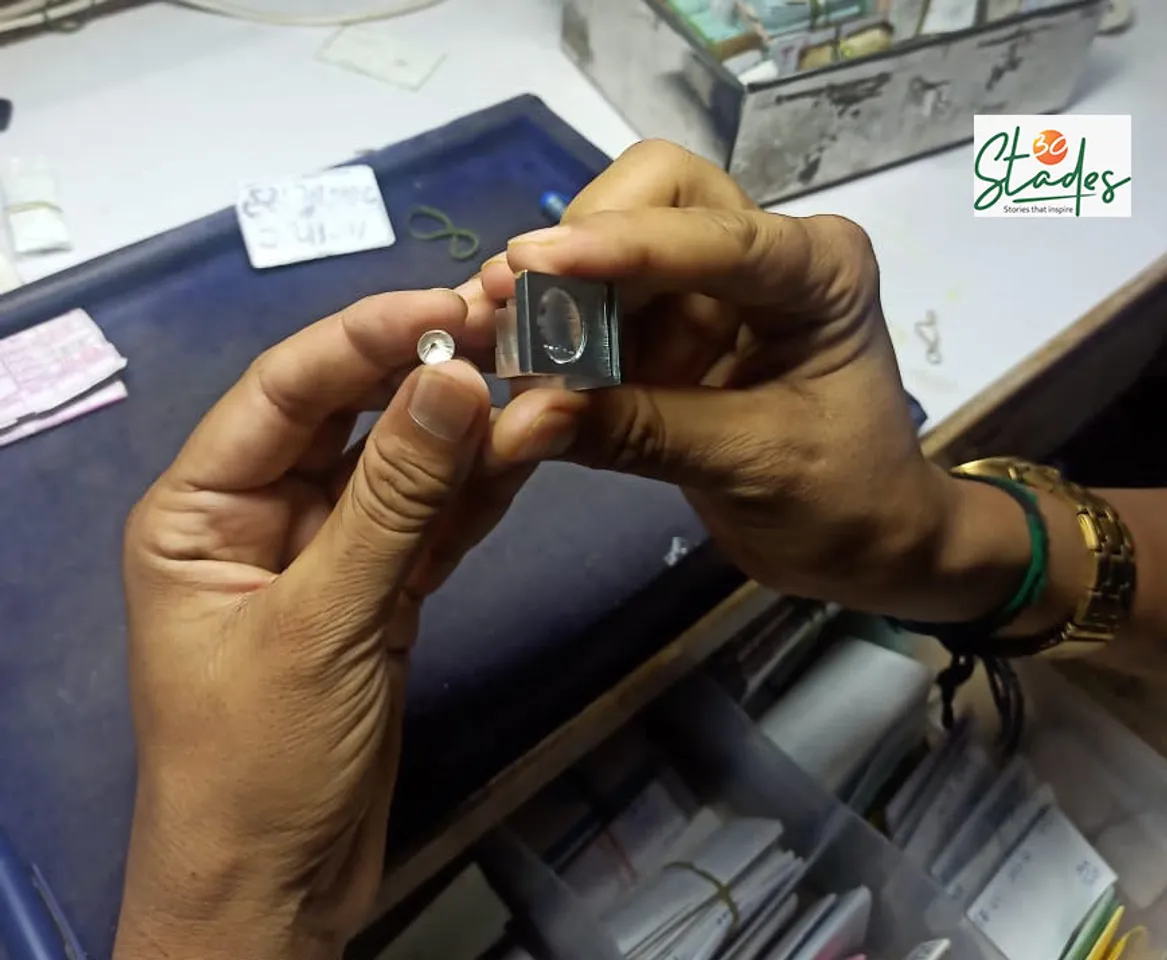 wp:html /
When Britain's Prince Albert, Queen Victoria's husband, decided to re-cut the Koh-i-noor in 1852, Dutch diamond merchant Mozes Coster chose Levie Benjamin Voorzanger, one of his most experienced artisans for the task.
And coronavirus disease (COVID-19) may derail this cost advantage as nearly 5 lakh (0.5 million) trained workforce have left India's diamond hub Surat in the wake of the pandemic.
Surat, located 284 kilometres south of Gujarat's capital Gandhinagar, is home to about 7.5 lakh diamond workers, 5000 small diamond traders, 500 mid-sized players and about 40 large diamond firms.
Also Read: Delhi nurse narrates his life experience as a COVID-19 warrior 
Low-cost skilled migrants – the key
This does not bode well for the industry that reported Rs 1.5 lakh crore turnover in FY19 and which may be down to just Rs 60,000 crore this year. Diamond industry needs highly skilled-trained manpower for its entire chain of operations -- from assortment to cutting and polishing. The workers are trained for a minimum six months before they commence work on the shop-floor.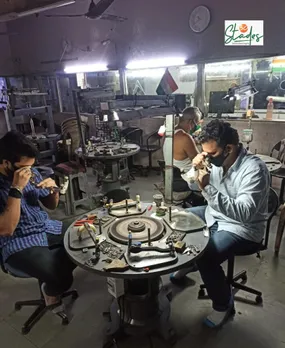 "Learning to polish small diamonds accurately takes up to a year. For large and thick diamonds, it takes 2 to 3 years. These skills are exactly like mathematics; the more you practice the better you will be. During the training under senior diamond polishers and cutters, they get a monthly stipend ranging from Rs 2000 to Rs 2500," says Shah, a former Corporator.
Also Read: A migrant worker's 1,200km journey on foot during the Coronavirus lockdown 
Rapidly increasing demand for small diamonds in the international market combined with lack of trained and low-cost labour overseas had given a push to India's diamond industry in the 1960s. Wages in India start at Rs 15,000 per month and can go up to a lakh in the case of highly trained craftsmen.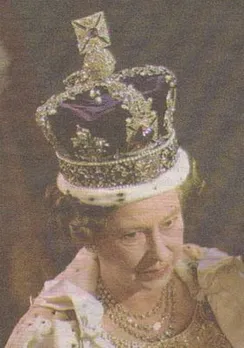 But all that may change post COVID-19. A large number of workers employed in the profession are migrants. While about 20 percent of the workers come from outside Gujarat to work in Surat, most others are from Saurashtra and other regions within the state. They will not return even if the cases decrease in the city for the fear of contracting coronavirus and due to the hardships they faced after the lockdown. "Due to the COVID-19 crisis, there will be a 60 percent drop in the annual turnover this time. And this is not the end," says Shah. 
Also Read: COVID-19 not only affects life, but also strangles the business of death
Moreover, social distancing norms while resuming operations will increase costs if the units are run with half the staff. "It will not be economically feasible to run operations at suboptimal levels. So many people might not restart units anytime soon," says Damji Mavani, Secretary of Surat Diamond Association.
"As things get better, the diamantaires will try to woo back their workers. The final decision whether to return to Surat or not will be in the hands of those workers itself. Around 2 lakh workers who have stayed back will resume their operations slowly and things will be back on track though it will take time," says Anirudha Lidbide, an independent diamond trade analyst and businessman.
Also Read: Why Mumbai needs its migrant workers to retain its mojo
From diamonds to textiles
This COVID-19 decline is a continuation of the downfall that began with the 2008 Lehman crisis, which had brought trade to a standstill. "Around 3 lakh people, including workers, small owners and allied staff, have already shifted to textile/embroidery industry since the financial crisis of 2008. The textile industry requires less investment, working capital and manpower compared to the diamond industry, making it a better option for many," Mavani adds.
"Small traders are shifting to textiles as the industry reports a low percentage of loss despite any crisis. On an average, a new unit will report a loss of 2 percent compared to a 25 to 30 percent loss if the same unit were in the diamond industry," he says.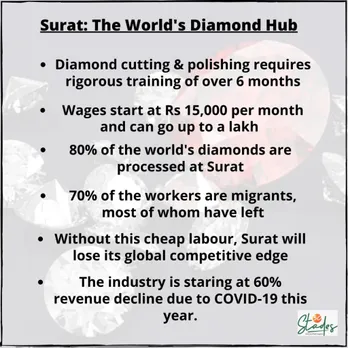 The prices of rough diamonds, which come to India for processing, had already risen by 10 to 20 percent in January, 2020.
Major importers of diamonds like the China, Hong Kong, USA, European nations were already under lockdown. A large number of diamond traders with offices in China and Hong Kong had closed in December itself due to COVID-19.
Also Read: India's tribal & ethnic groups dodge the Coronavirus minus sanitisers, science or support 
The diamond industry had already suffered a loss of about 30 percent by the time the lockdown was imposed in India. Since the Janta Curfew on March 22, the diamond industry of Surat has been at a standstill.  Traders and factory owners are awaiting payments for the last 2-3 months, Shah says.
Diamond traders have to purchase raw diamonds 2-3 months in advance. Considering the lockdown, diamond units in Surat are shut with raw materials for three months. The payments for both the rough and polished diamonds are at a halt. If this scenario persists, a large number of traders will lose their payments, and possibly their units too. When lack of finances combines with lack of skilled manpower, it gets doubly difficult for any business to survive.
(Vedant Sharma is a Gujarat-based freelance writer)
Also Read: COVID-19 gives new wings to kabootar bazi in Kashmir