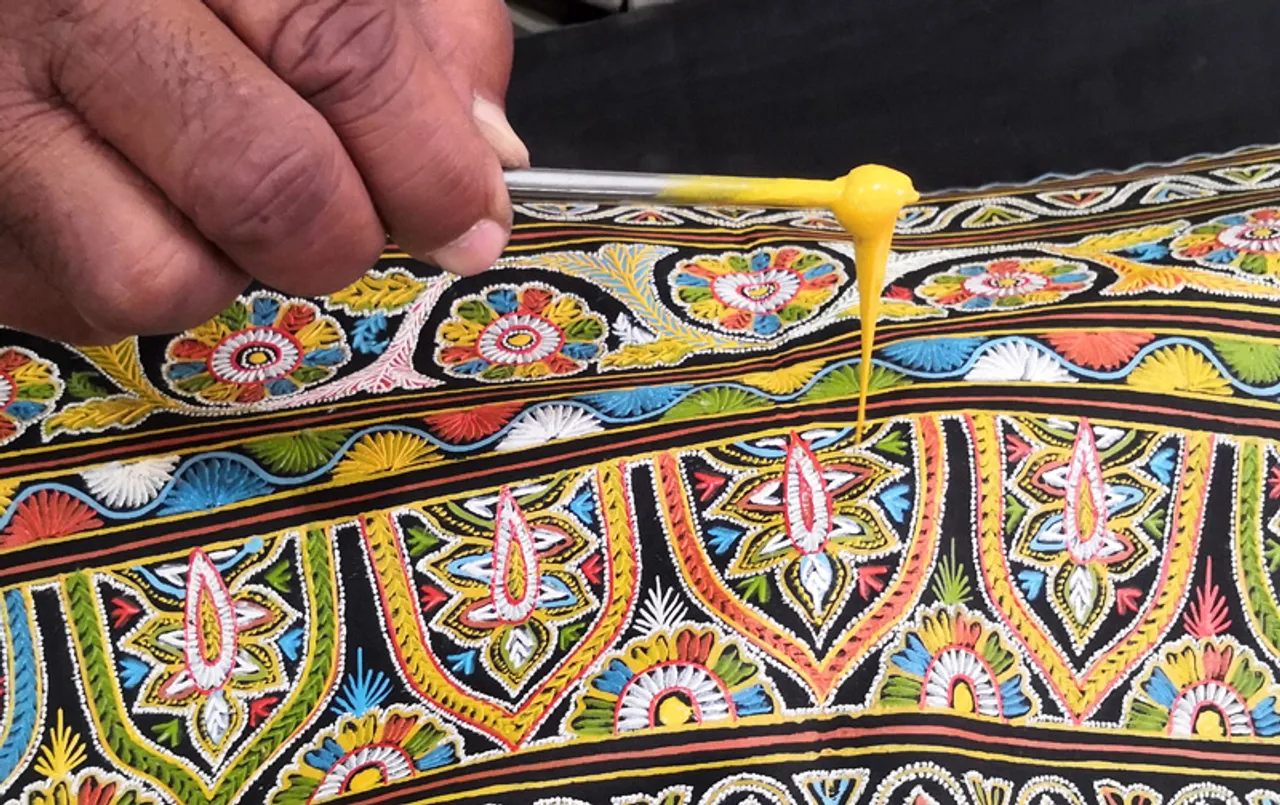 wp:paragraph
Around 40 years back, Abdul Gafur Khatri left Nirona, a small village in the Kutch region of Gujarat, to earn a livelihood in Mumbai. Practicing his family's traditional craft of Rogan painting did not earn them enough. So he sold vegetables and worked as a daily wage labourer in the city of dreams but couldn't earn enough to make ends meet. Today, he is a Padma Shri award-winner artist keeping alive the 300-year-old legacy of Rogan art through women empowerment.
Khatri is a member of the seventh generation of his family to continue the art form, which came to Kutch from Persia in the early 18th century. Rogan painting is done on cotton or silk fabric using thick bright paints made from castor seed oil.
Khatri says his aim is two-fold – to preserve Rogan painting and make women more self-reliant. "I want to train as many women as possible," he adds.
Delhi-based fashion designer Vanshika Gupta, who collaborated with Khatri to launch designer face masks decorated with Rogan art, is a case in point. Gupta had visited Nirona about two years ago as a part of her final year under graduation project in fashion designing. "I visited Gafur bhai in Kutch to understand and learn about Rogan art. I have been in touch with him since then."
Also Read: How COVID-19 and India-China tensions have changed India's 900-year-old Patan Patola weaving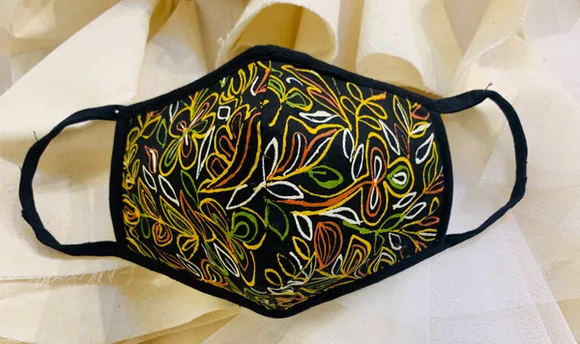 A team of 10 girls from Nirona trained by Khatri are now working with Gupta. They hold regular meetings over video calls to decide designs and ideas. Gupta provides the raw material and the masks are sent via courier to Delhi.
From colourless to colourful
While Khatri is training others today, making them financially independent, he himself was unsure about practicing the craft due to the limited monetary returns it offered back in the 1980s. That's when he moved to Mumbai. "I tried every possible means to earn a living in Mumbai. I sold vegetables and worked as a daily wager. I also tried to engage in my cousin's dying and colouring business there," says the 55-year-old.
Yet, his earnings were not any better than what he earned back home. Eventually, his grandfather called him back to Nirona. "He asked me to continue with Rogan painting. He said if I didn't, the art would die. It was then that I decided to take up Rogan art and promised my grandfather that I would continue it till my last breath," says Khatri, who has been feted with several national awards besides the Padma Shri.
While Khatri followed his grandfather's advice and plunged himself into Rogan painting, he received international recognition largely due to Prime Minister Narendra Modi's liking for the craft.
Also Read: COVID-19: Padma Shri tie and dye craftsman for royals & Bollywood out of work after seven generations
Not surprisingly, Khatri has now become synonymous with the revival of Rogan art, having made it a fashion statement with an international print. 
The process of Rogan painting
Rogan, in Persian, means 'oil'. The paint is made by heating castor oil for 12 hours. It is then cooled and then re-heated till it becomes jelly-like, which is called 'Rogan'.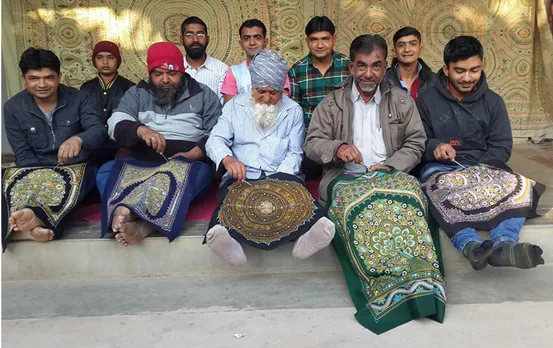 Natural colours are added to the jelly. Primarily yellow, red, blue, green and white are used though another colour can be made by mixing two or more colours. The artisans dab a small amount of the thick paint on their palm and use a six-inch thick-metal needle to paint with a fine thread of Rogan. But the needle does not touch the fabric.
Traditionally, Rogan painting was used to embellish bridal wear of local tribes, just as has been the case with Bagh Prints of Madhya Pradesh. Over time, Rogan grew in popularity and shifted to bedspreads, wall pieces, stoles and even kurtas.
Also Read: How Nizamabad's 500-year-old black pottery is regaining lost glory
"This painting is generally done on cotton and silk. However, we have done Rogan art on Australian merino wool, which is of very fine quality. The price for a woolen stole or shawl starts from Rs 8,000," says Sumar Khatri, one of Khatri's three younger brothers who have trained under him.
Fresh Coat of Paint
Modi's liking for Rogan art had another positive impact on Nirona, which gave a new lease of life to the craft. Many tourists from India and abroad started visiting Khatri's house, which is about 400 km from Ahmedabad, to see his work.
"Many tour agencies contacted me and we started getting tourists in our village every year. They saw the paintings, asked for a demo and some of them even bought the paintings. The peak season is September to March when we would receive 150-200 tourists a day," he says.
Not just Khatri, even his brothers are acclaimed artists of Rogan art. "My entire family is engaged in this at present. All of us are award winners. We have three National Merit Certificates and four National Awards in my family."
Also Read: Soaking, boiling, dyeing, washing…the creation of Madhya Pradesh's Bagh print in pictures
So tourist seasons are busy for the Khatris at Nirona. Around 20 girls are engaged with the family during that time and each earns between Rs 8,000 and Rs 15,000. Khatri has converted a room in his house into a small museum where he showcases Rogan art pieces. "We do not charge visitors unless it is a group because we give them a demo of our work."
However, Khatri rues the absence of a platform to market Rogan art at the national and international levels. "Rogan art lacks marketing. I hope the government supports us so that we can continue this art form. We do not get any retailers because people are not even aware of this art form. We are happy to provide our products to retailers, but no one has approached us," he adds.  
Currently, he trains women from at his house but wants to expand that too. "We have purchased land near our village. If we get support in the near future, we wish to build a training centre there."
The COVID-19 impact
The Covid-19 crisis has sadly ground Khatri's sales to a halt. There are no tourists and no sales.
Also Read: Political uncertainty in Kashmir brings pashmina weavers' looms to a grinding halt
Khatri and his family are trying to keep things going. "We participated in two online exhibitions during the lockdown. One was organised by Paramparik Karigar in Mumbai and the other by India Craft Week. We have received a number of enquiries for products and exhibitions through social media as well. But things will be back on track only once the COVID-19 crisis passes," says the master artist's nephew Jabbar Khatri.
The Khatri family is now eagerly waiting for the COVID crisis to end so that they can pick up their tools and paint an even brighter picture of Rogan art.
(Vedant Sharma is a Gujarat-based freelance writer)
Also Read: Rajasthan's Badshah Miyan takes 700-year-old leheriya craft & natural dyes to the world