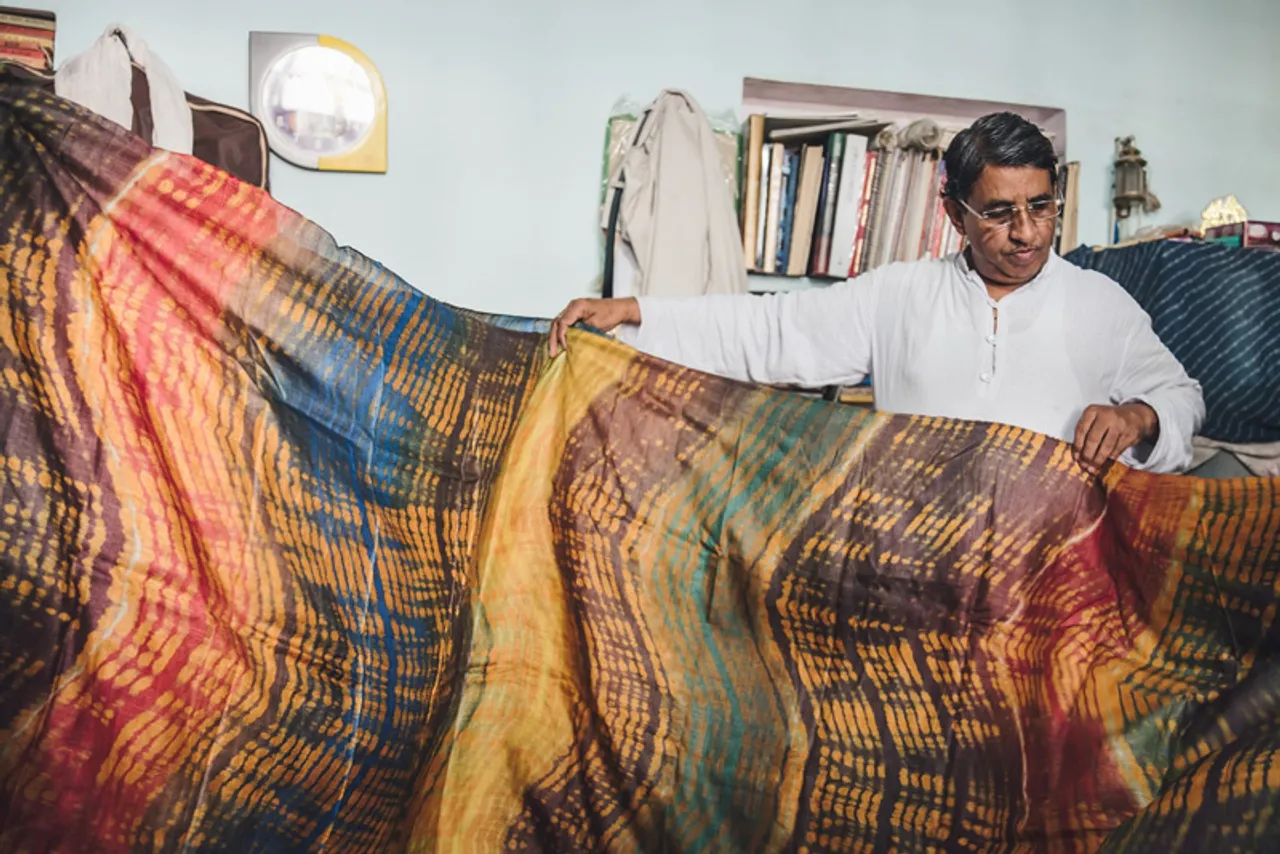 When Mughal emperor Jahangir passed away in1627, a black turban with silver thread was specially made for his son Shahjahan to wear while mourning.
The new emperor's headgear was made by a celebrated leheriya (tie and dye) artist from a family of rangrez or textile dyeing crafts persons in Rajasthan.
"My forefathers were in the service of the rulers of Tonk as well as the Maratha Holkar dynasty. They made safas, pagdis, patkas and all other types of turbans for the royals. Since they worked only with indigo colour, we came to be known as Neelgars or Neelghars," says 64-year-old Miyan, winner of over 100 national and international awards. 
The word indigo comes from the Latin for 'Indian blue' because the dye from indigo plants was originally made in India and later imported to other countries. It is one of the oldest dyes used for coloring fabrics.
Also Read:  Bagh Print: How Khatris are keeping the 500-year craft alive along with MP's tribals
Miyan's forefathers have left behind a rich legacy of several priceless turbans, lehengas, kurtis, sherwanis and bedspreads made for Mughal emperors, theHolkars and Tonk nawabs nearly 400 years ago. They are a part of Badshah's private collection now.
He has given several such rare artefacts to the Chhatrapati Shivaji Maharaj Vastu Sangrahalaya in Mumbai, including a dupatta that belonged to Maharani Gayatri Devi of the erstwhile Jaipur royal family. This dupatta is embossed with flowers made of gold thread.
What makes indigo leheriya special?
We have worked with the royal families for many centuries. My grandfather and father passed these items to me only after they were assured that I would not sell them," he adds.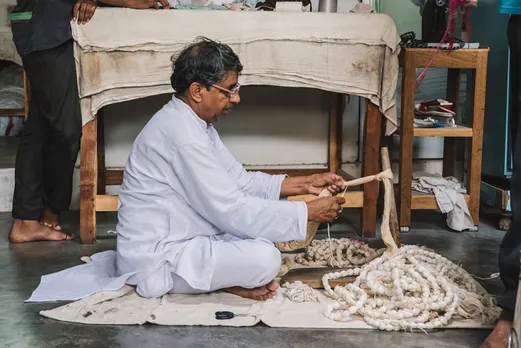 While Miyan specialises in leheriya, bandhani, wood carving and many other crafts, his heart belongs to the indigo leheriya technique, practiced by his forefathers, which had earned them the title of 'Neelgars'. 
Also Read: Soaking, boiling, dyeing, washing…the creation of Madhya Pradesh's Bagh print in pictures
"But my family is the only one which is doing the technique using the traditional method. We don't mix chemical dyes and our colours are natural, eco-friendly, non-toxic and meet international standards."
The Indigo found in the Bayana area of Rajasthan is the best quality in the world because it keeps the cloth cool in summer and warm in winter, he adds.
The process of making natural indigo dye
The process of making natural indigo dye is a laborious one. Indigo leaves are washed and left in a pot to ferment. When the froth collects on the pot's mouth after a couple of days, it is removed and the remaining water is boiled till it takes on a thick paste-like consistency.
Also Read: CtoK: Empowering Kashmiri artisans to turn entrepreneurs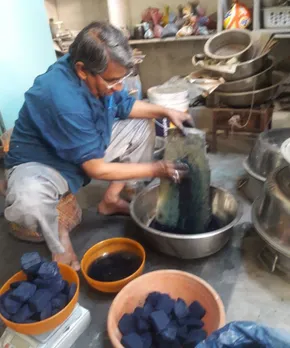 The semi-dried paste is cut into square blocks called cakes, which are put in moulds for 21 days to completely dry. They are covered with rice husk ash, which soaks the moisture.
A small piece of the dry cake is mixed with water to make a fine paste, which is mixed with water and left for a day after which jaggery and limestone are added to it. Once the liquid takes on a bright green hue in a couple of days, it is ready for use.
The fabric to be coloured has to be washed two or three times to remove the starch completely. It is tied, folded, twisted or compressed, depending on the pattern to be created and dipped in the dye solution. 
The fabric is then placed on the ground without rinsing and takes on the typical Indigo colour as oxidation takes place. If a deeper Indigo colour is required, it can be dipped multiple times.
The drying has to be done early morning before sunrise so that the colour sets in deep and strong. Sun's presence leads to oxidation, which will not allow the colour to catch on strong, he says. The fabric is then untied to reveal irregular circles, dots, and stripes.
Also Read: COVID-19: Padma Shri tie and dye craftsman for royals & Bollywood out of work after seven generations
Business beyond the basics
Miyan, however, did not restrict himself to the family craft and processes but expanded his knowledge. In the early 1970s, he enrolled with the All India Handicraft Board, Under the Ministry of Textiles, to upgrade his skills and gave him an opportunity to learn different techniques and formats.
"I learnt dyeing, weaving and design while being posted in different divisions of the ministry. Travelling across India and abroad gave me opportunities to interact with artisans and buyers. But design is my passion and I have been designing for the last 45 years," he says.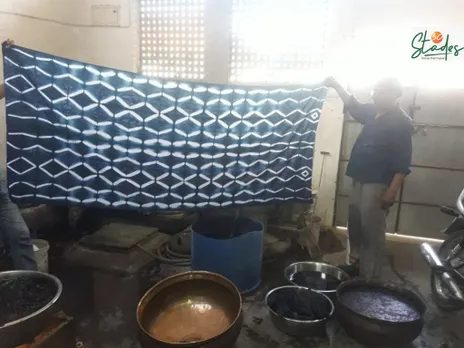 Miyan gave up his government job in 2006 as he wanted to work with natural dyes and return to his family trade. He expanded the range of products from safas and odhnis to arees, suits, scarves, stoles and dresses. He also added bandhani and gold print products along with leheriya.
With experience about designs, colours and market trends acquired over the years, Badshah creates products that are picked up by buyers and wholesalers in no time."Nagina mothda (a tie and dye technique) is my specialty," he says.
Miyan has two outlets in Jaipur from where he sells clothes as well as wood carving items designed by him. His sons, Shah Nawaz (34) and Shahen Shah (32) help him with the business.
Also Read: Political uncertainty in Kashmir brings pashmina weavers' looms to a grinding halt
Before the COVID-19 pandemic, he had an annual turnover of about Rs1 crore but now it is just about half of that. A cotton dupatta crafted by Miyan costs Rs600-800, a silk dupatta Rs2500, a silk scarf Rs1500 while chiffon sarees starts at Rs3000. Silk sarees remain the most expensive item, selling upwards of at Rs4500 a piece.
Wholesalers from Delhi, Mumbai, Bengaluru, Hyderabad, US, UK, Japan buy from him and he also sells through online platforms iTokri, Jaipur Online, Good Earth and Reliance Retail's e-commerce arm Ajio.
Sharing knowledge & craft with the world
Widely travelled and well read, Miyan has extensive knowledge about not only his craft but also about the history and tradition of textiles, natural dyes, colouring and design. He has taught in several top design institutes such as National Institute of Design, Ahmedabad, National Institute of Fashion Technology, Delhi and has worked with top fashion designers including Ritu Kumar, Rohit Bal, Rajesh Pratap Singh, Abu Jani, Neeta Lulla and Raghavendra Rathore.
Also Read: The Ethicus Story: How a Pollachi-based couple made sustainable farm-to-fashion viable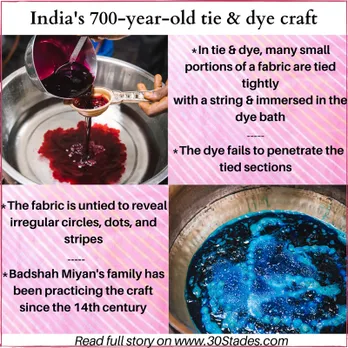 "I have been invited for lectures at NID, NIFT and even in Japan and Brazil to share my experience, anecdotes and traditional techniques. These institutes value me. You won't find this knowledge on Google," he says.
Miyan set-up an Institute of Natural Dyes in 2003 in Jaipur where he trains artisans and craftspersons as well as students from various design institutes from across India.
He received the International Craft Council award in 2018, Shilp Guru award in 2015, Indira Gandhi Priyadarshini award in 2010 and is the recipient of two national awards and the Rajasthan Gaurav award (2015.
Miyan recollects the time when he had gone to Delhi to receive the national award from president APJ Abdul Kalam.
He later presented a white silk kurta to Dr Kalam, which weighed under 50 gm. The late president gave him Rs6000 for it. That remains one of Miyan's fondest memories. 
(Urvashi Dev Rawal is a Jaipur-based journalist specialising in development, gender, and political reporting)
Also Read: How COVID-19 and India-China tensions have changed India's 900-year-old Patan Patola weaving