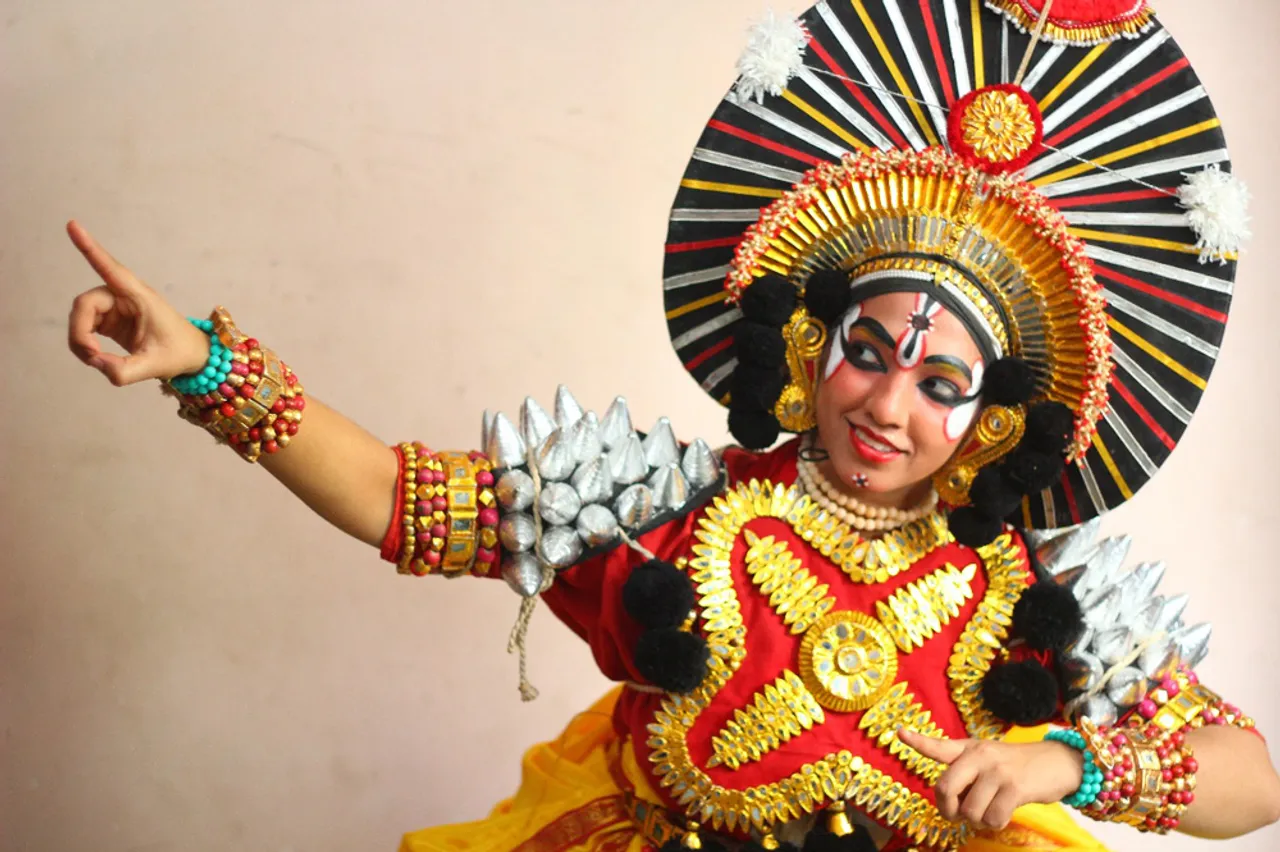 On February 2, 2009, Kermene Shambhu Hegde was performing a Yakshagana at Idagunji Mahaganapathy temple in Karnataka. Yakshagana is a theatrical art form that presents mythological and historical stories through music, dance and dialogues. And Shambhu, a celebrated artist, was playing the role of Lord Rama when he suffered a heart attack. He staggered into the wings as his concerned son ran towards him.
"When he saw me, he took off his keerita (headgear) and gave it to me. He was in discomfort and I called the doctor. We rushed him to hospital but he passed away," recalls Kermene Shivananda Hegde, his son who was essaying the role of Shatrughan that fateful day.
The handing over of the kireeta or mukuta was symbolic of passing the baton to the successor. And on Shivananda's shoulders came the responsibility of taking forward the 600-year-old legacy of Yakshagana, which literally means 'songs of the demi-gods'. This traditional art form flourished under the patronage of kings of the Vijayanagara Empire in the 15th century.
Also Read: Buried at birth, how Gulabo Sapera survived to become the global ambassador of Rajasthan's Kalbelia folk dance
Shivananda is based in Gunavante village in Uttara Kannada district of Karnataka. His grandfather, father and uncles were all renowned artists having received the Sangeet Natak Akademi award.
Art that adapted and flourished
In 1934, Hegde's grandfather Keremane Shivarama Hegde started the Idagunji Mahaganapati Yakshagana Mandali – an art organisation and Yakshagana troupe. Shivananda learnt under his grandfather, father and guru Dr Maya Rao. 
Also Read: How 'Dohar' is trying to preserve folk music of Bengal & Assam since two decades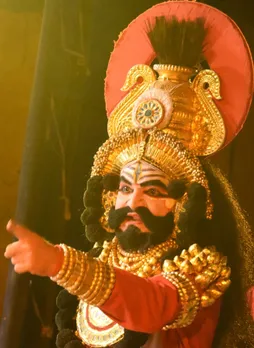 Taking forward the family legacy, he has performed not only in India but also in the US, UK, Europe and Southeast Asia. As with all traditional arts and crafts that face the challenge of survival, Yakshagana too has undergone adaptations to suit a modern audience as it finds a national and global platform.
Traditionally, the performances would be held within the temple premises through the night as artists went from one village to another. But with the performances in different cities and countries, that has changed. And the duration of the acts too has been shortened to suit audiences.
In Bengaluru, Priyanka Mohan is a Yakshagana performer and teacher, one among the growing tribe of women who are now entering the male-dominated folk theatre of Karnataka. A software engineer, Priyanka quit her job three years back to devote full time to promoting Yakshagana.
Priyanka's father K Mohan introduced the folk art to the urban space. He shifted to Bengaluru from Saligrama in Udupi district in the 1960s but despite a job, his love for Yakshagana continued.
Also Read: How Ustad Moinuddin Khan is keeping the rich legacy of sarangi alive
He would meet people from the coastal districts and they would practice daily. In 1980, he set up Yaksha Degula to promote the art form.
A legacy of dance, drama, costumes & colours
The art combines dance, music, theatre and costumes to create powerhouse performances that enthrall audiences.
Balkrishna Bhat, a Yakshagana artist and teacher, says the form of Yakshagana in south Karnataka is called 'Thenku Thittu' while in the northern region it is known as 'Badaga Thittu'.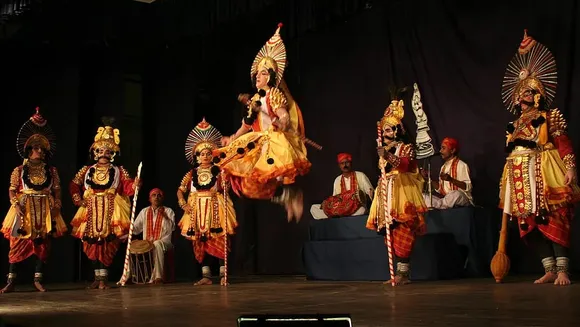 Shivananda is an exponent of the Badaga, which lays more emphasis on abhinaya or expression. The performances in Yakshagana are woven around the epics of Ramayana and Mahabharata besides other Hindu and Jain religious texts.
Balkrishna, 61, says the Yakshagana was also performed as an offering to the gods upon wish fulfilment.
Yakshagana - behind the scenes
Balkrishna started learning Yakshagana at the age of 12 in Udupi. Later he got a job in a bank in Bengaluru but always made time for his passion. He is associated with Yaksha Degula as a performer and teacher and has performed across the world.
Also Read: 'We need a paying audience to make performing arts self-sustaining': Odissi dancer Prachi Hota
For the performance, a makeshift stage is created and a raised platform is made at the back of the stage where the Bhagavatha and the musicians sit and perform.
The costume and make-up are decorative, a remnant of olden times when the act would be staged at night in the soft lights of lamps, says Balkrishna. The costume consists of the elaborate headgear or crown (kireeta), the armour or kavach, the armlets (bhujakeerti) and belts or dabus, all covered with golden foil.
However, nowadays, thermocol is also used to cut weight. Wearing the costume and make-up can take anywhere between one and four hours, depending on the character. Artists are trained in ragas, talas and vocal exercises.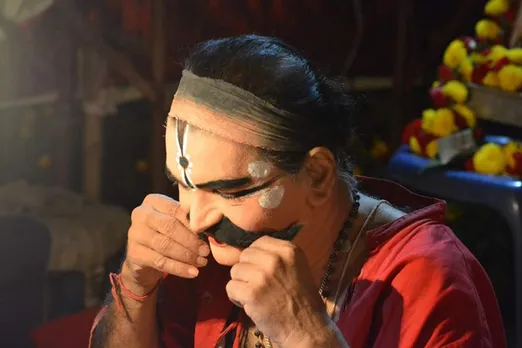 Earlier, the performances lasted from dusk to dawn as the audience sat captivated by the striking make-up and costumes, powerful dialogue delivery and energetic dance movements. 
Also Read: Dogri songs by Jammu siblings win hearts across the world
With time, performances have shortened but the core elements of emoting, dialogue delivery, dance and music remain unchanged.
Priyanka says the the performers do not memorize lines for delivering them on stage. They speak extempore. "So, the actors have to read the scriptures and epics thoroughly and have a deep understanding of the characters. The unpredictability of each performance makes Yakshagana special." 
Preserving the legacy
Priyanka and her younger sister, Preethi, a doctor, learnt initially from their father and later from other gurus. She balanced school with practice, giving three to four performances per week while growing up. Priyanka has performed all over India as well as in the UK, US and Dubai.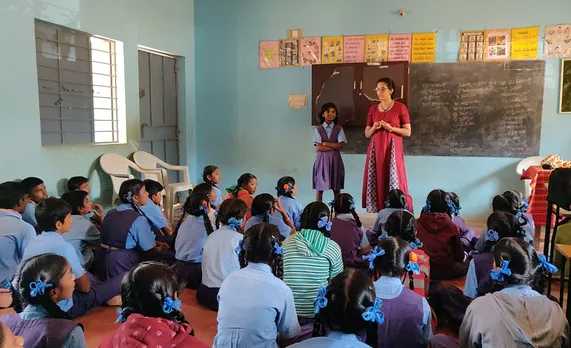 At 18, she got a scholarship from the Ministry of Culture and went to Delhi for an interview for the same. "The interview panel had artists from different art forms. They asked me many questions including on the future of Yakshagana. That set me thinking and triggered my interest in teaching to carry forward the legacy," she says.
Since then, Priyanka has taught hundreds of students at the Yaksha Degula academy, the youngest aged 6 years and the oldest being 77 years.
Also Read: A quaint village in Hooghly becomes manufacturing hub for string instruments
However, after the second Covid wave, they are charging a nominal fee of Rs500 per child and Rs1000 per adult.
Yaksha Degula which had 18-19 performers in the troupe before Covid, has also done projects with the Ministry of Information and Broadcasting. "We have performed extensively in rural areas of Karnataka on contemporary issues such as Covid, water conservation, right to education, nutrition, crimes against women, child rights, Swachh Bharat etc."
Priyanka says Covid has been a dampener, drying up shows and income for artists who are surviving with great difficulty. "We help whenever we can. Many have taken to agriculture or doing odd jobs," she says.
Shivananda and Balkrishna feel that the performing art form is not on the decline. "Earlier there were 10-20 troupes performing. Now there are 40-50 troupes in rural areas. Moreover, there are academies in urban areas where youngsters are learning," says Balkrishna.
Also Read: How Culture Therapy is transforming lives of inmates in West Bengal's prisons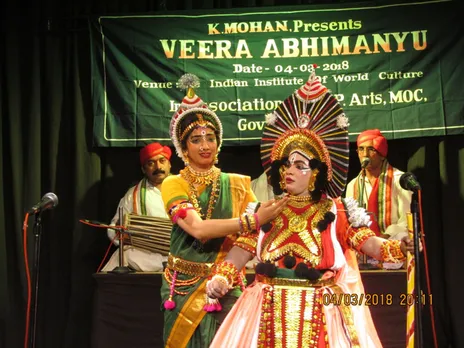 "The problem is not of quantity but of quality," says Shivananda, who has learnt several other folk dances besides modern theatre and has acted in teleserials, films and directed dance-dramas apart from conducting lectures and workshops on Yakshagana in India and abroad.
 In the memory of his father, he started a five-day music festival in 2009 that sees eminent artists of all genres from all over India congregate in Gunavante, which comes alive with the beats of song and dance.
Also Read: Gujarat: no Garba, no Dandiya and scaled-down atonement for curse this Navratri
Shivananda, who has received several awards including the Padmashri Chittani Ramachandra Hegde award and Padmabhushan Capt CP Krishna Nair award, has established the Srimaya Kala Kendra in his village. It is a residential gurukula where students are taught free of cost. His two sons too are learning Yakshagana and he hopes they will carry on the tradition.
But he also rues the lack of support for artists. "The government does give us some grant but it is not regular. We don't get support from corporates or temples. It is difficult to sustain the school and the festival but we are managing," Shivananda says. Yet, as long as artists like him and GenNext teachers like Priyanka continue to work for Yakshagana, the theatre art will continue to flourish and find patrons.
(In the lead pic, Yakshagana artist Priyanka Mohan is performing on stage.)
(Urvashi Dev Rawal is a Jaipur-based journalist specialising in development, gender, and political reporting)
Also Read: Nirvana through dance: Uma Dogra's journey through Kathak