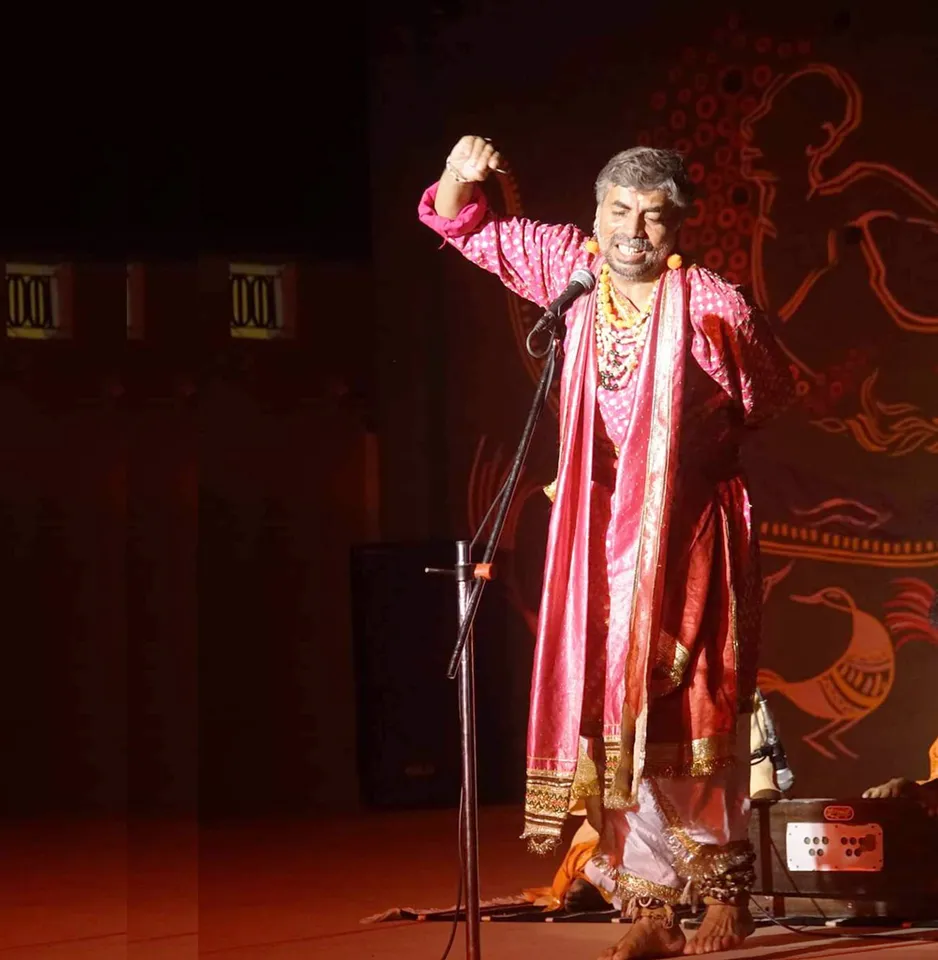 wp:html /
As Gopiji Bhatt lay on his deathbed in September 2011, he had one last wish. He made his son Dilip promise that he would not abandon the family's 250-year-old tradition of Tamasha.
"My father said he was leaving this legacy to me as I was the only one capable of continuing it. That was my inspiration to work for popularizing Tamasha," says Dilip.
Dilip says he is the sixth generation of Tamasha performers keeping the tradition alive. His ancestors came from Andhra Pradesh to the court of Sawai Ram Singh II, who ruled Jaipur from 1835 to 1880 and was a patron of the arts.
Also Read: How Ustad Moinuddin Khan is keeping the rich legacy of sarangi alive
A few months later, Revatinath's son Bansidhar came looking for his father. Dilip Bhatt says, "Bansidhar had a powerful voice and was walking down the street singing. The king heard him and called him. He asked Bansidhar why he had come to Jaipur and the latter replied he was looking for his father. Seeing Revatinath in the court, Bansidhar said he was his father. Now Bansidhar too wanted to remain in the court. The king said if Bansidhar could create something that would entertain people, he could stay. It was then that Bansidhar came up with Tamasha," says Dilip.
With the decline of the princely states, the tradition also languished in the absence of any support from the government even though the Bhatt family continued to perform Tamasha.
Also Read: Yakshagana: Karnataka's ancient theatrical dance art adapts to reach global audience
Dilip who started learning at the age of six years has tried to contemporise to keep Tamasha alive. "I brought Tamasha on to the stage and introduced it in theatre," he says.
Traditionally, Tamasha was performed in the open air with the actors in the middle and the audience sitting around them.
The performance began around noon and continued till 5 pm, says Dilip. Much of that has changed due to compulsions of modernity. Now performances are of shorter duration and can be held anytime.
Also Read: Buried at birth, how Gulabo Sapera survived to become the global ambassador of Rajasthan's Kalbelia folk dance
 Struggling to keep alive a legacy
In his effort to keep Tamasha alive, Dilip has done over 300 performances to give it a wider stage and audience. He has performed plays at the National School of Drama (NSD) in Delhi as well as with other cultural organisations.
He has performed plays such as Ghasiram Kotwal Agnipareeksha and Veer Shiromani Chauhan. He has also written a play titled 'Bulaki Pe Padi Dahej ki Maar' as well as a book on the art form which was published in 2017.
Dilip has conducted workshops and training in Delhi, Mumbai, Kolkata, Patna, Rajkot, Vadodara, Chandigarh, Jaipur, Jodhpur, Bikaner and other cities. Jaipur Virasat Foundation supported him to travel to the UK in 2010 for showcasing Tamasha there.
Also Read: How 'Dohar' is trying to preserve folk music of Bengal & Assam since two decades
The elements of Tamasha
The performances are based on stories written by Bansidhar Bhatt including Gopichand Bhartrihari, Jogi Jogan and other popular tales such as Heer Ranjha, Roopchand Gandhi and Jhutthan Miyan.
The other ragas include Kalingada, Asavari, Jaunpuri, Kedar, Bhupali, Bihag, Pahadi, Mand and Pilu. The main instruments used are Harmonium, Tabla, Sarangi and Ghungroos.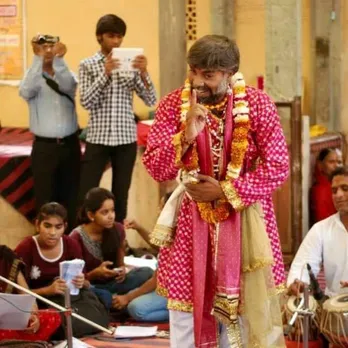 The costume consists of a pagdi or safa (headgear) with a kalgi (plume). The garments are saffron or yellow. A singi (neck ornament) is used to give beats with the music.
Also Read: 'We need a paying audience to make performing arts self-sustaining': Odissi dancer Prachi Hota
The future
On the struggle with the Covid-19 pandemic, Dilip says, "The performances have come to a halt. Performances keep us alive. In this situation, what should we do? We are proud artists and we will never seek favours. But the situation of artists is worse than that of a labourer these days."
He said the state government had planned to offer Rs5,000 to all the artists during the pandemic but that never reached them as there is no database of folk artists in the state.
While his sons Sachin and Harsh also perform Tamasha, Dilip says they see little value in continuing it given the uncertainty.
Also Read: How a Santhali folk singer & orphans turned barren land into forest at Bengal's Ajodhya Hills
"We should get at least Rs25,000 from a performance since it has to be shared between seven to eight artists and four to five musicians," he says.
"Only I know the travails I have gone through to keep this tradition alive. Till my father's time, Tamasha was confined to the Amer area of Jaipur. I experimented with theatre and gave Tamasha a wider platform. My wish is that it reaches a global audience."
(Urvashi Dev Rawal is a Jaipur-based journalist specialising in development, gender, and political reporting)
Also Read: Left on their own, performing artists bear the brunt of Covid19