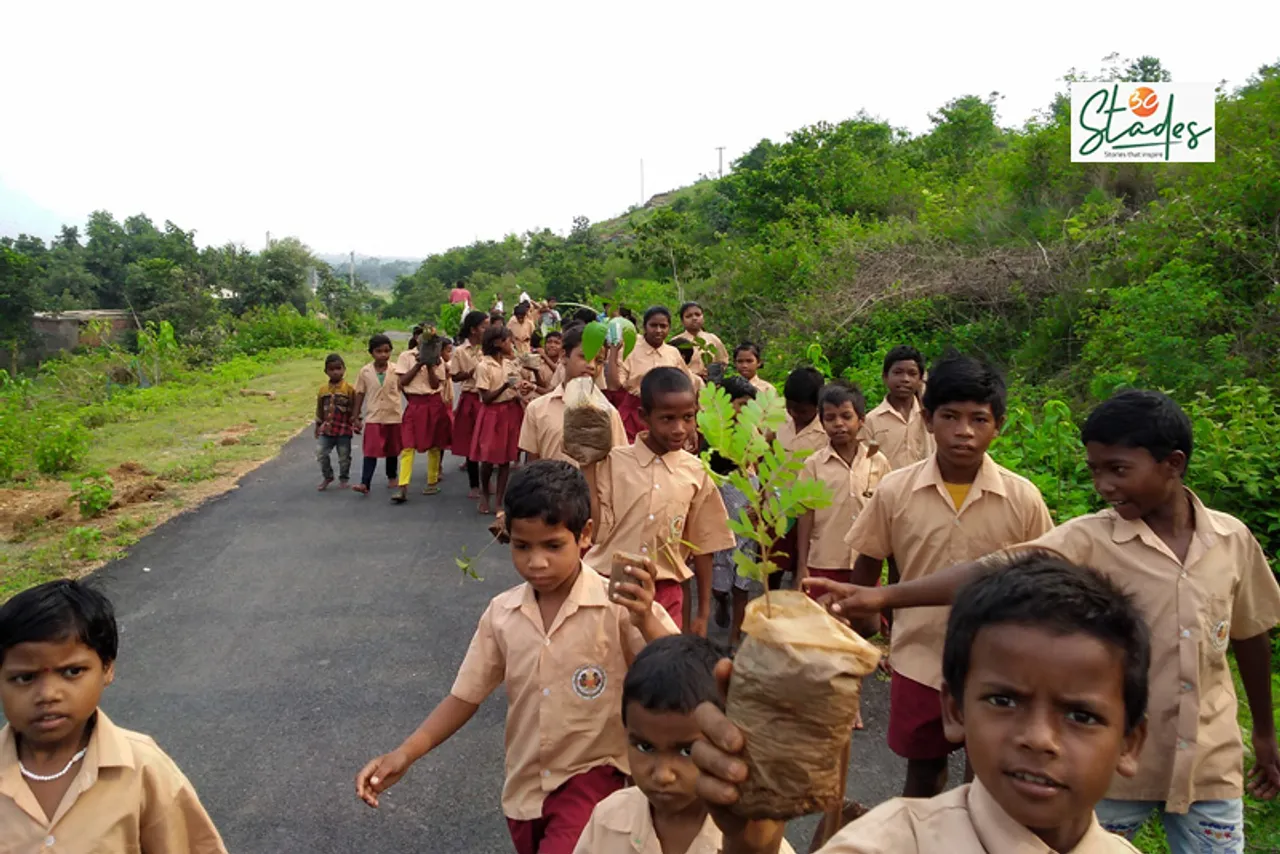 The lap of Ajodhya Hills in the Purulia district of West Bengal presents a panoramic view, with a variety of flora covering its vast landscape. Lush green trees of banyan, neem, teak, palm, peepul and others dot the southern end of the Ajodhya hills which were barren until about a decade back. That wilderness rocked the consciousness of Santhali folk singer Naren Hansda, who initiated an afforestation drive with the help of orphaned children to revive the area's natural ecosystem. 
Today, many species of birds and animals have returned for shelter to the new forest around the Bhalidungri village of Purulia.
Also Read: Environment: Gujarat couple quits US jobs to build own food forest; creates orchards & gardens for others
Born and brought up in village Jahajpur of Purulia district, Hansda, 47, quit studies and left home in 2012 for his first love - music. His community, the Santhals, are members of the scheduled tribe, largely concentrated in Jharkhand, Bihar, Tripura, Odisha and West Bengal.
The singer-turned-green activist settled at Bhalidungri village where he saw that rocks and boulders from the hills were being taken away by some villagers for construction. Instead of stopping them, he started planting saplings every morning.
Also Read: How Bihar's Lahanti Club is preserving Santhali culture
Little hands that helped in afforestation
Some tribals raised objections but Hansda overlooked them. His relentless efforts caught the attention of the forest rangers. They unofficially encouraged him by distributing free saplings. And so, a little forest revolution took roots.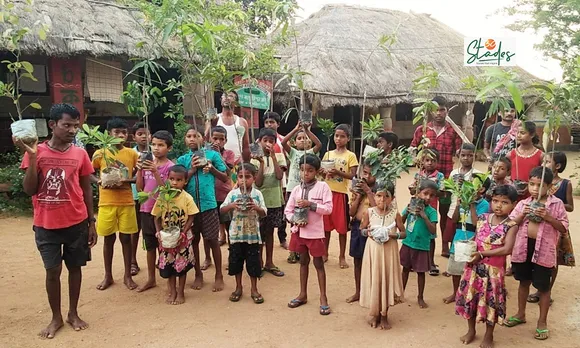 He led a five-member team, all aged between 5 and 10, for his mission green. Their routine was to wake up early in the morning, carry a litre of water, walk up to a hilltop about half a kilometre away and water the sapling planted the previous day before putting a new one into the soil.
"My children are very energetic. They never get tired of plantation activities," says Hansda.
"We have planted countless trees in this craggy region. We turned three hectares of the forest land green," Hansda says.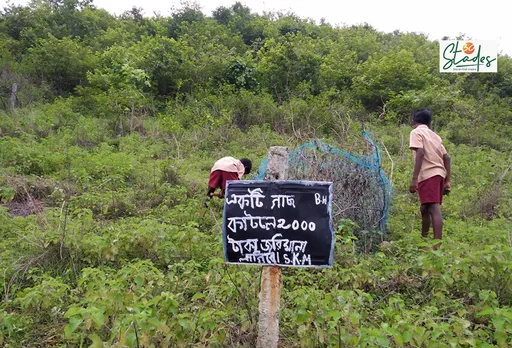 The Forest Range Officer deputed at Arsha Range Purulia Division confirms Hansda's claim. "The team led by Naren has covered around 3-hectare of our forest land. They have planted several local species. More important than plantation is its protection. That's what they have been doing," said the officer, requesting anonymity.
Protecting the environment through music
Hansda adopted a unique method for generating awareness among the tribal villagers. He applied local resources as well as natural resources to spread the message of saving plants.
Also Read: Environment: Gujarat couple quits US jobs to build own food forest; creates orchards & gardens for others
They also tied placards with slogans written at various locations to catch the attention of the passersby. 
Some of the interesting slogans read – Gach Bachao (save the trees), Gach Banchele Paribesh Bachbe, Paribesh Banchle Manus Bachbe (if the tree survives, the environment will survive; and if environment survives, people will survive); Ekdin Gacher Phal Kheye Manus Benche Chilo, Tai Sobai Gach Lagoa (once upon a time, people survived by eating fruits of the tree, so everyone should plant a tree).
Also Read: Growing green lungs: How Thuvakkam is creating urban forests in Tamil Nadu
"Parents and students share the onus of protecting trees. They monitor the forest from time-to-time," he says.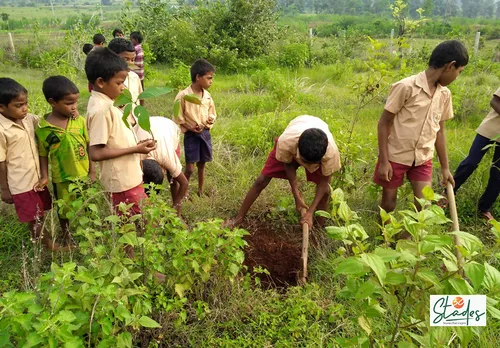 A plant will survive if it is continuously watered for two summers. For watering the saplings, around 125 plastic water bottles are kept ready.
Things become challenging when villagers don't understand the importance of a tree. Some tribes set fire on the nearby bushes to keep snakes and scorpions away during this March and April. The fire spread rapidly across the jungle and burnt many trees.
Also Read: Rajasthan: Dacoits from Chambal's badlands give up guns for farming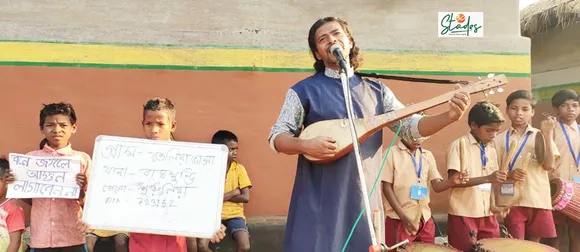 "Hansda has succeeded in putting an end to the bushfire. He walked through several villages along with his children and changed their perception with Santhali folk music," says Sanjit Goswami, a local scribe.
Hansda's street songs were mainly focused on how bushfire engulfs full-grown trees. He conveyed the strong environmental message through music that 'never set jungles afire; plant trees for existence'. 
Musical soiree
Being a dedicated Bangla Jhumar and Santhali music lover, Hansda had left home to take music lessons from Lasaram Tutu, a radio artiste.
Also Read: A quaint village in Hooghly becomes manufacturing hub for string instruments
Belonging to a farmer family, Hansda is the eldest among five siblings. He is a school dropout, having studied till class 8. He gained popularity when he started performing on the streets.
For several years, Hansda went from village to village for performances. He staged numerous musical concerts at Jharkhand, Delhi, Bihar, Bengal, Punjab and Maharashtra which brought him name and fame. He has over 100 folk songs in his collection and now lends his voice for a purpose. Hansda's prime objective is to collect funds for his Sido Kanhu Mission.
Orphanage and tutelage 
One day in June 2015, some villagers from Boruakocha village about 18-km from Bhalidungri, sought his help to rescue four orphans, who needed shelter. "Since you live alone, why don't you provide shelter to these kids," urged a villager.
Getting emotional, Hansda agreed to their proposal. And so began his school and orphanage in a bigha of land donated by Lasaram Tutu to Hansda in 2012.
Also Read: How i-Saksham's young education leaders are driving change in Bihar's most backward districts
Today, he provides shelter to 30 orphaned children from the Santali community and also established the Sido Kanhu Mission school for them in 2013. Later, several students from other villages joined the institute.
There are seven teachers. "The teachers are paid a shoestring salary per month. I cannot afford to pay them much. It is just their pocket money," says Hansda. Managing funds for feeding children who stay in the institute is a tough task.
Also Read: How Barmer's NGO Fifty Villagers is helping underprivileged students become doctors
He sometimes visits schools for staging half-an-hour programmes and collects around Rs 1500 per day. "There are some kind-hearted people in Kolkata and Purulia who regularly contribute essential commodities along with stationery for the students," he says.
"Every unknown visitor gets a unique reception at Sido Kanhu Mission. Before the formal introduction is made, one of the women will bring a brass pot of water to wash the visitor's feet. It will be followed with greetings and a glass of water to drink. It is a traditional Santhali reception," says Goswami.  
Also Read: Bharti Foundation provides zero-cost education to over 40,000 underprivileged kids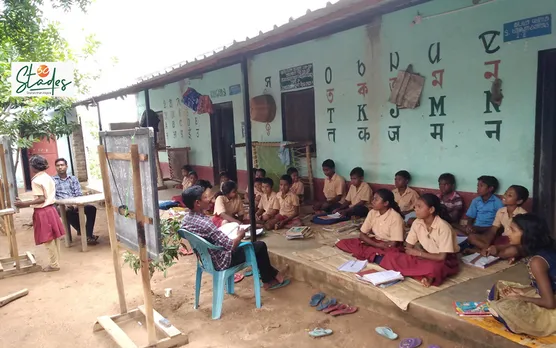 Recipient of Sidu Kanu Smriti Award organised by Anagrasar Shreni Kalyan O Adivasi Unnayan Adhikar, West Bengal in February 2021, Hansda has been acknowledged by various NGOs and the government for his social work. However, his institution doesn't get funds from the government.
Also Read: 'Charity kills dignity and without dignity, you can't talk about development': Goonj Founder Anshu Gupta
Based on his work, the Department of Forest in Arsha Range Purulia Division has recommended Hansda's name for the plantation of 11,200 trees on their forest land. "We are taking the help of the tribals to generate a mandate in favour of Hansda for the plantation work, which will commence in July. We are going to offer them 7-hectare of Bhalidungri forest area out of 27 hectares for this plantation," says a Forest Range Officer.
And with his able army of children, Hansda will soon turn this 7-hectare too into a lush green forest.
(Partho Burman is a Kolkata-based award-winning journalist. He writes inspiring human interest and motivational stories.)
Also Read: Assam's Samir Bordoloi glamourises zero-cost organic farming; draws Northeast youth back to agriculture