Sometime in 2018, ten-year-old Banarsi Kumar from Naxal-infested Munger in south Bihar walked dejectedly up to his teacher and said he would discontinue school from the next day as his parents wanted him to work in a brick kiln.
"I was disturbed that his parents wanted such a young child to work. He was a good and hard-working student," says Sonam Bharti, who was teaching at the government school where Banarsi was a Class 4 student.
But 20-year-old Bharti was not willing to let her bright student be deprived of education. She spoke to Banarsi's mother and tried to convince her to let him pursue studies. "I asked her if she wanted Banarsi to continue living in poverty or make a better future for himself and his family. I assured her that I would take care of his studies and give him free tuition. She eventually agreed and he is in Class 6 now," says Bharti.
A girl student in the class, however, was not so lucky. "Her parents took her out of school and despite trying to reason with them, they were not willing to send her back," says Bharti, who was trained as an edu-leader by i-Saksham Education and Learning Foundation, a not-for-profit organisation.
Also Read: Bharti Foundation provides zero-cost education to over 40,000 underprivileged kids
Ecosystem of educators
i-Saksham was started in 2015 by three friends – Shravan Jha (37), Ravi Dhanuka 34) and Aditya Tyagi (37). They were Prime Minister's Rural Development fellows. Dhanuka was posted in Munger while Jha and Tyagi were posted in Jamui in Bihar. Their task was to interact with people and tell them about government schemes.
"While teaching young people, we noticed that many had the potential but it was not being realised. We wanted to tap the local resources and create community educators and leaders. That was the inspiration to set-up i-Saksham," says Jha.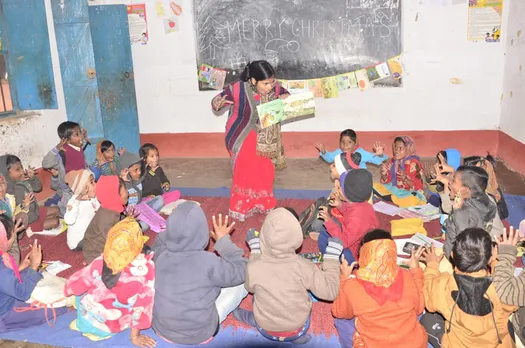 "The aim is to strengthen the ecosystem and participation of all stakeholders including parents, schools and villagers so that the community takes up the ownership of children's education," he says.
Munger and Jamui are listed by the Niti Aayog among the most backward districts in the country. There are no jobs or industries and most locals are engaged in agriculture. They mostly migrate to other states for employment. To make things worse, the two districts are also hit by Naxal insurgency. The Naxals support Maoist ideology and are waging an armed insurgency against the Indian state.
Also Read: How free education became a passport to London and Rome varsities for underprivileged Kerala boys
In this milieu, the three friends started training the first batch of i-Saksham edu-leaders in 2015. Youth in the age group of 18-25 years, who were graduates and keen to continue in the field of education, were selected.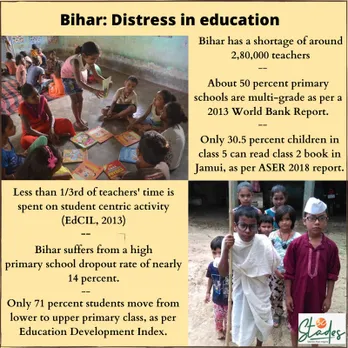 Jha says a two-year training programme is provided to the fellows for improving their subject knowledge, learning modern pedagogy tools and personal development. The focus is on women as they are more inclined towards teaching and can give 3-4 years to the fellowship programme.
Divya Sharma, assistant manager, says the fellowship offers freedom to women. They are often not allowed to go out or have opinions. At the fellowship, they meet others, voice opinions, discuss issues and feel empowered. "Once they gain confidence, they can tell families to delay marriage and let them pursue higher education. So there are multiple spin-offs."
Jha says during the training, the fellows are placed in local government schools to impart quality education to children. They are given a stipend of Rs1500 by the community with funds received from the state government. The fellows also engage with parents, school management committees and women self-help groups and encourage their participation in children's education.
"After training, some youth leaders with high potential are selected and supported to pursue their aspirations. They are given leadership training to become agents of social change," says Jha.
Also Read: Lockdown: Kashmir's teachers run open-air classrooms as Internet ban rules out online education
Changing lives through education 
Jha says while the magnitude of the work to be done and the challenges and constraints are huge, the impact is visible. "At the level of the edu-leaders, 8 out of 10 in the first batch are now facilitating us in running the fellowship programme. Eight of our youth leaders are pursuing higher education from universities such as TISS (Tata Institute of Social Sciences), Azim Premji University and Takshshila," he says.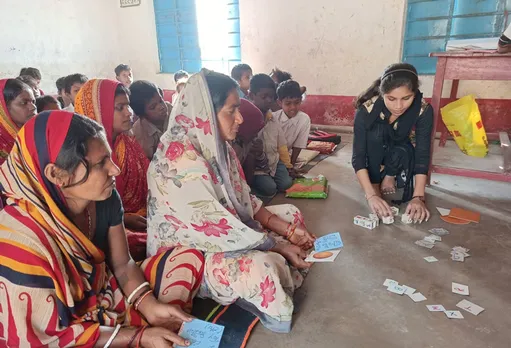 Many of the edu-leaders have started their own coaching centres while some are preparing for various entrance examinations. Sharma says at the community level, the impact is seen in the lower dropout rate of children from school and in greater community engagement.
"Since edu-leaders use pedagogy tools such as story-telling, learning activities, hands-on experiments and technological aids such as tablets, children are keen to come to school and learn. They enjoy school," Sharma adds.
Jha says currently, the fifth batch of i-Saksham fellows is being trained. Their work has expanded from Munger and Jamui to Gaya and Muzaffarpur districts.
Also Read: How Bihar's Lahanti Club is preserving Santhali culture
Jha says the organisation's plan is to scale up through local partnerships and build networks throughout Bihar. The initial funding came through the National Skill Development Corporation but now they are looking for grants from different sources.
Bharti, who is an edu-leader from the 2017 batch, perhaps exemplifies the metamorphosis that the fellowship programme has brought. "In our community, women don't go out to work. In fact my mother has studied up to class 12 and even got a job as a nurse but was not allowed to go by her family. When I joined the fellowship, I didn't have the confidence to talk before strangers," she says.
"But now I can talk, travel, teach, work, all on my own. And I am getting respect and recognition from the children and the community who praise my work. That's a nice feeling," she says.
"Even if some of the children whom I have taught become successful in life, I will feel I have made a positive contribution to the society," Bharti says.
(Urvashi Dev Rawal is a Jaipur-based journalist specialising in development, gender, and political reporting)
Also Read: How Barmer's NGO Fifty Villagers is helping underprivileged students become doctors