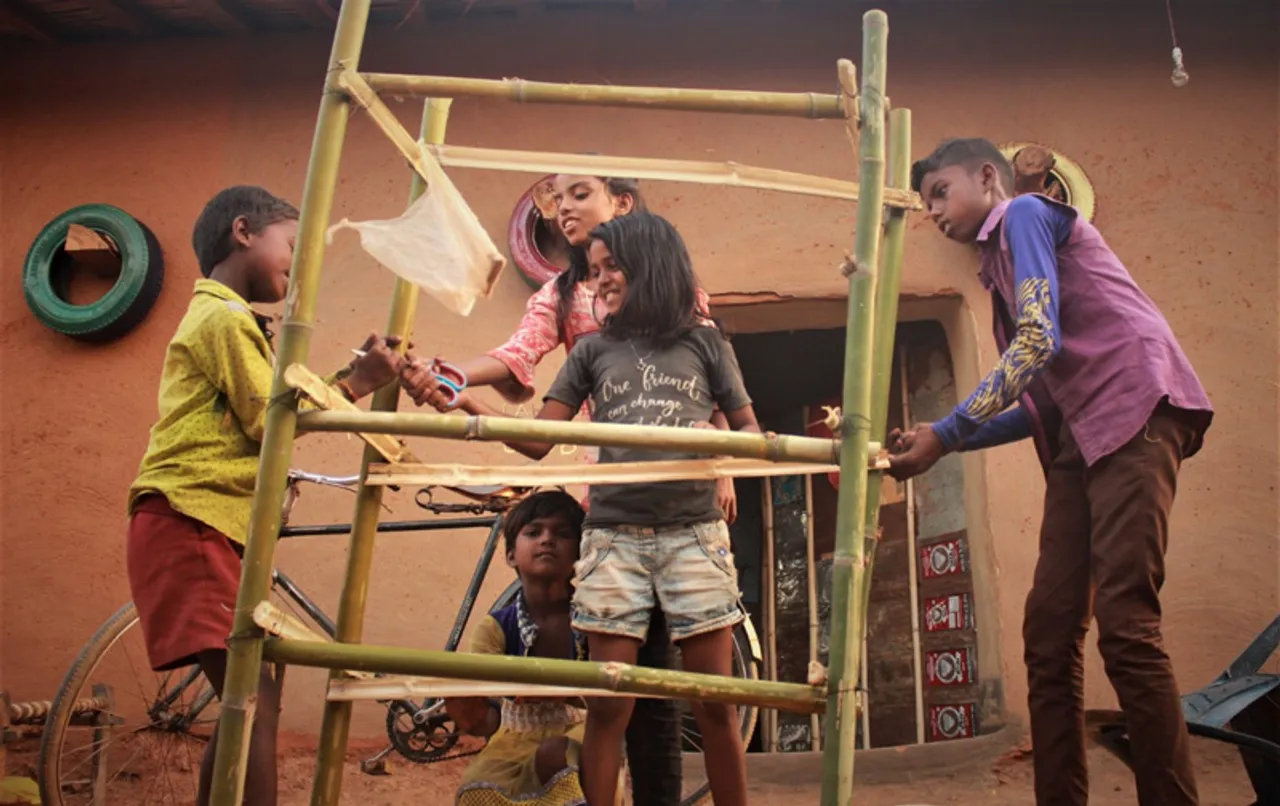 Twelve-year-old Premlal and his friends spend hours every day in the paddy fields of their village Bhinjain in Chakai block of south Bihar. It is monsoon and the children use an age-old technique of blocking water in paddy fields by putting up barriers. The water is then drained out, leaving behind large puddles. Since fishes reach fields with rain water during monsoon, children can easily catch them. Premlal is a Santhal, member of the scheduled tribe largely concentrated in Jharkhand, Bihar, Tripura, Odisha and West Bengal.
Premlal knows exactly how to hold the fish to ensure it doesn't slip back into the puddle. After filling up his wide deep plate with many fishes, he rubs each of them in sand to remove the outer skin. Premlal has learned this child-friendly fish catching technique from his grandparents. 
In another Santhal village Govindpur, in Chakai, youths are volunteering to teach children in their indigenous language to help them better relate to subjects taught in government schools. It will also help keep alive the traditional practices like fish-catching in monsoons as done by Premlal.
Also Read: Udaipur's Jovaki empowers tribal women by processing wild fruits & vegetable
Documenting Santhali traditions
The new pedagogy is not only cognitive but also contextual and creative, helping the next generation of Santhals understand and live their culture, which stands threatened by rapid modernisation. The Lahanti Club project has been initiated by NGO Pradan and Sinchan Education and Rural Entrepreneurship Foundation, launched in 2019 by Shuvajit Chakraborty and Gautam Bisht. Lahanti means progressive in Santhali.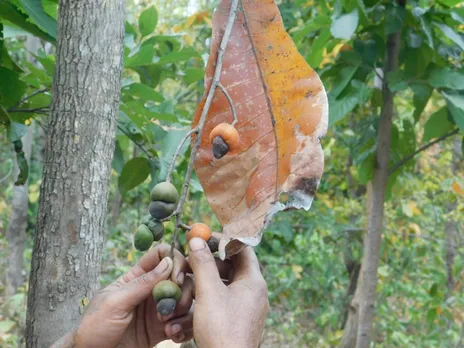 Chakraborty and Bisht were researching Santhals in Chakai when they realised that their knowledge must be documented and preserved. "For instance, they know about medicinal herbs and nutritive plants in the forests. In this area, April to June is known as the hunger period when there is little available to eat," says Chakraborty, who also works as an action researcher with Pradan.
Now, with governments providing food, eating habits of tribals have changed and their staple is rice and potatoes. "Modernisation has resulted in pulling them away from their traditional food, language, and forced them to move to cities in search of work. Our aim is to help them document their culture and stick to their roots. We are not against development or English or Hindi," says Chakraborty.
Anita Shil, team coordinator with Pradan for Chakai block says, "Pradan works on the livelihood component of villagers. Agriculture promotion is a major activity. We focus on retaining traditional community practices and add scientific methods to increase production."
Also Read: In shortage of vets, Pashu Sakhis support cattle & poultry farmers in Jharkhand's tribal hinterland
Shil said the Lahanti Club members are the next generation of the Santhal community and it's important for them to be aware of the nutritional value of their traditional foods in the forest.
Apart from India, Santhals live in Bangladesh, Nepal and Bhutan. They all speak Santhali, the most widely spoken Munda language.
A new ethnic pedagogy of Santhali culture
During his research, Bisht found that the dropout rate of Santhali kids was very high. In government schools, there was no mention of Santhali culture, rituals, festivals, heroes or language.
"Language is a storehouse of a community's knowledge, food habits, rituals, culture, aspirations and entrepreneurship and must be preserved," says Chakraborty.
With financial help from the Ikea Pride project of Pradan, Lahanti Club developed the new pedagogy. With 23 Santhal youths volunteering as teachers, almost a thousand students now learn in classes held six days a week. Children are taught the school syllabus along with Santhali language and culture. Chakraborty teaches them theatre and photography as well.
Also Read: India's tribal & ethnic groups dodge the Coronavirus minus sanitisers, science or support
NGOs iSaksham and Pratham helped in training the teachers. The volunteers have now created a Santhali varnamala and a dictionary of Santhali to Hindi and English. They are also making Santhali versions of Hindi textbooks. 
Teaching with toys and technology 
Volunteers use local games and toys such as bows and arrows or cycle tyres to teach the principles of physics. They are also creating audio modules to teach history and science over mobile phones as classes have been suspended during the COVID-19 pandemic. The volunteers also make short videos on Santhali culture that are screened in villages.
This work is being done under the Chirag project supported by Pradan, Gramvaani and Kalinga Institute. Sinchan has received an award of Rs 30 lakh by the Global Challenge Resource Fund and UK Research Initiative.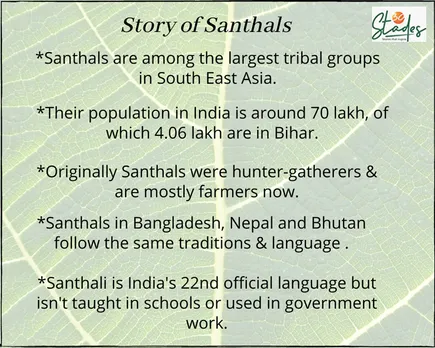 Kavita Marandi, 17 has been associated with Lahanti Club in Govindpur village for the last two years. "When I was in school, I wished I could answer like other children who were quick learners. But language was a barrier," she says. 
"There's a Santhali game called kit-kit, in which we draw nine squares and they move a stone from one square to the other. We use it to teach numbers to kids," says Marandi, who is paid Rs 2,500 by the Chirag project.  
Also Read: Drumsticks could help tackle the deep-rooted scourge of malnutrition
She is also involved in creating the dictionary which should be ready in two months. "We hope that not only Santhali kids but teachers in government schools too will use it to explain things better to children."
Sonalal Marandi, 21, also a Lahanti Club volunteer, has made some educational videos for children. He received the initial training in video-making from Bisht and later saw videos on YouTube. The volunteers are paid Rs 1,500 for a 3-4 minute video. "I made videos on Santhali food that are shown to children in the club and also screened in Govindpur to educate people about preserving our heritage," he says.
The buildings for the clubs are given by the villagers or they are run in government schools. There are libraries and some laptops that have been acquired through donations and funding by NGOs. Children themselves join bamboos to make shelves for storing books in libraries.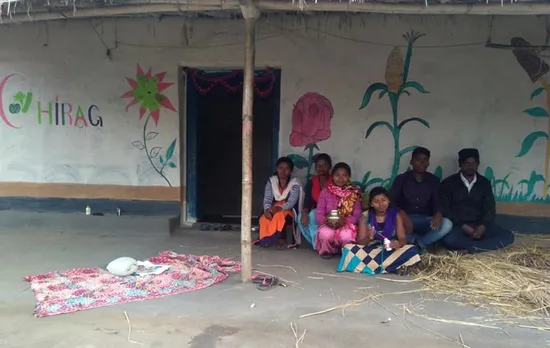 Chakraborty says they have found that the school dropout rate has declined after kids started attending the Lahanti Club. For instance, in one of the government schools, of 80 enrolled kids, 17-18 would attend school. After the club, the attendance has gone up to 59-60."
Premlal has also benefited from the club. He enjoys going to the school as much as he likes fishing. "I will tell mom to make fish curry and chutney with my catch today," he says with a smile.
(Urvashi Dev Rawal is a Jaipur-based journalist specialising in development, gender, and political reporting)
Also Read: Tendu leaves cushion tribals from economic deprivation during COVID-19