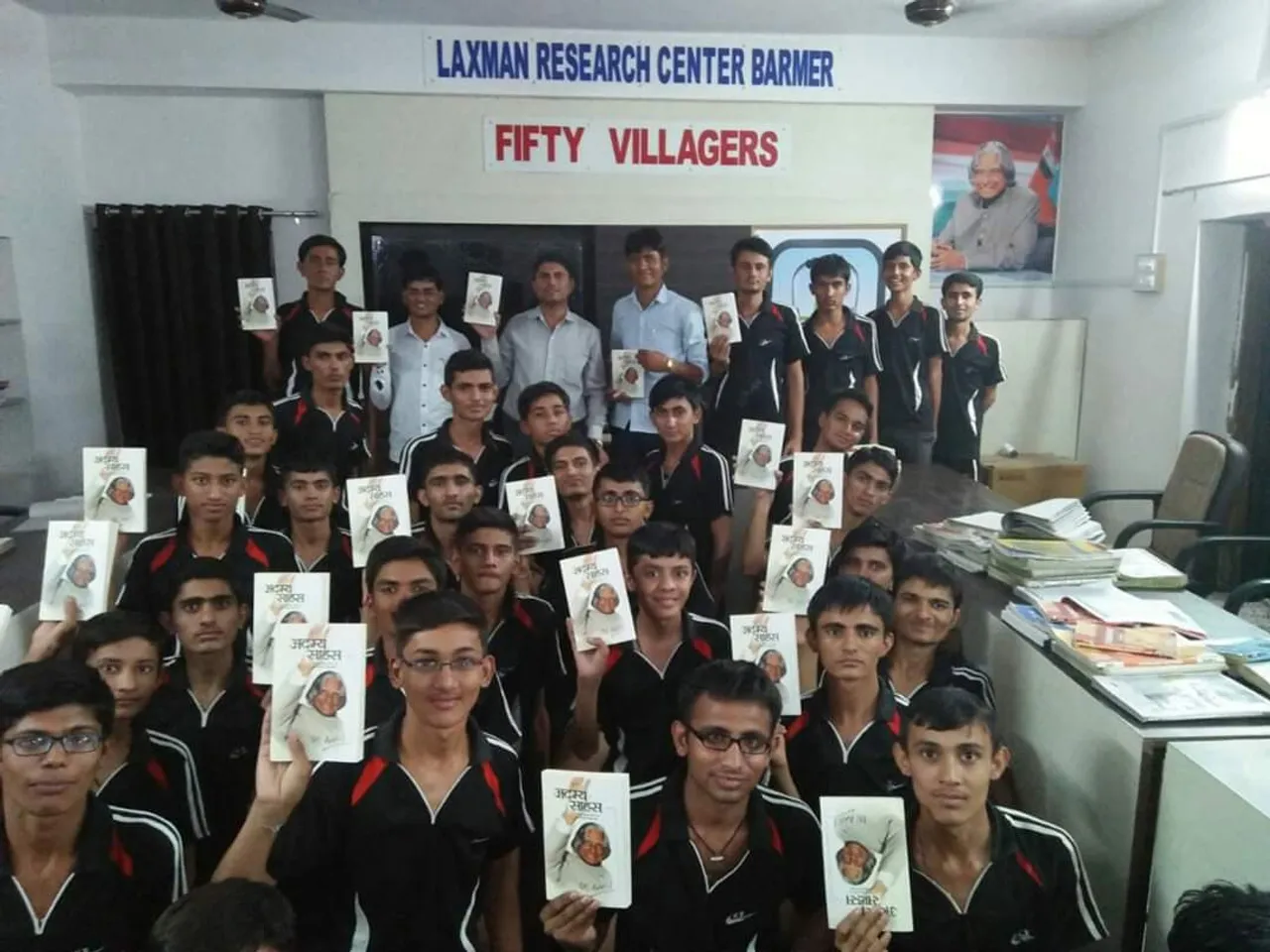 wp:paragraph
After appearing for his class 10 board exams, Choona Ram Choudhary started working on a construction site to earn money to support his father, a small farmer in Gangasra village of Barmer district in western Rajasthan. 

"I scored 79 percent in the board exam but would have continued to work as a labourer or become a farmer had it not been for Fifty Villagers," says 22-year-old Choudhary who is now pursuing his MBBS from AIIMS, Jodhpur.
A teacher in his school told Choudhary about Fifty Villagers, an NGO started in 2012 by Dr Bharat Saran with help and guidance from several doctors and teachers in Barmer. The NGO supports children from underprivileged backgrounds to prepare for medical entrance exams free of cost.
Nem Singh Rajpurohit lost his parents in an accident when he was 11 years. He and his two younger brothers were brought up by their uncle in Bandra village, 15 km from Barmer. "After Class 10 there was pressure on me to contribute to the family income and to get married. I wanted to get out of the village and study further. A teacher told me about Fifty Villagers and I convinced my family to let me go. That decision changed my life," says Rajpurohit who is now in his 3rd year of MBBS in SN Medical College, Jodhpur.
Ashok Kumar, 21, has a similar story. His father died of TB when he was 10 years old. His mother worked in a gypsum mining unit as well as the family's small farm in Kawas village, near Barmer, and brought up five children. Four of his siblings were married when they were minors.
Also Read: How free education became a passport to London and Rome varsities for underprivileged Kerala boys

"When I joined I had no idea about medical entrance exams or how one becomes a doctor. It was something I couldn't dream of. If not for Fifty Villagers, I would have got married and ended up as a labourer," says Kumar who is now in his 2nd year of MBBS in Bhavnagar government medical college in Gujarat.
Fifty Villagers has helped give a direction to hundreds of youth like Choudhary, Rajpurohit and Kumar, who are from poor rural families with no clarity about their future.
How Fifty Villagers is transforming lives 
Choudhary says students in rural areas have little knowledge about career options and no one to guide them. They are under pressure to start earning. "Several friends who were good in studies are today working as labourers because no one guided them."
Also Read: Lockdown: Kashmir's teachers run open-air classrooms as Internet ban rules out online education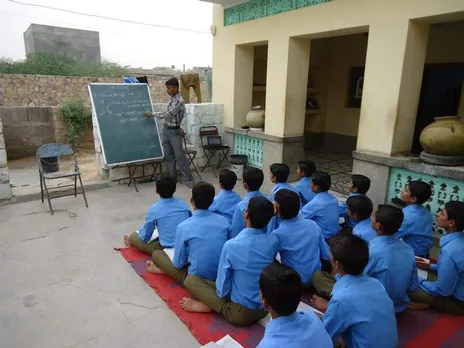 Dr Saran, 35, says this was the raison d'etre for Fifty Villagers. "My father ran up a loan of Rs 10-12 lakh (Rs 1 - 1.2 million) for my studies. So I wanted to support meritorious students who were forced to give up studies because of poverty," he says.
He established Fifty Villagers while he was a 2nd year MBBS student. He took a building on rent where students stay free of cost. There is a library which is well-stocked with books. The students cook and manage the facility by themselves. It is currently only for male students.
"I provide them with boarding, lodging and coaching. They only have to be dedicated to their studies," he says.

Dr Saran teaches all subjects to students and students study by themselves, solving question papers and taking mock exams.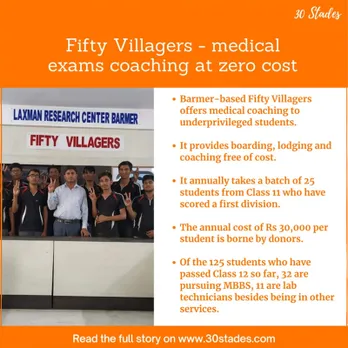 While selecting students, Dr Saran says Fifty percent weightage is given to their entrance test marks, 30 percent to their economic condition and 20 percent to the Class 10 marks. "We give preference to those who are orphans or very poor," he says.
Also Read: How Bihar's Lahanti Club is preserving Santhali culture
"They are our lifeline," he says.
Helping underprivileged students become doctors
While many of his students are doing well now, he says the results could be better. However, the medical education system is discriminatory. "There are a total of 62,000 medical seats in India. Of these, 40,000 are with private medical colleges which charge very high fees which we cannot afford," he says.
The government medical colleges have 21,800 seats but the fee ranges from Rs Fifty,000 to Rs 1,00,000 per annum. Only on 3,000 seats, the fee is Rs 20,000 per annum and it is for these seats that my students compete," he says.
India's health indicators reflect the challenging situation. As per the WHO, the density of physicians per 1,000 population in India is 0.75 while the nursing and midwifery personnel density per 1,000 population is 2.09. The total expense on health as a percentage of GDP is 4.69.

Providing healthcare in rural areas has long bogged down successive governments as doctors are unwilling to be posted in rural areas. Being from a rural background and having seen the inadequate healthcare, Dr Saran also hopes to create a team of doctors who will serve in the rural areas.
Also Read: Kashmiri teen turns mentor to speech and hearing impaired sportspersons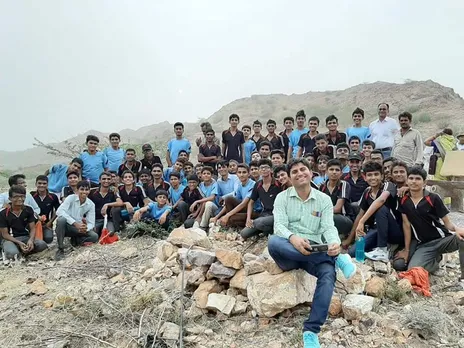 Dr Saran's role as a mentor 
For those 32 students who have made the cut to become a doctor, Dr Saran is their revered guru. Suresh Jeengar, 23, is in his final year of MBBS at SN Medical College, Jodhpur. He lost his parents at a young age and was brought up by his brother.
"I was keen to study and Dr Saran provided much needed support. He taught us and provided lodging, coaching and books, all free of cost. He has given me a purpose in life," he says.
Kumar says when he got into MBBS, Dr Saran did not congratulate him. "He said he was happy but he would congratulate me when I would work in the field." Kumar now wants to serve in rural areas. "There is no awareness about health care in villages. Often there are no doctors or else people avoid going to the doctor."
The more underprivileged students Dr Saran helps to uplift, the more feathers in his cap. His work is far from over. He continues to build a stronger foundation, and remains humble. He doesn't fail to mention his inspiration. 
"My organisation is dedicated to (late president of India) APJ Abdul Kalam who has influenced me greatly. And the results of my students are dedicated to their gurus," says Saran.
(Urvashi Dev Rawal is a Jaipur-based journalist specialising in development, gender, and political reporting)
Also Read: Bharti Foundation provides zero-cost education to over 40,000 underprivileged kids