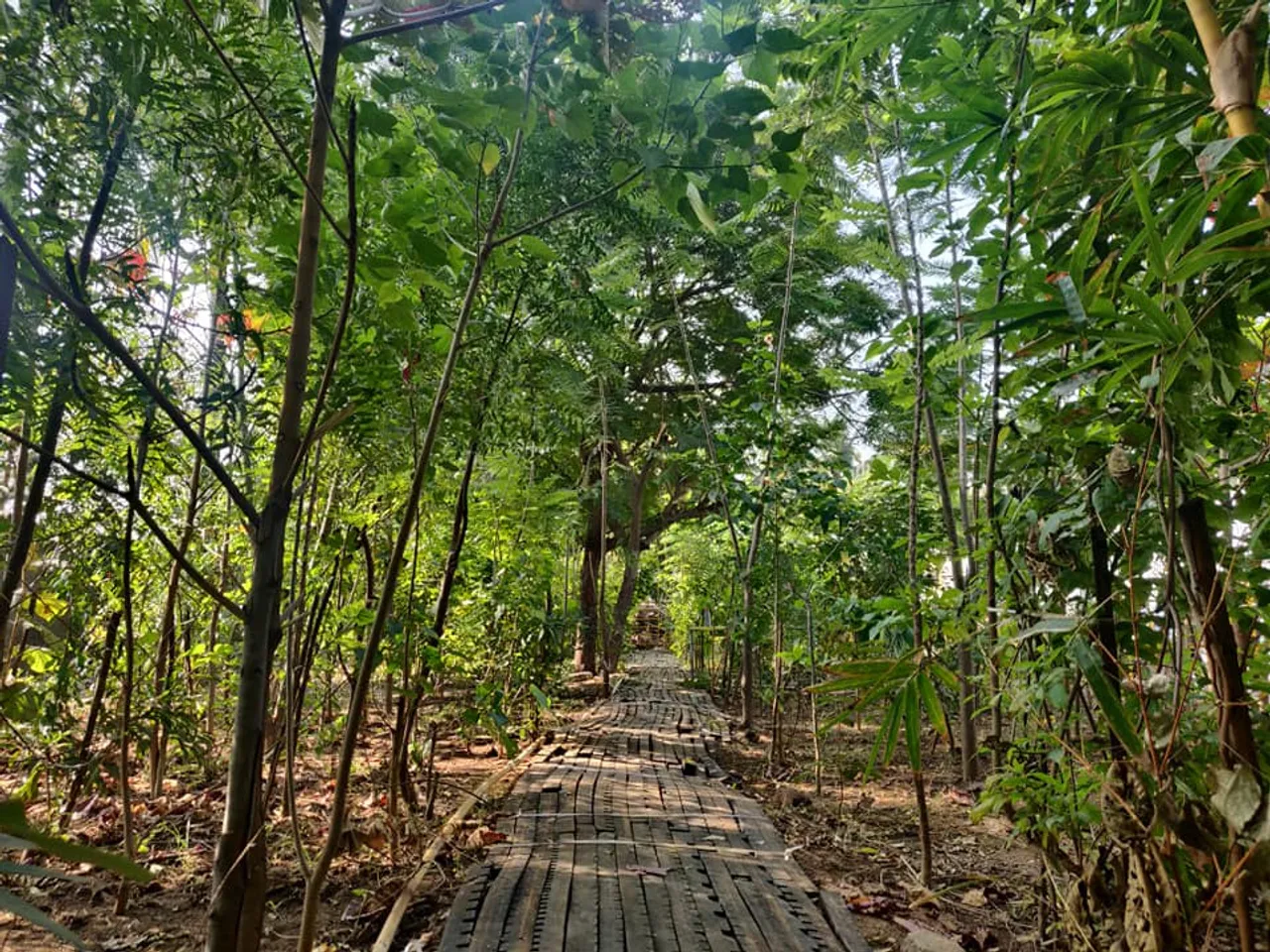 Every weekend, about 1,400 men, women and children in Chennai would go to the Police Recruit School in Thiruvallur, Tamil Nadu, and plant saplings in its vast open grounds. The weekend work continued for about four months at the end of which they had planted more than 3,000 native trees including poovarasu (portia), mantharai (mountain ebony) and magizham (medlar). That was in January 2019.
Scientific plantation techniques, regular watering and maintenance converted the area into a lush green forest within two years.
The area's oxygen levels have improved and soil erosion is under check.
These 1,400 people were volunteers of Chennai-based NGO Thuvakkam (meaning 'the beginning' in Tamil), which is giving new lungs to one of the most polluted cities in India. Polluted air in Chennai caused 11,000 deaths in 2020, according to a Greenpeace Southeast Asia analysis of IQAir data released in February this year.
Also Read: Last Forest takes honey & beeswax products from Nilgiri forests to global markets
From planting trees to creating forests
Post Cyclone Vardah in 2016, hundreds of trees fell, shrinking Chennai's green cover massively. Several initiatives since then are underway to bring back the city's native trees and increase natural greenery.
Also Read: From hinterland to Europe, how Jaipur-based Raksha is helping birds & animals reach home
Krishnakumar S and his group of friends started Thuvakkam in August 2014 when they were final year college students at SRM Institute of Science and Technology, Kattankulathur. "Instead of complaining and blaming the government and the people, we stepped out to make a change."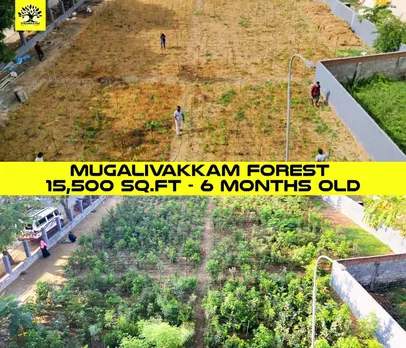 Starting with a tree plantation drive at their college to organising numerous such drives and eventually creating other programmes to uplift students studying in government schools, the NGO has come a long way.
The team, comprising 20 board members who meet regularly to discuss their programmes and subsequent plan of actions, are environmentally conscious themselves. "Only when we practice, we can preach. From not using plastic in any form to writing with ink pens to avoid disposable ones, we ensure that we follow an environment-friendly lifestyle. All of our homes have a kitchen garden too," Krishnakumar says. The NGO has nearly 1,500 volunteers in Chennai.
Also Read: Environmental sensitivity will lead to climate empowerment
"We take a look at the local area and note the variety of trees and plants which have grown and lived over 50 years. Our team also talks to elderly people and ask them about the trees which were there when they were young to get an idea about the native trees," he says.
These practices were put in place after Thuvakkam faced hurdles in its early days. "When we started a drive at Pallikaranai in 2017, we didn't check the soil. Three to four years after planting the trees, we found that very few survived. The others had rotten. This was because the area had clay soil and the roots were in the water for a long time," Krishnakumar recollects.
How Japan's Miyawaki afforestation method is used in India
That's when they decided to opt for the Miyawaki method, conceptualised by Japanese Botanist Akira Miyawaki. "We came to know about the Miyawaki method of plantation in 2018. We discussed with our mentors, used the locally available methods, modified the concept and began with plantation in Chrompet," he explains.
Also Read: Water conservation in rural Rajasthan increases farming incomes four times; checks migration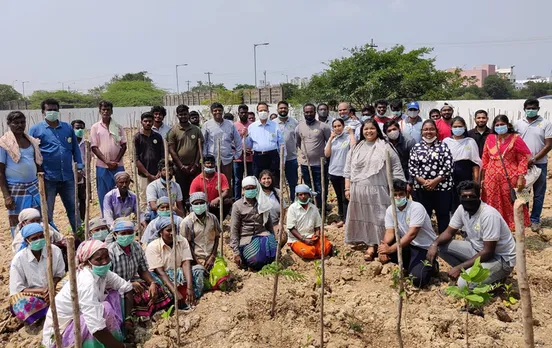 The Thuvakkam team planted 50 trees in a 200 sq ft land, to begin with, at a school in Chennai's Chromepet and achieved good results within a year.
The Miyawaki plantation method involves planting native species of trees close to each other. The science behind the process is that the plants compete for sunlight and grow ten times faster.
Using this method, Thuvakkam has worked with the Chennai Corporation to create Miyawaki forests in more than ten places including Mugalivakkam, Sholinganallur and Omandurar hospital.
Also Read: Tendu leaves cushion tribals from economic deprivation during COVID-19
Krishnakumar explains that while the land is usually dug two to three feet deep before planting the trees, the Miyawaki method involves digging the whole area using a JCB machine.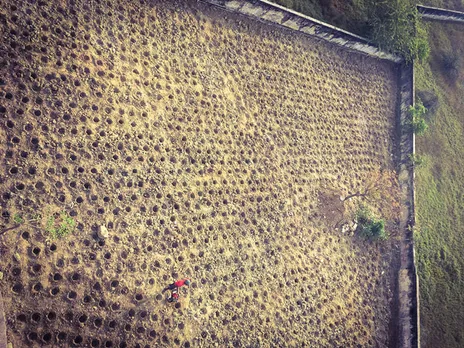 "The process starts by adding bio manure or vermicompost, which provides the required nutrients to the soil. The next steps involve adding a water retainer like coco peat or sugarcane bagasse and putting in rice husk to ensure penetration into the roots. All of these are mixed with the soil and dumped back into the land that was dug," he says.
The plants are distributed layer-wise - the shrub layer has plants like tulsi and the sub-tree layer is where trees can grow up to five-six feet like hibiscus. The third is the tree layer and has poovarasu and other native trees, occupying almost 40 percent of the area while the canopy or top layer includes trees that can grow very tall like tamarind or peepal, covering about five percent of the area.
Also Read: Delhi water crisis: 5 historic forts from which India's capital can learn water harvesting & conservation
After plantation, mulching, which involves adding straw to the top layer, is carried out to maintain the temperature of the soil.
The result is a denser, greener and faster-growing forest. Krishnakumar says anyone can create such a forest if they have the required land.
"Chennai has less than 15 percent land under forests. Creating these forests among the concrete jungles ensures that noise is absorbed, the air quality is improved and it helps in the growth of biodiversity in the area," he says.
Many of the NGO's tree plantation drives undertaken in the last seven years are now lush green urban forests. Most turn into big trees within a year of plantation.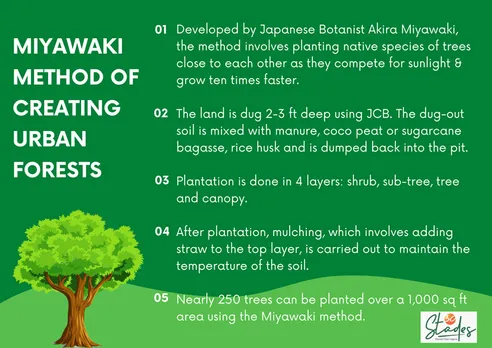 "Within eight months of planting 2,800 saplings in a 15,000 sq ft area in Chennai's Mugalivakkam, trees and plants started growing fast and healthy. The same happened with a forest we created in 2018 in Poonamallee."
Also Read: Rajasthan: Dacoits from Chambal's badlands give up guns for farming
"The residents were pleasantly surprised," he says.
The NGO doesn't stop work at the plantation stage. They make sure to tend to the plants and trees for the first two years. Two to three litres of water is required for a plant every day and the weeds need to be attended to regularly. While the cost per plant/tree comes to Rs300, the maintenance costs Rs200 for two years. 
Thuvakkam is also planning to introduce honey bee cultivation inside these forests. The trial run is underway at Thoothukudi and would be started in Chennai soon.
Creating awareness in GenNext
Thuvakkam works under three domains: environment, education and humanity. The team realised that one cannot be present without the other and thus a slew of programmes including Chennaiyil Vanam (Forest in Chennai), Karka Kasadara (Learn without flaws), Modern Thandora (Thandora is a drum which was used to make community announcements in the pre-modern times) and 'Give a tree' programmes were born.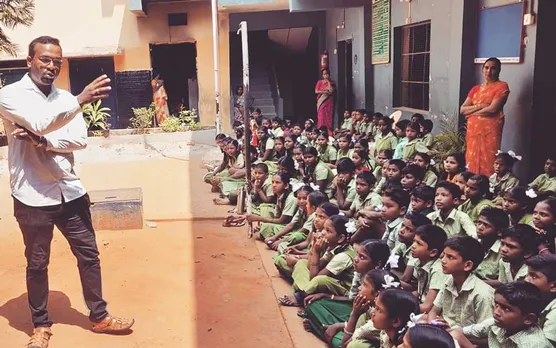 The NGO started engaging with students to help them understand the clean-up drives and other issues through various activities. This was when they started the Karka Kasadara programme in 2016. "We teach the students in government and corporation schools computer science, basics of politics and science via experiments every week," he says.
Also Read: Drumsticks could help tackle the deep-rooted scourge of malnutrition
While the 'Modern Thandora' initiative aims to create awareness on various social issues via street plays and mimes, the 'Give a tree' programme collects a small fee from the public to plant a tree or a sapling under their name. The team sends pictures of the plant regularly to the beneficiaries and maintains it on their behalf.
"When we started Thuvakkam, many of the members were college students so we had enough manpower on hand to work on several initiatives. We didn't think about funding, but eventually, we learnt how to approach it," he says noting that the organisation's major funding comes from their regular donors and CSR activities.
(Narayani M is a Chennai-based writer specialising in longform writing and human interest stories.)
Also Read: How a sociology professor is turning arid Rajasthan green