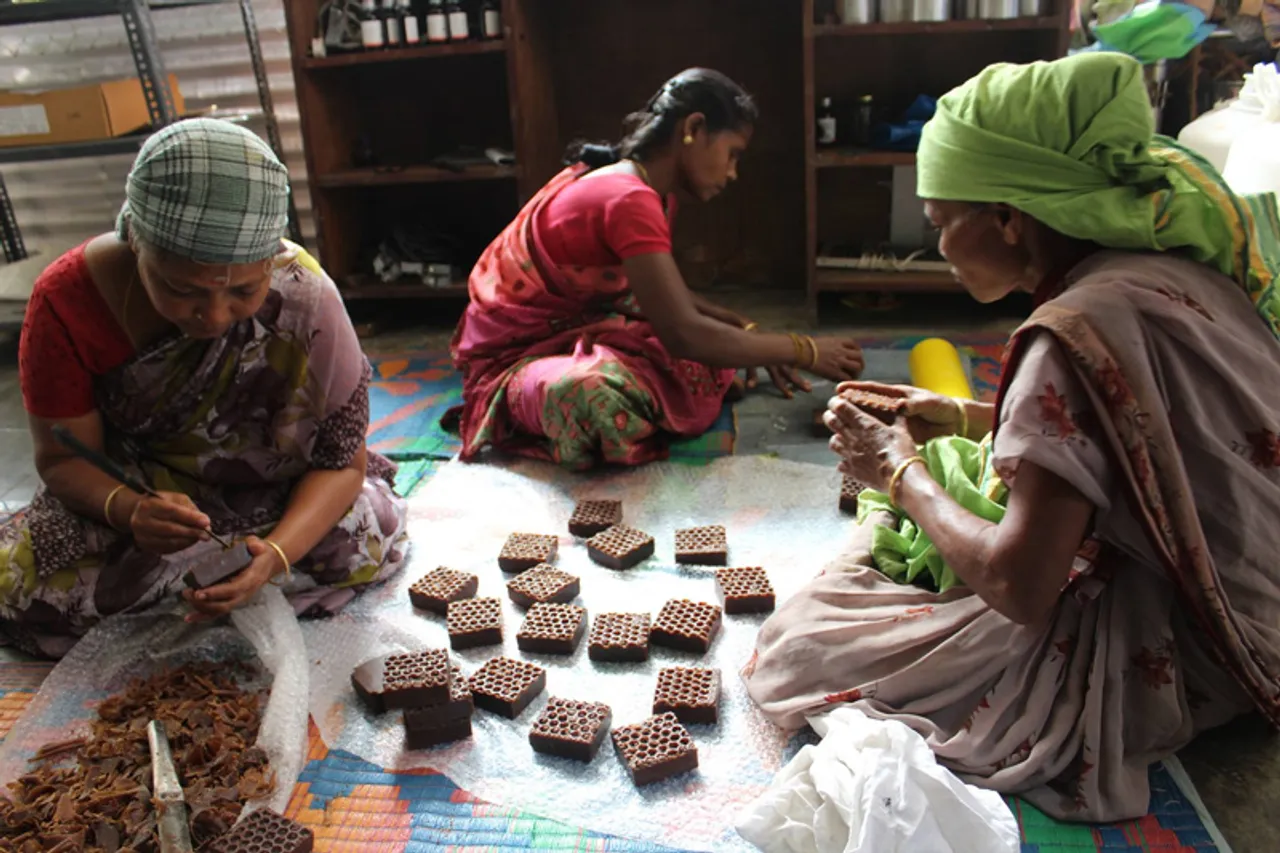 Maniswamy was on a strict vegetarian diet for 12 days in May this year. He was going to lead a team of honey hunters from his Kurumba tribe in the Nilgiri Biosphere Reserve, Tamil Nadu, and purification rituals were necessary to ensure his safety and that of his team. As per the tradition, a ladder of sturdy forest vines was made to reach the honeycombs of the Apis Dorsata or the Indian Rock Bee, which nests beneath overhanging rocks. Maniswamy and his team performed an elaborate puja to Mother Goddess and other local deities just before the climb too.
The ladder was hung from the top of a cliff and Maniswamy climbed up to break the honeycombs, braving the swarm of bees without any protection. The rituals, they believe, keep them safe. About half the honeycombs were left untouched for the bees to come back to the same place next year – a sustainable and eco-friendly practice that protects the region's biodiversity.
Also Read: Udaipur's Jovaki empowers tribal women by processing wild fruits & vegetable
Eco-friendly enterprise
At Aadhimalai, it is processed to make many varieties of flavoured honey besides natural and limited edition products.
But the company which takes this honey to consumers is Last Forest Enterprise, set up in 2010 as a market intermediary for wild forest produce harvested by indigenous communities in 150 villages of the biosphere reserve.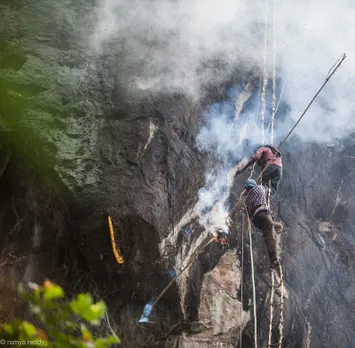 "We pay above the market rates for honey. So the product comes to us out of sheer choice," says Mathew John, Managing Director at Last Forest.
"The core of our portfolio has been honey and beeswax, which is a byproduct and was earlier thrown away. So we started adding value to beeswax by making candles, soaps and lip balms. And this became the foundation of a new income-generating model within the mountain ecosystem," he adds.
If the Irulas and Kurumbas have been harvesting honey using eco-friendly methods and protecting biodiversity, Last Forest has kept up the tradition by making products which are organic, eco-friendly and generate maximum livelihood opportunities.
Also Read: Vistaraku: How Telangana's start-up is taking traditional Indian leaf plates to the world
"We train honey gatherers on how to ensure good quality honey. We have a lab where we test the honey for moisture content and then do lab tests to ensure that it has not been adulterated or boiled. This is possible only if the honey has been harvested hygienically," John points out.
Large commercial honey makers mostly pasteurize honey to extend shelf life because its source is not known. "But we know each person who brings it to us and then we do all the tests. Good honey can stay for as long as you want without any preservatives," he adds.
Arvind Singhal, chairman and MD of retail consultancy Technopak, says commercial production of honey the world over faces problems due to the presence of antibiotics. Mostly, these antibiotics are used to against bacterial diseases in bee colonies. "But in the natural environment like the Nilgiris, these bees are not cultivated and so the honey is unadulterated. There is a niche, but growing market for such products," he says.
Sustainable livelihoods
Rising preference for healthy alternatives to sugar and artificial sweeteners has led to a growth in the market size as well as variety of honey products in India.
Also Read: Tendu leaves cushion tribals from economic deprivation during COVID-19
More importantly, Singhal says, enterprises like Last Forest have a much bigger social impact – providing sustainable livelihood to indigenous populations in tribal areas where there is no other source of income.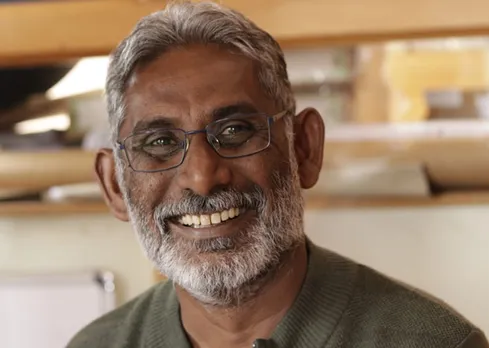 While honey collection is done by men, women in the Nilgiris handcraft the other products. "We have decentralised the production over four units. In a hill ecosystem, logistics is a challenge and it is neither safe nor feasible for people to travel for work."
It took a lot of training for the villagers to fully understand the master the production process. "Training, testing,  quality control is all done at the village level where a woman is the production supervisor," he says.
Also Read: How Gwalior's iTokri became international e-tailer of handcrafted fabrics & artworks
The products are readied before April when the tourist season begins. "We keep the production process as labour intensive as possible and minimize mechanisation to employ more people," he adds.
Nearly 40 percent of Last Forest sales take place in April-May due to the tourist traffic to Nilgiris.
But improving incomes is not the only impact Aadhimalai and Last Forest have had on the tribal population. Because of good prices and an assured market for the produce, the indigenous people can continue with the traditional rituals and cultural activities around honey collection that helps in biodiversity conservation as well.
Expanding footprint
"We monetise everything, so they don't have to over-harvest or disturb the ecological balance to earn more. More importantly, honey hunting activity continues to be a source of bonding and helps preserve their culture," John says.
Last Forest adds only organic and natural products to make soaps, balms and candles from beeswax. The soaps, for example, are infused with essential oils, herbs and leaves. "The aim was to let people use a natural product and make it environment-friendly in all possible ways," he adds.
Also Read: COVID-19 gives home chefs a leg up as restaurants remain shut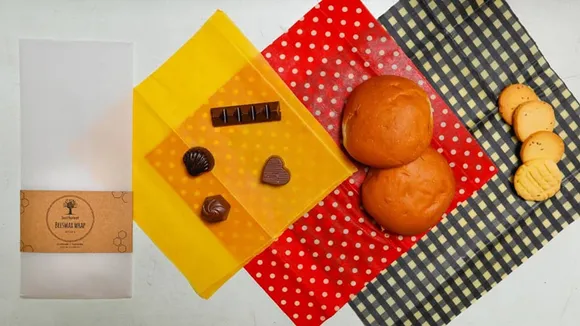 Other products in Last Forest's portfolio include coffee, tamarind, black pepper, clove and millets, jams and pickles, Nilgiris tea, and cooking oil. The products are sold through 130 organic stores and supermarkets across India besides Amazon and other online marketplaces. Last Forest also has its own website. "We have largely been a domestic company so far. Now we are exporting to Germany, Netherlands, Austria and the US," he says.
"They have become very popular in European countries to which we exported during the pandemic. It's a huge success and we have got more orders," John says.
Alongside international expansion, the company is now also expanding its domestic presence. While it is currently offering products mostly in Tamil Nadu, Karnataka and Puducherry, it is readying to move to the western and northern India over the next one year. "We are planning to double our capacity in the next couple of years," he says.
For that it will have to expand supply sources from the current 150 villages to other parts of the country. "We are in talks to work with like-minded organisations in tribal areas of Kerala, Karnataka, Rajasthan, and Andhra Pradesh to source honey and beeswax," John says.
And when this expansion fructifies, thousands of other tribal people will also have an assured source of income while keeping their age-old customs intact.
(Rashmi Pratap is a Mumbai-based journalist specialising in financial, business and socio-economic reporting)
Also Read: Tamul's areca nut leaf plates travel from Assam to the world as plastic ban gets stronger