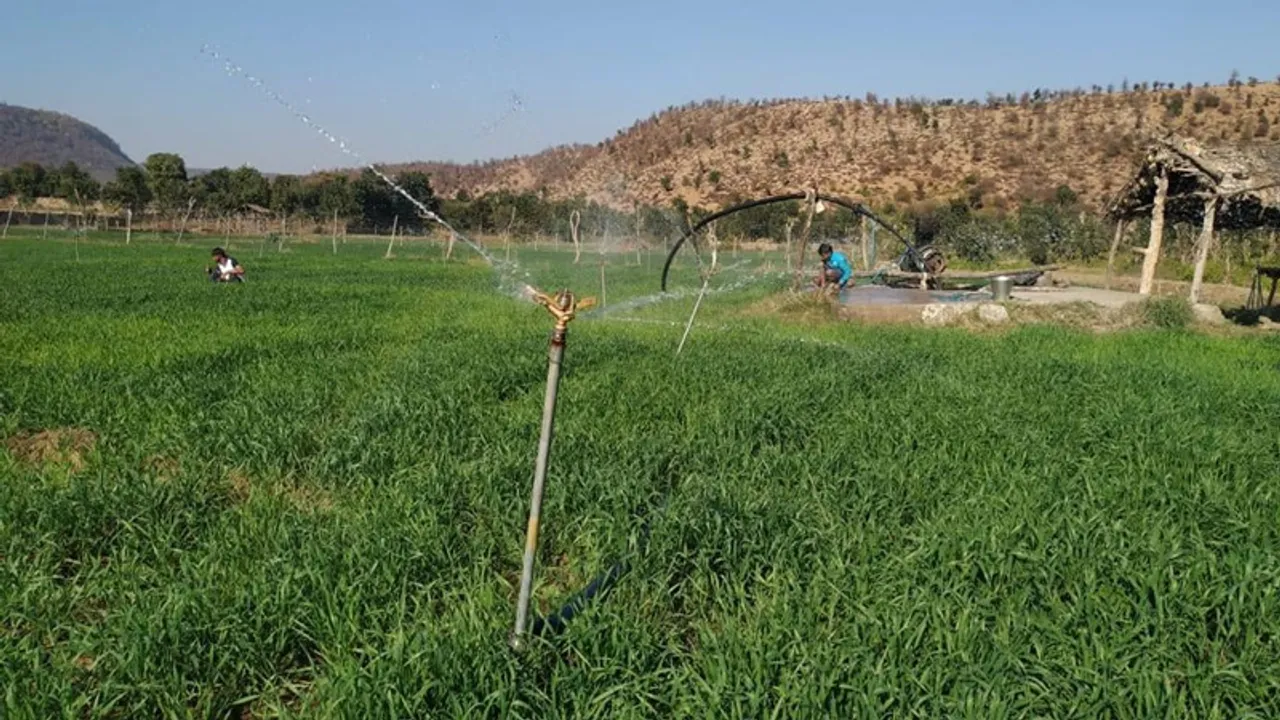 Ram Avtar Gurjar was a dreaded dacoit who looted and killed without remorse in the badlands of eastern Rajasthan for nearly a decade-and-a-half. With deep ravines and rolling dunes, it was easy for him to evade the police bullet for years. 
But in 2005, life caught up with Ram Avtar, who was tired of killing, hiding and running. 
Back then, Ram Avatar operated in the Dholpur and Karauli districts, which are part of the Chambal ravines – the tri-junction where borders of Rajasthan, Madhya Pradesh and Uttar Pradesh meet. 
Also Read: How Nahargarh's 300-year-old water harvesting system beat the desert's water blues
Giving up the gun for the hoe
The Chambal beehad or badlands with the labyrinth of winding gullies is straight out of the Bollywood blockbuster 'Sholay' and has been home to scores of big and small dacoit gangs. "We used to be on the run constantly. It was circumstances which forced me to take to crime. But that is a life of uncertainty and compulsion. Now I earn my livelihood and live peacefully. Life is good," says the 50-year-old.
The dramatic shift that made a dacoit give up the gun and take up the hoe came from his association with the environmental non-profit Tarun Bharat Sangh (TBS), which works towards sustainable development including water conservation.
Ram Avtar had 25-30 bighas of land in Karauli's Budhkheda village. However, the land was lying unused. After coming out of jail, he approached TBS volunteers, who helped him build a pond on his farm. So he could store rainwater and use it for irrigation – the biggest pain point for farming in the tough geographical terrain.
Also Read: Water conservation in rural Rajasthan increases farming incomes four times; checks migration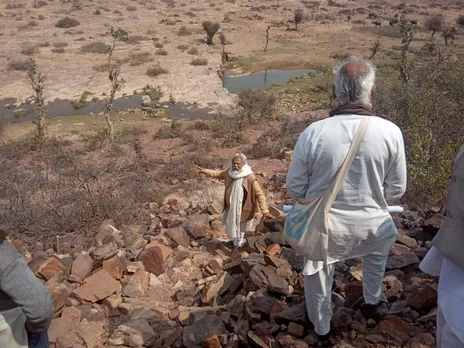 Apart from growing mustard, wheat and vegetables, he also rears buffaloes for selling milk. His annual income is around Rs2.5 lakh, an amount that remains a dream in the rural hinterland of India even today. 
Rajendra Singh, the founder of Tarun Bharat Sangh, says in the 1990s hundreds of bandits gave up the gun and turned to water conservation work to fashion a better life for themselves. 
He still remembers when a group of five dacoits came to meet him at the TBS office in Bhikampura village in Alwar district. "Jagdish Gurjar, who was a feared outlaw, came with four others. They knew of our work and wanted our help in creating water storage structures in their village so they could do farming and earn income," recalls Rajendra. 
Dacoits who live in deep poverty
The bandits who looted and killed people were still worse off. Rajendra remembers that one of the most feared dacoits, Nadaan Singh, did not even have the money to buy a dress for his wife.
TBS then helped Nadaan Singh's wife Bhagwati create a water storage structure in her farm. "She was very happy the day she got money from her first mustard crop. The first thing she did was to buy a dhoti-kurta for her husband," says Rajendra, who has won the Magsaysay award for his work in water conservation.
The Dholpur and Karauli districts of eastern Rajasthan are the most backward in the state, with agriculture and quarrying and mining being the main occupations. 
Also Read: Sundarini: the organic milk revolution by women of Sundarbans
As per the 2011 census, Dholpur had a sex ratio of 845 females per 1,000 males. The literacy rate was 70.14 percent, lower than the national average of 74.04 percent.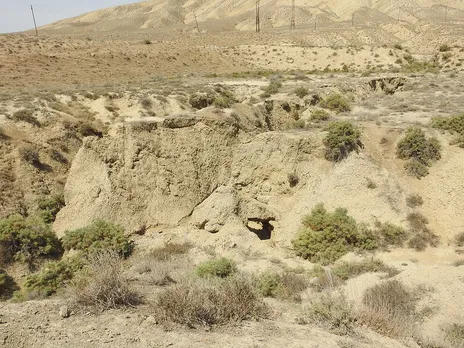 At 67.34 percent, the literacy rate in Karauli is way below both Dholpur and the national average. The district is famous for its red stone and includes the Vindhyachal and Aravali mountains. 
Karauli is water-scarce, implying scarcity in water availability due to lack of physical shortage or other infrastructure. Dholpur's Basedi and Sarmathura blocks have a water deficit, which means water is short of human requirements. This underlines the importance of water conservation in these areas. 
How water conservation is turning dacoits into farmers
Ranveer Gurjar, a coordinator with TBS, says the NGO is working on water conservation so that people can have a steady source of water for irrigation and earn a decent livelihood. The volunteers help villagers construct community ponds and individual ponds as well as anicuts and check-dams to conserve water.
Also Read: Gujarat's MBA farmer Chintan Shah turns infertile land into organic farm of turmeric, ginger & wheat
Alongside, TBS is trying to work with the dacoits to bring them into the mainstream. 
They include, Jagdish Gurjar, Mukesh Gurjar, Bhuri Gurjar, Munna Gurjar, Jagdish Gurjar, Bharat Singh, Umrao Singh, Ram Baran Gurjar and Ram Prakash Gurjar.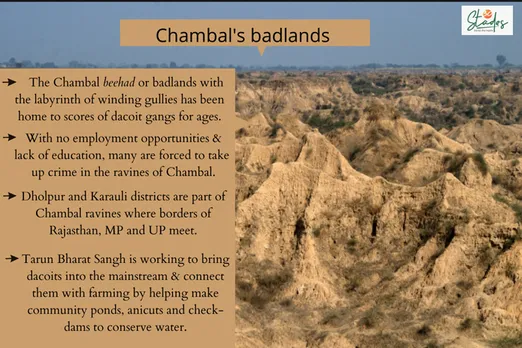 "Dacoits create havoc in Dholpur and Karauli, looting people, extorting money, stealing cattle. We try to explain to them the advantages of agriculture so they give up violence and adopt a peaceful life," says Ranveer.
TBS holds regular meetings in villages where they explain to people about water conservation and the benefits of farming and dairy. Through family members or intermediaries, TBS also invites the bandits to these meetings and is slowly making inroads. 
"We make them interact with people who have built water storage structures to help them understand how it has benefitted them. This has opened their eyes to new possibilities," says Ranveer.
Also Read: Odisha women fight malnutrition through organic nutrition gardens
Rajendra says the outlaws also want a way out.
Many of the dacoits had cases against them but after they surrendered, we linked the outlaws with our water conservation work. It led to far-reaching changes and brought prosperity in their lives, he adds. 
Ram Prakash, who lives in Naharpura village of Dholpur district, says he was a dacoit for 12 years before surrendering to police in 2014. Poverty led him to a life of crime when he roamed the ravines for over a decade. He was jailed for 6 months after surrendering to police.
He has taken up agriculture and dairy farming on his 20 bighas of land (5 hectares). He earns a lakh annually by selling milk and another Rs1.5 lakh through farming.
"When I was a bandit, life was tough and full of worries. Now I lead a peaceful life," he says.
(Urvashi Dev Rawal is a Jaipur-based journalist specialising in development, gender, and political reporting)
Also See: Adavi: organic coffee that brewed a new life for Karnataka's Soliga tribe