Banita Tipiria, a daily wager from Khalapada village in Odisha's Mayurbhanj district, is spoilt for choice when it comes to her family's meals. Growing organic brinjals, chillies, bottle gourds, ridge gourds, ladies finger and leafy greens in her own nutri-garden, Tipiria has enough to choose from to feed her family.
Tipiria is among lakhs of women who are beneficiaries of Odisha Livelihoods Mission project, which is helping combat malnutrition due to an unbalanced diet comprising only rice, pulses, moringa (drumstick) and brinjal for many years.
Checking malnutrition
Besides addressing malnutrition, the project is helping Tipira save money through organic farming. "A year back I opted to make a nutri-garden in my 0.02 acre (872 sq ft) of land. Today, I am cultivating 10 types of vegetables so I don't have to buy them from the market," says the 22-year-old. Her village is in Mayurbhanj, one of the most backward districts in the country.
Also Read: How organic fruit farming made Rajasthan's Santosh Devi a millionaire
"Now I can feed my family well. We are eating different vegetables, fruits and have a mix of food grains and pulses," says Tipiria, whose thin frame points to undernutrition.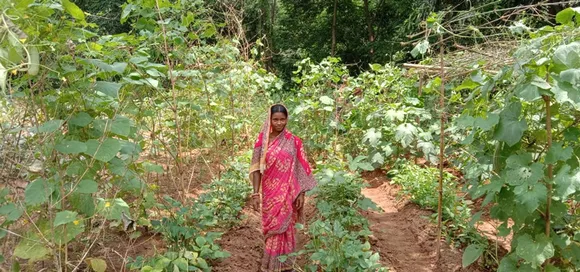 The Odisha government's campaign led by women, who are members of the state's Self Help Groups (SHGs), aims to combat widespread malnutrition by improving access to nutrition-rich, diversified foods, especially for pregnant women, lactating mothers, adolescent girls and children.
The project was designed and conceived by the Azim Premji Philanthropic Initiatives (APPI) in 2018 and is being carried out in association with NGOs Pradan, Harsha Trust and Living Farms who are providing training and capacity building.
"We signed an MoU with the APPI and the three NGOs and a separate nutrition vertical was established to roll out the programme," says Debasis Mohapatra, state project manager, Odisha Livelihoods Mission.
Nutrition garden - even for the landless
The nutrition garden programme has two components – nutri-garden and livestock rearing. While the nutrition gardens would provide vegetables and fruits in the diet, goats and poultry would provide meat and eggs.
The cost of one nutri-garden works out to around Rs12,000 which is being given under MGNREGA. 
Under the nutri-garden, each household has to plant 7-10 varieties of vegetables and 10 fruit trees. The seeds are being provided by the Odisha Livelihood Mission while the Horticulture department is providing saplings for fruit trees.
Also Read: Lemongrass oil slowly replacing opium production in Jharkhand's Maoist stronghold Khunti
There are three types of nutri-gardens - circular, rectangular and landless. The circular gardens have a compost pit in the centre while the rectangular one has raised beds for plantation. "A household needs about 800 sq feet of land to build a garden," says Soumyajeet Swain of Harsha Trust, which is providing direct support in 18 blocks and need-based support in 27 blocks.
For those who don't own enough land, the project offers a landless model where the seeds are planted in gunny bags and placed in a row.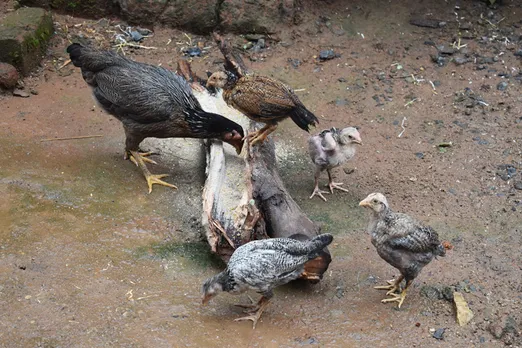 Surjit Behera, project coordinator from NGO Pradan, which is working in 31 tribal dominated blocks of Odisha, says almost all households in rural areas also have a few goats and hens. But they rarely eat meat or eggs and sell it to supplement the income. "Now we are guiding them to rear more goats and hens so they can keep some for consumption," he adds.
Dovetailing the nutri-garden project with MGNREGA has obvious advantages. "Initially, we were exploring ways to get funds for construction activity such as water tanks, compost pits, fencing, nursery beds in the gardens. After linking it to MGNREGA, the fund is being given by the Panchayati Raj department." 
Swain of Harsha Trust, which provides direct support in 6 districts, says homestead and small livestock are generally taken care of by women. "So this initiative would render more control by women and develop assets for them." 
Also Read: Tendu leaves cushion tribals from economic deprivation during COVID-19
Reaping the benefits during lockdown
Tipiria says the nutri-garden proved a godsent during the lockdown. "My husband and I were not able to find work and hardly had any money. But the nutri-garden took care of our dietary needs," says Tipiria, who is now an organic farming enthusiast.
A balanced diet comprises five food groups: vegetables and legumes, fruits, grains (cereals), dairy and lean meats, poultry, fish and eggs.
According to the National Family Health Survey (NFHS-4), 25 percent women in Odisha are underweight while 51 percent are anaemic, underlining the need for interventions to tackle malnutrition.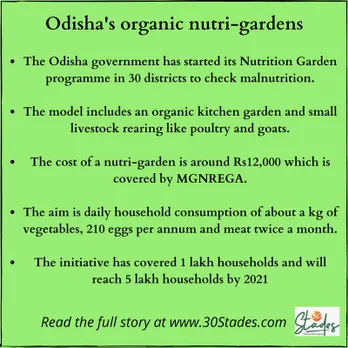 Sumitra Deo, 36, also created her nutri-garden one year back and is now growing vegetables such as brinjal, okra, basil, snake gourd, bottle gourd, pumpkin and kadam (kohlrabi) over her 880 sq ft land.
"During the lockdown, everything was shut and we could not go to the market. But we had our own supply of fresh vegetables. Organically grown fruits and vegetables are not only healthier but also taste better," says Deo from Raidiha village of Kendujhar district. 
Also See: Repora: Visuals from Kashmir's grape village
APPI has made a commitment of Rs 27 crore to the project while the state government has given 22.5 crore. Mohapatra said in 2019-20, the nutri-garden initiative has covered around 1 lakh households. In June, the Odisha government converged the programme with MGNREGA under which an additional fund of Rs500 crore was announced.  
Though the project was started just a year back, results are beginning to show. "A year back, we did a survey which revealed that only about 30 percent of women were consuming the five food groups that make up a balanced diet. This year, that figure has risen to 60-70 percent," says Pradan's Behera.  
Swain of Harsha Trust has seen similar changes. "We did a survey of 900 families in 2019 and we found that almost 85 percent families were consuming 4-5 types of vegetables as against 1-2 vegetables earlier," says Swain.
And if the project continues to be implemented with the same rigour, the figure of balanced diet eaters in Odisha will keep rising in the years to come.

(Urvashi Dev Rawal is a Jaipur-based journalist specialising in development, gender, and political reporting)
Also Read: Tendu leaves cushion tribals from economic deprivation during COVID-19