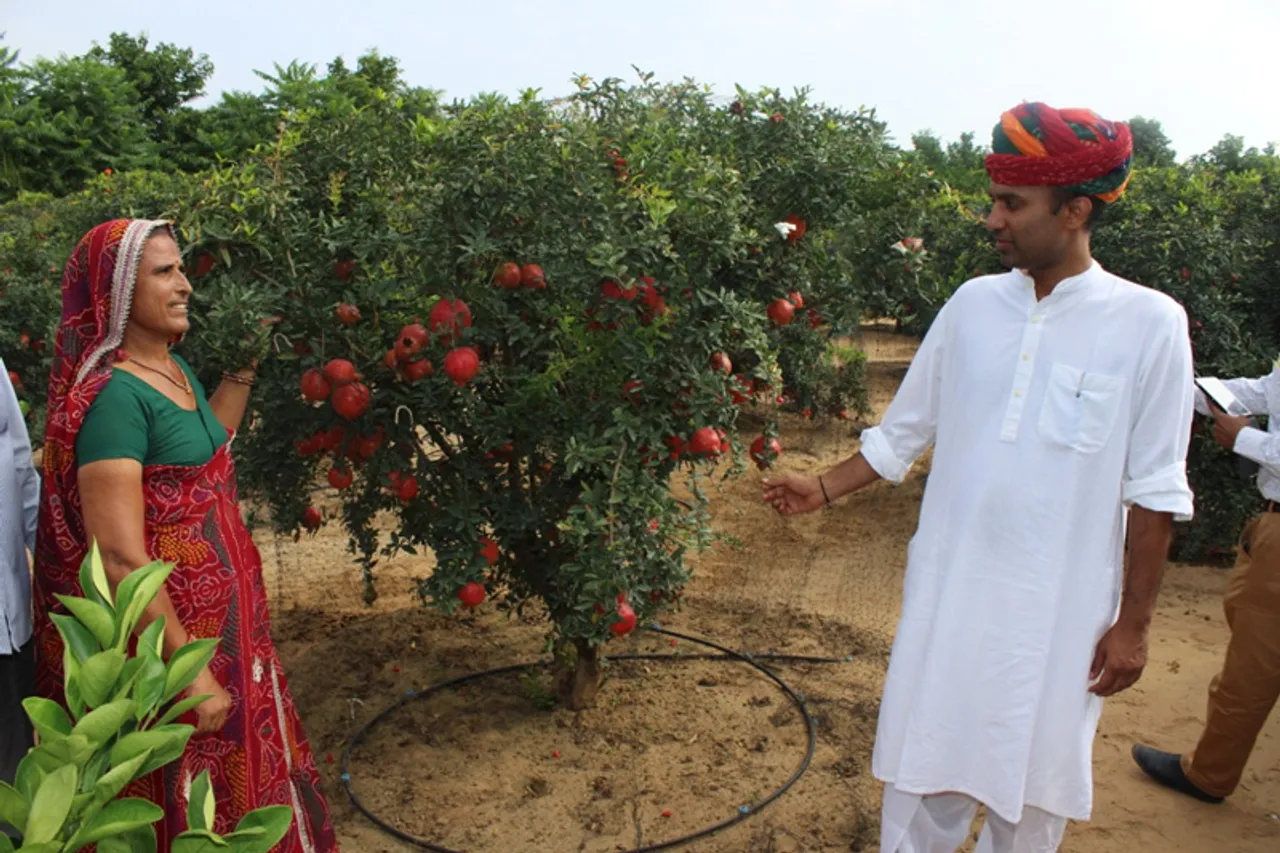 In 2008 when Santosh Devi Khedar planted pomegranates in her 1.25 acre farm in north Rajasthan's Sikar district, the family's hopes were riding on the fruit to push them out of poverty. Three years later, they earned Rs3 lakh from the first crop, turning their dreams into reality.
 "We were overjoyed. We had never seen so much money. We earned hardly Rs1000-1500 per month prior to this crop," recalls Khedar, a strong proponent of organic farming and yet another example of women empowerment in the desert state.
Khedar, 40, now grows not only pomegranates but also lemons, sweet lime (mosambi), apples, guavas, papaya and earns around Rs25 lakh annually from her farm in Beri village.
People from Rajasthan, Madhya Pradesh, Uttar Pradesh, Maharashtra, Bihar, Punjab, Haryana and Delhi travel to Khedar's Shekhawati Krishi Farm to buy the organic produce.
Taking the road less travelled
While her farm is well-known for its organic produce now, the journey wasn't easy. "Initially we couldn't find any officials from the agriculture department to guide us about organic farming. We would experiment and our crops would fail. The officials suggested the use of chemical fertilisers but I didn't want to opt for them," she says.
 Also Read: Udaipur's Jovaki empowers tribal women by processing wild fruits & vegetable
Eventually, she turned to family elders who guided her on the use of natural products and organic manure. After trial and error, she and her husband made their own plant manure, which led to good results.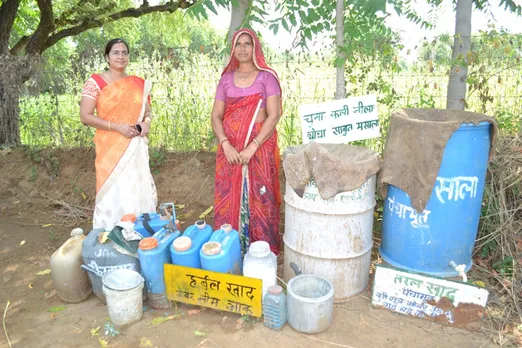 Khedar prepares dry and liquid organic manure at the farm. Pic: Shekhawati Krishi Farm 
Khedar's husband took this produce to Sikar and offered free samples to traders, retailers and officials. "Our pomegranates were around 500-770 gm each against others in the market which weighed about 300-400 gm. And since we grew them organically, they tasted better. Soon we built up a clientele," says Khedar, who has studied till class 10.
Their farm's pomegranates sold for Rs100 per kg, double the market price, but people were willing to pay for a healthier option.
The money earned was invested back in the farm. From 2016, Khedar decided to grow sweet lime, lemons and apples too.
Apples are not native to Rajasthan but those grown here are a special variety that thrives in high temperatures. This variety was developed by a farmer in Himachal Pradesh and supported by the National Innovation Foundation, an autonomous body of the department of Science and Technology.
"We harvest about 50 kg pomegranate in one season, 40 kg sweet lime, and 30 kg each of apples and lemons," she points out. Organic mosambi farming is also a big success for Khedar, who has now joined the list of millionaire farmers of India.
While organic apples sell for Rs200 per kg, sweet lime's rate is Rs50 per kg and lemons at Rs70 per kg – all above the market rates.
From struggle to success
After Khedar's marriage to Ram Karan in 1990, she lived with her in-laws. "We were only four people. We cultivated guar and bajra (millets), earning only Rs1000-1500 per month."
Also Read: Tendu leaves cushion tribals from economic deprivation during COVID-19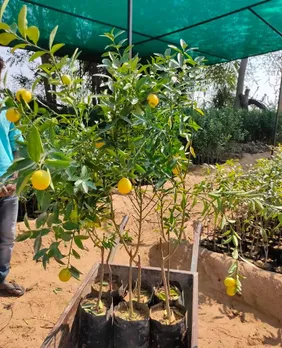 The earnings from saplings are around Rs 15 lakh per year. Pic: Facebook/Shekhawati Krishi Farm 
In 1995, her father-in-law divided the property between his three sons and her husband received 1.25 acre land. They continued to live on a meagre income without any other option.
It was then that her husband's colleague, who worked with the Home Guard, told him about his orchard where he earned well through pomegranate cultivation in Rajasthan's arid Karauli district.
"My husband and I decided to give it a try and bought 250 plants for Rs7500. I also decided to use organic manure." 
The couple took a loan of Rs 8 lakh to prepare the farm. These plants had to be watered, so the duo installed a tube well and an engine to run it as there was no electricity. They used drip irrigation to avoid water wastage.
Khedar worked alone in her farm after her husband left for work and children went to school. She cleared weeds and made organic manure. Her husband and children would help her after returning. "It was back-breaking work for 12-14 hours every day," she recalls.
She made dry organic manure using neem, cow dung and local desert plant akda (Sodom apple). Liquid organic manure was made of cow dung, cow urine, urad dal, jaggery and soil taken from under peepal trees. 
Also Read: In shortage of vets, Pashu Sakhis support cattle & poultry farmers in Jharkhand's tribal hinterland
How Khedar grew the business of farming
As the word about the organic produce spread, farmers began approaching her to purchase saplings and Shekhawati Krishi Farm and Nursery was born. "We decided to start a nursery in 2013. We cut grafts from our pomegranate trees and grow new saplings for sale," says Khedar, who was awarded by vice president Venkaiah Naidu at the Agritech meet in Jaipur in 2016. She has received several other awards as well.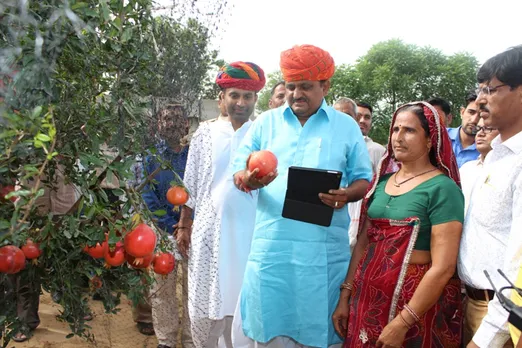 Khedars now also impart training to farmers on organic agriculture. Pic: Shekhawati Krishi Farm 
Slowly they added saplings of other plants including sweet lime, lemon, apples, papaya, guava, kinu (a hybrid of two citrus fruits) and ber (a wild berry).
They earn Rs15 lakh through sale of around 25,000 saplings annually.
The only major cost on the farm is labour, on which they spend around Rs3 lakh annually.
Also Read: Vistaraku: How Telangana's start-up is taking traditional Indian leaf plates to the world
"We make our own manure. Our electricity cost is zero after we installed a solar plant in 2015 for Rs 80,000." 
Now Khedar, her husband and their 23-year-old son Rahul, who has graduated in agriculture, also impart training to farmers on their Shekhawati Farm. "Around 15-20 farmers come daily and we provide them a two-hour training session on making manure, planting the saplings and other farming techniques," she says.
Khedar also offers them a hearty meal. "I enjoy cooking and taking care of people. Atithi Devo Bhava (guest is God)," she says with a laugh.
She is also using plants to spread a social message. At her daughter's wedding in 2017, Khedar gifted 551 saplings to her daughter's in-laws and two plants to every guest at the wedding.  "Rather than giving dowry, parents should give plants to children which offer them a livelihood and are good for the environment," she says.
(Urvashi Dev Rawal is a Jaipur-based journalist specialising in development, gender, and political reporting)
 Also Read: From pineapple to pepper, how organic farming is increasing farm incomes in India
Look up our YouTube channel⁠⁠⁠⁠⁠⁠⁠