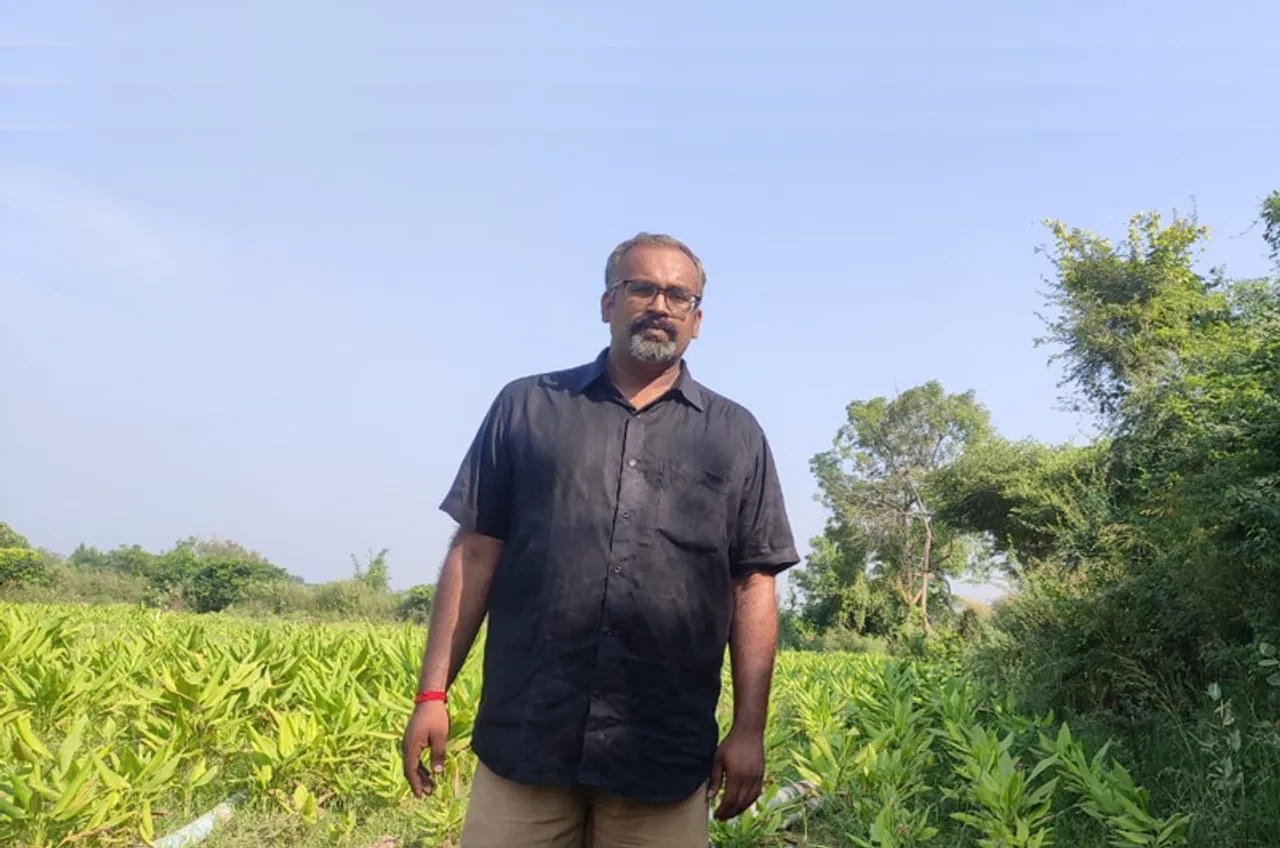 What happens when an MBA from one of India's top-ranking institutes decides to take up organic farming? He purchases infertile and uneven land, makes it cultivable by adding organic manure, cultivates crops and even processes them on the farm to earn more than the market rate for raw produce. That's exactly what 33-year-old Chintan Shah from Surat in Gujarat has done.
In 2015, Shah, who did MBA from Mumbai's NMIMS, bought 18 bighas (7.2 hectares) land at Devapura village in Anand, about 65 km from capital Ahmedabad, after zeroing in on organic farming as a sustainable livelihood option that also guaranteed healthy meals to his family. His younger brother, who was then pursuing a Master's degree in organic agriculture from the Netherlands, connected him to some people practising natural farming.
Also See: Repora: Visuals from Kashmir's grape village
Shah, however, didn't receive any training before he began organic farming.
 Transforming barren land into an organic farm
"The first thing I did was to use heavy machines to make the land even. I also found that the topsoil was not at all fit for cultivation," he says.
Shah then registered with the Madhya Gujarat Sajiv Kheti - a group of farmers practising organic agriculture and learnt about ways to make the land fertile. So far, he has converted about half the area into cultivable land. He uses 4 bighas for turmeric, 2.5 to 3 bighas for wheat and 0.5 bighas for ginger.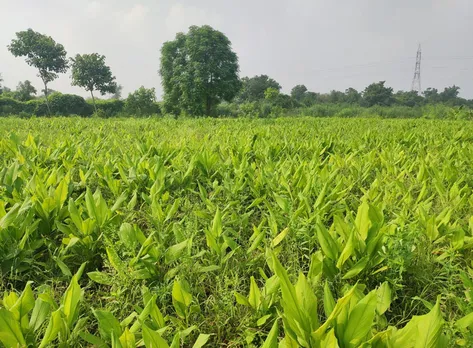 Turmeric plantation at Chintan Shah's organic farm. Pic: through Chintan Shah 
Shah spent many months strengthening the soil's fertility by adding organic manure and jeevamrit -- a liquid manure made using ghee, cow dung, cow urine, lemon, jaggery, turmeric powder and gram flour. It is a natural source of nitrogen, potassium, phosphorous and other nutrients required for the crops. 
He also used panchgavya, which is also a liquid manure made using a mixture of cow dung, cow urine, milk, curd, banana, tender coconut and ghee etc.
Also Read: Rasika Phatak: Maharashtra's 23-year-old millionaire farmer & agriculture consultant
"After 8 months, a small portion of my land was fit for growing turmeric. I produced 125 kg of turmeric powder (about 600 kg raw turmeric) in the first year," he recollects. 
When it comes to feeding the soil, Shah's mantra is simple. "I believe in returning to the soil what it grows. I do not throw away any of the farm wastes. I mix them in my compost or directly bury them in the soil," he says.
Sap from banana trunk, considered waste, is used by Chintan Shah to improve land fertility. Pic: Via Chintan Shah 
He grew bananas for two years. That was when people told him to uproot the banana tree after harvest because it is of no use. "But we did not cut down banana trees," he says.
Also Read: How organic fruit farming made Rajasthan's Santosh Devi a millionaire
A sap oozes out from the banana trunk after harvest. Shah would collect it overnight and mix it with water for adding to the soil as it improves soil productivity.
"All other parts, like leaves, trunk etc. were also utilised as manure in some form or the other," says Shah, whose father is a Surat-based textile businessman.
He has started making compost on his farm from this year by buying cow dung cakes and making a slurry after adding dried plants and other farm waste. 
Also Read: Water conservation in rural Rajasthan increases farming incomes four times; checks migration
From a quintal to a ton per year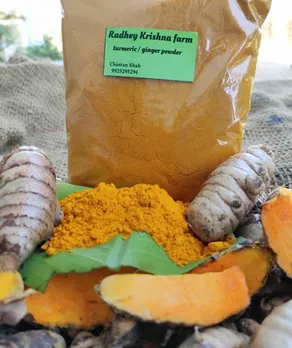 Shah is now branding his produce under Radhey Krishna Farm brand Pic: through Chintan Shah
For Shah, learning has been a continuous journey on the farm. Over the years, he has tried various crops. However, he realised that vegetables and fruits had a short shelf life, which increased spoilage chances. 
"I grew bananas and a few vegetables too. However, they are perishable and it wasn't easy to sell them as I did not have a huge customer base back then. I wanted to invest in something that could at least give me a decent profit margin, if not exorbitant."
So he decided to focus on turmeric, ginger and wheat, which also require less investment. "When I first started sowing turmeric, I did not know that we must sow the crop in the direction of sunrise – East – as the morning sun exposure is good for plants. I sowed it towards the West. From the next year, I began sowing it correctly and found a substantial improvement in its growth."
Also Read: Hukumchand Patidar: Rajasthan's millionaire organic farmer who exports to Germany, Japan & Switzerland
The production was meagre in the first year owing to the soil's poor fertility.
This year, however, Shah produced 5,000 kg turmeric which yielded around a ton (1,000kg) of turmeric powder. He sold the powder at Rs320 per kg while raw turmeric would have been sold at only Rs50-60 per kg.
Moreover, the spoilage rate of raw turmeric is high.
The production of wheat was 3 tons besides 300 kg of ginger powder from about 1400 kg of ginger produce. He sold the organic wheat at Rs40 a kg compared to the market rate of Rs32 a kg.
He sells the ginger powder at Rs700 per kg compared to raw ginger which sells only at Rs50- 60 a kg in the market.
Shah makes an overall profit of about 20 percent. "I am keeping my rates low right now as my aim now is to expand the customer base first."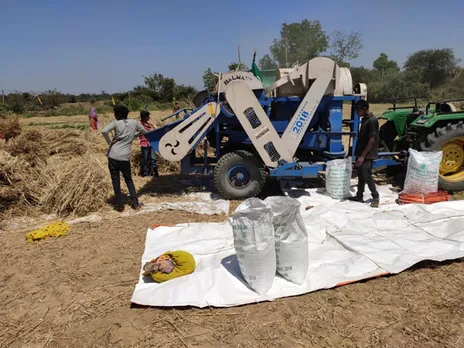 Post harvest processing improves market rates by 4 to 5 times. Pic: through Chintan Shah 
Many farmers are now trying to process raw produce before the sale because it not only gives a better market rate but also takes away the risk of spoilage, which often forces farmers to sell crops at lower-than-market rates. 
Also Read: Why is Kashmir's 800-year-old apple economy in shambles?
Shah explains that after harvesting turmeric, it is washed, boiled and left it to dry. "Then we polish and grind it. It is allowed to cool overnight, sieved and packed in batches of 500gm and 1 kg. I used to grind my turmeric at a nearby shop. I will purchase a grinding machine this year," he says.
Branding agriculture produce
So far, Shah's customers are mostly friends, family, relatives and their extended circle. "I have sold products purely through word of mouth references. My customers are in Vadodara, Mumbai, Anand and Surat. I also provide home delivery in the nearby areas," he adds.
For the first two years, Shah did not brand his products but now sells them under the 'Radhey Krishna Farm' name as it lets people know the origin of the produce.
Plus it helps create a brand name among customers. "I am now planning to convert the remaining land into the cultivable area from the next season as I have gained confidence about my farming practices. I also plan to grow moong, urad andsesame from the next season," says a determined Shah.
Also Read: Kashmir's farmers get peanuts for walnuts as lockdown hurts rates
And more importantly, he plans to register himself as an organic farmer as he is already following the organic farming methodology which involves composting, crop rotation, proper cropping patterns etc. 
A farmer can acquire organic certification by applying to any agency accredited by regulatory body APEDA (Agricultural and Processed food products Export Development Authority).
 "I also attend farmer exhibitions in Vadodara to continue my learning about organic farming," he adds. 
Shah is now keen to set up a kitchen garden for his family and farmworkers. That will also help his children realise the importance of sustainable farming. "I want them to understand where the food comes from. I want them to respect nature and the food that we grow," he says. 
(Vedant Sharma is a Gujarat-based freelance writer)
Also Read: Organic farming of dragon fruit and lemon triples Punjab farmer's income