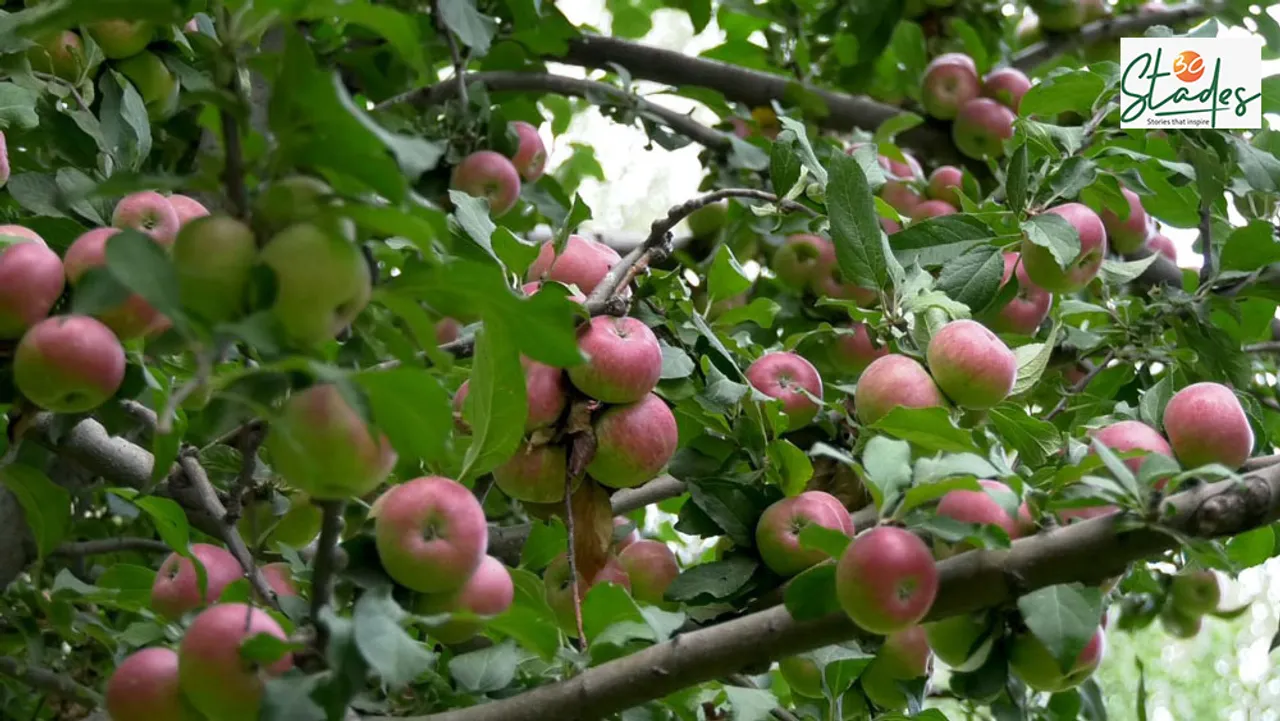 Kashmiri historian Kalhana's 12th century chronicle of Kashmir's kings – Rajtarangini -- mentions about apples being grown in the valley. Apple trees were planted along the paths to provide shade and food to travellers. They were also cultivated in fields and slopes and bartered by growers for other products.
Today, these apples not only generate livelihood for lakhs of farmers and cold store owners in the valley but are also much sought after by customers across India. Kashmir's 800-year-old apple economy, however, is now crumbling under the weight of disease, debt and policy apathy.
The main varieties of apples grown in Jammu and Kashmir are Razakwari, Hazratbali, Chemora, Maharaji, American Apple, Delicious Apple and Ambri.
Also Read: Kashmir's farmers get peanuts for walnuts as lockdown hurts rates
Jammu and Kashmir accounts for 77.71 percent of apples produced in India, followed by Himachal Pradesh at 19 percent and Uttarakhand 2.52 percent besides others, as per the National Horticulture Board.
Pesticides hurt production
Against an average annual production of 20 lakh metric tonnes (MT), the production was only 13-14 lakh MT this year. 
Of this, about 8-9 lakh MT is grade 'C' or the lowest quality apple, which is fetching only Rs150 to Rs250 for a 15-kg box for the growers. This amount is not enough to even cover the costs.
"The wooden box for apple storage itself costs Rs75 besides labour and logistics expenses. Our growers are deep under debt and there is no resolution," says Basheer Ahmed Basheer, Chairman of Kashmir Valley Fruit Growers- cum-dealers Union.
Also Read: Lemongrass oil slowly replacing opium production in Jharkhand's Maoist stronghold Khunti
According to the J & K Horticulture Planning and Marketing Department, horticulture contributes 8 percent to the J&K's GDP and provides direct and indirect employment to 23 lakh people. But for the last two seasons, the apple economy is on a downhill. Along with apples, growers of cherries and strawberries also suffered this year due to the COVID-19 lockdown.
Due to the Coronavirus lockdown this year, there was a shortage of pesticide for controlling scab disease.
"Shops were closed following the COVID control guidelines. Pesticide dealers, therefore, adulterated the medicine to make profits due to limited supply and high demand," says Riyaz Ahmad, an apple grower in Warpura, Badgam.
"As a result, an orchard which otherwise would produce 2,000 boxes (about 30,000 kg) fruit has this year given only 600 boxes (900 kg)," he adds.
Also Read: At the mercy of nature, middlemen and politics, Kashmir's saffron growers plunge into losses
The decrease in production is not the only worry for growers.  About 60 percent of the production this season is grade 'C' which is the lowest quality and fetches the lowest rates (Rs150-250 for a 15kg-box). 
Grade 'A' apples, which gets the best price of above Rs 1200 per box is only 15 percent of the total produce this season.
"Normally, 60 percent of apples harvested in Kashmir are grade 'A', 25 percent are Grade 'B' and only 15 percent of the annual produce is grade 'C'," Basheer says.
Debt burden
So growers who had taken loans from banks are deep in debt. "Last year, our apples could not reach mandis (wholesale markets) due to the lockdown following the abrogation of Article 370. So I suffered a loss. This year, the crop was hit by rainfall during April besides fake pesticides," says Gulam Nabi Dar, another apple grower.
Also See: Repora: Visuals from Kashmir's grape village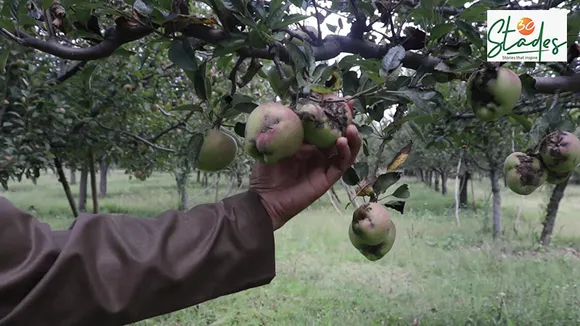 Scab disease and ineffective pesticides have hurt apple crop, reducing production by 40 percent. Pic: Wasim Nabi 
Apple farmers often take loans to increase the area under cultivation in the hope of higher produce and better sales. "But now my earnings are receding instead of increasing. My debt is the only thing going up," Dar adds.
Even the traders who had kept apples in cold stores last year in the hope of better rates in 2020 suffered losses due to lockdown. The trucks could not move out of the valley due to which apples had to be thrown on the roads. Apple growers, traders and cold store owners were all hurt.
Also Read: Organic farming of dragon fruit and lemon triples Punjab farmer's income
There are 18 operational cold storages in Jammu & Kashmir besides eight controlled atmosphere storage facilities. Their owners are staring at losses too as there isn't enough produce to store this year.
Dar says farmers have to pay the rent for cold storage.
"I was forced to dump apples in April this year because it was rotting and I could not afford to pay rent of the cold store. Even if I sell all my property, I may not be able to make up for the losses of these two years," he adds.
"We appeal to the government to waive off interest as farmers are not able to pay this year," he says.
Infrastructure and MIS woes
To help the farmers, the Central government launched the Market Intervention Scheme late October. But the scheme is not bearing any fruit because of three factors. One, by late October, most farmers had already sold their crop at whatever rates were being offered in the market.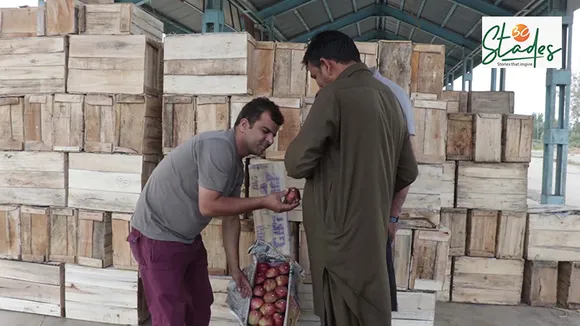 Each wooden box used in packaging costs Rs75. Pic: Wasim Nabi 
"Secondly, the MIS covers only grade 'A' apples, which are a small percent of the crop this year. We wanted MIS intervention for grade 'C' apples, which is the bulk of production this year but that is not the case," Basheer says.
Lastly, the MIS price of Rs 850 per box of grade 'A' apples is even lower than the market price of Rs1200 that farmers normally receive for this quality, he adds.
But that's not the end of the valley's apple woes. Shaukat Ahmed Bhatt, a trader in Sopore wholesale market, says the shutdown of internet in the valley since last year has brought online sales to a naught. "When we try to sell through the internet now, we get only 2G speeds. So we are not able to share adequate information with prospective customers about the quality of apples," he says, urging the government to improve internet speeds in the market.
Additionally, National Highway 44, which connects the valley to the rest of the country, is in a poor condition. Though a lot of work is being done to improve the roads and connectivity, trucks are often lined up on the highway due to closure or bad conditions.
"One, it adversely affects the quality of apples. Two, when the road clears up, all the trucks reach the wholesale markets at the same time. This depresses rates as a lot of produce reaches mandis on a single day," says Basheer.
For now, Kashmiri apples and those associated with its cultivation are struggling. One can only wonder how Kalhana would have described the scene today.
(Lead Pic: by Wasim Nabi)
(Wasim Nabi is a Srinagar-based freelance multimedia journalist)
Also See: How organic fruit farming made Rajasthan's Santosh Devi a millionaire