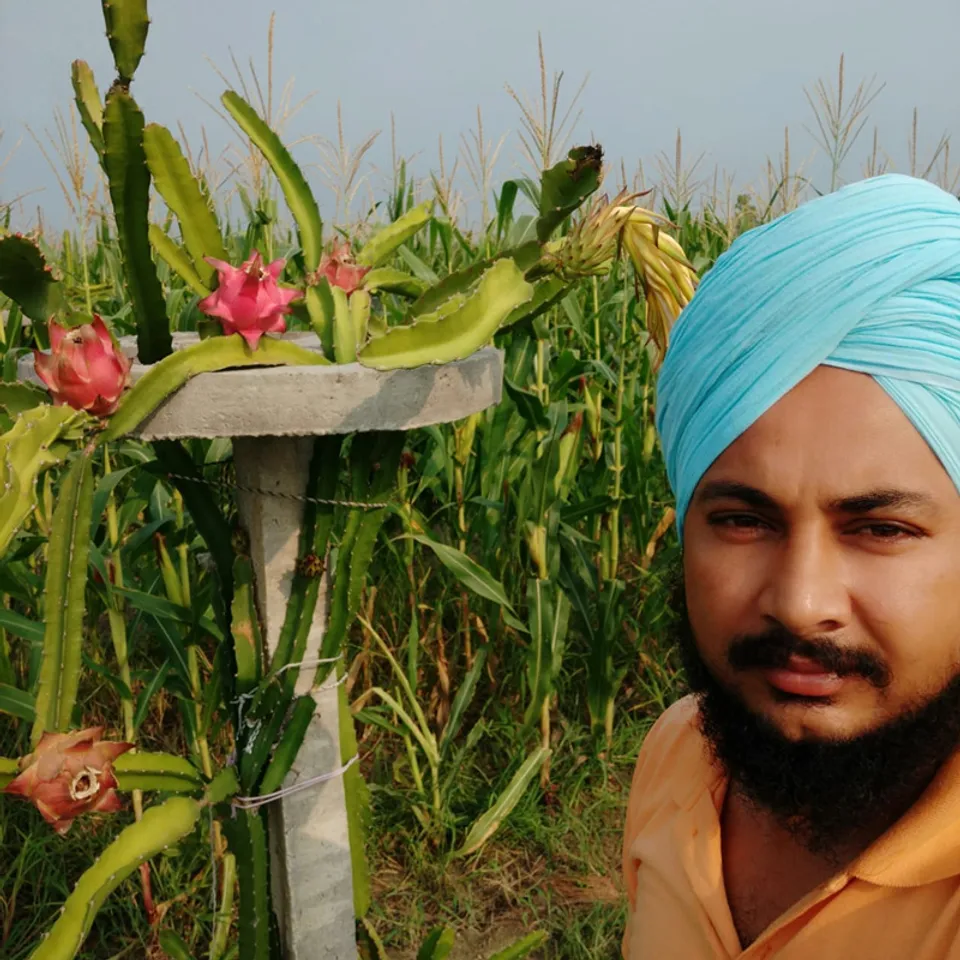 Harbant Singh, a farmer from Thulewal village in Barnala district in Punjab, looks at his organic dragon fruit plants with satisfaction. What began as an experiment in organic farming with just Rs 50,000 has in three years yielded rich returns, earning him lakhs while saving on water and fertiliser costs. 
Harbant, 60, has shifted to organic farming of high-value horticulture crops such as dragon fruit, lemon, avocado and sandalwood on 1.5 acres of his 8-acre land in Thulewal.
Harbant's annual income from organic farming of dragon fruit and lemon is about Rs2.5 lakh within three years. This is more than three times his earning from traditional cultivation of wheat and paddy on 6.5 acres, which brings only Rs 70,000 per year.
In the next few years, he will reap higher monetary benefits from organic farming as plants mature and income from sandalwood and avocado plants also comes in.
A falling water table forced Harbant to change tack. The water table in the region has fallen drastically — where earlier water was available at 15 feet, it has now fallen to 150 feet. "In our area, the water table is low. Wheat and rice need a lot of water," says Harbant Singh. 
Also Read: Lemongrass oil slowly replacing opium production in Jharkhand's Maoist stronghold Khunti
Given the declining water table, Harbant ran high debts to install a tube well and pumps to extract groundwater for farming. 
And that's when he began to look for alternatives. In 2016, Harbant and his son, Satnam, attended a workshop organised by the Kheti Virasat Mission, a charitable trust that promotes organic farming.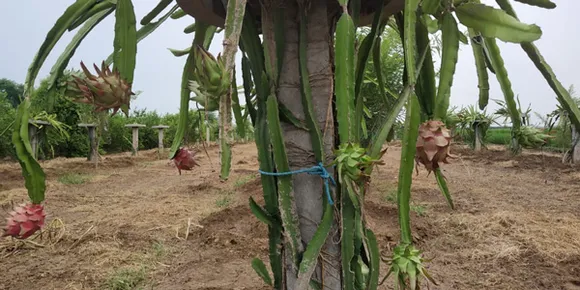 Dragon fruit needs a pole's support to grow. Each pole gives about 5 kg fruit in the first year. Pic: Satnam Singh 
"We were aware of the damage that the use of chemical fertilisers was causing to the land and of the falling water levels due to indiscriminate exploitation. But we didn't know what to do about it. At the workshop we got to learn about organic farming and decided to give it a try," says Harbant. 
A seed of an idea
The move to organic horticulture farming has been good for the father-son duo. "Dragon fruit is hardy and needs 95 percent less water. I have been able to save water and on the cost of fertilisers, and my income has seen a jump," says Harbant. 
So while he still grows wheat and rice on 6.5 acres of land, he is in the process of slowly converting that to organic farming too. 
Despite the many benefits of organic farming including soil improvement and better product quality, its adoption has not taken off.
Also Read: Tendu leaves cushion tribals from economic deprivation during COVID-19
Only 2 percent of India's net sown area is organically farmed. And only 1.3 percent of the farmers are registered to do organic farming, as per a report by the Centre for Science and Environment (CSE).
Satnam, seeing the realities in his area, had been earlier interested in diversifying from traditional farming for many years. "The government has declared our area a dry zone and water availability has been declining. So I searched on the internet for available options. I found out about dragon fruit and got the seeds from a farmer in Kutch, Gujarat," says the 35-year-old.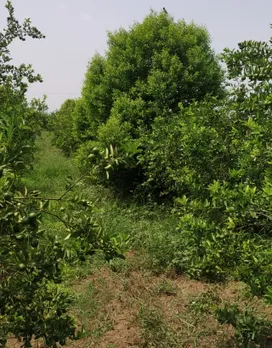 Organic farming of lemon and sandalwood at the Singhs' farm in Thulewal, Punjab. Pic: Satnam Singh 
Satnam convinced his father to give dragon fruit a try. "I gave him Rs 50,000 to experiment with new plants. Today, I am happy that we had the courage to try something new, which has given good returns," says Harbant. 
They started with planting 500 'poles' of dragon fruit four years back. (Dragon fruit is a cactus vine and needs a pole's support to grow on.) 
"Each dragon fruit pole gives 4-5 kg fruit in the first year and 15 kg in five years. The organic dragon fruit sells for Rs150-200 per kg in the Barnala mandi and we earn about Rs1.5-2 lakh per acre, which will increase to Rs4-5 lakh in the third year," he points out.
Dragon fruit is a perennial climbing cactus which was introduced in India in the late 1990s. The fruit needs long flowering days and is well suited to the agro-climatic regions of south and west India. Being hardy and easy to store and giving quick returns, the fruit has caught the attention of farmers and is being widely cultivated in India.
Also See: Repora: Visuals from Kashmir's grape village
The demand for dragon fruit is high as it is rich in antioxidants, vitamins and minerals.
 Reaping Benefits
 The Singhs have not limited themselves to dragon fruit. They have also started organic cultivation of lemon, sandalwood and avocado. They have planted 200 sandalwood trees on half an acre. The trees need more water in the first five years of planting and then they grow on their own, says Harbant.
"By the tenth year, one sandalwood tree gives about two quintals of produce and three quintals by the 15th year. "We can expect to earn Rs1 lakh per tree and Rs 1 crore per acre then."
The Singhs have also planted 7-8 avocado plants on a trial basis. "They will start fruiting next year," he says. Avocado is rich in protein and fat and low in carbohydrates. It has high energy value and several vitamins and minerals. It grows well in warm climates but cannot tolerate extreme heat or cold.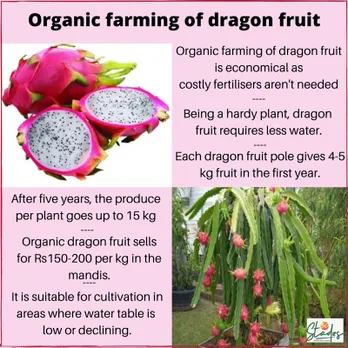 Avocado cultivation in India is limited in scale but there is growing consumer interest. With low input costs and high returns, avocado too is attracting farmers."One avocado tree gives around 250 kg of produce and we can earn Rs 5,000 to Rs 6,000 per tree annually," Satnam says.
Also Read: COVID-19 impact: Fruit growers stare at losses as strawberries, cherries & apples rot in Kashmir
Traditional intensive farming methods have drawbacks. Umendra Dutt, founder of Kheti Virasat Mission, feels those methods have failed. "They were propagated and promoted and we are facing the consequences today. Those methods have destroyed the land, water table, diversity, seed sovereignty and our health. Harmful chemicals from farms have reached our kitchens and our bodies," he says.
"Organic farming is not an alternative but the only way to farm," he adds.
This is the reason why Kheti Virasat Mission promotes organic farming and has taught hundreds of farmers to move away from destructive wheat-paddy cultivation and monoculture farming and adopt biodiversity-based sustainable agriculture. And the success of Singhs is proof of that.
(Urvashi Dev Rawal is a Jaipur-based journalist specialising in development, gender, and political reporting)
Also See: How organic fruit farming made Rajasthan's Santosh Devi a millionaire