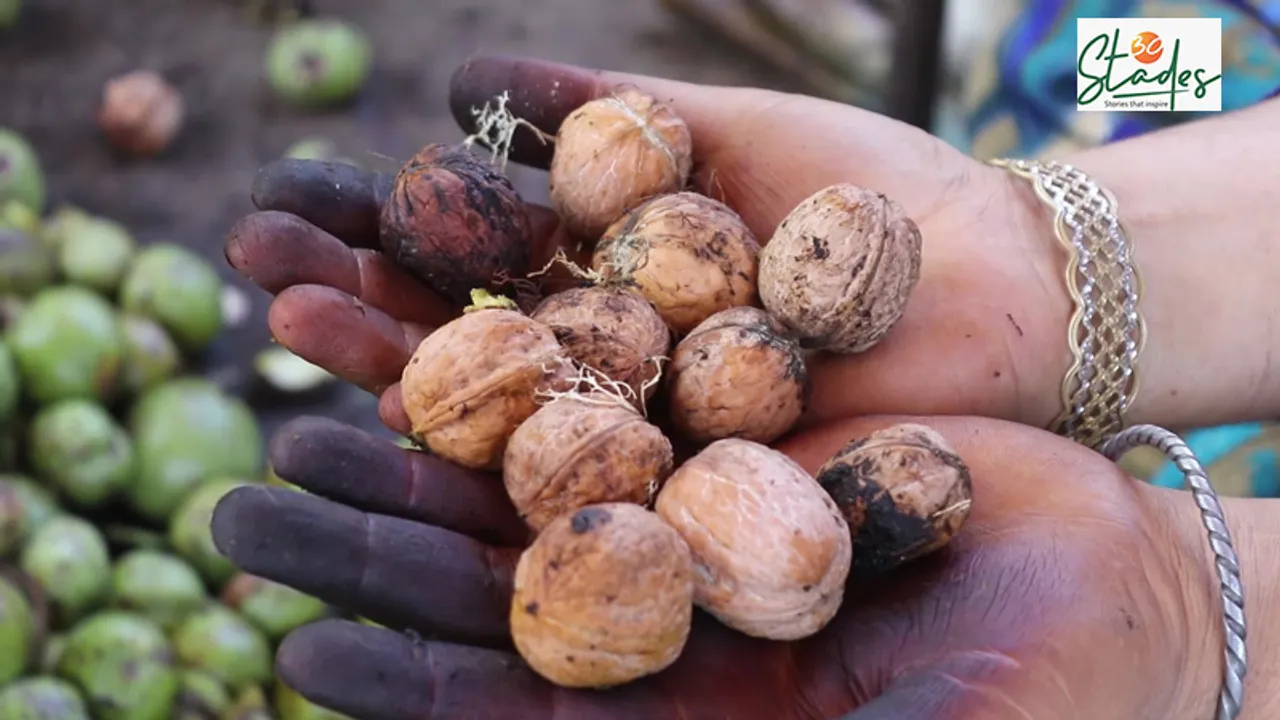 In Chaigund village of Kashmir's Shopian district, 10 traders would buy walnuts from farmers every year and sell them at Jammu's Narwal wholesale fruit market. Last year, the lockdown after abrogation of Article 370 deprived them of good market rates due to lack of transportation facilities out of the valley. 
This year, despite a bumper harvest, Kashmir's walnut farmers are finding it difficult to sell the produce as most small and medium traders are struggling with last year's inventory due to the lockdown. The lockdown beginning August 5, 2019 in Kashmir was followed by the COVID-19 shutdown, depriving the walnut farmers of good market rates.
"We have been demanding a local 'mandi' (wholesale market) in Shopian so that we can sell our produce directly without middlemen," says Khursheed Keygam, a walnut grower in Chaigund.
"It costs us Rs1700 to harvest and process 1,000 walnuts or nearly Rs170 per kg (a kg has about 100 walnuts). But the average price on offer so far is Rs200 this year, with Rs250 per kg for the best quality walnuts," he says.
This amount, he says, is not enough given the work involved in cultivation, harvesting and processing of walnut.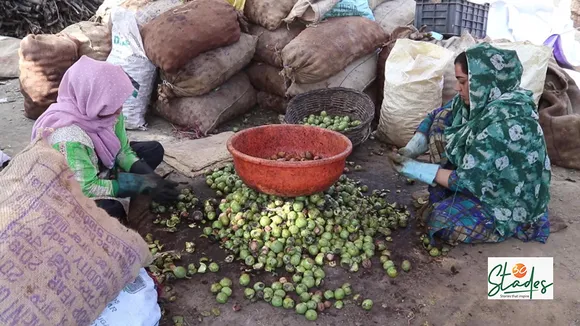 The outer green shell of the walnut is removed manually. Pic: Wasim Nabi 
In the last 11 months, farmers in Kashmir have seen a string of losses from crops of saffron to cherry and strawberry. While saffron crop was damaged due to untimely snowfall on November 8 in 2019, cherry and strawberry could not be transported out of the valley due to the Coronavirus lockdown, which began on March 25 this year. This absence of transportation also led to the rotting of apples in cold storage.
Also Read: At the mercy of nature, middlemen and politics, Kashmir's saffron growers plunge into losses
Cracking the walnut
The three main walnut varieties in Kashmir are kaagzi, burzul and wonth. The first two are good varieties with thinner outer shells and light coloured nuts and are mainly grown in Kupwara and Shopian belts though Banihal area of Jammu and other places also have walnut plantations.
While the process of walnut cultivation is not very labour intensive once the tree starts giving fruits, its harvest and processing is an expensive exercise. A tree gives first fruit after 6 years but is completely mature for fruit production only after 12 years. Walnut trees are about 65 feet to 100 feet tall.
Walnut pickers climb the tall trees and beat the fruit-bearing branches with a long stick called laaenz in a risky exercise that causes the fruit to drop on the ground.
Manzoor Dar, another farmer, says walnut pickers also fall from these trees and it is a cause of morbidity and even deaths during the harvest season between September and October in Kashmir.
Also see: Repora: Visuals from Kashmir's grape village
"We end up paying up to Rs3,000 per day to labour, mostly young men, who specialise in climbing walnut trees for plucking the fruits. That adds to the cost," says Dar. 
With migrant workers having returned to their states post the COVID-19 lockdown, the labour rates in the valley, much like the rest of the country, have gone up.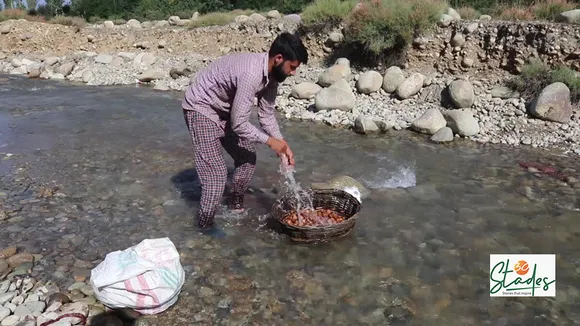 The walnut is washed in running water. Pic: Wasim Nabi 
The outer green shell of walnut is also removed manually. The fruit, with its well-known brown shell, is then washed in running water, mostly in nearby streams. After repeated washing, walnuts are spread out on grass, where ample sunlight is available, for drying. Once fully dried, they are sorted and packed for transportation.
Falling rates, rising competition
Keygam says walnut farming is losing favour with the locals in the area due to the declining rates.  "At Rs250 per kg for the best variety, we can make only Rs80 per kg this year after deducting costs. At this rate I feel it is better to stop harvesting and tending to the trees," Keygam says.
He remembers selling his best quality walnuts at Rs 600 per kg in 2016.  "But the rate is less than half now," he rues. Not only has lockdown been hurting the growers, they are also facing increased competition from walnuts imported mostly from the US (California walnuts).
Kashmir contributes over 95 percent of India's total walnut production with the rest coming from Himachal Pradesh, Arunachal Pradesh and Uttarakhand.
Also See: Maharashtrian food in pictures
With a rising demand for walnuts due to its health benefits, including high levels of Omega 3 fatty acids and vitamin E, its consumption is on the rise in India.
While India produces 35,000 metric tonnes of walnuts annually, domestic consumption is around 60,000 metric tonnes, points out Gagan Jain, President, Jammu and Kashmir Walnut Exporters Association.
California walnuts have made deep inroads into India in the last five years, commanding about a fifth-share of the market. India also exports walnuts to other countries. "Exports are hampered this year due to COVID-19 and the resulting disruption in global supply chains. But the domestic demand is robust," he says.
Also See: Kashmir in pictures after abrogation of Article 370 & 35A
About 10 years back, of the total walnut production, only 30 percent was consumed in India while the rest was exported. Today, almost 80 percent of the production is consumed within the country following greater awareness about its health benefits.  
Kashmir's growers, however, are unable to tap into this growing demand due to the political situation in the union territory besides old farming methods which have not kept pace with the changing technology. Despite a bumper crop this year, walnut growers may just be paid peanuts for their labour of love.
(Wasim Nabi is a Srinagar-based freelance multimedia journalist; Musaib Mehraj is a freelance journalist from Kashmir).
Also Read: Odisha women fight malnutrition through organic nutrition gardens