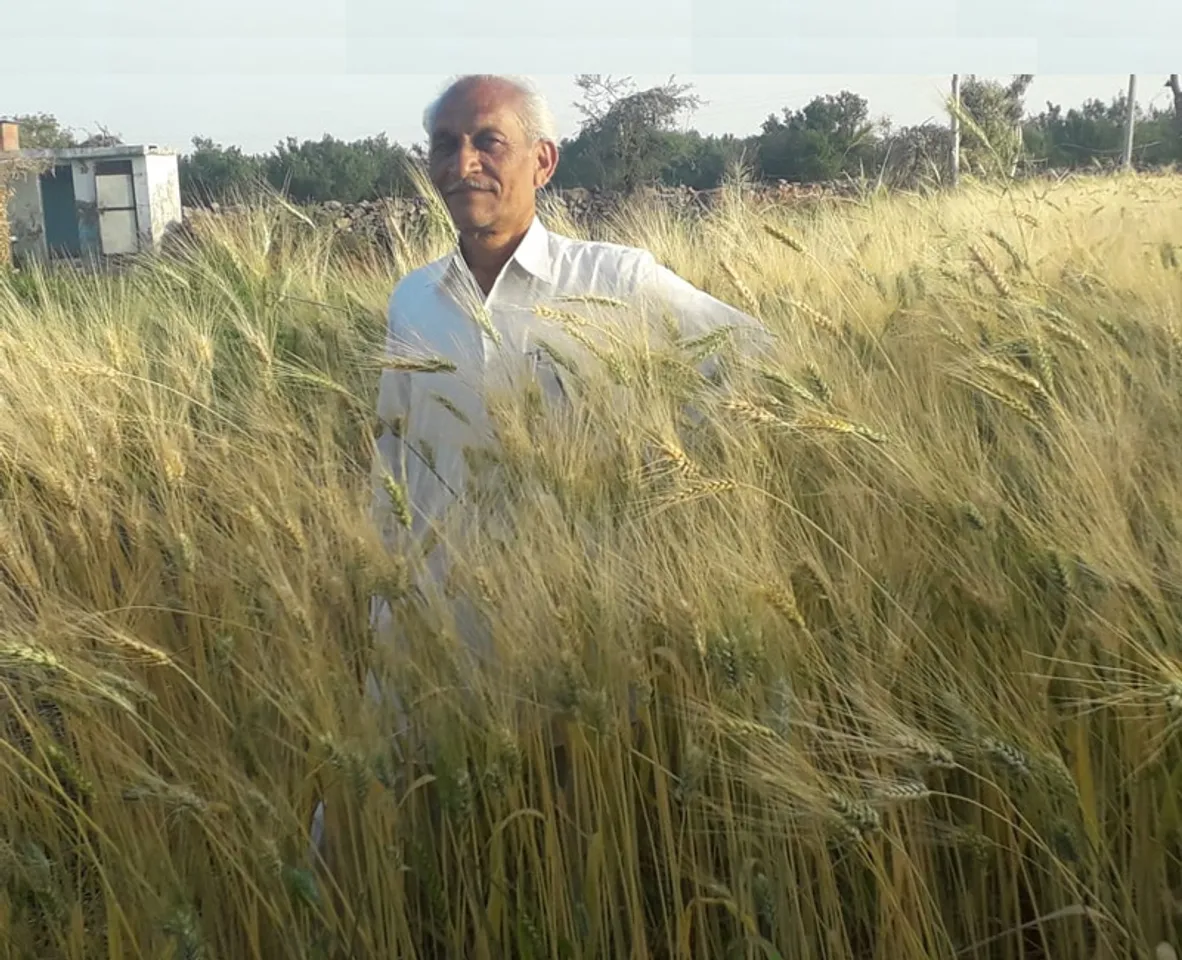 Sometime in 2005, Hukumchand Patidar, a farmer from Manpura village in Rajasthan's Jhalawar district, decided to experiment with organic farming. Despite opposition from his family and friends, who feared losses, he began organic farming on a small patch of land of his 25-hectare farm. 
Today, not only is Patidar earning in millions and his land producing above-average output, he is also exporting the produce to Japan, Germany and Switzerland.
His organic produce fetches him 40 percent higher rate than crops grown through conventional farming. Patidar also received the Padma Shri in 2018 for his efforts towards promoting organic farming at his farm -- Swami Vivekananda Jaivik Krishi Anusandhan Kendra.
Also Read: Organic farming of dragon fruit and lemon triples Punjab farmer's income
The struggle before the success
For Patidar, the motivation to shift to organic farming came from the realisation that conventional farming was proving dangerous and its harmful effects were visible on the health of people and the environment. 
"With conventional agriculture that uses chemicals, I realised that land productivity was falling, the soil was being harmed and crops were becoming poisonous."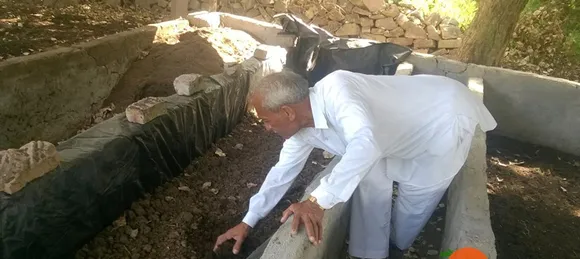 Hukumchand Patidar inspecting organic manure on his farm. Pic: Facebook/@organicamrit 
 
The acceptable level of soil organic carbon is 1-1.5 percent but in many parts of India, the level has fallen to 0.3-0.4 percent. Soil organic carbon is the carbon component of organic compounds, which improves oxygen in the soil besides improving water drainage and retention, reducing the risk of nutrient leaching.
Patidar realised that due to chemicals, not only were people and animals being harmed, the environment was adversely impacted too and the water level was falling. "With so many ill-effects, I was determined to go ahead despite opposition," says the silver-haired farmer.
Also Read: Rasika Phatak: Maharashtra's 23-year-old millionaire farmer & agriculture consultant
For the first three-four years, after Patidar began organic farming, production dipped by 10 to 20 percent and he faced reproach and questioning. "The soil health had to be restored and it had to be rid of the poisonous chemicals. The organic matter and micro-organisms that live below the soil and keep it healthy had been destroyed due to chemicals."
The transition period from conventional to organic farming is 3 to 4 years, he says.
Today, his production is more than what he cultivated through conventional farming, earning between Rs 40 to 50 lakhs per year from sale and export of his organic products.
"I get 32 to 36 quintal per hectare of chana (gram) crop. The government estimates chana crop output at 30 quintals per hectare," he says. 
Also Read: Adavi: organic coffee that brewed a new life for Karnataka's Soliga tribe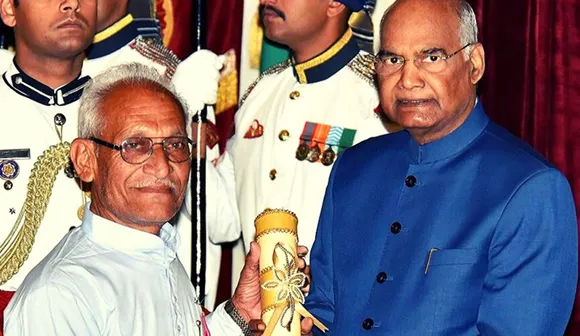 Hukumchand Patidar receiving the Padma Shri from President Ram Nath Kovind. Pic: courtesy of H. Patidar 
Similarly, his wheat crop is between 38 and 42 quintals per hectare as against 28-32 quintal per hectare from conventional farming.
Organic wheat crop also requires almost 50 percent less water than in conventional farming.
"I have to give three watering for wheat while conventional farming requires watering five to six times. Since there is no use of chemicals, the soil is soft and water can seep deep into it, keeping it moist. With chemicals, a layer forms on the surface and the water slides off the surface," he says.
What is organic farming and how it is done?
Patidar also grows pulses, onion, garlic, coriander, turmeric, fenugreek, fennel seeds and oranges through organic farming. 
Organic farming uses ecological pest control methods and biological fertilisers made using animal and plant wastes besides nitrogen-fixing crops.
He has put up a vermicompost unit on his farm that makes 400 million tonnes of organic fertiliser per year. Vermicompost, where decomposition occurs through various species of worms, contains water-soluble nutrients good for soil health. 
Also Read: Water conservation in rural Rajasthan increases farming incomes four times; checks migration
Patidar also uses jeevamrit, a liquid organic manure made using ghee, cow dung, cow urine, lemons, jaggery, turmeric powder and gram flour. It is a natural source of nitrogen, potassium, phosphorous and other nutrients required for the crops.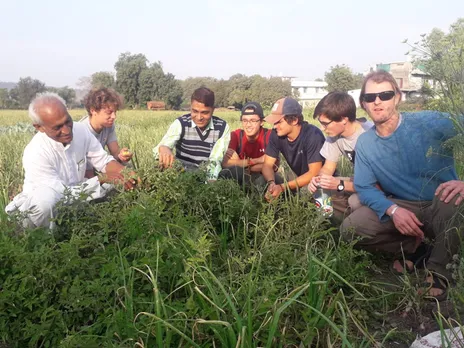 People from across India and 28 other countries come to see H. Patidar's work. Pic: courtesy Vijay Patidar 
In 2015, Patidar and his sons took a loan and put up a food processing unit with an investment of Rs45 lakh. He then created a farmer producer group of about 125 farmers to help other organic farmers with marketing of their produce. 
"We thought farmers should decide MRP for their produce and that led to the setting up of the processing plant," he says.
The farmers bring their produce to the processing unit where it is sorted, cleaned and graded as per quality and then packed for sending to the market.
They sell wheat flour, suji (semolina), gram flour and spices. The products are tested in laboratories and meet the FSSAI standards. "We set up our unit because we wanted the farmers to get a good price for their produce. In every industry, the producer gets to decide the MRP of the product. But the farmer sells his produce in the mandis where the trader decides the rate and farmer gets money which barely covers his input cost.
Also See: Repora: Visuals from Kashmir's grape village
The global farmer
Patidar also exports some of his products. He exported 40 quintals of coriander powder to Japan and some European countries last year and 4,000 kg of garlic to Switzerland besides 50 tonnes fenugreek to Germany.
Patidar sent his produce for testing to the Rajasthan State Organic Certification Agency and has got three licenses – from the National Organic Programme, India; National Programme for Organic Production and Technical Standards. These certificates allow him to sell his produce in India, the US and other countries.
"Farming is not a loss-making proposition for me any more. I have no input costs and I get 40 percent more than the market rate," he says.
Given the ongoing farmer protests and the longstanding complaints from farmers that agriculture is not viable any longer due to high input costs and low returns, organic farming could provide a viable alternative.
Also Read: Kashmir's farmers get peanuts for walnuts as lockdown hurts rates
But in India, only 1.3 percent farmers are registered for organic farming and only 2 percent of the net sown area is organically farmed, according to the Union Agriculture Ministry. Madhya Pradesh, Rajasthan and Maharashtra account for about half the farmland area under organic cultivation
Patidar has played host to scientists and people from India and from 28 countries who come to see his work.
Now he trains other farmers on organic farming. He says farmers are interested but they face constraints and have misconceptions.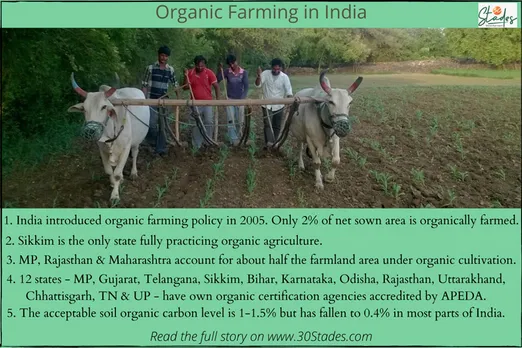 "Many are small farmers with small tracts of land and cannot afford to wait 3-4 years for the conversion of the land. They cannot sustain themselves if their produce is 10-20 percent less for 3-4 years. Moreover, they face family opposition and give up midway."
Also Read: Why is Kashmir's 800-year-old apple economy in shambles?
Patidar says his two sons also help him in his business. "They have done engineering and were searching for jobs. But they realised that there was scope in organic farming and joined me. They look after the marketing of produce."
His son Vijay, 32, says, "I have realised that the biggest challenge for farmers is marketing. They know farming but are not able to sell their produce." Organic products only have value for conscious consumers who are willing to pay a higher price. "We have built a network of customers locally as well as in India and abroad through social media. We are now trying to find new markets," he says.
(Urvashi Dev Rawal is a Jaipur-based journalist specialising in development, gender, and political reporting)
Also Read: How organic fruit farming made Rajasthan's Santosh Devi a millionaire