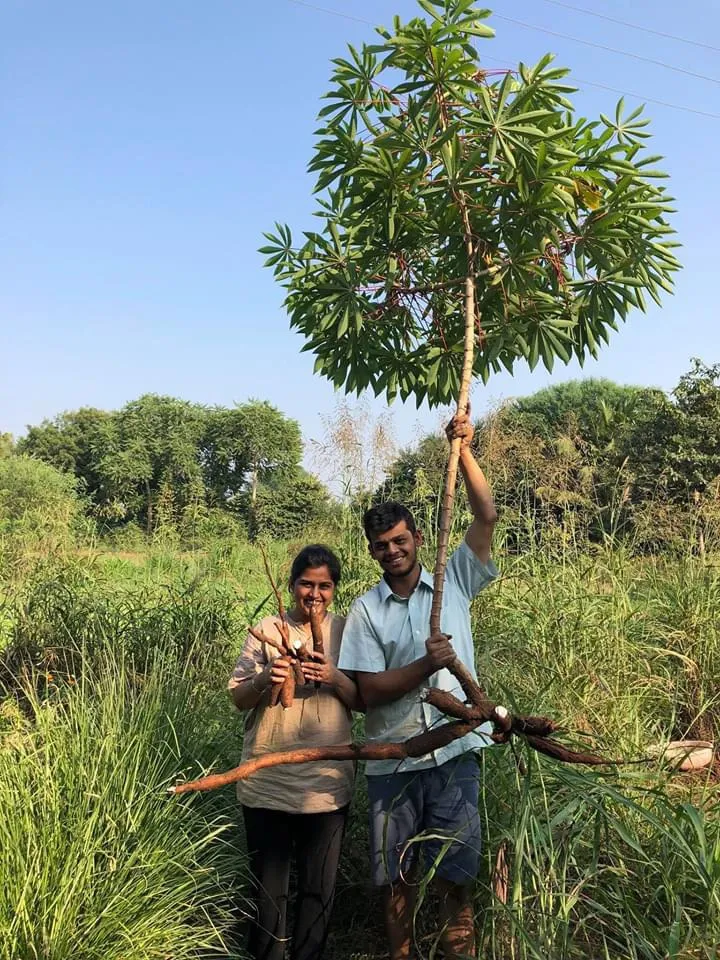 A chance visit to a farm near Los Angeles in the USA and seeing the heavy use of chemicals in farming prompted Silicon Valley couple Vivek and Brinda Shah to quit their jobs and return to India to start organic farming.
The couple loved to spend time amid nature and often visited local parks, farms and nurseries in the US. During the Los Angeles farm visit in 2016, the couple saw a person wearing protective gear spraying insecticides and pesticides on crops.
"This compelled us to think of the harmful effects of chemicals on humans. We decided to return home. We realised it would not be possible to quit ten years down the line and we had to act right away," says Vivek.
Also Read: Andhra farmer gets triple the market rates for mango & paddy with zero-cost natural farming
"So, we quit our jobs in the US, did a short course in permaculture and sustainable living which gave us basic principles of farming, and came back to India in 2017," he says.
Brinda has a Bachelor's degree in Fine Arts and a Master's degree in Printmaking and Vivek has done a course in Interaction Design from California College of Arts. Both of them had stable jobs and a comfortable lifestyle in the IT sector in the US.
But they wanted to start something of their own which could take them closer to nature. At the same time, Vivek was always passionate about returning to India and starting a venture of his own.
Also Read: Jayant Barve: Maharashtra's organic farmer who became manure millionaire
"We wanted to know where the food we eat comes from. There is a proverb that says, 'You are what you eat.' And we wanted our future generations to imbibe a set of sustainable practices which are beneficial in the long run. So we decided to create a small legacy that can safeguard our future and that of our kids," says 30-year-old Brinda.
The learning curve
Back in Ahmedabad, they began organic farming on a small piece of land which was owned by a family friend in Kalol, about 70 km from Ahmedabad.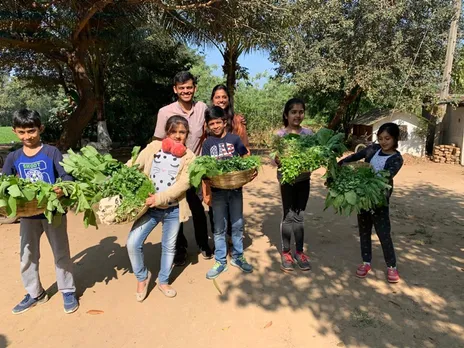 Produce from Vivek and Brinda Shah's farm. Pic: Brindavan 
"It was a small plot. Brinda and I used that opportunity to gain practical experience. We continued farming on that plot for 8-9 months. We learnt many things during that time – how to till the soil; the kind of manure needed, ways to safeguard crops from pests etc.," says Vivek.
Later, they purchased 10 acres of land at Chaklasi, between Anand and Nadiad, about 60 km from Ahmedabad.
Also Read: Rasika Phatak: Maharashtra's 23-year-old millionaire farmer & agriculture consultant
"While we started by sowing crops, we also worked to improve soil fertility. This was a slow process and it took us almost a year," she says.
"We practise green manuring -- we leave the remains of harvested fruits and crops, especially legumes, on the land so that they mix with the soil and act as natural fertilisers. It also improves the soil's water-holding capacity," says Brinda.
They also added slurry, cow dung etc. "It was overwhelming at times. We needed to do regular weeding on the land. At the same time, we had to ensure regular water supply and check for pest attacks and spoilage too."
"The learning was gradual. We did a lot of background research, understood the nature of crops and the nature of the soil on our land," says Vivek, adding that the soil responded positively to their experiments.
Food forest & organic farming
Vivek and Brinda have turned four acres of land into a food forest, planting mangoes, lemons, papaya and other fruits. A small banana orchard was grown considering the demand for the fruit throughout the year.
People tend to sow only one fruit on a given piece of land like mango orchard or apple orchards.
Also Read: Residue-free farming: How Nashik's millionaire grape farmer uses technology to get a yield of 10 tonnes per acre
But a food forest entails planting multiple layers of edible plants in an attempt to replicate the natural ecosystems.
The aim is to become largely food self-sufficient and make land more productive through multiple crops. "We grow six to seven varieties of fruits at a given time in the food forest," he says.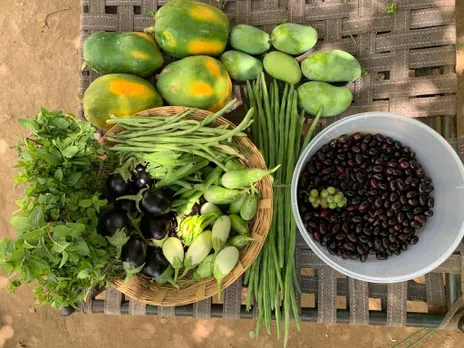 Fruits, vegetables, spices and legumes are sold at 1.5 times the market price through word of mouth. Pic: Brindavan 
"We sow lemon shrubs near our mango trees. The huge mango trees give lemon shrubs the necessary shade as well. Such practices help us utilise the land more efficiently," Vivek adds.
The couple grows wheat and other vegetables in another 4 acres and drumsticks on the remaining 2 acres of land. They have two people employed on a full-time basis.
Also Read: Gujarat's MBA farmer Chintan Shah turns infertile land into organic farm of turmeric, ginger & wheat
Vivek says their products are priced 1.5 times higher than the market. They decide the price of products annually and continue with the same throughout the year.
Potatoes are generally priced between Rs 40 and Rs 60 per kg. Jamuns are priced at nearly Rs 200 a kg, tomatoes as well as brinjals at Rs 50 to 70 per kg and turmeric powder at Rs 400 per kg. The prices fluctuate in the market throughout the year but their prices remain fixed.
"We follow crop rotation on the land. We do not sow the same crop for 2 years after harvesting. This helps soil retain some nutrients, changes the structure of the soil and helps retain good quality of the soil. We also make compost and add cow dung for soil fertility," says Vivek.
"For water supply, we focus on groundwater recharge and soil moisture retention. We dig trenches on the farm. The excess water gets stored in the trenches and we dump farm waste in those trenches. This becomes natural manure for the land."
Also Read: Water conservation in rural Rajasthan increases farming incomes four times; checks migration
To save crops from pests and insects, they prefer natural techniques. Growing aromatic and herbal plants like tulsi, basil, mint, lemongrass, marigold on the boundary of their farm keeps pests at bay.
Sharing the knowledge of sustainable practices
In 2018, the couple started Brindavan - an environmental consultancy that engages with multiple stakeholders at different levels for creating awareness about environment protection, organic farming and climate change.
"We did a year-long project with a school in Ahmedabad where we undertook activities like poster making, skits, dramas based on the theme of organic and sustainable lifestyle and environmental awareness. We worked with students from class 3 to class 9," says Brinda.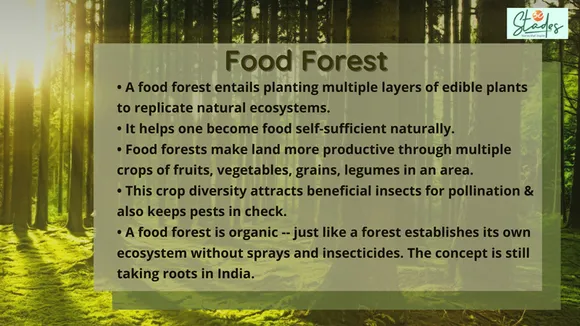 "We do not wish to become a fully commercial enterprise. Our customers are generally extended family members, friends and those who have heard about us through word of mouth. We are satisfied with what we earn. We started organic farming to meet our own needs," says Vivek.
Also Read: Rajasthan: Dacoits from Chambal's badlands give up guns for farming
"Our professional and social network helped us in branding in the early days. To add, we generally focused to brand ourselves through social media."
Today, a lot of people want to eat healthy and organic products but they aren't able to access them. "We are lucky that our network helped us thrive and we could help such people."
Talking about revenues, Vivek says, "The money earned from the farm and its products go back to the farm. We earned Rs 5 to 7 lakh a year from our consultancy initially. This year, that income increased to about Rs 12 lakh."
Under their Brindavan consultancy project, the couple works with industries, private landowners, factory owners for developing organic farms.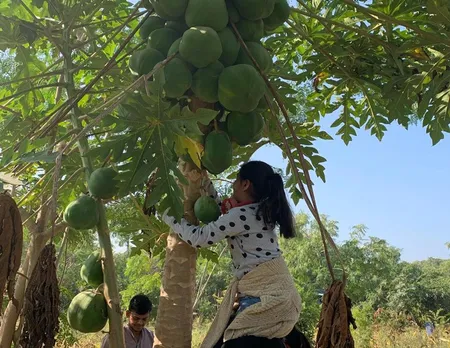 Children plucking papaya from the food forest. Pic: Brindavan 
"We have given proposals to several factory owners in Ahmedabad for converting their barren lands into fruit orchards so that space is used productively."
Also Read: Last Forest takes honey & beeswax products from Nilgiri forests to global markets
"We also develop small gardens for farmhouses from an ecological point of view. So, while the gardens become pleasing to the eye, they attract several birds, bees and other creatures," says Vivek.
We hope to continue this and develop such premises on a large scale to help maintain the ecological balance," he adds.
The couple was honoured with the Gujarat Rajya Youth Award, 2021 by the Chief Minister of Gujarat for their continued work in organic farming and environmental conservation.
(Vedant Sharma is a Gujarat-based freelance writer)
Also Read: Growing green lungs: How Thuvakkam is creating urban forests in Tamil Nadu